Adventurous Miriam uses affiliate links, which means that if you make a purchase through my links, I may earn an affiliate commission.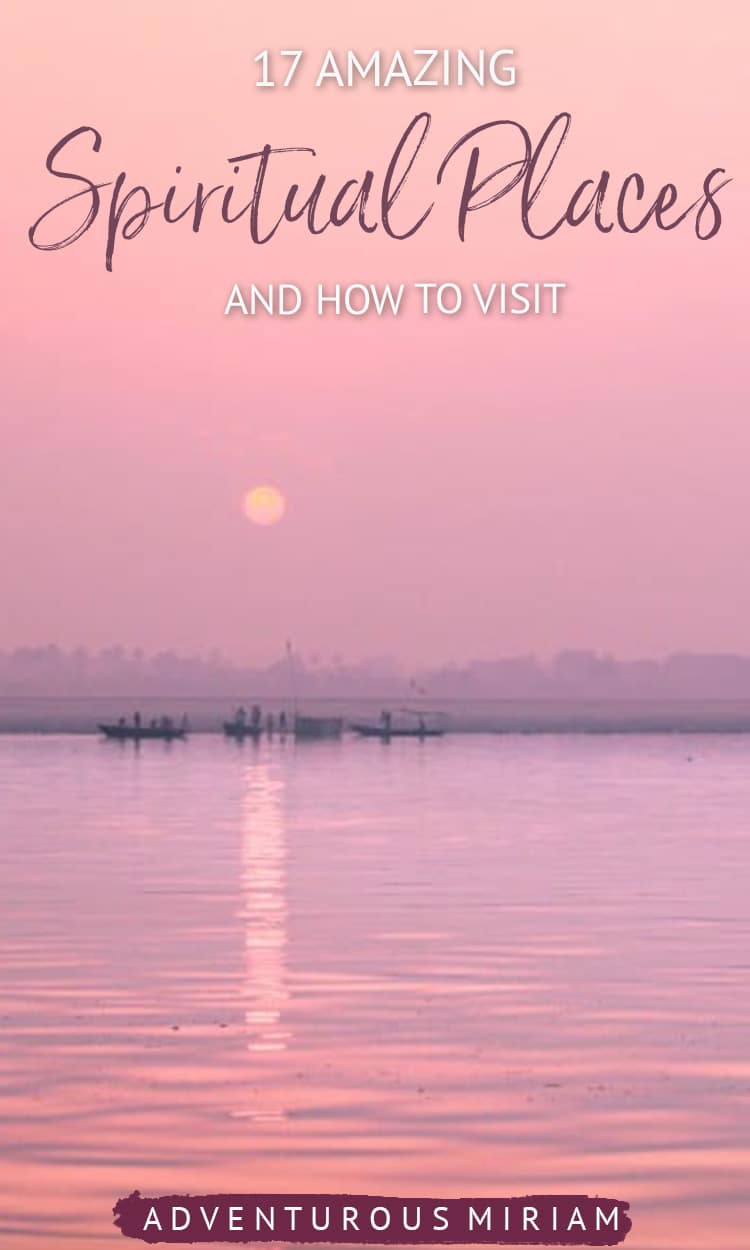 Spiritual travel means different things to different people. For some it means visiting and exploring religious and holy places. For others, spiritual destinations are places of peace where the noise of the world falls away. There are spiritual retreats and spiritual places to visit scattered across the world, and visiting these spiritual destinations can be a transformative, enlightening experience.
In this post, I've gathered the 17 most spiritual destinations to visit across the globe. You can visit independently or through a spiritual retreat. First, let's take a look at how you can do that.
Read next: 50 spiritual journey quotes
Join a spiritual retreat
A spiritual retreat is an act of spiritual travel. It takes you to a place where you can, at the very least, unwind and unplug from the often-overwhelming noise of modern life with all of its technology, hustle-bustle, and pollution. At most, it's an experience that can lead to real spiritual enlightenment as you discover more about yourself, what really makes you happy and comfortable, and can realign your focus and goals in life.
Meditation Retreats
An often-silent retreat of several days or weeks where meditation is your main activity.
An opportunity to learn the techniques and health benefits (both mental and physical) of meditation.
It's a lasting lesson in meditation, a skill you can take home and apply to your everyday life as a means of improving your own happiness and mental health.
Yoga Retreats
A few days or weeks in a peaceful destination where you learn the ropes of yoga.
These can be for beginners and advances yogis alike.
A chance to unplug and focus entirely on your body – making it healthy, calmer, and stronger.
Nature Retreats
An opportunity to head out into the countryside, in nations across the world, leave all your technology and social media behind, and unplug.
Your chance to get back in touch with nature and appreciate its sights, sounds, and smells.
Enjoy the peace and the landscape around you, devoid of big city distractions.
Read next: 10 spiritual books that can change your life
17 spiritual destinations
Spiritual destinations come in all different forms, from holy places of world religions to ancient sites of ancient beliefs and ways of life. If you're planning on taking your own spiritual journey and make a few spiritual journey trips, these 17 locations across the wide world are transformative spiritual travel destinations for you to admire and be changed by.
1. Angkor Wat
Originally built as a Hindu temple and later converted to a Buddhist temple, Angkor Wat in Cambodia is the largest of all the spiritual places and religious sites on Earth. It's an ancient site of the Khmer Empire and its history as a site of prayer and spiritual journey for hundreds of years makes it one of the most unmissable spiritual places to visit.
How to visit
Head to Siem Reap in Cambodia. From there, you can visit the site on your own, with a local guide or with GetYourGuide. You need 1-2 days to see it all.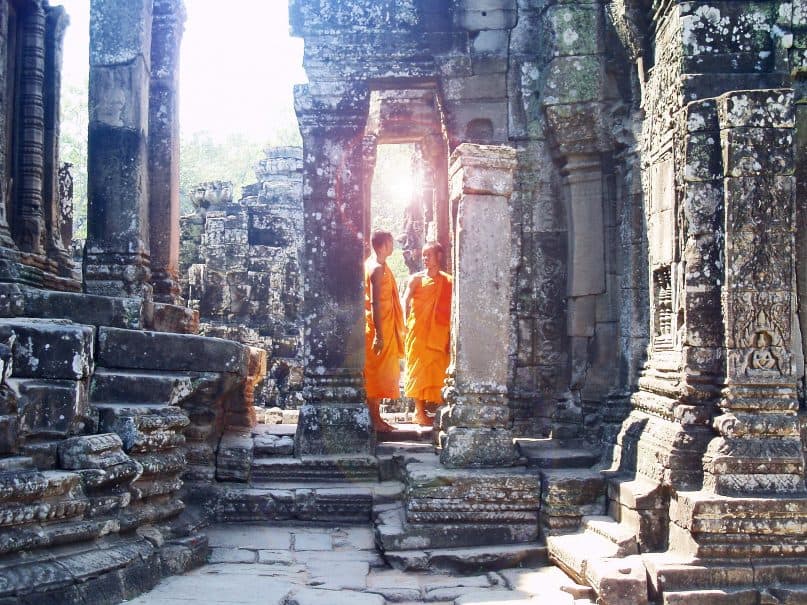 2. Machu Picchu
Beyond being one of the world's most important spiritual places, Machu Picchu is a place of outstanding natural beauty, nestled atop a mountain of Peru, surrounded by green peaks. A perfect example of a place of spiritual enlightenment that lives on far beyond the civilisation and the religion that created it.
How to visit
You've got several options here. The traditional way to visit is on a 4-day trek through the mountains (you can read about my trip here). But you can also take an alternative route via the Salkantay trail, which takes you through jungles, valleys and villages in 5 days. A trip to Machu Picchu can also be done in one or two days, but five means you'll see everything.
3. Ubud, Bali
Ubud is a small town with a history dating back centuries. Its main spiritual retreats take the form of ancient Hindu temples and yoga retreats, but it also makes for a wonderful nature retreat, with the surrounding rice paddies and dense rainforest. This means Ubud doubles as one of the best spiritual travel destinations and natural retreats in Bali.
How to visit
The best way to visit is to spend a few days in Ubud. You can also visit on a day trip from the coast, but to experience that unique spiritual ambience, enjoy the healthy food and join a yoga or meditation class, you should stay overnight.
4. Mecca
One of the most famous spiritual places on Earth, Mecca in Saudi Arabia is the birthplace of the prophet Muhammad and was ruled by his descendants for centuries. It's the place that Muslim pilgrims journey to every year for Hajj, and is the most sacred place on Earth for members of the Muslim faith.
How to visit
You can only visit if you're Muslim. Mecca is a sacred city for members of the Muslim faith.
5. Potala Palace, Tibet
One of the most sacred sites of Buddhists across the world, Portala Palace was originally built as a fortress in 637CE, and was then used as a palace for the Dalai Lama. The current Dalai Lama, however, has lived in exile in India for most of his life and so, Portala Palace is now a museum. This sacred palace has an enormous history in Tibet, and is considered a sacred site by Buddhists. It is also a wondrous place to visit, nestled as it is in the mountains.
How to visit
Portala Palace is built into a hill overlooking the city of Lhasa, and can be reached by bus from the city and explored in a single day trip.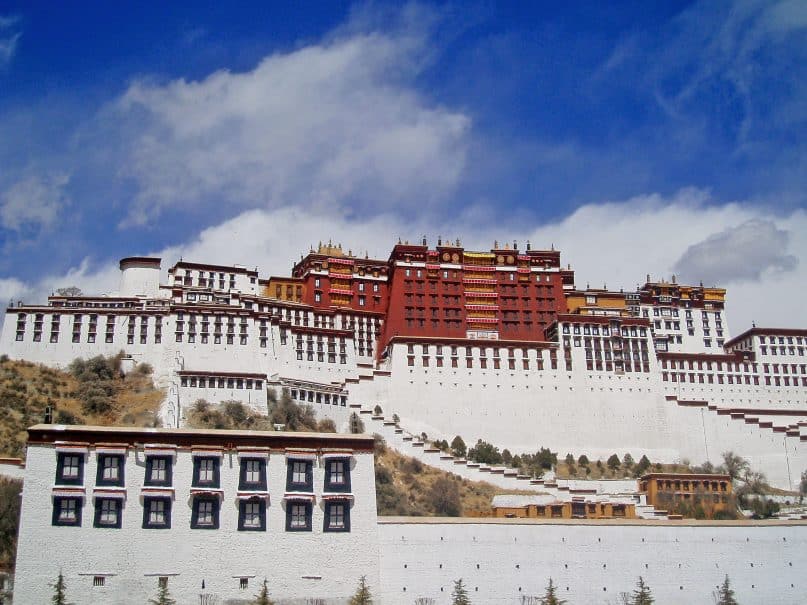 6. Varanasi, India
Considered the spiritual capital of India, Varanasi is a city vital to the Hindu way of life. Many people know of the sacred tradition of Hindu pilgrims bathing in the Ganges river and performing funeral rites there. Varanasi is where that happens.
How to visit
You can fly directly to Lal Bahadur Shastri Airport and take a short bus ride to the city from there. Take a half day tour of the city with GetYourGuide.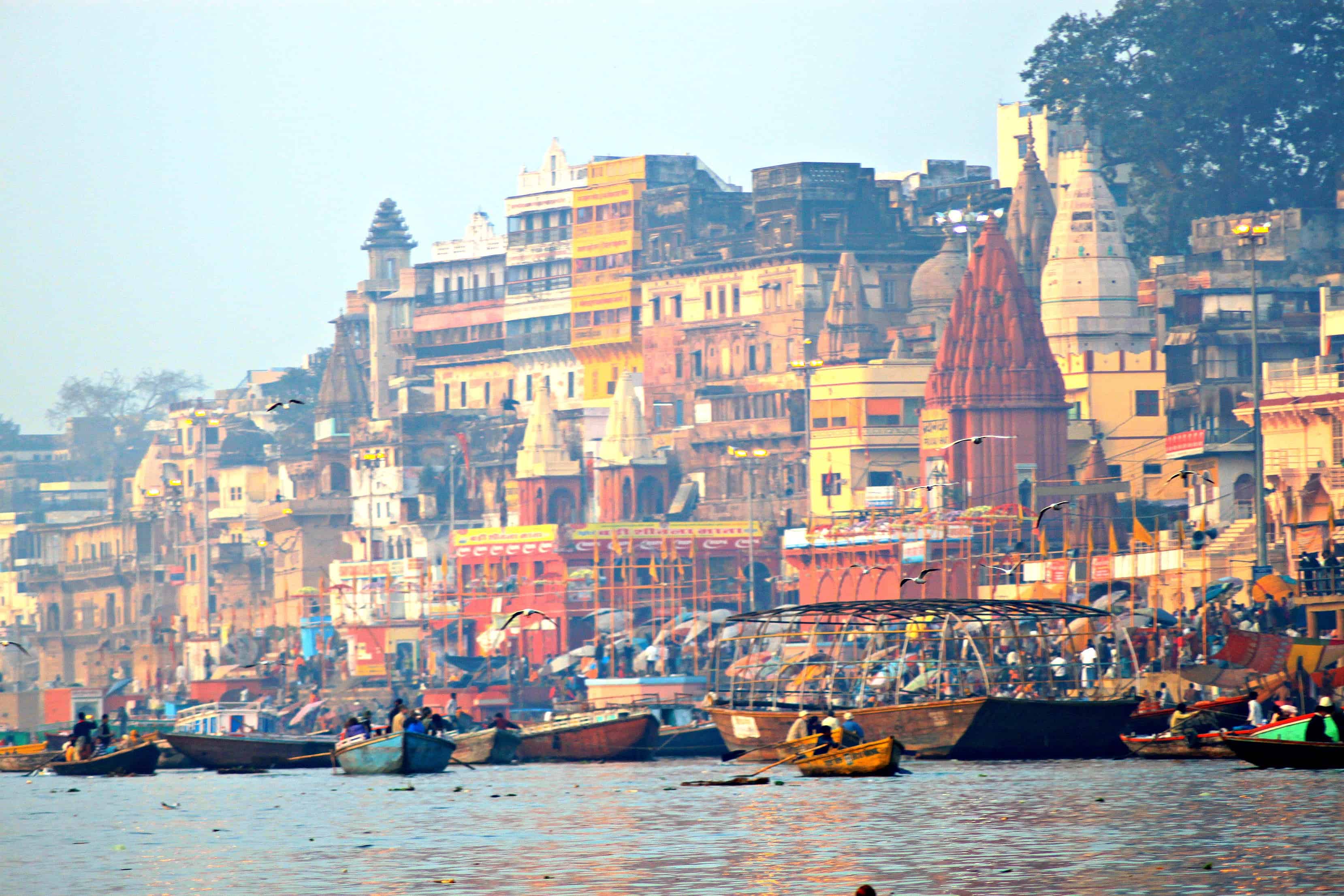 7. Jerusalem, Israel
The most famous of holy cities on Earth, Jerusalem is the centre point of the Abrahamic religions, a holy site for Jews, Christians, and Muslims. Few cities in the world carry so much history and religious importance as Jerusalem, and it has stood since 1000BCE.
How to visit
Fly into Tel Aviv and take a bus, taxi or rental car til Jerusalem; it's just an hour away. Once you're there, explore the city on your own or take a four-hour tour of the holiest sites with GetYourGuide to really get to know the history.
8. Adam's Peak, Sri Lanka
Adam's Peak is a remarkable natural landmark – a conical shaped mountain in Sri Lanka. It's a holy site and spiritual destination for people of multiple faiths. Its name comes from a large 1.8m stone footprint believed by some Christians and Muslims to be that of Adam.
How to visit
Hiking to Adam's peak is quite challenging. It's a 3 hours climb (at least), and the stairs are very steep at times, especially going down. But the views from the top are amazing. Avoid peak time (days near the full moon, mid April, and the weekend).
9. The Dead Sea, Israel
The Dead Sea is a salt lake that's incredibly tied to religions and belief systems both alive and dead, from the Ancient Egyptians to modern Christians. The Dead Sea and the ancient caves surrounding it have been recorded in stories in the Bible and the Torah.
How to visit
You can take a single day trip from Tel Aviv with GetYourGuide.
10. Camino de Santiago, Spain
Also known as The Way of Saint James, this is a series of pilgrim's passages which lead to the Shrine of Saint James, one of the twelve apostles of Jesus. It is a vital and sacred Christian pilgrimage route in Spain.
How to visit
The most popular route of the Camino takes about 30 to 35 days to complete. You'll need to walk between 23-27 km per day.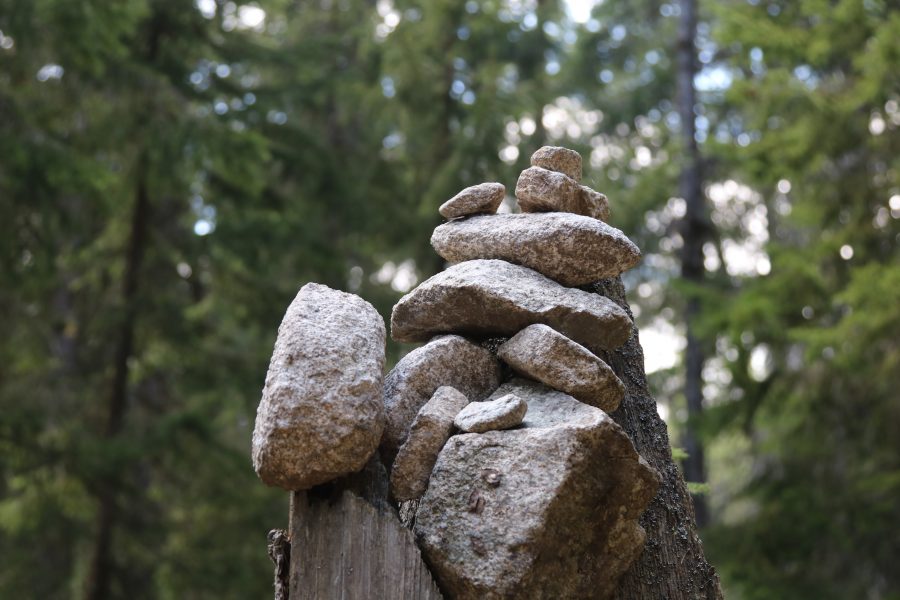 11. Rishikesh, India
Situated on the sacred Ganges River, this is a traditional site for meditation vacation and yoga retreats, making it one of the best spiritual journey trips you can take in India.
How to visit
Fly into Dehradun and catch a transfer from there. You can take a bus from Dehradun Airport to Rishikesh with GetYourGuide.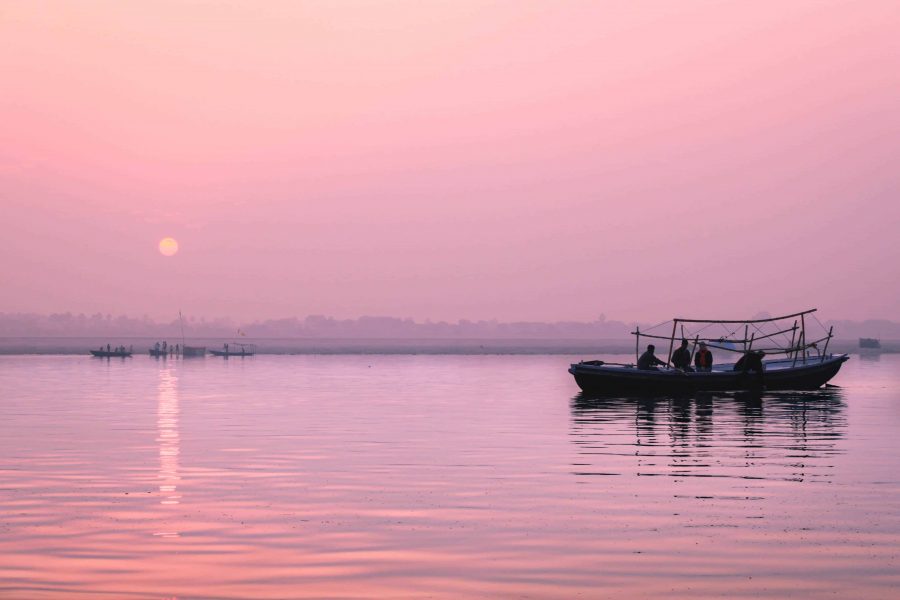 12. Stonehenge, England
One of the most ancient prehistoric monuments in England, dating back to the Bronze Age. We still don't know what it was intended for, but many believe it to have been a burial site. Regardless, it's one of the most enigmatic and captivating sites in England.
How to visit
You can take a day trip to Stonehenge from London with GetYourGuide.
13. Salar de Uyuni, Boliva
This miraculous place is the world's largest salt flat, believed to be a now dry prehistoric lake. Uyuni also houses a 'train cemetary' or abandoned trains left by the British at the end of the 19th century.
How to visit
You'll need to book a tour through a company. I went on a 3-day trip with Quechua Connections, a local tour company that I recommend very much. You can visit from both Bolivia and Chile.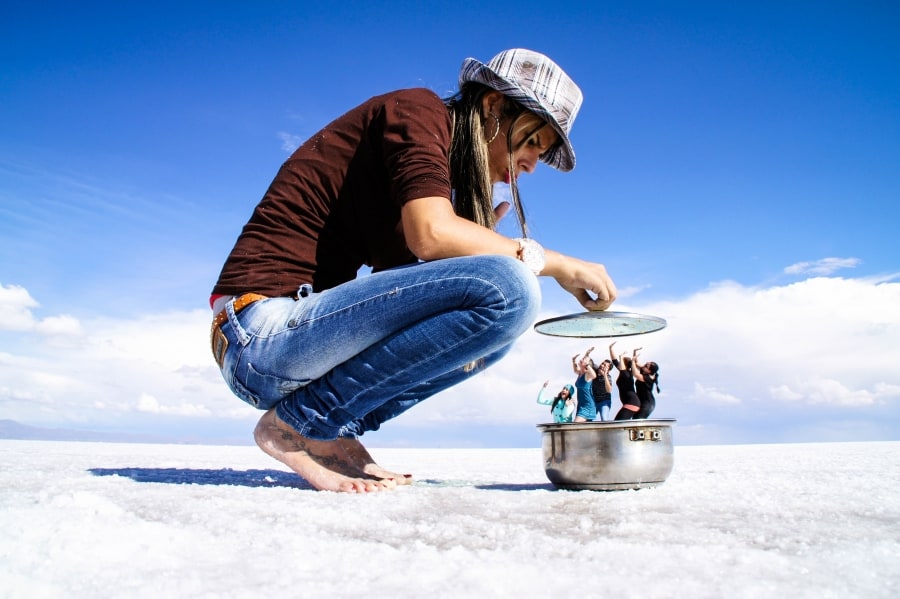 14. Tiger's nest, Bhutan
A temple on a mountainside in Bhutan which was built to surround a legendary cave believed to house a tiger spirit. This is perhaps the most sacred Buddhist site it Bhutan, and an incredibly moving and spiritual place.
How to visit
You can take a full 10-day culture tour of Bhutan with GetYourGuide.
15. Kyoto, Japan
The medieval capital of Japan is full of Shinto and Buddhist sacred sites like the Kinkakuji (Temple of the Golden Pavilion) and the Fushimi Inari Shrine, which have been vital parts of Japan's history for centuries.
How to visit
As with all other places, you can visit on your own. But if you'd like to get to know the history and all the sights, you can take a full day spiritual and history tour of Kyoto with GetYourGuide.
16. Isle of Skye, Scotland
This magical, mystical island is the site of so much of Scotland's ancient Celtic folklore. It's a home of fairies and trolls hidden in its caves and in its legendary Fairy Pools. The Isle of Skye is a real fairy tale land.
How to visit
You'll need a car to explore Isle of Skye. Public transportation is not an option, so unless you have your own or a rental car, you can take a guided tour of Isle of Skye. I went with Heart of Scotland (read my review here), which was amazing, but you can also do a day trip from Inverness with GetYourGuide.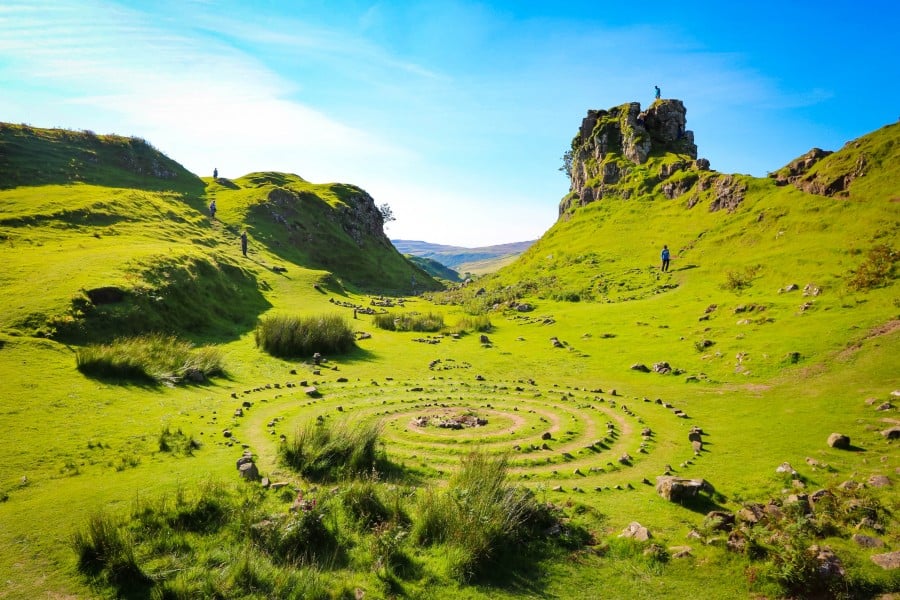 17. Lake Atitlan, Guatemala
Lake Atitlan is a beautiful and historic part of Mayan culture, with Mayan village surrounding it even today. The lake itself rests in a volcanic crater, surrounded by mountains on the horizon, and is one of the most peaceful nature retreats imaginable.
How to visit
Fly into Guatemala City and take a bus to Lake Atitlan. You can take a boat tour of the lake with GetYourGuide.