Oberammergau itinerary: Germany's fairytale town
Oberammergau is a picturesque town tucked away in the mountains of Bavaria. This quaint, little town has an abundance of fairytale frescoes painted by talented artisans, unique traditions and unforgettable views.
I loved visiting the town so I created this Oberammergau itinerary, so you can better plan your trip.
Let's dig in.
Read next: Your travel guide to Germany
This post contains referral links for products I love. Adventurous Miriam earns a small commission at no extra cost to you if you make a purchase through my links. Thank you for your support ♡ Learn more
What's special about Oberammergau?
Oberammergau is a unique destination for two main reasons.
Its rich history is embodied in the Passion Play. Since 1634, the play has been performed by locals every 10 years as a vow to God during a plague. Also, the traditional Alpine homes in Oberammergau are decorated with Lüftlmalerei, which are ornate paintings of religious-themed art and folk myths.
Add to that the snow-capped mountain views, and you've got yourself a real-life fairytale tale.
Tourist info Oberammergau
The tourist information centre is located in the very heart of the town. If you need advice on local attractions, activities, events, transport links or accommodation, the friendly and helpful staff can help you.
Where is Oberammergau Germany?
Oberammergau is located in the Bavarian Alps of southern Germany.
Just 70km southwest of Munich, the capital of Bavaria, and 14 km from the beautiful Linderhof castle. Most people visit Oberammergau on a day trip from Munich.
How to get to Oberammergau
Oberammergau is easy to get to from various cities in Germany. By car, it's roughly 1,5 hour from Munich and three hours from Stuttgart or Nuremberg. You can also go by Deutsche Bahn trains that take you directly to the town station.
I visited Oberammergau as part of an organised day tour from Munich to Neuschwanstein and Linderhof castles. You can book the tour here.
Munich to Oberammergau
The easiest way to get from Munich to Oberammergau is by car. It's roughly an hour and a half drive from Munich, taking you along the scenic A95 highway. Alternatively, you can take the train directly from Munich's main station, which takes about 90 minutes and costs about €24 for a single ticket.
There are also regular bus services that travel to Oberammergau year-round, with tickets costing approximately €15 one way.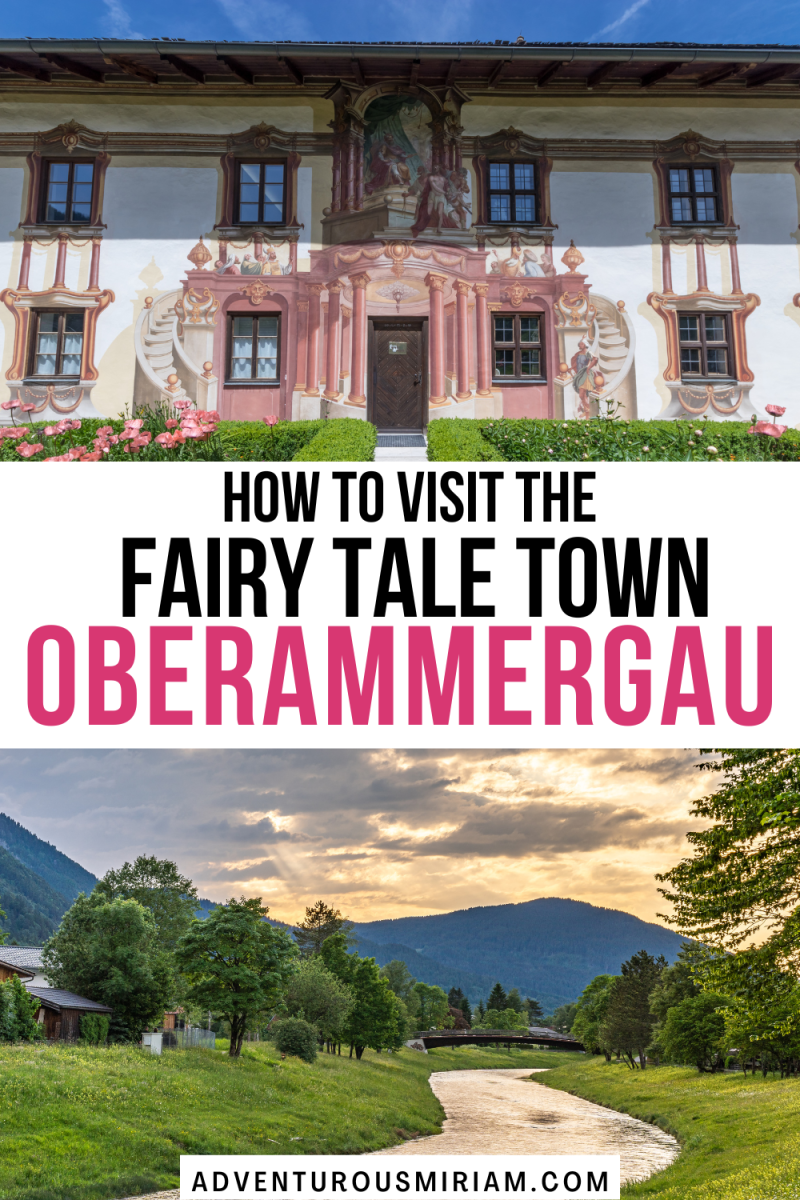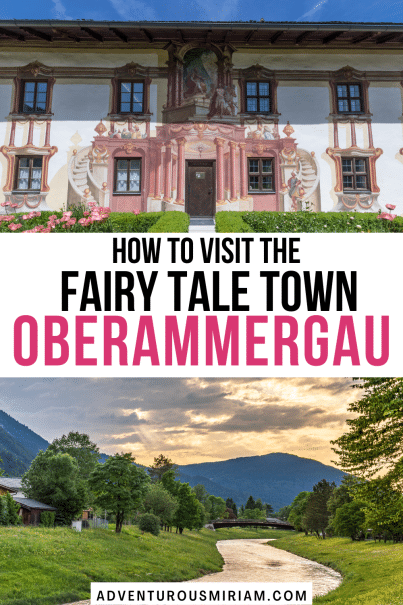 Oberammergau things to do
Oberammergau has a hidden treasure trove of things to do and look at. For instance, you can visit during the famous Passion Play every 10th year or the Oktoberfest, you can visit museums and explore the beautiful fairytale frescos around town or just enjoy the rolling hills and picturesque forests that surround the town.
Below, you'll find the best things to put on your Oberammergau itinerary.
1 day Oberammergau itinerary
Parish church St Peter and Paul
The Parish church St Peter and Paul in Oberammergau is a stunning example of 17th century Bavarian architecture. Built on the site of an old church destroyed by fire, it features impressive twin towers, intricate stonemasonry, and beautiful frescoes painted by local artist Franz Schönhuber.
Explore the grounds to view its many historic artefacts and learn more about the village's rich history. There are also regular concerts held at the church throughout the year.
Painted facades
In Bavaria there's this tradition of painting murals on the facades of houses. Germans call it Lüftlmalerei after the most famous Lüftl painter, Franz Seraph Zwinck. He lived in Oberammergau in a house named Zum Lüftl so people called him "the Lüftlmaler".
These frescos or lüftl paintings depict Christian motifs or fairytales.
I found many beautiful painted houses in Oberammergau with some dating back to the 18th century. While wandering around town, I saw paintings with Hanzel and Gretel, Little Red Riding Hood, The Hare and the Hedgehog, The Valiant Little Tailor and Cinderella.
Each of the fairytale scenes included a Christian word of wisdom about God's love or everyday advice. Like the text under Gretel in the cage: "Let courage and hope never fail as long as God's heavens prevail."
Traditional woodcarvings
The remarkable wood-carving talent of Oberammergau's inhabitants has been renowned from as early as 1520. Even today, this skill is nurtured and kept alive. You can witness a skilled artist in action at Pilatushaus for free – with a bit of patience, you might even see a beautiful creation coming to life from a block of wood.
The talented artisans also craft drums, stained glass and pottery here, all available for purchase so that you can take home a piece of traditional Oberammergau.
Oberammergau museum and Eisenhower museum
Two more sights to add to your Oberammergau itinerary are the museums.
The Oberammergau museum features artefacts and artworks from the region's long, rich history. Here, you can learn about the culture of this small Bavarian village and get an in-depth look at its many traditions. Entry is €3.50.
The Eisenhower Museum is a quirky museum in a family home with a connection to Dwight Eisenhower. This interactive museum displays numerous replicas of his office, originals of important documents and memorabilia related to his impressive career in politics, business and military service. Entry is €4.
The Passion Play Oberammergau
Back in 1634, the town of Oberammergau was struck by a terrible plague. The residents made an agreement that if spared from this disaster, they would stage a performance of The Passion of Christ every decade. The plague passed and 380 years later, their promise remains intact and is performed every 10th year at the newly renovated theatre with 4720 comfortable seats.
The last Passion Play was scheduled to run in 2020, but due to Covid it was postponed to 2022.
Where to stay
If you're spending the night in Oberammergau, you've got a few places to choose between. Since I didn't stay overnight, I can offer no personal recommendation, but this is the hotel I would choose, if I return:
Hotel Alte Post (⭐ 8.1) Dating back to 1612, this historic, family-run hotel in Oberammergau features a typical Bavarian façade with traditional window shutters. Modern rooms provide comfortable furnishings and a private bathroom with views of the inviting beer garden. The country-style restaurant serves delicious Bavarian cuisine. Book your stay here.
Got any questions to your Oberammergau itinerary? Let me know in the comments and I'll do my best to answer them.
More posts from Germany you'll love: