Psst! This post probably contains affiliate links, which means I earn a commission (at no extra cost to you) if you click through and make a purchase. As always, I only recommend products and services I trust.
Every traveller knows that finding reliable and secure internet on the road can be a challenge. Especially when you're travelling off-the-path.
You might find yourself in a hotel room or a hostel, or even an apartment where the internet is limited, often to a single ethernet cable. If you use a Mac, you may not even have a port for that ethernet cable! And if you do, you certainly don't have one on your phone, tablet, Kindle, or gaming device.
So, what do you do in this hotel situation? Well, the best travel routers around turn that single internet access point into a room filled with WIFI, so that you can connect as many devices wirelessly as you need to. The best travel routers are tiny, portable, lightweight, and work effortlessly to give you full access to the internet wherever you are in the world!
Let's look at the best ones here.
The rundown: 8 best travel routers
If you're in a hurry, here's a list of the eight best travel routers on the market. There's one for every budget and need.
How to choose the best travel routers
WIFI standard and band – If you're not sure what this means, WIFI comes in different bands, measured in hertz (Hz). The 802.11 standard covers a range of different bands, including the common 2.4GHz and 5GHz bands. The best travel routers cover this standard and all the bands under its umbrella. And you'll find that, almost everywhere you go, this standard is what is most normally used, especially the 2.4GHz band. So, check that the travel router you want covers that standard and band.
Battery power – Many portable WIFI routers can be plugged into the wall and behave exactly like a regular router, so you don't need to worry about battery. But sometimes, if you're travelling frequently and find yourself in a café or a hostel or other situation where portability is key, having a travel WIFI router that's battery-powered is extremely useful.
You'll find that the best portable WIFI for travel has a battery life of a few solid days, especially if it takes disposable batteries. Some pocket WIFI routers can be recharged, though, giving you the best of both worlds.
Ports – Your travel router should have at least an ethernet port and a USB port. This allows you to hook up your laptop for the fastest possible internet access, and a USB port means easily plugging in flash drives to transfer data within your network as well as being able to easily charge your various travel gadgets via the portable WIFI modem. If you can get a portable router with more USB port options, well, that's all the better!
Ease of use – WIFI access in this day and age should be easy and stress-free, and that's what you're looking for in a pocket WIFI router as well. Ease of use means you plug it in, connect it to the hotel or apartment WIFI, and your router instantly pops up to connect to your phone, laptop, etc. It should be that simple. The best travel routers are all about plug and play.
Mac and PC compatible – Most things in the electronics world these days are compatible for both Mac and PC. But it's always worth double checking, before you go ahead and buy a portable WIFI modem, that it is compatible with your chosen hardware. This is especially important for Mac users since, as I've mentioned, most Macs do not come with an ethernet port. So, it's Mac users who need a good portable WIFI router the most!
Portability (size and weight) – Most travel WIFI routers are lightweight and pocket-sized. That is, after all, the point of them. However, you will often find minor discrepancies when it comes to the size and weight. Some are literally pocket-sized, and others are a little bulkier but still super lightweight. If you want your portable router to have a few extra ports, you'll pay for it in size. But don't worry; it will still be lightweight. Almost all pocket WIFI routers are super lightweight.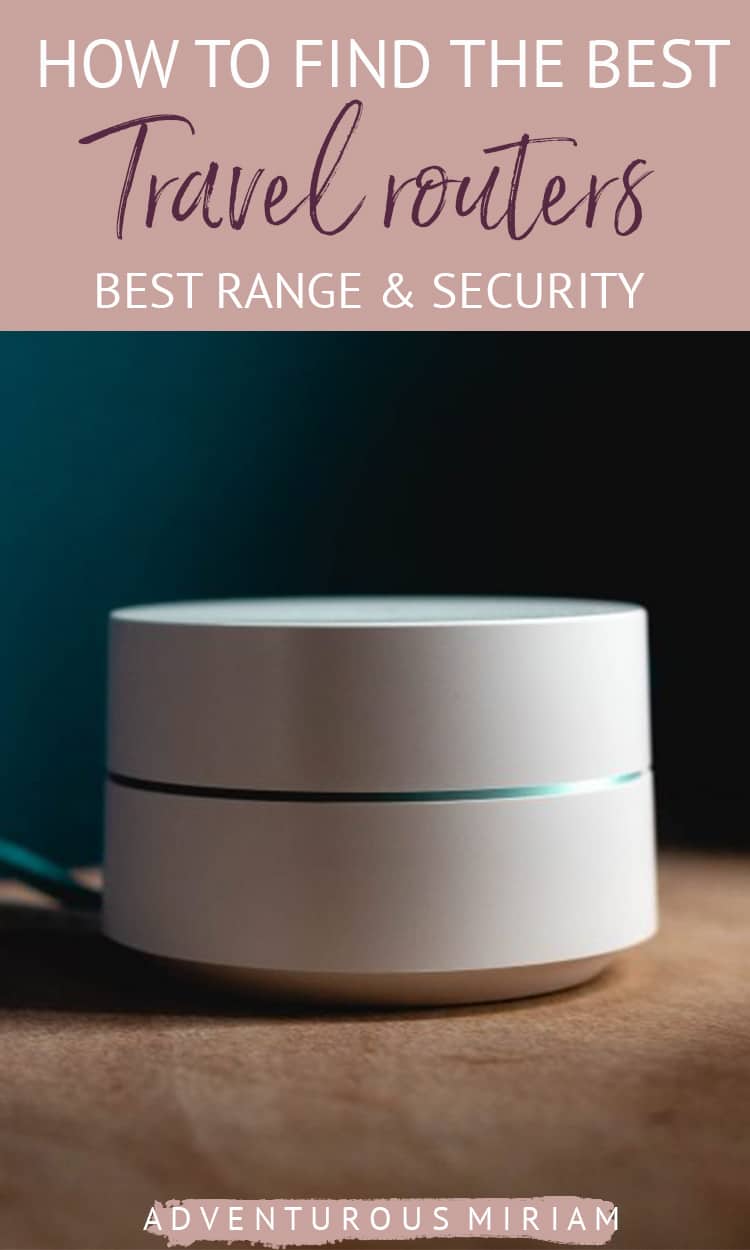 FAQs
What is a travel router? Put simply, a travel router is a pocket WIFI router that works just like your router at home. But it can be carried around easily in your luggage and then plugged into your hotel room internet to give you a simple, strong WIFI network that you can link all of your gadgets onto. It's a travel WIFI hotspot for your phone, laptop, tablet, Kindle, Chromecast, Firestick, games console, whatever electronics you bring on holiday!
Why is a WIFI portable router better than hotspot? A travel WIFI hotspot is not a secure connection; it leaves your network, and thus your personal data, open for the world to see. It's very easy to have your data accessed and stolen via a hotspot. This is why travel routers offer the best portable WIFI for travel. They have a strong firewall, password protection that you can set up, and data encryption that keeps everything totally safe and secure.
Can I access the Internet from everywhere? Not exactly. It doesn't work like mobile phone data, for example, where all you need is signal. You must have an internet connection that comes from a specific location: a house, café, restaurant, hotel, hostel, whatever. Your travel router connects to the internet and then acts like a hub to link all of your gadgets to that same network easily and safely.
What are the downsides? The biggest drawback is that the signal isn't very strong. They're perfect for hotel rooms and studio apartments, but as soon as you're trying to use it as an ordinary router like in a full-size house, you'll struggle. The signal doesn't stretch through walls and ceilings very well. They are also almost always powered by plugging them into the wall.
Do I really need one? The best way to answer this question is to find out what kind of internet setup will be at your hotel, if possible. You need one if the internet is wired, because a travel router effortlessly turns a wired network into a wireless one. You also need one if you're hooking a lot of gadgets up to the hotel WIFI. Using a single router is stronger, more secure, and faster. So yes, in short, a travel router makes your entire internet experience faster and easier wherever you go.
Best travel routers
Best overall: Hootoo (connects up to five devices)
This is one of the best travel routers around. It can comfortably connect to five different devices, has an ethernet port as well as a USB port and a micro-USB port for if your devices require that. It's small (not the smallest) and lightweight. It works with Macs and PCs without any issues, and it's reasonably priced for everything that it does. It's the perfect travel router, though not the cheapest option.
Best budget: iNet
This travel router is a little more reasonably priced. It's also smaller, turns a wired network into a wireless network instantly, has a USB port, and is very small and lightweight. As a bonus, this particular travel router also has a bult-in VPN for added security, meaning you can use it when you're at a café for guaranteed data protection for all of your devices. A brilliant addition!
Best Range: TP-Link N300
This one has the longest and strongest range. If you're staying in an apartment with a few rooms, it's perfect. You can comfortably use it as a private WIFI network just like you would use your router at home. And it really is pocket-sized! It's perfectly priced and connects to the power without any issues at all.
Most specifications: TP-link
This option works very similarly to the previous choice, and it's the same brand, but it has a few added features that easily justify the higher price tag. For one, it can connect to a faster broadband speed (5GHz instead of being limited to 2.4GHz). It also has a USB port, meaning you can plug various devices into it for charging etc. It can also be used as a range extender if you already have a WIFI router in your home!
Smallest: TP-link
This router, very similar to the previous mention, is ultra-small and lightweight, but is in fact the very smallest and most lightweight on this list, while still having all of the same functionality, including a handy USB port.
Most multifunctional: RAVPower
This router is fantastic. It can connect to several devices at once, and even has an SD card slot, meaning you can plug your SD card into it and use the router to transfer photos, videos, and files to your phone or tablet device instantly. It also connects to faster 5GHz WIFI networks. But the big drawback is that it doesn't work with Macs! So, keep that in mind!
Fastest: iNet
This router offers the fastest connection of them all. If speed is your number one concern, this is the one you need. It also has a built-in VPN for added data security.
Best Security: GL-MT300A
This is a very affordable, lightweight, pocket-sized travel router that has a built-in USB port and uses a VPN to protect your data at all times. Complete security on the go!