Psst! This post probably contains affiliate links, which means I earn a commission (at no extra cost to you) if you click through and make a purchase. As always, I only recommend products and services I trust.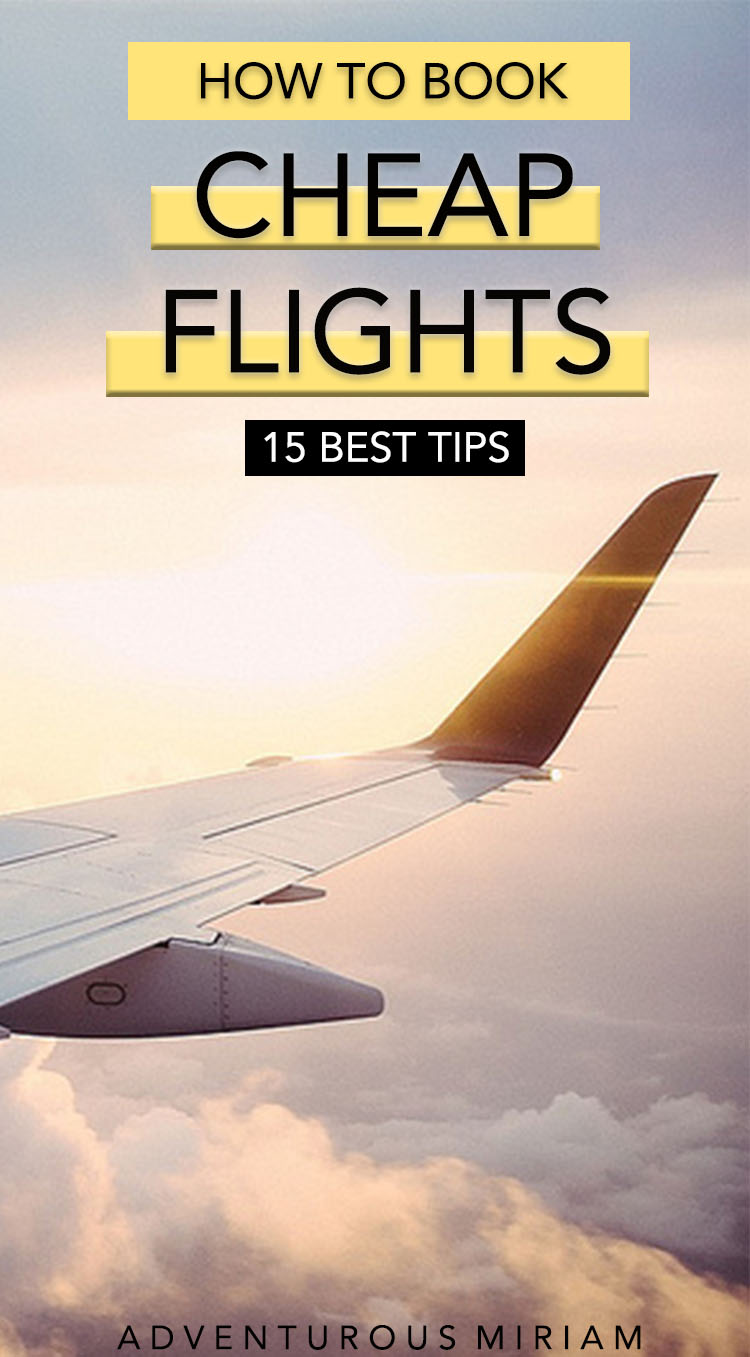 As the years go by, travel by flying has become cheaper and cheaper, meaning that almost all of us can afford to do it. But how affordable can we make it?
The cheaper the flights, the more flights we can take and the further we can go. And the more money we've managed to save for hotels, shopping, tours, and whatever else we desire.
How to find cheap flights
Knowing the best ways to find cheap flights can open up so many doors when it comes to saving money. It's all about knowing how to beat the system and finding opportunities to fly to places you thought you couldn't afford to get to.
In this article, I'll walk you through the best travel hacks step-by-step, with links to all the resources you need. Let's explore the best ways to find cheap flights and beat the system.
1. Search in Incognito
This is the best travel hack because it's so simple. When using Google Chrome (if you're not, you should be), you can open up an "incognito" window on your browser by holding command-shift-N on your keyboard. The window will turn black instead of grey, and now your cookies and search history will not be recorded.
This is a fantastic hack when visiting Skyscanner and other flight search engines because these naughty sites have a habit of recording your visits to their site (through cookies). All websites do this. But when these flight sites do it, it allows them to incrementally raise their prices for flights you keep checking and searching for.
This is stressful because it implies that, the sooner you book a flight, the cheaper it'll be; every time you check the flight and walk away, the price goes up. Going incognito on your browser alleviates all of that stress, so you can take your time browsing flights at your leisure and keep costs down.
2. Budget Airlines
For some, budget can be a dirty word because cheaper airlines are given so much negative press. Where this press comes from, I have no idea! Using budget airlines has surprised me with how much money I have managed to save. They use the same jets, are manned by the same kind flight attendants, and suffer as few delays as the high-end airlines. Take my word for it: you must take advantage of budget airlines whenever possible. The deals you can score are incredible, with internal flights in the US or flights between neighbouring European countries often costing as little as a bus ticket.
There is one small caution: Budget airlines are able to be budget by applying stricter rules with regards to luggage. Every time you book a flight with a budget airline, always pay strict attention to their baggage allowances! They can be strict and minimal. They want you to get to the airport with a regular size bag which is too large for their rules, thus encouraging you to hand over a few more dollars to take your bag onboard. Avoid this by checking the site first.
I was recently shopping for a small carry-on suitcase and found one that was 50cm tall with a label reading 'carry-on approved for most airlines'. Most. Not Ryanair. Their height limit is around 40cm, and I was almost caught. I visited their site before buying the suitcase, and saved myself $30.
Here are the best budget airlines on all continents
3. Use the Best Flight Search Engines
Flight search engines are fantastic tools that act as a middle-man between you and your cheapest airline. Simply visit the site, type in your departure and arrival cities/airports, and select the date and time of your flight. The search engine will then find the cheapest flights for you. You can request to view only direct flights with no stopover flights, and you'll be given the total flight time. They're fairly customisable and reliable.
It's a joy to watch a string of flights appear onscreen that are all not only within your budget but cheaper than you thought they could ever possibly be. Remember to pair using these search engines with going incognito on your browser to alleviate the stress of rising flight prices.
The best flight search engines that I recommend are:
Skycanner – This is my favorite; It's user-friendly and I always find the cheapest flights and best connections on Skyscanner. Plus it has a great app.
Momondo – This is the second best search engine. It's super easy to use.
Kiwi – It finds the cheapest routes and lets you search multiple destinations at a time.
I encourage you to flip between these three, comparing their options and prices, and find the best one for you.
4. Find the Cheapest Days to Fly
This applies to days of the week and months of the year. When it comes to weekdays, if you have the choice of when to fly, the furthest point from the weekend is always the cheapest. Tuesdays and Wednesdays are your cheapest flight days, without a doubt, followed by Mondays and Thursdays. As for Months, check your calendar for school holidays and big public holidays (including ones in the country you're flying to).
You might think a flight to China would be cheap after Christmas, but that's when the Chinese New Year hits. A flight to Japan in Spring sounds great, but that's cherry blossom season. July/August and Christmas will always be the priciest months in the West as well. So go for off-season flights if you can, and bear in mind school and public holidays.
5. Find the Cheapest Place to Fly
If you're not picky about where you go, and you simply have escape in mind – you want somewhere hot, somewhere to ski, a country retreat, but you don't mind where that is – then you can find the most incredible deals this way.
Using Skyscanner, you can simply choose your destination as 'anywhere' and scroll through the cheapest choices, picking a $50 flight to Iceland, Albania, or Dubai for example. Any country within a flight length of five hours can usually bear incredibly cheap flights if you pick the right off-peak time of year.
Got a week or a weekend free? Want to hop on a plane and escape for a while? And you're not picky? Just click 'anywhere'.
6. Sign Up for Alerts
This requires you registering with a selection of appropriate – preferably budget – airlines or flight search engines such as Skyscanner (for free). You just select which dates you would like your outbound and inbound flights to be on. Once you've done this, emails will be sent to you every so often in the lead-up to your ideal departure date informing you of any cheap seats that have been made available.
If you're quick, you can follow the link or check the site yourself and jump on the opportunity. When departure dates are both very far and very near, their prices are at their lowest. If you're okay with waiting until the last minute to book your flight and wait for that email alert to come through, you can score a flight for less money than you thought possible.
The trick to this is to not forget airports. Every airport has a website and several airlines that fly in and out of it, so you can sign up for their newsletters as well as those of the airlines themselves. This is definitely one of the best travel hacks you should take advantage of!
The newsletters themselves will be sent to you weekly, bi-weekly, or monthly (depending on the airline or airport). And they'll include so much useful information about not only cheap flight destinations, but also general info about travel locations and their airlines themselves.
They're a really good way to find cheap flights but also to get to know the airlines that you'll come to rely on so often. The more you know about how these airlines work, the more this is to your advantage.
Pro tip: Sign up for the airports close to you. You'll be the first to know when they open up new routes, and because you're on their newsletter list, you might get a discount.
8. Buy Separate Tickets for Big Groups
This travel hack kind of coincides with leaving the purchasing of flight tickets until the last minute. As flight seats begin to fill up, airlines become most concerned with filling the empty seats; the ones on a three-seater next to a couple, or the one between two businessmen flying to New York.
They want as many seats filled as possible, and they don't mind dropping the prices pretty low as a means of tempting you in. Take advantage of that, especially if you're in a big group! If you and four friends want to fly to Spain for the weekend, find a flight leaving in 48 hours that has five random seats left, and book it.
The seats will cost next to nothing, as long as you buy them separately. If you don't mind being sat apart from your friends or family for the duration of your flight, you can find cheap flights to almost anywhere.
9. Don't Always Fly Direct
This one might not apply to everyone. If you really want to avoid transferring, and you don't mind paying a little more for a direct flight, that's fine. But if saving money is your goal, avoiding direct flights and instead opting for transfers and stopover flights can reduce the cost of your ticket down to almost nothing. This has to be within reason, of course.
There are always funny stories of people looking for the cheapest flights with 2+ transfers and finding a flight from New York to Beijing that take 35 days and ships you around the entire globe twice. So, you have to, of course, still be reasonable and sensible. But if you're not in a rush to get to your destination, and you don't mind a flight taking twelve hours instead of eight, for instance, with a quick stop in another airport, you could half the cost of your flight.
Pro tip: Take advantage of stop-overs. If you're flying between the US and Europe, make a stop in Iceland. In just 8 hours, you can explore the famous Golden Circle AND The Blue Lagoon.
10. See What Perks your Credit Card Offers
This is a fantastic travel hack for those with a credit card. Many credit card companies now offer a points system for flying, which means purchasing a flight with your credit card will get you a few points towards money off your next flight. By purchasing a flight with your credit card, then immediately paying that off with your debit card, you nab yourself some points. Keep doing it, and you have yourself a free flight!
Even more savvy than this is looking for credit card companies which prioritise flight points and getting a new credit card with them. If they offer a new customer bonus of enough points to get you a cheap flight for free, then that flight offers you more points, you can maintain that momentum ad infinitum and you're golden!
Note: This strategy applies a little more to US citizens, since US credit card companies are the ones that have jumped on this bandwagon the most. For now, at least.
11. Book in Another Currency
This travel hack involves you checking the strength of your currency versus that of other countries. Especially the one you are travelling to. Skyscanner deals with all currencies, and it can be cheaper if you are flying to, say, India, to book with Skyscanner's Indian site and pay in rupees. Especially if your local currency is strong against the rupee.
You'll also be amazed at how often currencies' strengths can fluctuate! In any country where the political climate is unstable (such as the US and UK in 2019), its currency can rise and fall over days. Use this to your advantage when booking flights.
12. Look for Error Fares
It's remarkable how often airlines post inaccurate prices with new flights. These errors in pricing (known as error fares) can be taken full advantage of, allowing you to buy a flight that should cost $600 for $60 instead, all down to an error on the part of the airline. But stumbling upon these error fares happens completely at random, and you may not even know them to look for them.
This is where Airfare Watchdog comes in.
Airfare Watchdog is a site which finds these error fares and updates them regularly for you to take advantage of this wonderful window of opportunity. The flights come and go quickly but keeping an eye on Airfare Watchdog will give you a far higher chance of grabbing a flight before they realise their pricing mistake and reprice the flight correctly. Once you've bought it, there's nothing they can do, muhaha!
13. Where to Find the Cheapest Flights
While flight search engines save you an incredible amount of hassle and promise you the cheapest flights available, they are not always reliable. There are usually far cheaper flights out there to be found. Fortunately, the work finding those has also been made easy for you by Scott's Cheap Flights.
A rather amazing success story, Scott was just a guy who wanted to help people find the cheapest flights possible, so he built a search engine and became a fairly quick hit. His site is incredibly reliable at finding you the cheapest flights available on any given day.
For my Danish readers, you should check out Rejsespejder.dk.
14. Go to the Airline's Own Site
As much money as flight search engine sites like Skyscanner and Kiwi can save you (and they really can, don't get me wrong) there are always cases where going to the source of the flights can be significantly cheaper. Of course, the only way to know this is by being meticulous in your search. By checking the flight search engines, finding the cheapest flight, checking which airline it is, then heading over to that airline's website to check the price for that exact same flight there.
If you do go to the trouble of doing that a few times, though, you'll be surprised at how often the flights will be slightly cheaper. While flight search engines can alleviate so much of the headache of scouring tens of airline sites, they can also be used to hone in on airline sites for you to then check by yourself. Going the extra mile may just save you a few bucks.
15. Buy a Return Flight Instead of a Single
If you aren't just taking a vacation to a place and returning a week later, but rather taking an extended trip, listen up. For you travellers, don't discount the clever travel hack of buying return flights instead of singles.
Many airlines want as much business as possible. And a return flight is exactly that, so it's not uncommon for a return flight to cost significantly less than a single ticket. I know, the logic isn't there at all, but that's not your concern. What you want is the key to cheap flights, and this is it.
When looking to fly somewhere one-way, check the return flights just in case. They may be cheaper. I once booked a return ticket from Shanghai to London and simply didn't take the return flight, saving me half the money I thought I was going to have to spend. It was quite incredible, and it happens all the time.
Are you about to book a flight and have some questions? Let me know in the comments.