Why you should visit Latvia right now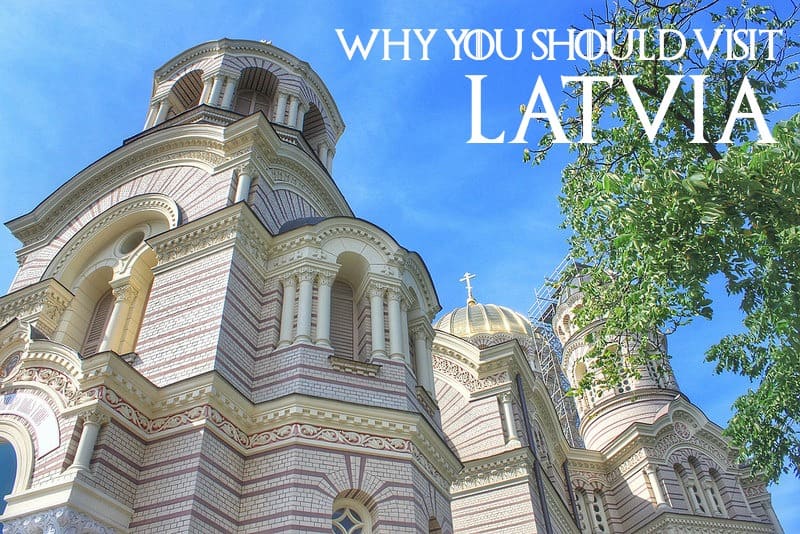 I have this good friend from Latvia. Ever since I met her, she has talked about the awesome Riga and how super double awesome it is. Each time she gets back from Riga, she tells me how much sushi she's had or how great her Latvian hairdresser was or how cheap things were. I once asked her how she kept her skin so soft. "I go to the spa. In Riga."
Of course she does.
So, two years and many talks about Riga later, I started contemplating a trip to the Baltics. And now – after having been there, I have to agree with my girlie Ieva that you should seriously visit Latvia!
It really IS that great, that cheap, and that awesome. And, there's so much to do there and so many reasons to visit Latvia. I'm writing about what to see and do in Riga next week, but until then → here's why you should visit in the first place!
While you're at it, read my post about the best things to do in Riga.
This post contains referral links for products I love. Adventurous Miriam earns a small commission at no extra cost to you if you make a purchase through my links. Thank you for your support ♡ Learn more
A cool medieval vibe
If you've never been to Europe, let me just say that Europe has the coolest medieval vibe IN THE WORLD. Think haunted old castles, half-timbered houses and cobblestone streets, some with city walls and towers. We have Dracula, the Lord Impaler. Need I say more?
However, whereas the medieval feel in Dubrovnik, Croatia reminded me of Game of Thrones, I was taken back to an old heathen setting when I visited Latvia.
It felt like a place with tales and sagas, festivals celebrating nature, and with old, ancient folks dance.
Riga is cheap
Compared to Scandinavia and Western Europe, it's very affordable to visit Riga. Food, hotel and transportation is cheap, and you can see all the major sights on foot because Riga is fairly small. It's definitely a budget-friendly destination.
You know what? I didn't spend a dime on sightseeing.
Food
A decent meal will only set you back 5 euro. Budget meals cost 5-7 euro, midrange are 8-16 euro and high-end are 15-30 euro. If you want traditional Latvian food without paying a fortune, go to Lido. It's a restaurant network with a huge buffet for a set price of €16. Lido serves lots of different soups, like Latvian cold beetroot soup and borscht, but also sausages, red meats, fish and salads.
Accommodation
A dorm bed is 10-25 euro, a midrange hotel is 25 euro and up, while a high-end hotel is 80 euro and up.
Transportation
Riga is best explored by foot, but you can also take the tram. It's easy and you can buy tickets at Narvesen (kiosk), in the tram or at your hotel/hostel. A ride on the tram can cost you as little as 1 euro.
You can choose between many different kinds of tickets, including tickets for one (€1.15), two (€2.30), four (€4.60), five (€5.75), ten (€10.90) and twenty (€20.70) rides, or tickets good for one (€5), three (€10) or five (€15) days of travel.
Get more info about ticket types and prices here.
And to my Danish and other Northern European readers: plane tickets are insanely cheap. From Copenhagen, they get as low as €33 for a return ticket and it's only a 1,5 hour flight.
Free WIFI
And did I mention the free WIFI?
As a travel blogger and incurable WIFI-addict, I was stoked to find out that there's internet connection everywhere and most of it is free.
Stunning architecture
Another memorable thing about Riga is the significant architecture, especially the Art Nouveau. I recognised the churches and bell towers from what we have in Denmark, but aside from that it was totally different.
It's a fairly hidden gem
The fact that Latvia is still fairly undiscovered only makes it more charming. In 2014, 2 million people visited Riga compared to Rome that got 13 million visitors the same year. You'll see tourists and other travelers in Riga, but it is by no means overrun or crowded like many other European capitals. In my opinion, it has the perfect balance of authenticity and tourism.
It's green and lush
You can visit Latvia all year round, but you should know that winters are frosty with temps dropping to -10 degrees. If you visit from June to September, the streets will be alive, parks are lush, and flowers bloom around gardens and the many green areas in Riga.
It's the perfect spa getaway
The best thing about Latvia though is the criminally cheap spas. Only in Asia have I had such amazing and extremelystupefyingly EPIC massages as in Latvia.
Ohmygoodness! And did I mention how cheap it was?!
I spent a whole day at ESPA Riga, a luxurious five-star spa, having facials, body scrubs, hour-long massages, pool and sauna time topped off with a gourmet 2-course meal and champagne. The total price? Only €170.
We're talking the very best Latvia has to offer here, so of course it's totally possible to get much cheaper spa experiences, too. If you were to get the same experience in Denmark, you would be paying over twice as much.
Insanely cheap sushi
I come from a land where sushi is as expensive as gold. In Denmark, I pay €10 for one roll with 8 pieces. In Riga, I pay €4.
Latvians seem to have a thing for sushi, because I saw sushi everywhere! My favourite place was Tokyo City, which is a hip restaurant chain. They have this ongoing offer where you get 2 for the price of 1. So I ordered 1 Philadelphia roll and 1 salmon nigiri, but instead I got 2 rolls and 2 nigiris for the same price.
Ps. Their menu cards are in Latvian, but there are big images of all the food so it's easy to see what's what.
A long history of occupation
On a more serious note, Latvia has a long history of occupation. For the past 500 years, it has been under foreign occupation, and The Museum Of The Occupation gives you a glimpse into what the country has overcome. Close by, you'll find The Freedom Monument honoring soldiers killed during the Latvian War of Independence (1918–1920).
Both places are free to visit.
Beautiful views
And last but not least – let's not forget the sunsets. I don't know if I was just lucky or if the sunsets are generally this good, but I definitely saw some outstanding sunsets in Latvia.
It's a great place, really. I stayed on a low budget and still got a high-end experience. Latvia is one of those places where you really get the most for your money, especially because it's in Europe which is generally super expensive.
I'm definitely going back.
Would you visit Latvia?
Before you go – don't miss out on these posts about Riga:
Pin it!