Your travel guide to the ancient Temple of Garni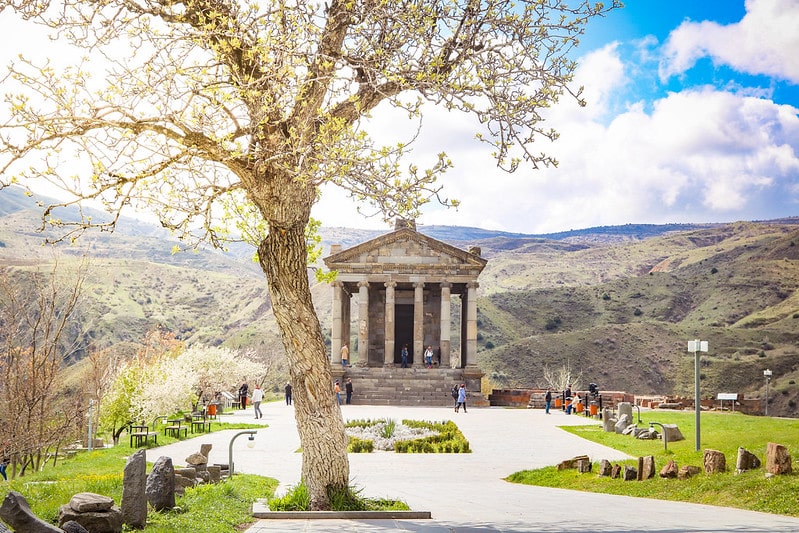 The temple of Garni is one of the most popular places to visit in Armenia. I went on a day trip that combined Garni with the UNESCO site of Geghard monastery and Khor Virap because they're located nearby. I recommend you do the same to get the most out of your trip.
In this post, I'll share how to visit Garni temple, what to see and what to bring so you can plan a fantastic trip.
Let's get started.
Read next: 15 amazing things to do in Armenia
This post contains referral links for products I love. Adventurous Miriam earns a small commission at no extra cost to you if you make a purchase through my links. Thank you for your support ♡ Learn more
What is the temple of Garni?
The Temple of Garni is an ancient pagan temple in Armenia. It's a classic example of ancient Greek architecture and it's the only preserved pagan temple left in the country.
What makes Garni unique?
Garni temple is the only free-standing colonnaded Greco-Roman structure in all of the former Soviet Union. It's considered a symbol of Armenia's classical past. Even if you're not a history buff, Garni temple is worth visiting because of its majestic structure and beautiful location in the valley.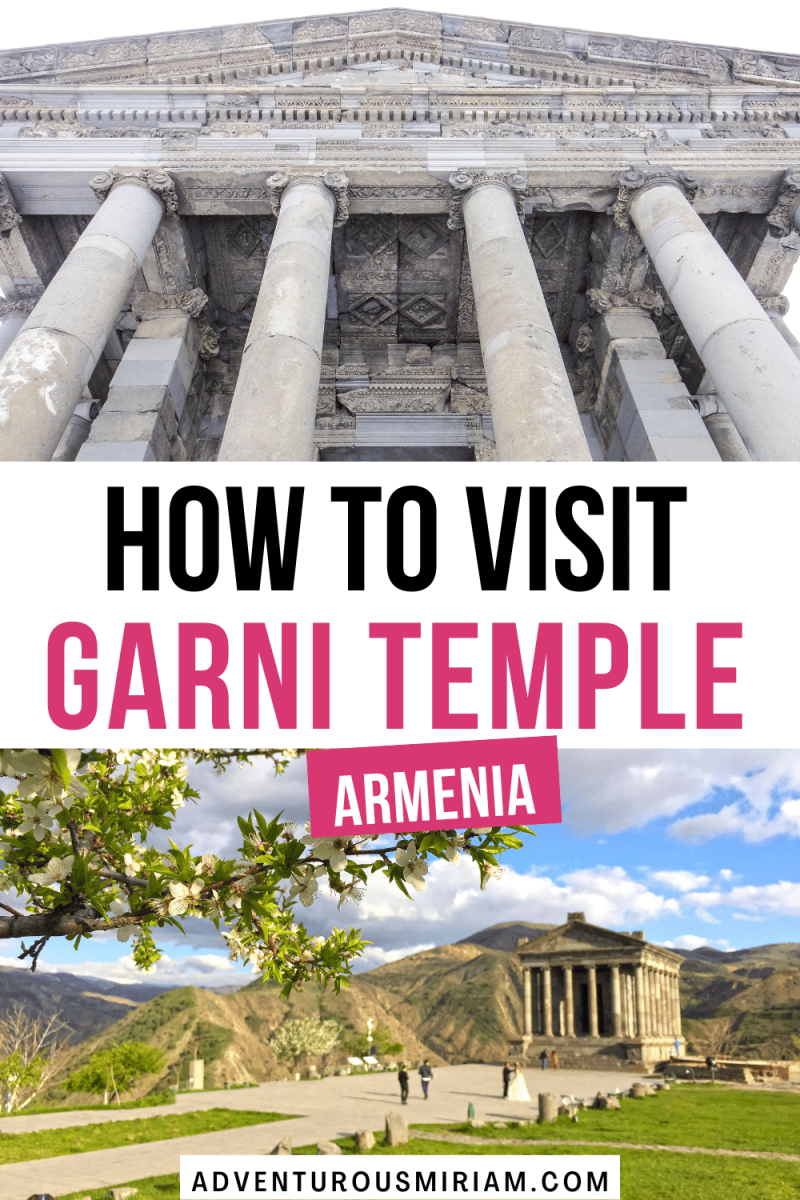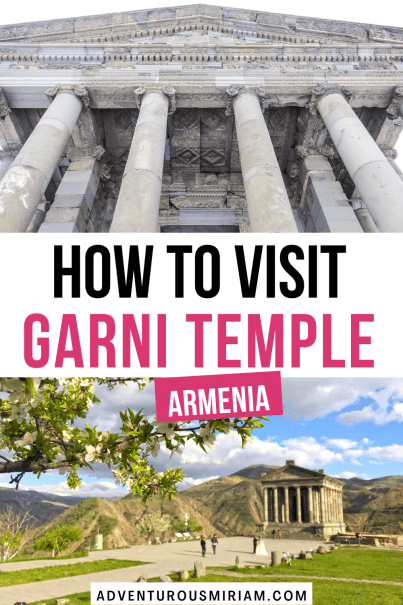 Where is Garni temple?
The temple of Garni is located near Garni village, about 25km from the capital of Yerevan. Its beautiful location in the Caucasus region makes it a perfect day trip if you're in Yerevan or planning to see the highlights of Armenia. Its breathtaking location is what made it a royal summer house for Armenian kings and queens. 
History of Garni temple
The Temple of Garni was built over 2.000 years ago by King Tiridates I. Originally, it was constructed not with cement, but with iron to unite the stones of the foundation. The temple stood strong for centuries, surviving the purge to get rid of pagan temples after Armenia converted to Christianity. But in 1679, it was destroyed by an earthquake and then rebuilt 300 years later, in 1966-1976.
With its iconic columns, intricate carvings and mosaic floors, the Temple of Garni was built to honour the ancient Sun god Mihr. After adopting Christianity in 301, the pagan temple lost its significance and the fortress of Garni became the summer residence of the kings.
It was built in classical Greek-inspired style and exhibits a combination of both Armenian and Hellenistic art styles. The temple features a peripheral design, consisting of a single row of pillars that surround its inner area. This type of layout was typically found in many Greek temples of antiquity.
Today, Garni temple is a UNESCO World Heritage Site that stands as a symbol of both Armenia's antiquity and its transformation from polytheism to Christianity.
Things to do at Garni temple
One of the great things about Armenia is that there are so many historic and beautiful sights to visit on a day trip from Yerevan. You've got Khor Virap and Lake Sevan, and then there are Geghard monastery and Garni temple.
At Garni, you'll have not only the temple to explore, but also the surroundings. Here are a few of the best things to do at Garni temple:
Explore the temple
Start by climbing the steep steps leading up to a main hall and an altar. Remember to look up to see the carvings in the ceiling. Garni temple has 24 columns, and you can walk all the way around it.
Admire the inscribed stones
On the path leading up to the temple, there are several stones lying or standing in the grass. Take a moment to look at the details and inscriptions. You'll find an 8th-century stone inscribed in Aramaic by King Ardashir I. He wrote of uniting Garniani land with Ararat.
Enjoy the views of Garni Gorge
At the backside of the temple, you'll find stunning views of the Garni gorge and beautiful valleys and mountains. The landscape is quite unique.
Visit the Symphony of the Stones
In Garni Gorge, you'll find a natural wonder known as the Basalt Organ or the Symphony of Stones. It consists of long asymmetric hexagon and pentagon basalt columns that are nearly 50 meters high.
Its unique name comes from the fact that the stones are hanging against the gravity, which makes them look like an organ – hence the name: The Basalt Organ.
How to get to Garni temple from Yerevan
Garni temple is just 25 km from Yerevan, which makes it easy to visit on a day trip. Here are the best ways to get there:
By bus
You can take the bus to Garni from Yerevan. Head to Gai Bus Station and find bus number 266. The trip takes around 40 minutes and costs 250 dram/$1.
On a tour
While it's fairly easy to take the bus to Garni, I recommend joining a tour. The main reason is that you'll be able to visit more monasteries in one day.
This tour for instance is combining the Temple of Garni with Geghard Monastery, which is a church built into a rock and it's really cool!
You'll also get to visit Khor Virap, which is another must-see in Armenia – a monastery with the beautiful Mount Ararat in the background where the poor Gregory the Illuminator was held captive for 13 years in a dark dungeon.
Opening hours
The Temple of Garni is open year-round from Monday to Sunday. During the summer months, it's open from 10:00am to 9:00pm, while in wintertime it's from 10:00am to 5:00pm.
Foreigners: 1000 dram
Adults: 250 dram
Children: 100 dram
What to bring to Garni temple
Garni temple is an outside attraction, so make sure you bring sunscreen, sunglasses, a hat or anything else you might need while spending time outdoors. Also don't forget good walking shoes so that you can explore the grounds.
Make sure to visit Geghard Monastery
As I mentioned earlier, I really recommend visiting Geghard Monastery, because it's close by and worth seeing.
This UNESCO World Heritage Site, dates back to the 4th century and consists of a typical Armenian church from the outside, but an atmospheric and unique experience awaits you inside. Definitely worth visiting!
Got any questions? Ask me anything in the comments!
Read more about Armenia