6 magical Iceland adventure tours you must try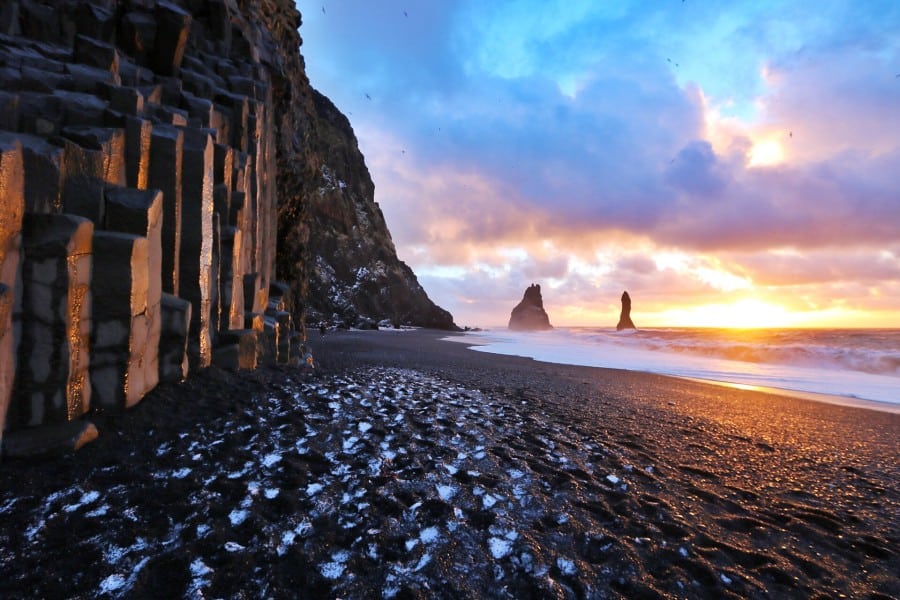 If you're planning a trip to Iceland, you're in for a treat. Whether you're traveling around the whole country or making a short stopover in Reykjavik, this list of the best adventure tours in Iceland should help you plan your trip.
If this is your first trip to Iceland, you must have a million questions. I sure did. Like, what are the main highlights? How will I get the most out of my time in Iceland? And what should I pack?
That's why I made this list of the very best and most popular Iceland adventure tours from Reykjavik. It should give you an idea of what to expect and how to plan your day trips around this beautiful Nordic country. While you can see most of these sights all-year round, a few of them are only available in winter. Like the Northern Lights and the ice cave tour.
This post contains referral links for products I love. Adventurous Miriam earns a small commission at no extra cost to you if you make a purchase through my links. Thank you for your support ♡ Learn more
Book airport transfer
Before you arrive at Keflavik airport, I strongly recommend that you prebook airport transfer to Reykjavik. While a taxi ride costs $120 one way, you'll only pay $40 for a minibus with max. 8 people. Another benefit is that a minibus is just as comfy as a taxi, and it will drop you off at your hotel in Reykjavik. Oh, and it has free WIFI.
BEST ICELAND ADVENTURE TOURS FROM REYKJAVIK
In this post, you'll find a list of the top six adventure tours in Iceland. I've handpicked these tours based on the best itinerary, length of the trip and group size.
The tours I mention here are bookable through GetYourGuide, which is the travel company I use to book guided tours and day trips myself. They're my favorite, because they have competitive prices, excellent customer service and free 24-hour cancelation.
Okay, guys. Let's jump in and take a look at the most amazing Iceland adventure tours.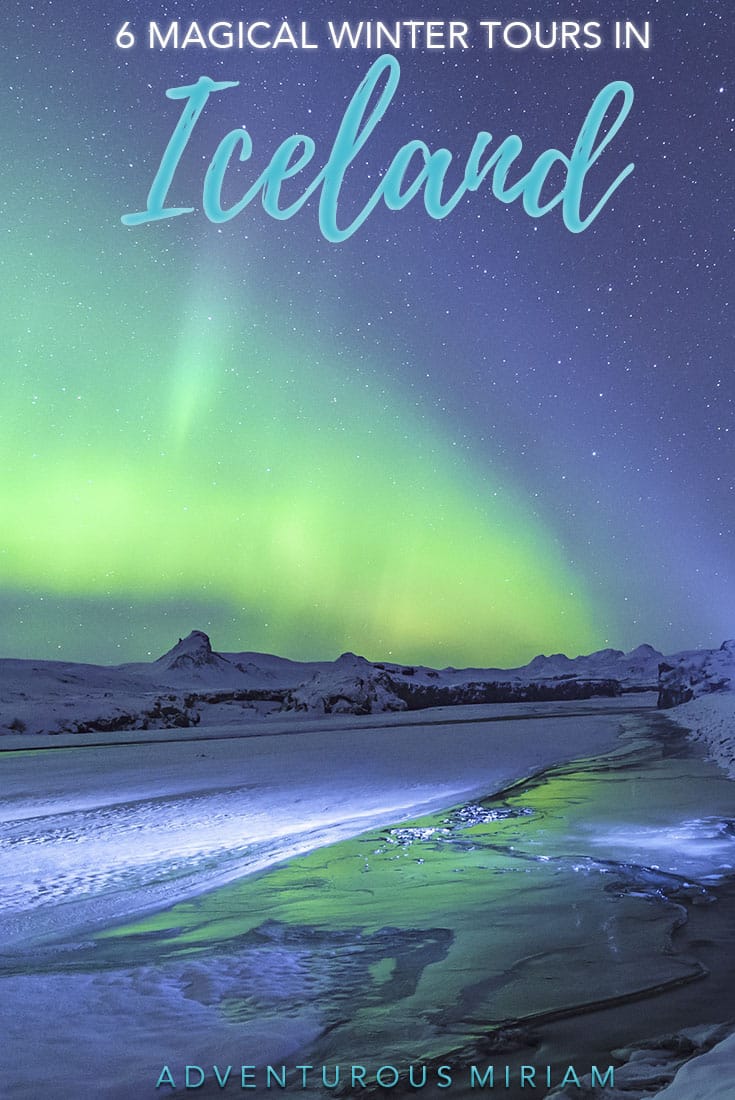 1. JOKULSARLON GLACIER LAGOON TOUR
Let's begin with my favorite sight in Iceland: Jokulsarlon.
Imagine 1000-year old icebergs and a black volcanic beach covered in glistening, translucent blocks of ice in different shapes and sizes, just like diamonds. Visiting this magical iceberg lagoon and black beach is a major experience in Iceland. On this 12-hour tour, you'll stop by Seljalandsfoss waterfall and have dinner in Iceland's southernmost village Vik.
When you reach Jokulsarlon, you can take a boat ride in the iceberg lagoon or just stroll along the shore. There's a black sand beach at the other side of the road. It's called Diamond Beach because of the glistening icebergs on the black lava sand. This was the highlight of my trip to Iceland, and it can be yours too if you've never seen an iceberg before.
Book here: Jökulsárlón Glacier Lagoon Full-Day Tour from Reykjavik
2. ICE CAVE TOUR
Visiting an ice cave is one of those activities you can only do in winter. Some ice cave excursions are combined with ice climbing, glacier hiking or snowmobiling. While the two latter can be done by anyone in reasonable physical condition, ice climbing requires a bit more agility.
Adventuring into a blue ice cave, formed by glaciers though centuries is an epic experience. Most of all because they're so insanely beautiful. Some of these ice caves – particularly in Vatnajökull – have this intense blue colour while others are transparent. They're made that way over time. Before you go into the caves and ice tunnels, you'll be fully equipped with ice caving gear, but you have to wear sturdy waterproof walking shoes to fit the crampons on.
From Jokulsarlon – book here: South Iceland: Vatnajökull Glacier Blue Ice Cave Tour
From Reykjavik – book here: Langjokull Glacier: Snowmobile & Natural Ice Cave Tour
3. SOUTH OF ICELAND TOUR
The most beautiful place in Iceland is the South coast. Its ever-changing landscape includes some of the country's biggest volcanoes, glaciers and most iconic waterfalls. It's simply out of this world! On a South Iceland tour, the highlights include walking behind the waterfall at Seljalandsfoss, the impressive Skógafoss waterfall (on the photo below) and the black volcano sand beach at Reynisfjara.
Book here: South of Iceland Full-Day Tour from Reykjavik
4. GOLDEN CIRCLE TOUR (INCL. KERID CRATER)
This 8-hour trip takes you to the best of the southwest of Iceland's waterfalls, lakes and geysers. You'll see the spectacular Geysir area, Gullfoss waterfall and Þingvellir National Park (the first Viking parliament), which is also where several Game of Thrones and Viking scenes are shot.
The Golden Circle Full Day Tour with Kerid Crater is one of the best selling tours – and it includes the up and coming Kerid crater that people absolutely love. I recommend this tour relentlessly because you get the krónars you pay for this tour additionally back in the bucket loads. You'll see waterfalls, turqouise geysirs, a volcano crater and otherworldly landscapes in one day – no wonder it's so popular.
Book here: Golden Circle Full Day Tour
You might also love: Golden Circle Full Day Tour with Kerid Crater
5. THE BLUE LAGOON (INCL. THE GOLDEN CIRCLE)
The Blue Lagoon is a must on any Iceland itinerary – or at least it should be. Ideally, you'd spend 3-4 hours at the lagoon, and then you'd have the rest of the day to explore the rest of Iceland. With this tour, you'll get a full day tour of sightseeing around the Golden Circle with relaxation at the Blue Lagoon at the end of the day. It's the perfect combination.
Book here: Golden Circle and Blue Lagoon: Full-Day Small-Group Trip
You might also love: From Reykjavik or Keflavik: Blue Lagoon Transport
6. NORTHERN LIGHTS
The most amazing activity in Iceland has got to be chasing Northern Lights. If you visit Iceland in Winter – from October to March – you have a pretty good chance of seeing them. If you want to maximise your chances, you can join a trip from Reykjavik.
The benefit of joining a tour is that the guides check the weather forecast and through experience and intuition, they decide which route will give you the best chance of spotting the Northern Lights. Plus, they'll bring warm blankets. You can go by bus, a minibus or by boat. Just imagine those views with the water reflection!
Get your bus ticket here: Northern Lights Bus Tour from Reykjavik
Get your minibus ticket here: Northern Lights Hunt from Reykjavik by Minibus
Get your boat ticket here: Northern Lights by Boat in Reykjavik
And there you have it. Six amazing experiences in Iceland. Now onto the packing, because Iceland requires a bit of planning.
WHAT TO PACK FOR YOUR ICELAND ADVENTURE TOUR
Like we say in the North: There's no such thing as bad weather, only bad clothing. So when exploring the outdoors in winter you obviously have to be prepared for any kind of weather. Here's the most essential items on my packing list for Iceland:
Waterproof and windproof jacket
If you're going to Iceland in the winter, it's worth investing in a reliable waterproof jacket. I've had my white Helly Hansen snow jacket for almost 10 years, and it's still just as great. An insulated parka would also do the trick. It just has to be waterproof – not water repellant.
Sturdy waterproof boots
I brought my trusty Salomon hiking boots, which have served me well on hikes in Peru, Slovakia and the Swiss Alps. What I like the most about them is that they're waterproof and sturdy, which comes in handy when you're walking on glaciers, icebergs or lava beaches. You know, just another day in Iceland.
Ski Pants
Iceland is cold and windy, so you'll need to pack a pair of ski pants. Not only will they keep you warm, they're also convenient if you need to sit on the ground (for that perfect photo) or walk close to a waterfall (like Skogafoss).
A warm hat
While the most practical choice would be a balaclava, they're not really the sexiest, are they. I wore my pom pom hat, which I also use during winter in Denmark. It protected my ears and head, which is all I can ask from a hat. Just make sure it sits fairly tight, so it doesn't blow off in the wind.
A scarf
And it should be warm and snug around your neck, so go for a wollen scarf.
Waterproof Gloves
Yes, even the gloves need to be waterproof. Otherwise, your hands will be soaked the minute you touch something covered in snow or ice. Make sure to buy a pair of waterproof gloves with touch screen so you can use your iPhone.
Fleece-Lined Leggings
Lastly, you'll need a pair of warm leggings to keep warm with maximum movability. I recommend this pair for women. They're insulating and affordable.
Do you have any further questions? Anything else you want to know about Iceland?
More posts about Iceland you might like