How to visit Diamond Beach Iceland in winter
Diamond Beach is one of the most unique places you'll visit in Iceland. Here is my complete guide to the unbelievably beautiful Diamond Beach Iceland in winter.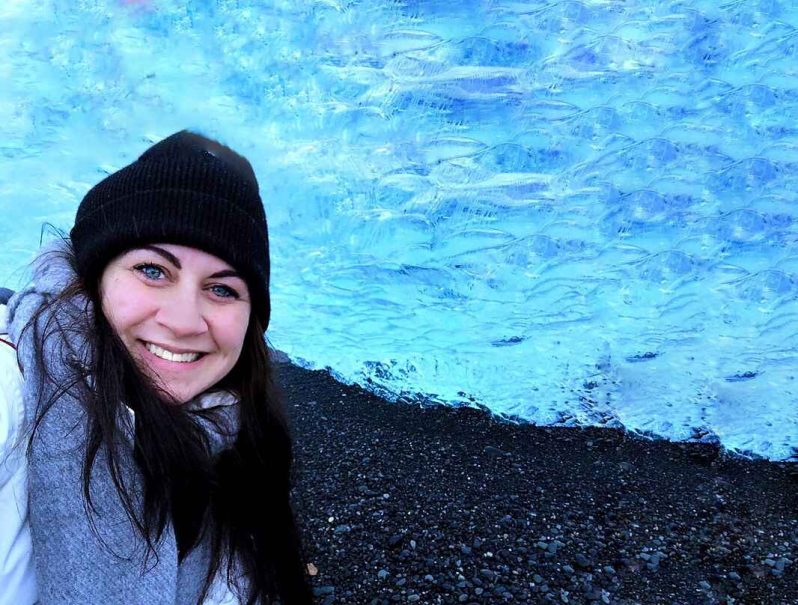 Are you wondering whether you can visit Diamond Beach Iceland in winter? The short answer is, yes you can. But, there are a few things to consider if you do. 
I visited Diamond Beach and Jokulsarlon in January and it was mindblowing. The entire place looked like another planet and a magical winter wonderland!
There are many reasons why visiting this legendary iceberg beach is better in the off-season. The main ones are that it's a lot quieter and that you have a chance of seeing the Northern Lights!
But, there are also some downsides like freezing temperatures, icy conditions, and shorter days. 
Here is a complete guide for visiting Diamond Beach in winter with my top tips!
This post contains referral links for products I love. Adventurous Miriam earns a small commission at no extra cost to you if you make a purchase through my links. Thank you for your support ♡ Learn more
Diamond Beach Iceland in winter
How is the weather on Diamond Beach in winter?
Iceland's weather is always a bit moody. It can be sunny and clear, but most likely it's a bit rainy.
It only snows about three days each month in December, January, and February. Still, there's a 50% shot at some rain or snow during winter.
My photos here were taken in heavy rain in January, but it didn't spoil the fun.
I just had to be more careful with my camera so it didn't get wet. My advice is to go here even if it's raining, snowing, or storming – you'll be glad you did.
👩🏻 Miriam's pro tip:
Check these local websites before you venture out in winter:
What's it like to visit Diamond Beach Iceland in winter
A winter trip to Diamond Beach is great! Actually, the weather only makes the colors stand out which I think worked out well in the photos.
The glacier lagoon doesn't freeze in winter, so you'll definitely see more icebergs and blocks of ice drifting downstream.
Just remember that winter days are shorter, so time your visit to fully enjoy the beach and lagoon. In January, we had 4 hours of daylight.
Where is Diamond Beach?
Diamond Beach is located right by the Jökulsárlón Glacier Lagoon on the south coast of Iceland.
It's 380 km from Reykjavik, which is a 5-hour drive.
Why is it called the Diamond Beach?
Diamond Beach is named after the clear, sparkling ice chunks, broken off from the nearby Breiðamerkurjökull glacier in Vatnajökull national park.
These chunks of ice float from the Jökulsárlón Glacier Lagoon to the beach, only to eventually drift out to the Atlantic Ocean.
What makes this beach even more unique is its black sand, thanks to Iceland's volcanic activity. When molten lava meets cold seawater, you get this distinct black sand.
Many of the icebergs have a bright blue color, while others are transparent, white, or black. They're polished by the ocean and washed ashore again, but some of them are still in the water.
My favorites were the blue ones and the small transparent ice diamonds.
Read next: Reynisfjara Black Sand Beach is a must-see in Iceland
When to visit the black Diamond Beach
Diamond Beach and Jökulsárlón are busiest at mid-day, but nearly everyone stays within 100 meters of the parking lot so it's easy to escape the crowds. 
You can visit all year round.
How to get to Diamond Beach
Buses from Reykjavik to Jokulsarlon and Diamond Beach take about 11 hours, so it's not a great solution. Your best option is to visit by car (5 hours) or an organized day tour.
I'll go through your two options below:
Organized day tour
You can find day tours and multi-day tours to Diamond Beach from Reykjavik. I've handpicked the best tours for you below:
1-day tour from Reykjavik to Diamond Beach and Jokulsarlon (⭐ 4.5/5) Book here
2-day tour from Reykjavik to Diamond Beach and Jokulsarlon (⭐ 5/5). Book here
Rental car
If you're not joining a day tour, you'll need a rental car.
That's how I prefer to get around in Iceland because there's so much to see off the path. You can rent a car in Reykjavik and other major cities in Iceland.
It's easy to get from Reykjavik to Jökulsárlón – a 5-hour drive non-stop on Road 1 (The Ring Road).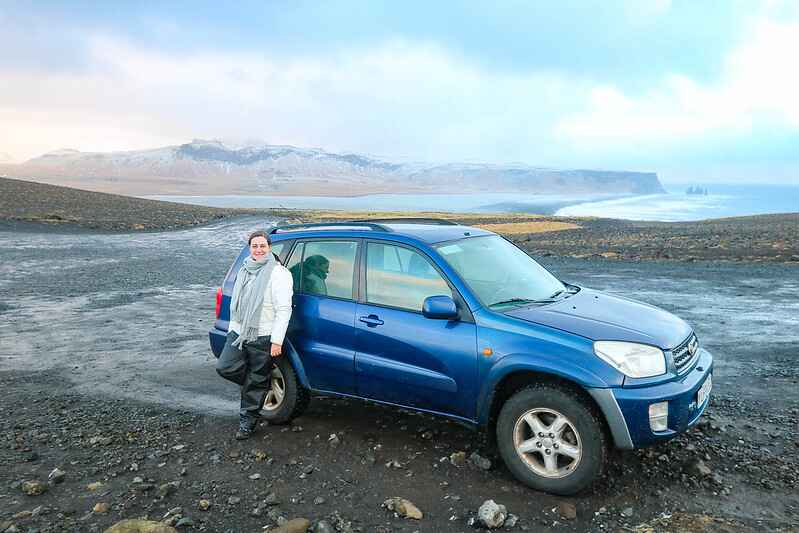 Best Car Rental Company:
DISCOVER CARS
When booking your car rental online, I recommend Discover Cars. They compare prices at car rental agencies all over the country to get you the best deal.
Things to do at Diamond Beach
1. Take photos of the icebergs
My favorite thing to do at Diamond Beach is walking between the icebergs and glistening ice shards.
If you visit during sunrise or sunset, the light is particularly beautiful.
Experiment with angles, and you can capture some truly breathtaking shots. Some of these icebergs are bigger than you!
2. Walk along the beach
Another great way to experience the beach is by walking along the shore and watching the different shapes, sizes, and colors of the ice.
The contrast of the black sand and the sparkling ice makes this a beach walk unlike any other.
3. Visit Jökulsárlón Glacier Lagoon
Just across the road from Diamond Beach is Jokulsarlon Glacier Lagoon.
This lagoon is the source of the icebergs. Boat tours and kayak tours are sparse in winter, but you can still get up close with the massive ice chunks and maybe even see seals swimming among them.
4. Watch the Northern Lights
Diamond Beach in winter is a cool place to see the aurora borealis because there's hardly any light around.
But, that also means you'll need some sort of light, like a headlight or torch, to get around.
Make sure to check the northern lights forecast or ask your hotel if you're staying nearby.
5. Look for seals at the mighty glacier lagoon
Jökulsárlón glacial lagoon and the surrounding area are often visited by seals. I saw one pop its head up but wasn't fast enough with my camera.
While walking the beach, keep an eye out for the seals frolicking in the water or resting on the glistening icebergs.
Jökulsárlón ice beach
Safety at Iceland's Diamond Beach
Overall, Diamond Beach is safe on a winter visit, but you still need to be cautious. It doesn't have those unexpected sneaker waves like Reynisfjara Beach, but there are still some risks.
Those ice blocks? Best admired from a distance.
Climbing on the massive icebergs isn't just slippery with the potential for falls, but if you're thinking of jumping onto one in the water, it could flip or even take you to sea.
FAQ – Diamond Beach Iceland in winter
Is Diamond Beach Iceland cold?
Yes, Diamond Beach in Iceland can be quite cold. During winter months, temperatures can range from 14°F to 32°F (-10°C to 0°C).
Even in summer, temperatures are relatively cool, often hovering between 41°F and 50°F (5°C to 10°C). Always dress warmly when visiting.
Is Diamond Beach open year-round?
Yes, you can visit Diamond Beach in Iceland year-round. But remember, the weather can be tricky, especially in the winter season.
So, before you head out, make sure to check the local forecasts and road conditions.
Read next: How to plan an Iceland road trip in winter
Is there always ice on Diamond Beach?
Yes! Ice from the lagoon and glacier regularly breaks off into the sea, so you'll always find fresh "ice diamonds" on the volcanic black sand.
The size of these ice chunks varies throughout the year, but it's not necessarily tied to the seasons.
What time is best to visit Diamond Beach?
I recommend getting there early for the best experience.
There's no official opening time, so if you're there by sunrise and the skies are clear, you'll get the best photos. Sunset is also prime time for great shots.
Be aware that the sun rises later and sets earlier in the winter. You can check the sun-times here.
More posts about Iceland you might like
Save it!