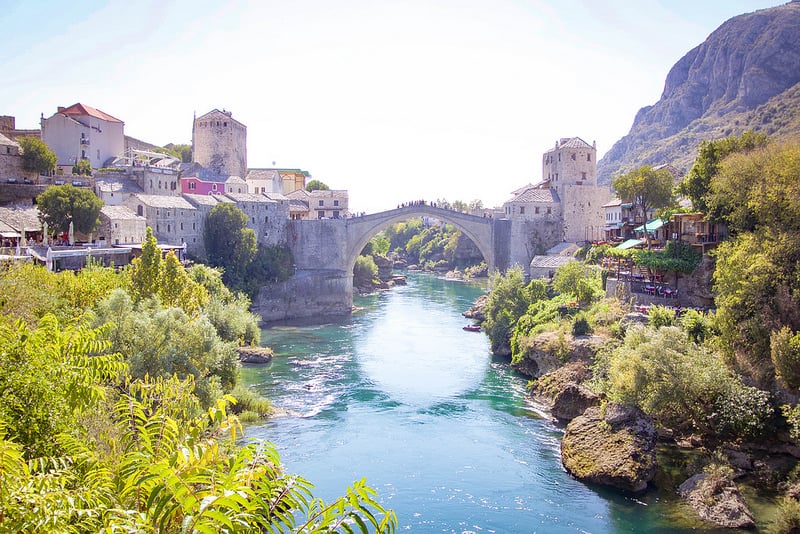 Welcome to Bosnia
This Balkan nation in southern Europe is a country with a warm and sunny climate, a rich and exciting local history, and is not yet so popular among tourists to make it feel like anything less than a real hidden European gem. It's a kind and peaceful nation of helpful people with a picturesque landscape you'll want to dive into for yourself.
Discover an Intense War History
As a former Yugoslavian nation, Bosnia and Herzegovina has known war as recently as the 1990s. As the nation began to seek independence from Yugoslavia, only two of the three ethnic groups which make up the country were in agreement. This caused a political rift which led to war and bloodshed. Seeing how the country has risen from the flames of war so spectacularly is a joy.
Beautiful Fairy Tale Landscapes
You may not be expecting it, but the countryside of Bosnia and Herzegovina is nothing less than a spectacle of fairy tale elements. From its glacial lakes to its snow-capped mountains and rolling green hills, the whole country is a constant treat for the eyes. The mountain range which separates the country from neighbouring Croatia is one of Europe's most spellbinding sights all on its own.
The friendliest people in the world
Bosnia and Herzegovina might not be known for this, which makes it all the more pleasant a surprise when you visit, but its people are some of the kindest, gentlest, and most helpful you're ever likely to meet anywhere in Europe. Or even the world. Exploring the country simply means meeting and getting help from more and more wonderful locals.
Europe's most underrated country
Perhaps it's because of Bosnia and Herzegovina's tragic recent history of war, but the country is almost criminally overlooked as a holiday destination. And yet, when anyone visits, they're never ever disappointed. Rich history, jaw-dropping landscapes, and kind locals all combine to make the best trip of your life.
Best sights in Bosnia
Sarajevo (capital)
Often called the Jerusalem of Europe for its rich and diverse religious and cultural diversity, this title tells you most of what you need to know about Sarajevo – a beautiful city of stunning architecture.
Mostar (128km from Sarajevo)
Mostar is a city which sits atop the Neretva River, with a stunning old stone bridge which links the city's two halves together. It has an Old Town district with traditional foods to discover and enjoy.
Tribinje (203km from Sarajevo)
The country's southernmost city has a deep and fascinating history which dates back to the Middle Ages. It's overflowing with architecture from every era of Bosnian history.
Konjic (59km from Sarajevo)
A town that was of great strategic importance during the Bosnian War, meaning that not only does Konjic have a rich ancient history, but also a fascinating recent history to explore.
Blagaj Tekke (141km from Sarajevo)
The most stunning monastery in Bosnia is found in the shadow of a great cliff, and at the edge of a serene turquoise body of water. It's 600 years old and uniquely beautiful.
Pocitelj (160km from Sarajevo)
This little historical village is classified as an open-air museum and is considered by some to be the Pearl of Herzegovina. It has multiple ancient historic sites which draw in visitors from the world over.
How to get around
I always use Rome2Rio for traveling Europe. This site/app is so easy to use. It quickly comes up with a variety of transport options to suit your time and budget. All costs are shown, even taxis.
Best time to visit
Bosnia and Herzegovina have a lot to offer whichever season you choose to visit. However, if you're hoping to stay dry, the best time to visit is between August and October where temperatures hover around 30°C and the outdoor activities like kayaking and rafting are readily available. However, if you're planning on catching the ski season then anytime between December and April will have you hitting the slopes in style.
Practical info
Language:

Bosnian

Currency:

Convertible Mark

Plugs: Standard voltage of 230V (I recommend buying a universal adapter)
Population:

3.5 million

Important telephone numbers:

124 for all emergencies

Visa:

Most countries can enter Bosnia and Herzegovina visa-free and stay for at least 90 days. US citizens can stay for up to three months every six months.
Rough Budget
Hotel:

$30-60

Food:

$8-15

Activities: e.g.

$75 for canyoning

Transportation:

$5-20 for a train
Basic Bosnian Phrases
Hello:

Zdravo

Thank you: Hvala
Yes:

Da

No: Ne
Bye:

Zbogom

Cheers: Živeli
Posts from Bosnia