10 tips for visiting Kravice Waterfalls, Bosnia's paradise
There's something about waterfalls. That thundering sound of the water hitting the bottom… oohh, it's music to my ears. It's peaceful, therapeutic even. That's probably why I fell so hard for Switzerland, Croatia and Slovenia, which – despite its small size – has no less than 300 waterfalls!
But back to Kravice waterfalls, Bosnia, because that's what we're going to talk about today.
In this post I'll introduce you to one of Bosnia and Herzegovina's highlights. I'll share all the tips on when to go, how much it costs and how to get there. Let's dig in.
This post contains referral links for products I love. Adventurous Miriam earns a small commission at no extra cost to you if you make a purchase through my links. Thank you for your support ♡ Learn more
Kravice Waterfalls, Bosnia
Kravice waterfalls (or Kravica, as they call it in Bosnian) is a series of waterfalls in the southern part of the country. It's located just an hour's drive from Mostar, another major sight and probably the most popular place in the country. People tend to combine Mostar and Kravice if they're on a day trip from Dubrovnik or Sarajevo (more on that below).
When you arrive at the entrance, you'll have three ways of getting down to the waterfalls.
Walk down the stairs (impossible with a stroller or wheelchair)
Take the long gravel road (takes about 25 minutes)
Jump the tourist bus (goes back and forth regularly)
1. How to get to Kravice Waterfalls
I'll be honest with you, Kravice isn't super easy to reach. Although it's located close to Mostar, it's almost impossible to get there unless you join a tour or have a car. But fret not, this shouldn't hold you from going! These are your options:
Day tour from Sarajevo:
This is what I did. I joined Meet Bosnia on a day trip to Kravice, Mostar, Blagaj and Pocitelj. These guys have other great tours so it's worth checking them out.
Day tour from Mostar
The easiest would be to join a day tour from Mostar, because it's so close. Expect to pay $40 – $46 for a 6-hour tour, which includes a visit to the beautiful Blagaj Tekke.
Day tour from Dubrovnik, Croatia
Day tours from Dubrovnik run daily. It takes 2.5 hours and includes a visit to Mostar as well.
Taxi
You can also crab a taxa from Mostar. I saw several taxi drivers waiting in the parking lot at the waterfalls, but make sure to arrange the trip back just in case.
Drive yourself
If you have a car, simply plot in Kravice in Google Maps. You'll be heading for Ljubuski, which is a mere 10 minutes from the waterfalls.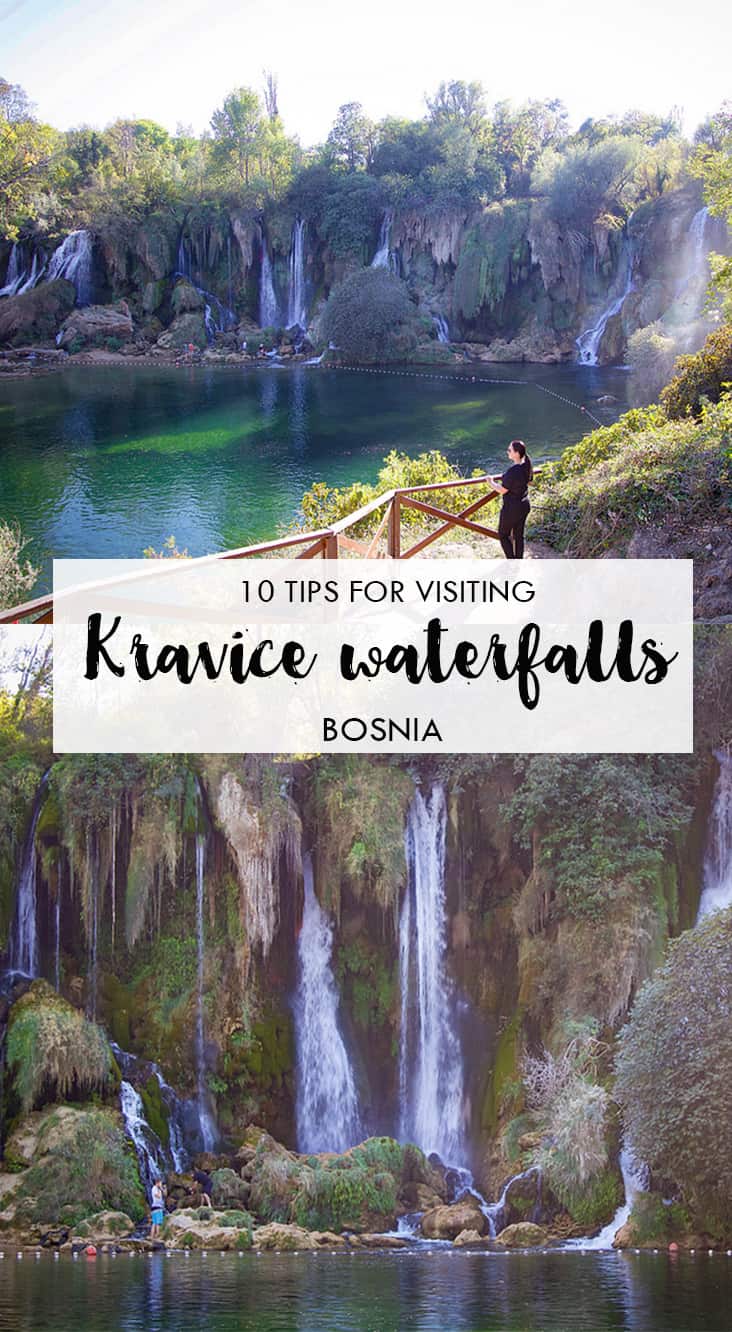 2. How much does it cost?
The entrance fee varies depending on when you visit. Here are the recent prices (2018) – you can pay in both Kuna and Mark:
October – May: 7 BAM ($4)
June and September: 8.5 BAM ($5)
July and August: 10.5 BAM ($6)
3. When to visit the waterfalls
I visited in October, which was perfect. The weather was still lovely (27 C degrees) and warm enough to swim. There were visitors, but Kravice wasn't crowded. The only small downside was that the water wasn't at its fullest. But it didn't really matter if you ask me.
Read next: Bosnia Travel Guide: Everything you need to know
I do want to give a piece of advice: Make sure to visit before the afternoon – at least if you're visiting in autumn. The thing is that when you visit in the afternoon, you'll have the sun in your face, which is a problem when you take photos. From 11-2 pm would be the perfect time to visit.
4. Swimming in Kravice
YES! you can actually swim here. As opposed to Plitvice lakes in Croatia, which I love, you can go nuts swimming, kayaking and boating here.
5. How much time you need
At least two hours. Ideally, you'd spend 3-4 hours, which gives you time to relax, swim and have a drink or some lunch.
6. Boat trip
Wanna get up close with the waterfalls? I totally get that. Although I didn't join the boat trip here, I've done it in Mexico once and it was super fun. The boat trip costs €5 per person for 20 minutes.
Read next: 12 things to do in Sarajevo
7. Kayaking
You can also rent a kayak or canoe. It's a fun way to get close to the waterfalls and just relax on the water. The rental cost is 10KM/$6 for one hour, 5KM/$3 for 30 minutes and 40KM/$24 for a full day.
8. Eating and drinking
You'll find two restaurants at Kravice waterfalls. They're right next to the waterfalls so you'll have an amazing view while you eat. They serve things like pizzas, eggs, coffee, beer and the prices are reasonable.
Read next: Mostar; the most popular town in Bosnia and Herzegovina
There's also a small kiosk at the entrance where you can buy water.
9. What to pack
Here's a list of what to bring to the waterfalls. If you plan on swimming, there's a changing room by the lakes.
Sunscreen – I prefer this one because it's hypoallergenic and paraben free
Towel
Mosquito repellent (just in case)
10. Nearby sights
Kravice is located within close distance of several beautiful sights. I've already mentioned Mostar, which is a must if you're in Bosnia and Herzegovina. Another highlight is Blagaj Tekke, which is a 600-year old Dervish monastery, built under a cliff.
You can read my post about the 7 most beautiful places in Bosnia here.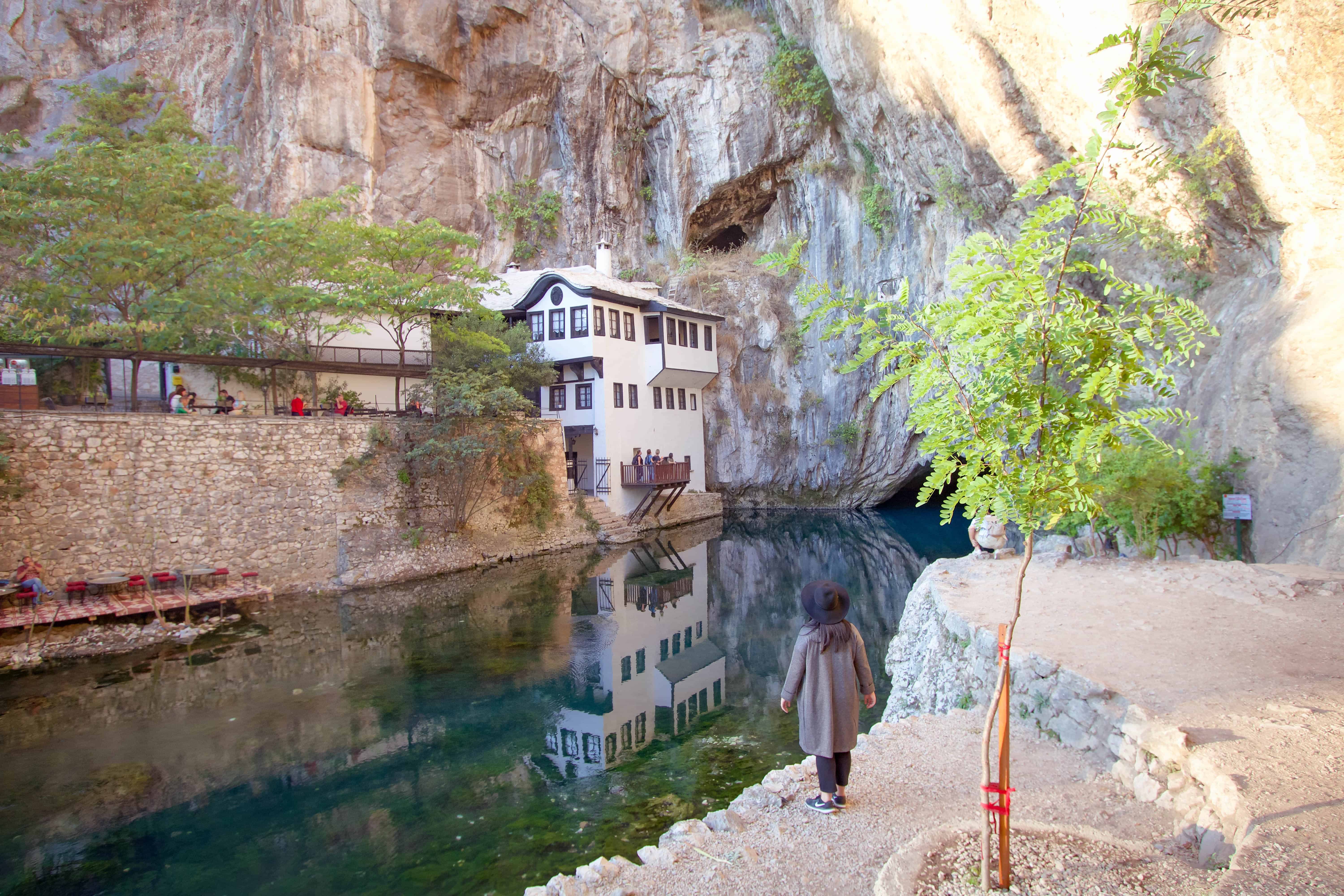 Have you been to Kravice? Do you have questions that I didn't already cover?
Get more tips about Bosnia