2 days in Budapest – Discover 17 fun adventures
Spending 2 days in Budapest and wondering what to see? It's totally possible to experience the highlights in a few days.
Budapest Hungary is an interesting city. And it's been on my radar for what seems like an eternity. This summer during my Interrail trip through Europe, I finally made it there and it was hands-down worth the wait.
So, what's so special about Budapest, you ask?
Well first of all, coming from Vienna I couldn't help notice how alike these two capitals are. Vienna is super classy, whereas Budapest is a bit more vintage… or rough around the edges shall we say; things are more old and retro and it's definitely cheaper!
This post contains referral links for products I love. Adventurous Miriam earns a small commission at no extra cost to you if you make a purchase through my links. Thank you for your support ♡ Learn more
2 days in Budapest
Budapest is really two cities: Buda and Pest. They were only joined in 1873, though still separated by the Danube river. They each have different vibes and fun activities, so it makes sense to spend one day in each part of town.
Day 1 : BUDA SIDE
If Buda and Pest were twins, Buda would be the classy one. Hilly Buda is full of elegant architecture such as Gellért Bath, Buda Castle, Fisherman's Bastion and Matthias Church (and my favorite restaurant in Budapest: "Pest-Buda Bistro"). The area is calm and serene, and you can see everything in less than a day, although I ended up going here every day. Other things to see on the Buda side includes:
Buda's caves (Szemlgőhegyi and Pálvölgyi)
Wolf Meadow cemetery
Park area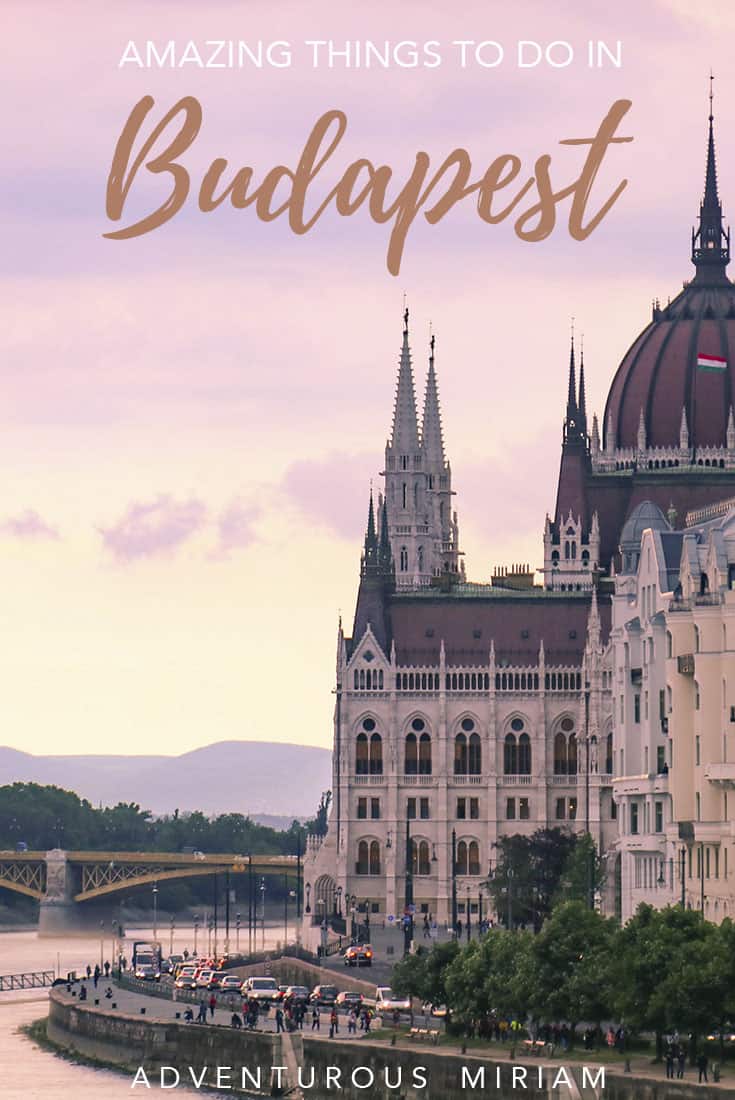 1. Fisherman's Bastion
I stayed at the Pest side, where there's a little more action, but first thing on my Budapest agenda was to visit the famous Fisherman's Bastion on the Buda side. Fisherman's Bastion (aka The Halászbástya in Hungarian) is a terrace in neo-Gothic and neo-Romanesque style situated on Castle hill.
If you've seen photos of Budapest, you've probably come across this image once or twice ↓
Fisherman's Bastion was built in the late 1800s to celebrate the 1000-year anniversary of the founding of Hungary. Aside from its impressive seven towers, it also has the best views of Budapest. You can see the Danube River, the Széchenyi Chain Bridge and the very impressive Hungarian Parliament Building from here.
Tip: If you're a sunrise and sunset lover like me, you'll want to be at the Fisherman's Bastion in the morning for the sunrise. You get the best sunset view from the Chain bridge on the opposite side.
See? I wasn't kidding about the view ↓
2. Matthias Church
The colourful Matthias church is conveniently located right next to Fisherman's Bastion so getting lost was not an issue for me this time around.
The church is over 700 years old and the vibrant ceramic roof is made of tiles from the renowned Zsolnay factory of Hungary. It's super impressive and detailed!
3. Buda Castle
A few minutes walk from the Fisherman's Bastion is the Buda Castle. I didn't go inside; I'm not even sure it's allowed now that I think of it. I know for a fact that some sections of the castle are open, but I think the Royal Palace is closed off.
4. Gellert Thermal Bath
After visiting the castle district, I picked up my swimsuit and headed to one of the famous Budapest baths. The choice between Gellért bath and Széchenyi Bath (the most famous) wasn't easy, but I ended up going to Gellért because of its famous Art Nouveau entrance hall and architecture.
Many of Budapest's thermal baths lie on the Buda side, and while the baths in Buda tend to be more upscale and luxurious, those in Pest are more popular.
Thermal baths on the Buda side:
Gellért Bath (5100 HUF / $17 for entrance)
Rudas Bath (3200 HUF / $11 for entrance)
Kiraly Medicinal Bath (2700 HUF / $9 for entrance)
5. A river cruise on the Danube
The Danube is Europe's second-longest river and its banks in Budapest are a part of Unesco World Heritage sites. A very popular way to explore the city and watch the top sights is by taking a river cruise.
These river cruises lets you glide past landmark monuments such as Buda Castle, the Parliament and the Vigado Concert Hall with free WIFI and a drink in hand from $10. You can choose between several cruises. Some run during the day, others at night, and each have their advantage.
6. The Széchenyi Chain Bridge
Buda and Pest are separated by the mighty Danube river, and no less than eight bridges link the two city parts. The most well-known of these bridges is the Széchenyi Chain Bridge – high-five if you can pronounce that correctly! I got a really good view of Budapest from the bridge, including the Castle district and the Hungarian Parliament.
7. Enjoy the food in Budapest
Staying on subject, I was quite taken by the food scene in Budapest. I mean, wow. And before you say anything… yes, it is a Greek dish you're looking at, but bear with me for a second here. Budapest is a foodie town and it packs a punch when it comes to International food (including Greek) and Hungarian food. If you like paprika, sausage and goulash, you will like the local cuisine!
Read next: What to eat in Budapest
Day 2: PEST SIDE
Pest, Buda's flat but hip twin, has a thriving nightlife, business and culture scene and a whole lot of sights. The most important being the Hungarian Parliament Building, but it also hosts tons of churches, vibrant restaurants, thermal baths and other interesting landmarks, including:
Thermal baths (Széchenyi Baths and Dagály Baths)
Central Market Hall (You can also do a food tour here)
Vajdahunyad Castle
The House of Terror
8. Shoes on the Danube
On a more serious note, I was faced with a very moving memorial while walking along the Danube promenade. The shoes on the Danube banks tell the horrific war story of the many jews who, during 1944-1945, were forced to strip naked on the banks of the Danube and face the river. A firing squad then shot the prisoners at close range in the back so that they fell into the river to be washed away.
The shoes are a fitting tribute to all those who lost their lives, but also a sad reminder of a very dark time.
9. Hungarian Parliament
Right next to the Shoes on the Danube is the magnificent Hungarian Parliament, the third largest parliament building in the world. And grand it is.
The Neo-Gothic building is open to visitors for a 45-50 minute tour at specific times every day, but only when the assembly is not in session. You can buy a ticket at the entrance.
10. New York Café
The New York Café prides itself of being the most beautiful café in the world. I live in the land of cafes and I must say that I tend to agree.
This café is extremely popular and very grandeur. It's located inside Boscolo Budapest Hotel and basically looks like the place a Queen would sip her afternoon tea. So yeah, the New York Café is not exaggerating when it calls itself beautiful.
11. Alexandra Café (a super secret)
However…. I found a similar version and much less crowded alternative to the New York Café. It's actually a library, but behind the books is this Art Nouveau palace room with a fresco-style ceiling, chandeliers and a black-suited pianist. It's called Alexandra Café.
I personally prefered Alexandra Café over New York, because it's smaller, more low-key and much less popular. It seemed like a local spot, a hidden gem among all the touristy sights. And they have great pastries. Need I say more?
12. State Opera House
I just made a pit stop at the State Opera, which offers tours once or twice a day. It's very up-scale and beautiful inside so I kind of wish I hadn't been 1 hour late for the last tour.
13. Stay at a fancy hotel
What I did manage though was finding a classy and luxurious boutique hotel to spend the night. Budapest has quite a few luxury hotels, and I was fortunate to get a room at the majestic Aria Hotel Budapest, which is conveniently located right next to St. Stephens' Basilica (aka it was super central). Seriously, this is one of the best hotels I've ever stayed at.
Read next: Where to stay in Budapest
14. St. Stephens Basilica
My awesome location had me close to all the good restaurants and only 10 minutes walk from the Széchenyi Chain Bridge and Hungarian Parliament. My neighbour was St. Stephens Basilica (also known as Szent István-bazilika), a Roman Catholic church and also the largest church in Budapest.
15. The Jewish Quarter
While walking to the train station I suddenly found myself in the Jewish quarter. It was a walled ghetto during World War II, but today it's home to a vibrant Jewish culture including the grand Dohány Street Synagogue.
Aside from a hefty entrance fee and a veeeery slow cashier lady (it took us almost 30 minutes to get through an annoyingly small line), I was impressed by the synagogue once I got past the metal detector and inside. I learned that the Grand Synagogue is the largest in Europe and second largest in the world. The area around it is interesting as well, so in the end I was glad to visit and learn the history.
If you don't feel like waiting, you can skip the line and head straight to security by getting a ticket here. It includes a guided tour of the synagogue.
16. The funky Ruin Bars
In walking distance of the Dohány Street Synagogue, I found the most popular of Budapest's ruin bars: Szimpla Kert. These so-called ruin bars are abandoned spaces turned into clubs by locals with second-hand furniture and lots of creativity.
It's a world apart from the extravagant New York Café or Fisherman's Bastion, but that's exactly what I like about Budapest. It's so versatile and vibrant, and there's something for any taste.
17. Photograph Budapest at night
Budapest might just be one of the most popular places for night photography. If only I had known this before deciding not to bring my tripod – gaaarrh! Whether you're a photographer or not, Budapest really lights up at night and it's particularly stunning at the Danube where you have the best view of the landmarks.
At the end of the day, I only have praises for Budapest. I really, really like this city! It's the perfect combo of cheap and luxe, the food is awesome and there's lots of history and beautiful things to do in Budapest. I don't know about you, but I'm definitely going back.
How to get around Budapest
I mostly took busses or the tram around town, but occasionally I took the metro just for the fun of it. It's really, really old. Not like in a bad shape or anything, but it's just so retro.
Another more convenient and easy way to explore the main sights in Budapest is a hop-on hop-off sightseeing bus. It won't take you to the offpath places like the Alexandra cafe, but it'll stop nearby. You can choose between a 24, 48 or 72-hour pass depending on how long you're in town for. And the bonus? You get a free drink at a ruin bar.
Book here: Budapest: Hop-On Hop-Off Tour
So, would you visit Budapest? It's cheap and hip, let's go, let's go!
Before you go – read more from Budapest