A magical Danish summer (the best I've had in years)
Weather-wise, this has probably been one of the lousiest summers in a decade – not one single day over 22 degrees, just lots and lots of rain and wind. Booh. But still, it's been the best Danish summer I've had in years. If you've been following this blog for the last couple of months, you probably know why.
His name is Theo. And no matter how depressing the weather has been or how many times he wakes me up at night, I've been smiling every day since he was born.
But before this turns into an unstoppable love declaration to my baby (because it easily can), I have also ventured off to various parts of my home country this summer. Thomas just got a new job so we had to make do with one-day trips and weekend trips. But honestly guys, with a new baby it's been a relief to come home rather than staying at a hotel after one of these trips.
This post contains referral links for products I love. Adventurous Miriam earns a small commission at no extra cost to you if you make a purchase through my links. Thank you for your support ♡ Learn more
NEW MOM – NEW HAIRCUT
I kicked off this Danish summer with a brand new haircut. Since forever, my hair has been super-duper long. Too long to be honest, but I haven't had the heart to cut it this short until now.
I like it and it's easy – and practical (spoken like a true mom).
DAD'S BIRTHDAY
Like any Danish summer, this one also began with my dad's birthday in June. His birthday party is sort of the kickoff for the summer holiday where my family gets together.
I come from a family with a long tradition of cake baking. We take pride in baking. So when you have people over, you never just serve one or two different cakes. Oh now. We're talking six, seven and sometimes nine different cakes – all home-baked of course.
My mom is brilliant in the kitchen and she makes the best ever strawberry tart (my favorite). It's the only one I got this summer, but I've been trying to lose baby weight so I guess it's for the best 😀
CAMPING IN NORTH JUTLAND
This is the first time in years that my parents didn't go camping. Usually they're in Fjellerup, but they wanted to stay home this summer to spend time with their grand children (which I'm thankful for). My brother Daniel and his wife Naaja borrowed their camper and went camping in North Jutland.
Read next: Top 12 things to do in North Jutland, Denmark
They stayed at a camping site called Skiveren where we used to go when we were kids. It was a trip down memory lane to be back and make our own memories without parents. It makes me feel so grown up.
The camping site is placed right next to the North Sea, one of Denmark's gems. It was super windy, but the air is so fresh that it's rejuvenating. Both Theo and I slept all through the night because of all that fresh air.
Note to Self: Bring the baby there more often.
Another little gem in North Jutland is the epic Blue Ice Cream House (Det Blå Ishus) in Tversted. It's famous in Denmark, and as a devoted ice cream enthusiast I'm quite impressed. You'd think strawberry ice cream taste the same, but Det Blå Ishus proves that statement wrong. It's like ten times better than other places I've been to, although it doesn't beat Fjellerup Vaffelbageri.
I'm not sure if it's because we didn't eat red meat throughout my pregnancy (we love red meat). But since I'm no longer pregnant, we've had A LOT of steak. These are just some of the many, many delicious entrecôtes we had ↓
In North Jutland, we rented a cabin next to Daniel and Naaja's camper. SO cozy! I didn't want to leave. It was one of the best weekends over the entire summer.
DANISH SUMMER FOOD, YUUM
Obviously it's not real summer without the Danish summer food. The fresh peas, the berries and the seafood.
Read next: Traditional Danish Food: 20 amazing dishes you must try in Denmark
THE HEALTHY
Depressing weather is not only, well, depressing. It's also bad for crops. So this summer we didn't have as many peas or sweet corn, which is among my favorite foods. I did go pea-picking with dad and Theo, and even harvested some on my balcony. They turned out really great so next year I'm planting double as many!
THE SWEET
I made this guilty pleasure Toblerone cheesecake and double-yum, it was good. Seeing this photo again reminds me that I have to make another one soon!
And then there are the ice creams. I haven't had as many as I'd liked, but honestly… do I ever?
THE SEAFOOD
Ahh. My dear dad went and bought 17 kg crab claws a month ago – and they're almost gone already. I got 5 kilos and have been eating crab claws on rye bread with mayo and a bit of vinegar. It's one of my favorite eats in the world.
Another favorite is lobster tails, which is a little pricier but almost just as good. It tastes amazing on white bread with mayo and a sprinkle of vinegar.
GAMMEL ESTRUP MANOR
Back to the summer adventures…
One of the things I love about having a blog is that I'm constantly inspired to explore. Since I became a blogger almost 4 years ago, I've seen much more of my own country and also experienced the world differently. Because as a blogger – and adventurer – I always look for new exciting places and perspectives, and I really love that about blogging.
One of the places I ventured to this summer was Gammel Estrup Manor. If you've been a long-term reader, you might remember seeing this place in my post about my brother's wedding. I took their wedding photos at the manor, a quite idyllic place.
Gl. Estrup is an old manor house, dating back to 1490 so it's really old. Since 1930, it's been a museum that shows the development of the Danish aristocracy throughout the past 600 years. The rooms are furnished as they might have been in past centuries. When you visit, you might even see the cook hard at work in the kitchen.
Gammel Estrup has a super beautiful Baroque garden, farm animals, lots of vegetables and an apple plantation. It's a nice place to spend an afternoon during the Danish summer. I sure liked it.
PICNIC IN REBILD BAKKER
Oh, Rebild Bakker – what a nostalgia trip! We used to go here with my parents when I was little. Back then my mom would pack a picnic basket and we would spend the afternoon here in the most beautiful heathery hills in Denmark.
What's special about Rebild Bakker ('bakker' means hills in Danish) is the deep-purple heath that lies as a thick blanket over the hills. That, and the free-ranging sheep that make you feel one with nature.
Read next: Have you heard of the magical Rebild Bakker?
(In case you were wondering how I spend my days on maternity leave ↓)
THE TROLL FOREST AND ROLD SKOV
Rebild Bakker is part of Rold skov forest, which is the largest forest in Denmark. Once upon a time, Rold skov was the hiding place for the robbers from Rold (a nearby village). It's also home to springs and lakes, several smaller forests, limestone mines, animals, a watch tower, and an ancient burial-place with 50 large grave mounds.
One of my favorite places in Rold skov is the magical Troll Forest (Troldeskoven). Here, the 300-year old gnarled trees take you into a fairy tale universe with myths and superstition.
Sometimes the tree stems form a circle known as an "eye tree". According to superstition, you can avoid rickets (vitamin-D deficiency) by climbing through an "eye tree". As children, the Danish Queen Margrethe and her sisters climbed through an "eye tree" in Troldeskoven to get treatment.
If it worked is unknown.
ORGANIC HARVEST MARKET WEEKEND
The first weekend in September, and the last official summery day this year, we went to the yearly organic harvest market. During this weekend, farms around Denmark open their barn doors to the public nationwide.
This event spotlights local farming traditions and produce, and offer family activities and entertainment. I haven't been to one of these markets before, but I read about it on a blog I follow and got interested.
We went to a farm close to Aarhus where they served organic farm food, wine tastings, and you could see the animals and some of their machines. I think it was fun, and I bet Theo would love this in a year or two.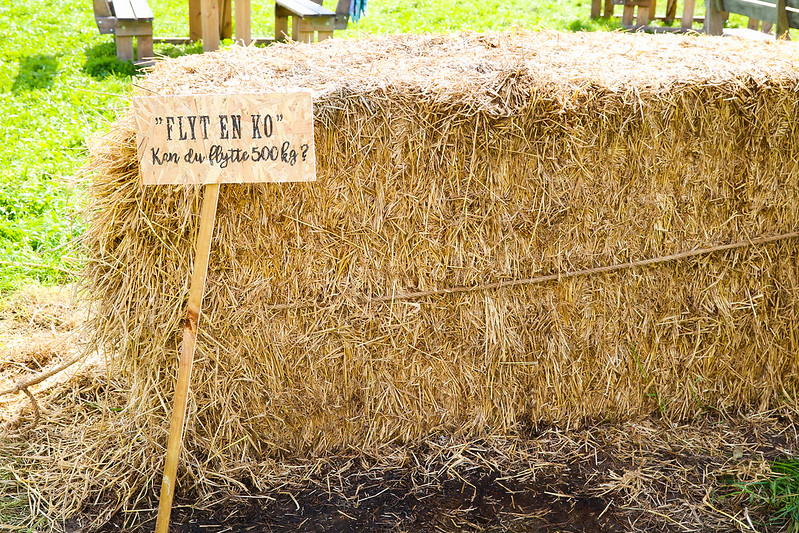 This Danish summer has been a summer with family, hygge and quality time. It's my first summer as a mom and I love this new chapter in my life.
Like a reader wrote to me when I first announced my pregnancy: "This is Miriam's greatest adventure so far". And he was so right.
Have you been to Denmark in the summer? Is it a place you'd visit?
Before you go – don't miss this:
Pin to Pinterest