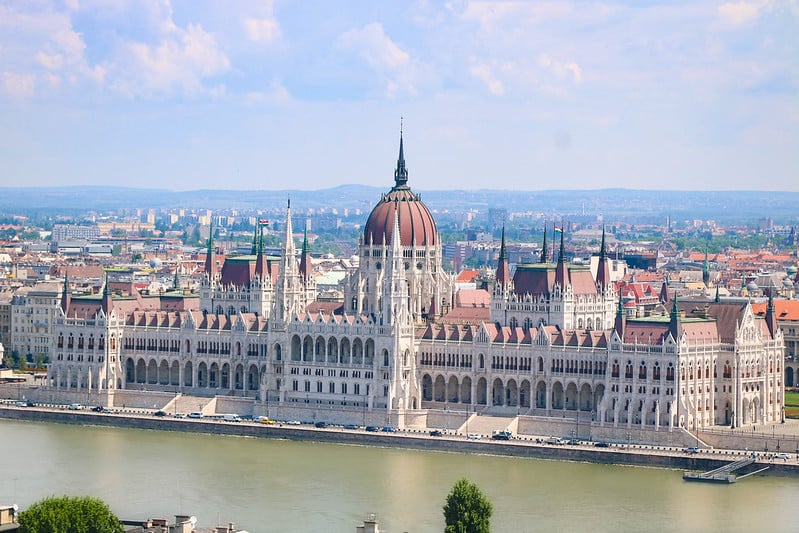 Welcome to Hungary
Hungary is a country in Eastern Europe that defines the Eastern European style. Brutalist Soviet architecture blends with classical and gothic churches and cathedrals to make a unique old-meets-new atmosphere stitched together with cobblestones. It's a nation of thermal baths, rugged and rocky landscapes, and gorgeous gothic cities.
Amazing experiences in Hungary
The Baths of Budapest
The biggest and best bath of Budapest is Szechenyl bath, an all-natural hot spring bath that's open to the public for swimming and relaxation. It's one of the most unique and exciting draws to the city, and a place where you can easily while away an afternoon. It has all the features of a pool, like whirlpools and water jets, but also makes for a very traditional hot spring experience.
Traditional Hungarian Foods
Perhaps the most famous food of Hungary is goulash; a beef and onion stew with paprika. And paprika is now so synonymous with Budapest, even though it comes from Central America, that it can be found in other Hungarian meals like chicken paprikash and fisherman's soup.
A Luxury Holiday on the Cheap
One of the beauties of visiting Hungary is how affordable the whole country is. Whatever your typical price range when you take a holiday, you can afford to go one step higher in Hungary. Spend less but get more. That includes the best of the local cuisine, day trips, taxi rides, and hotels in Budapest. Everything is still of the highest quality, only cheaper!
So Many Beautiful Caves
Hungary is so riddled with amazing caves to explore that Wikipedia has a dedicated and lengthy list of them! One of the best and most popular underground labyrinths can be found beneath Buda Castle, which twist and wind all through Castle Hill.
Best sights in Hungary
Budapest (capital)
Budapest is a vast and dynamic capital city that blends so many of the best aspects of European culture, with architecture from the gothic to the brutalist to the modern.
Szentendre (22km from Budapest)
A riverside town close to Budapest, but far more quaint and quiet. It's a town of brightly coloured homes, cobbled streets, and a wide-open town square of bars and cafes.
Eger (139km from Budapest)
Eger is a medieval town known for its epic castle, baroque architecture, and thermal baths. Eger is easily he centre of Hungary's deepest and most exciting historical side.
Esztergom (71km from Budapest)
An absolutely picturesque town at the border of Slovakia to the north of Budapest. Esztergom is home to the largest church in Hungary: Esztergom Basilica.
Debrecen (232km from Budapest)
Hungary's second city has also served as its capital several times throughout Hungary's history. For this reason, it is beloved by locals as one of its most important cultural heritage sites.
Aggtelek's Baradla Cave (227km from Budapest)
This UNESCO World Heritage Site is a vast and deep cave network which extends for an incredible 25km. Its rocky tunnels provide some of the best natural sights in Hungary.
How to get around
I always use Rome2Rio for traveling Europe. This site/app is so easy to use. It quickly comes up with a variety of transport options to suit your time and budget. All costs are shown, even taxis.
Best time to visit
Hungary is a particularly temperate country with mild temperatures most of the year. The best time to visit Hungary to avoid crowds and higher tourist prices is between March to May and then September through to November (although if you'd like to catch Budapest's gorgeous Christmas Market then December is worth considering.
You'll also catch the longest daylight hours between March to September meaning more time for fun!
Practical info
Language:

Hungarian

Currency:

Forint

Plugs: Standard voltage of 230V (I recommend buying a universal adapter)
Population:

9.7 millio

n

Important telephone numbers:

112 for all emergencies

Visa:

Most countries can enter Hungary visa-free and stay for at least 90 days, including US citizens.
Rough Budget
Hotel:

$20-50

Food:

$5-20

Activities: e.g.

$20 for a natural bath spa

Transportation:

$2-10 for a bus
Hungarian Phrases
Hello:

Szia

Thank you:

Koszonom

Yes:

Igen

No:

Nem

Bye:

Viszontlátásra

Cheers:

Egészségére
Posts from Hungary