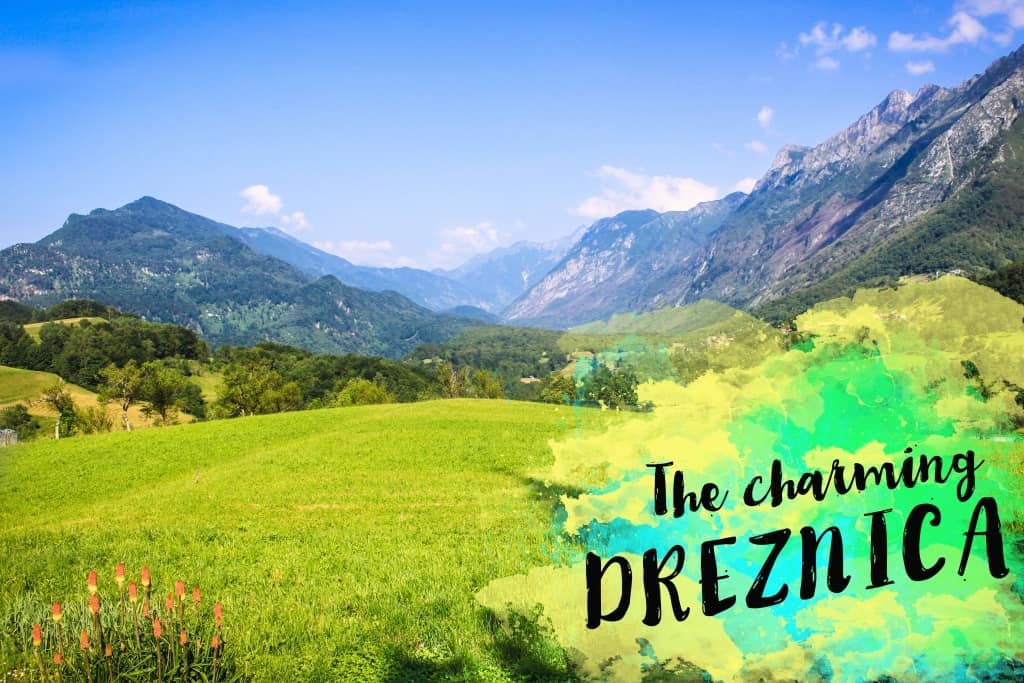 Only 6 kilometres north of Kobarid at the foot of Mount Krn, there's a small town inhabited by welcoming and warm-hearted people. While most travelers in this area choose to stay in Kobarid, I went to the small town of Dreznica to get closer to locals and enjoy the countryside. And what a great idea that turned out to be!
Read next: 20 Amazing Things to Do in Slovenia
DREZNICA, SLOVENIA
Dreznica is surrounded by mountainous hills, meadows, streams and waterfalls, which makes it the perfect place to relax and enjoy Slovenian nature. You can find gorgeous nature all around Slovenia, but what makes this particular town special is its church, which is one of the largest in the country. No matter where you are in town, you can always either hear or see the church. Every hour, the church bells ring to let you know what time it is.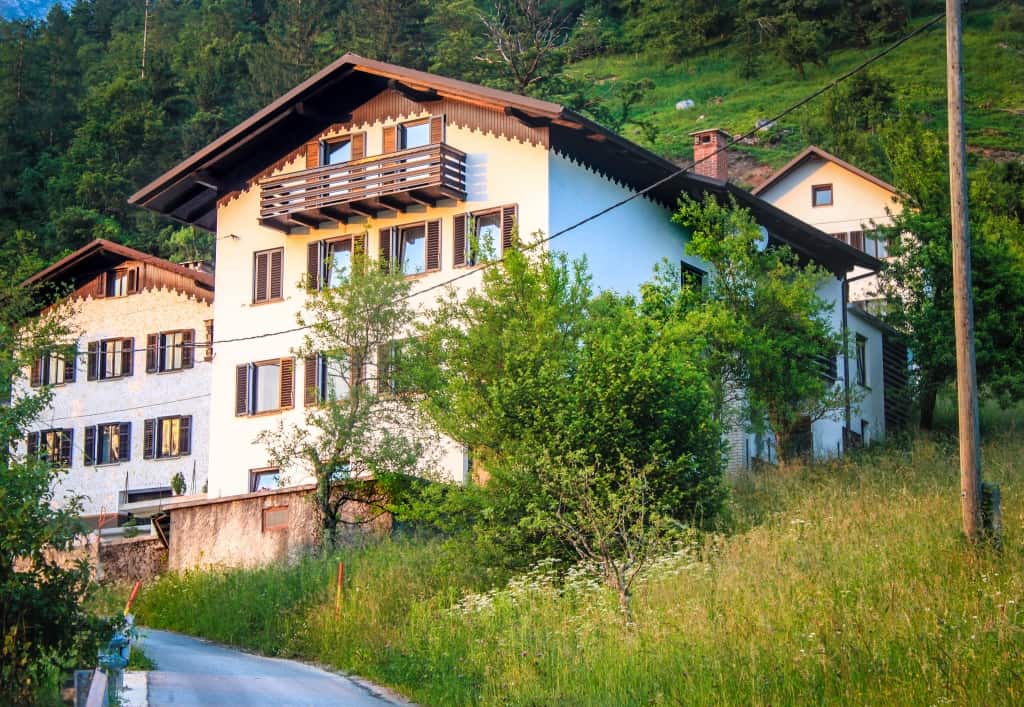 THE SACRED HEART CHURCH
The main attraction in the village is the church, dedicated to the Sacred Heart. The belfry was only completed in 1986 and is 52 m high, and the paintings inside the church were made during World War II by Slovene modernist painters.
The church was my main reason for visiting Dreznica.
Read next: 10 Most Beautiful Cities in Slovenia You Must Visit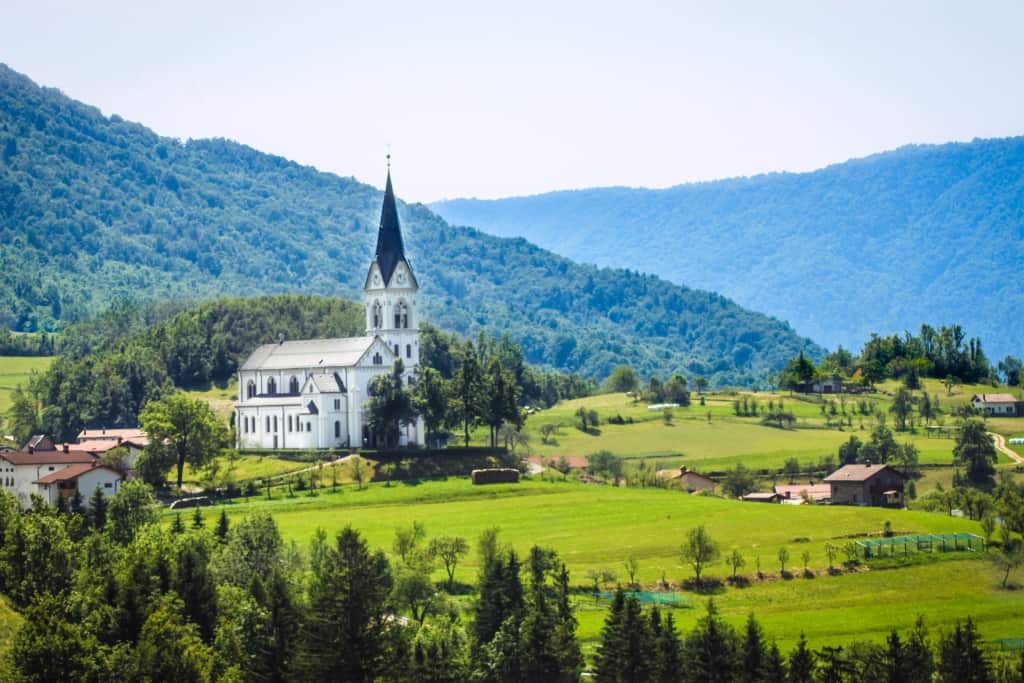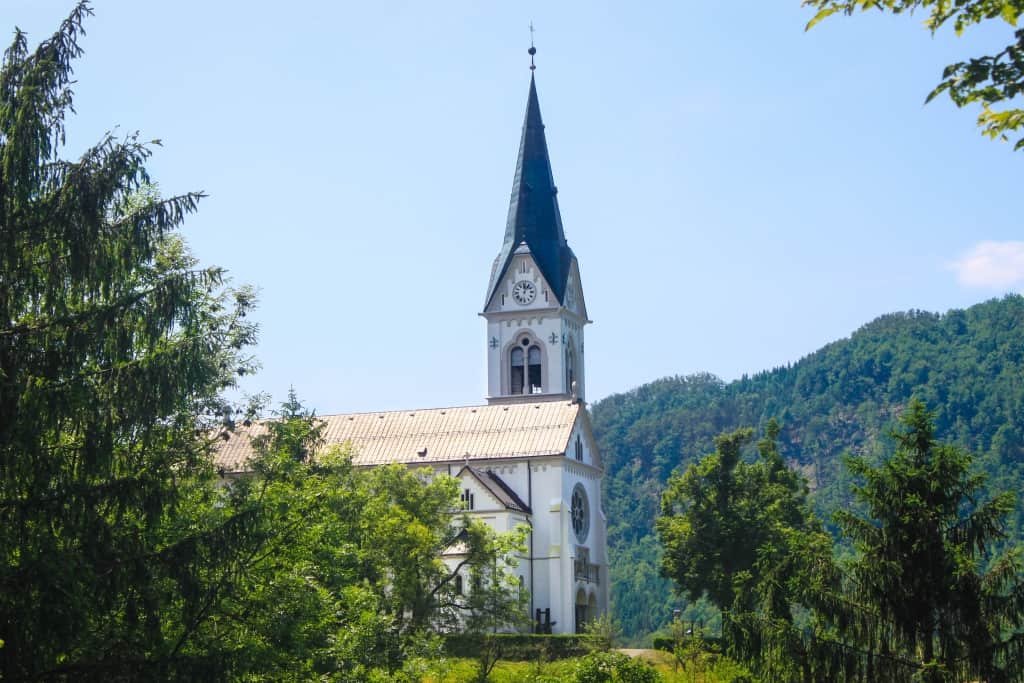 [/fusion_builder_column]
AMAZING FOOD
Another great thing about this area is the food. I must admit that I had little to no expectations to Slovenian cuisine, so I was pleasantly surprised when I had my first home cooked meal in Dreznica. I stayed at tourist farm Kranjc – it's like a bed & breakfast – and every meal was home cooked. In order to be a 'tourist farm', you need to grow and breed certain things yourself (like cheese, milk, marmalade, honey, eggs, etc.).
For breakfast I loved the homegrown herbal tea, the Slovenian pancakes and frika, which is cheese mixed with eggs, bacon and potato. One of the things I noticed was how Slovenians like to sneak in cheese in everything. And I do mean everything. Scrambled eggs, tarts, bread, stews.. I don't think I had a single meal that didn't contain cheese.
And guys – dinner and drinks were just as good! I've mentioned this earlier, but the wine is SUPERDELICIOUS – so fresh and tasty. I had mixed salad, lamb with mashed potatoes, spinach soup and a desert cake that I don't remember the name of. It was all splendid!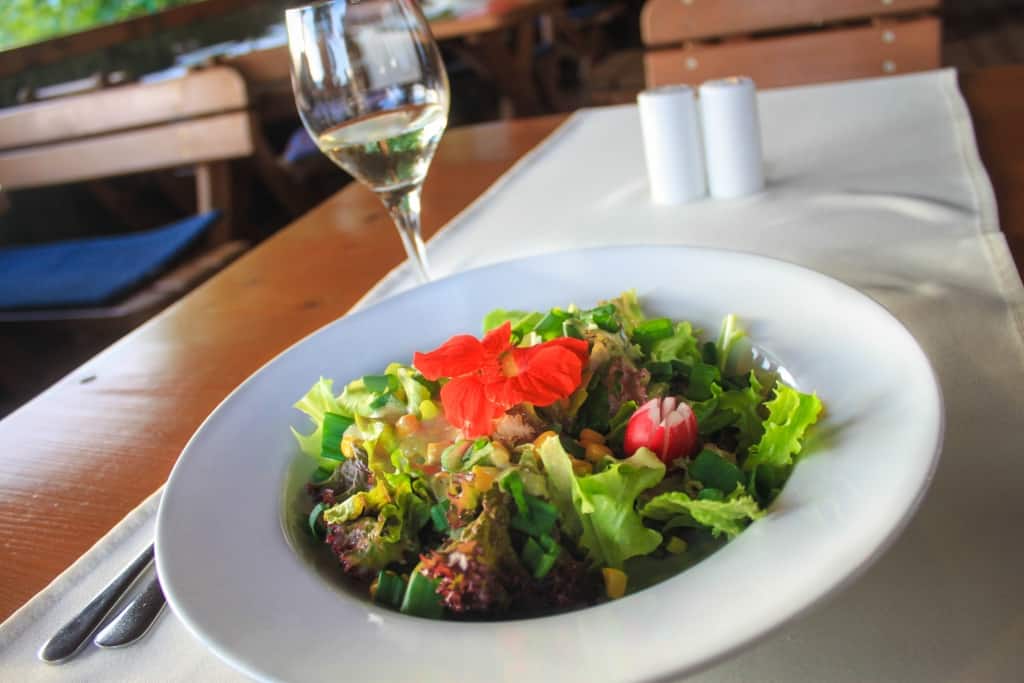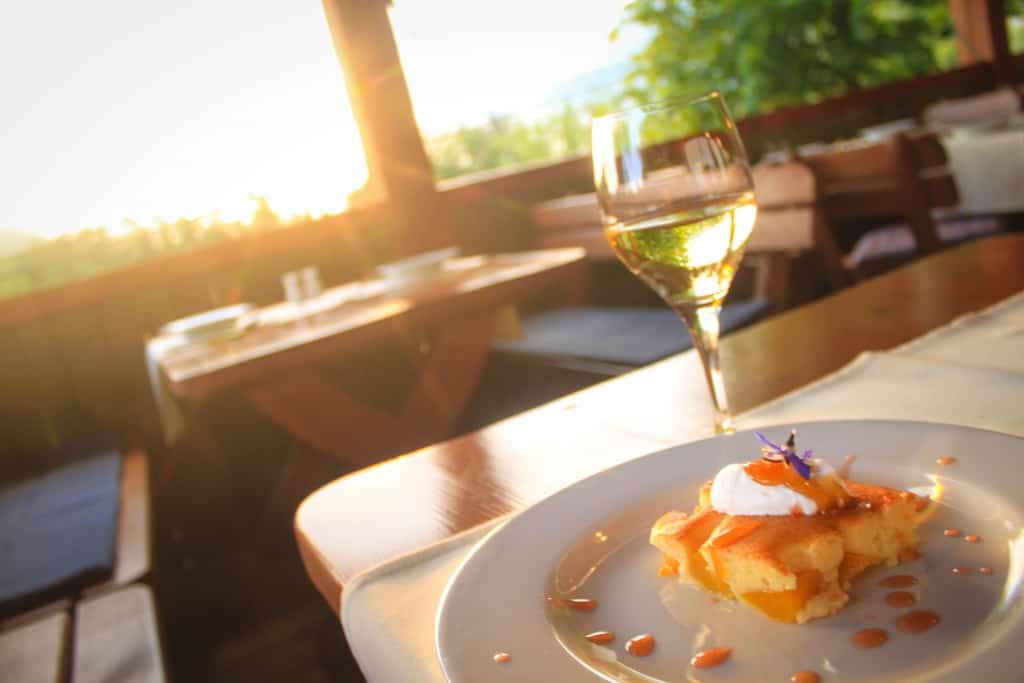 GETTING LOST IN THE MEADOWS
Aside from the gorgeous cathedral and great food, I had one more thing on my must-do list in Dreznica, and that was visiting the meadows.
You see, I wanted to meet this guy —>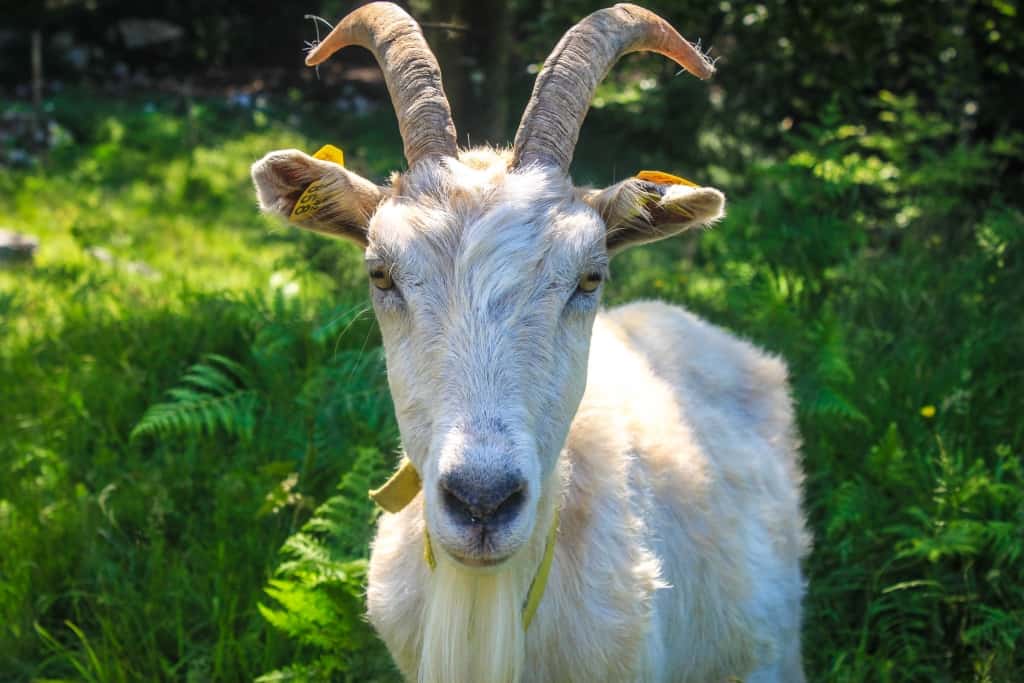 And this one —>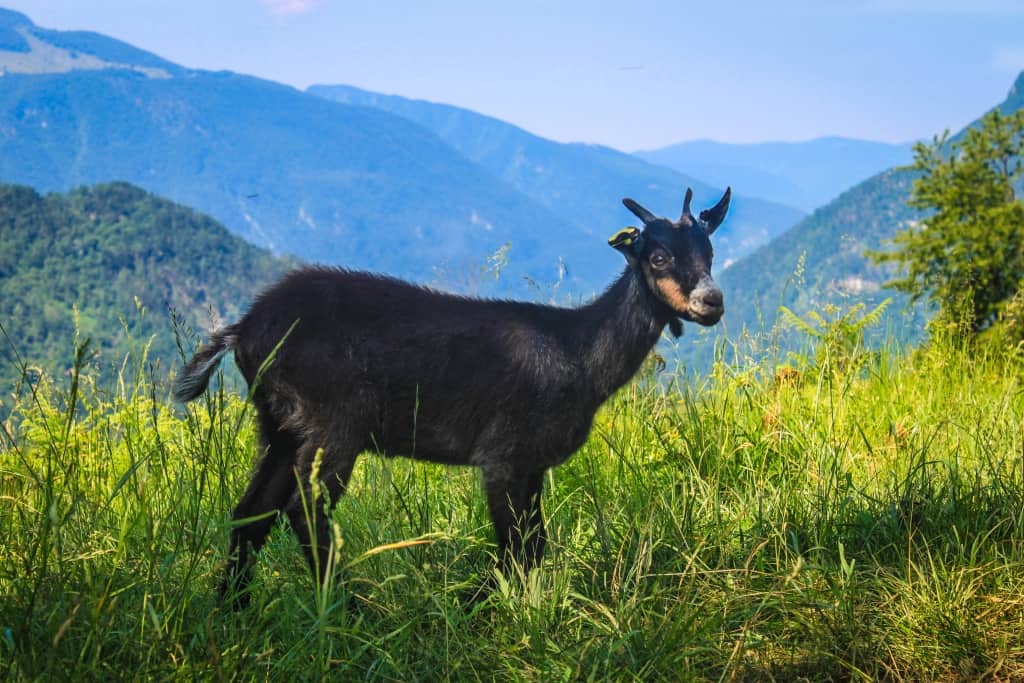 And these —>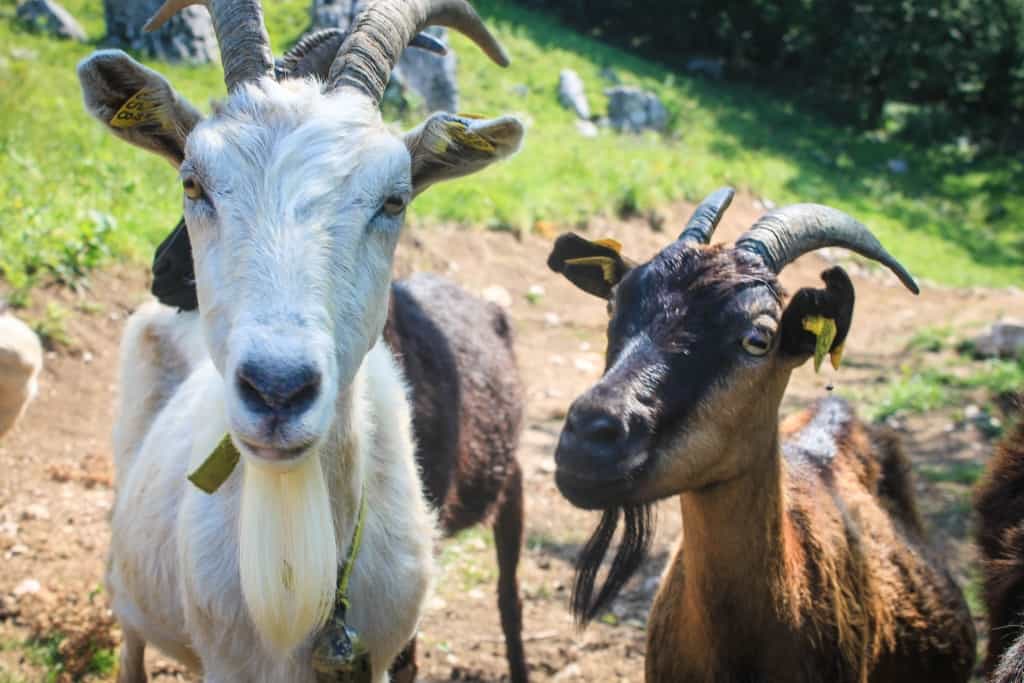 Dad Kranjc gave me a lift to a nearby mountain to see his goats and do some hiking. When we reached to top, he pointed left of the church and said: "home".
Easy peasy, I thought to myself. I'd have no problem finding my way home in time for my bus to Ljubljana later that day.
Since the area is rich in waterfalls and gorges, I decided to hike to a nearby waterfall on my way down the mountain. It was supposed to be easy to find, only.. it wasn't. So, long story short: I got lost, fell down a slippery mountain side, got stuck in a thorn-bush and ended up with bruises, scratches and a scar on my upper arm. Two meltdowns and 3 hours later, I found the gravel road for cars and followed it to town. I didn't see the waterfall.
Ps. what's up with my sense of direction lately, Self?!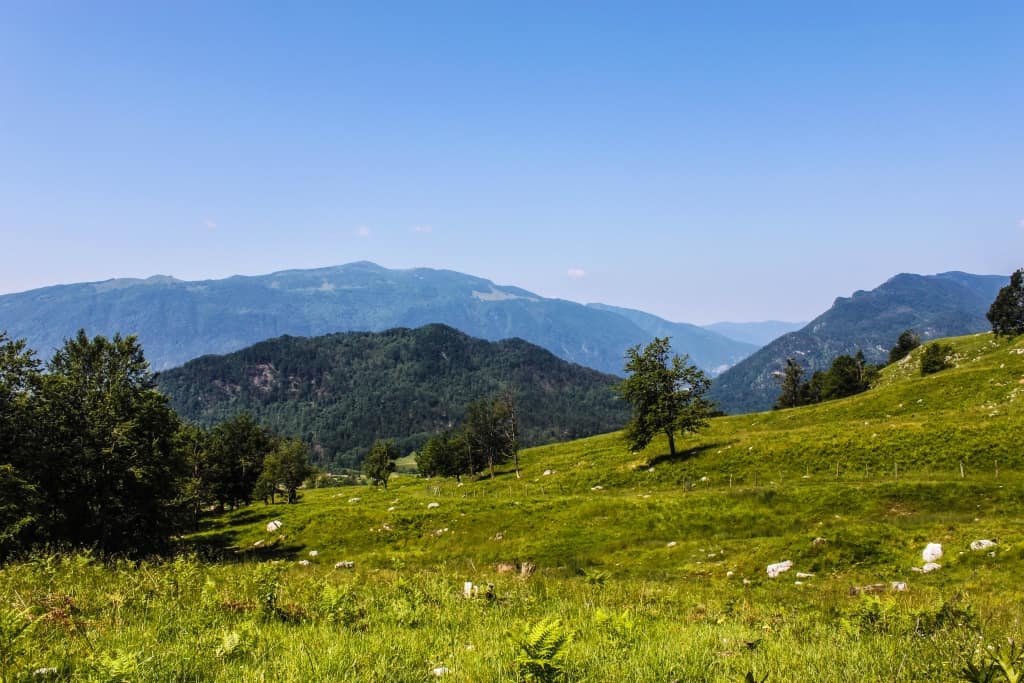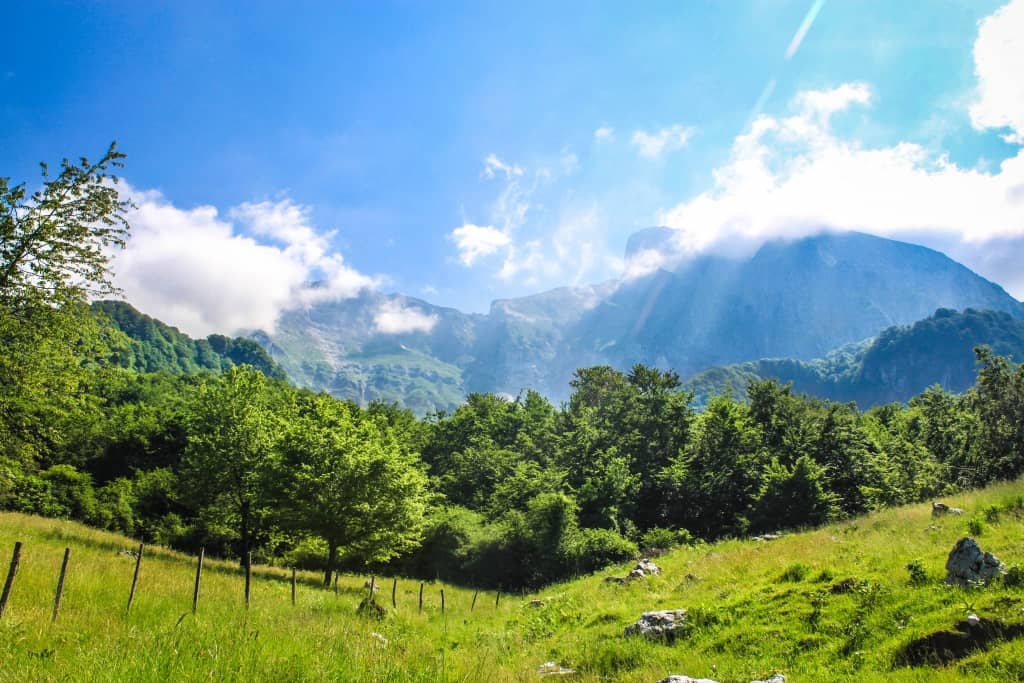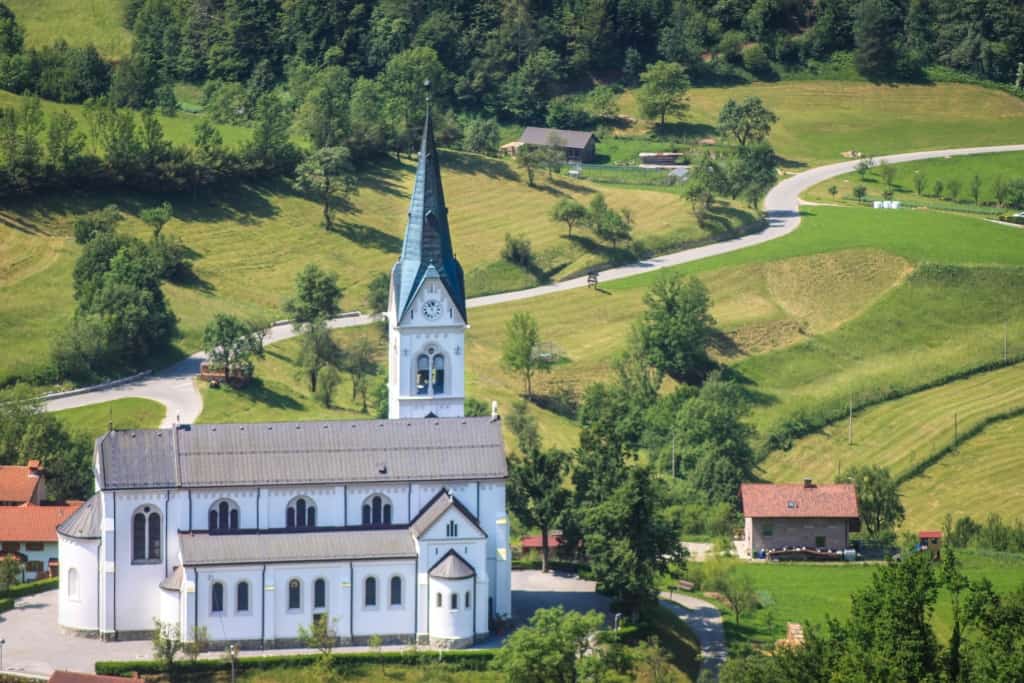 Here's a tip: If you're hiking in the area alone, make sure your cell phone has a signal and tell your host family or hotel where you're going so you won't get stuck on a mountain like I almost did.
There really are lots of beautiful sights in the area, including: Kozjak waterfall (in Kobarid), Curk waterfall and Snezna Jama (a snow cave). The waterfalls Sopota and Krampez are only a 10-minute walk from town.
A CUTE LITTLE MOUNTAIN TOWN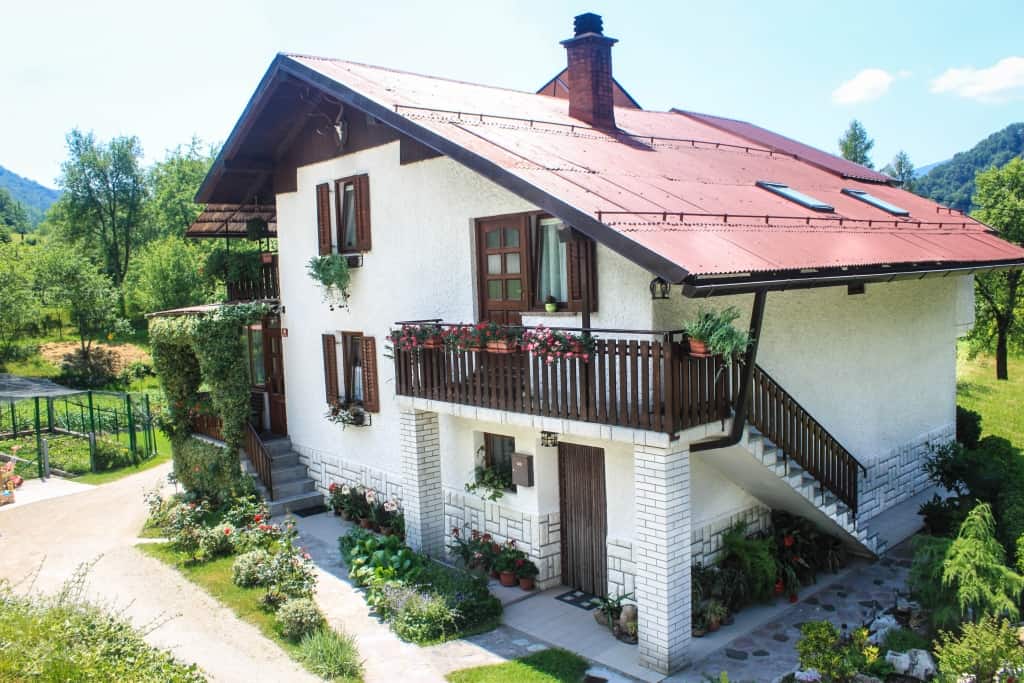 After descending the mountain, I followed the road through small villages past charming alpine house. As I crossed a creek and passed the sign to the waterfall I couldn't find hours earlier, I thought about the impact this small country had made on me. I might not have found this particular waterfall, but I did see plenty others in Soca valley and at Lake Bohinj so I didn't mind.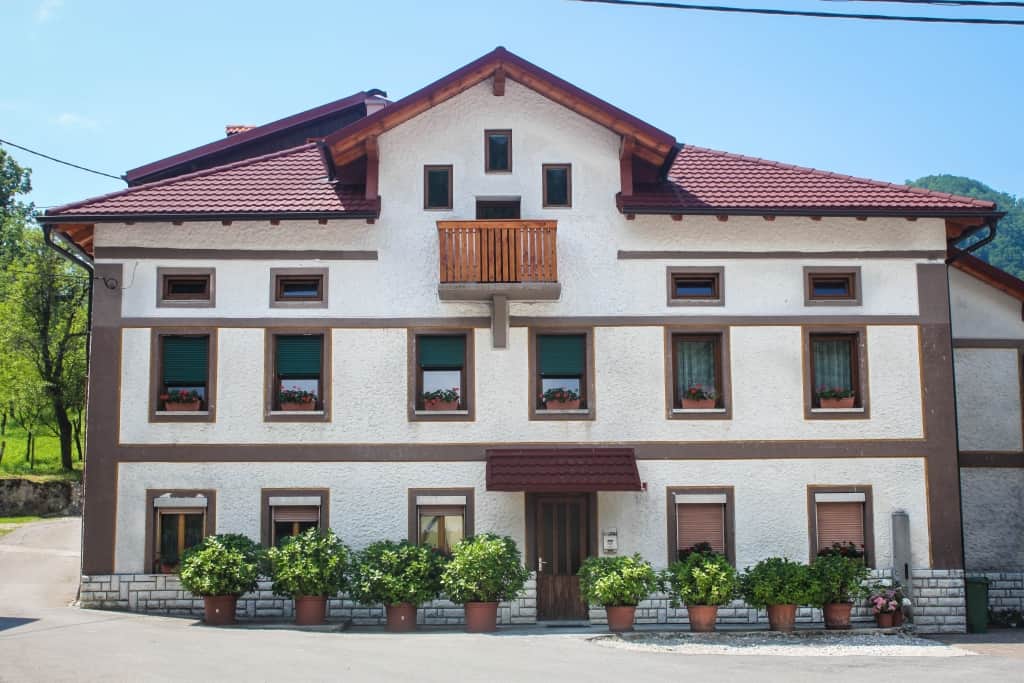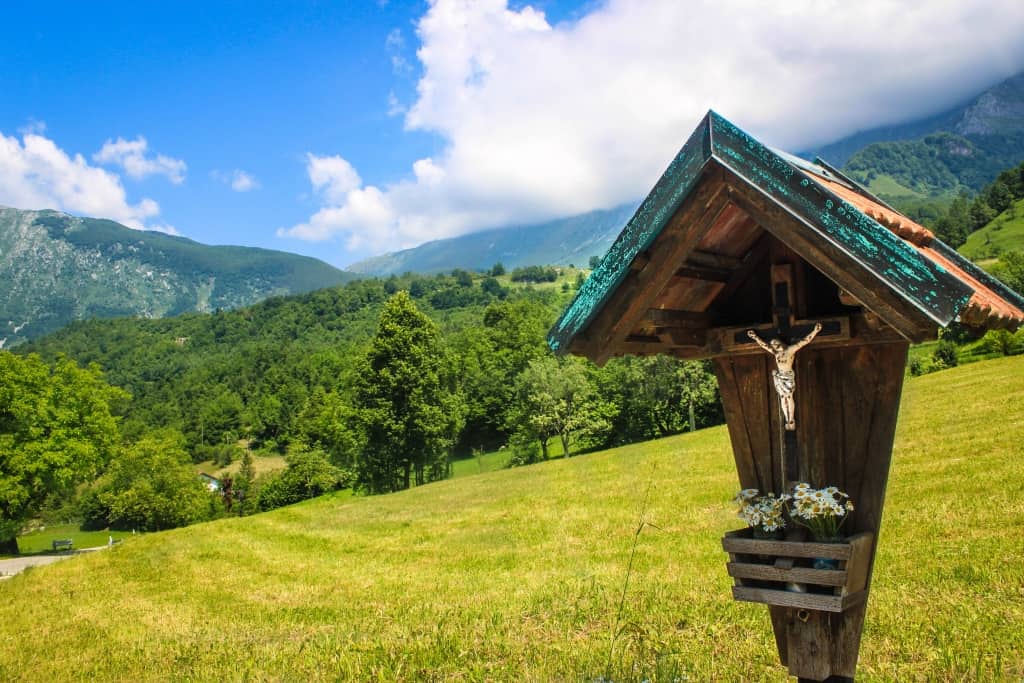 BREATHTAKING SUNSETS
Although the church and surroundings were super stunning, they didn't compare to the sunsets I catched in the evenings. So far, I've seen the prettiest sunsets in the Philippines and Costa Rica. But Slovenia… Oh. WOW. I have seen the most awe-inspiring sunsets and sunrises in this country and they totally made my day.
And with that note and a few sunset photos, I'm saying goodbye to Slovenia. It really took me by storm and has become one of my favorite countries. Thank you, amazingly gorgeous Slovenia. You are really something!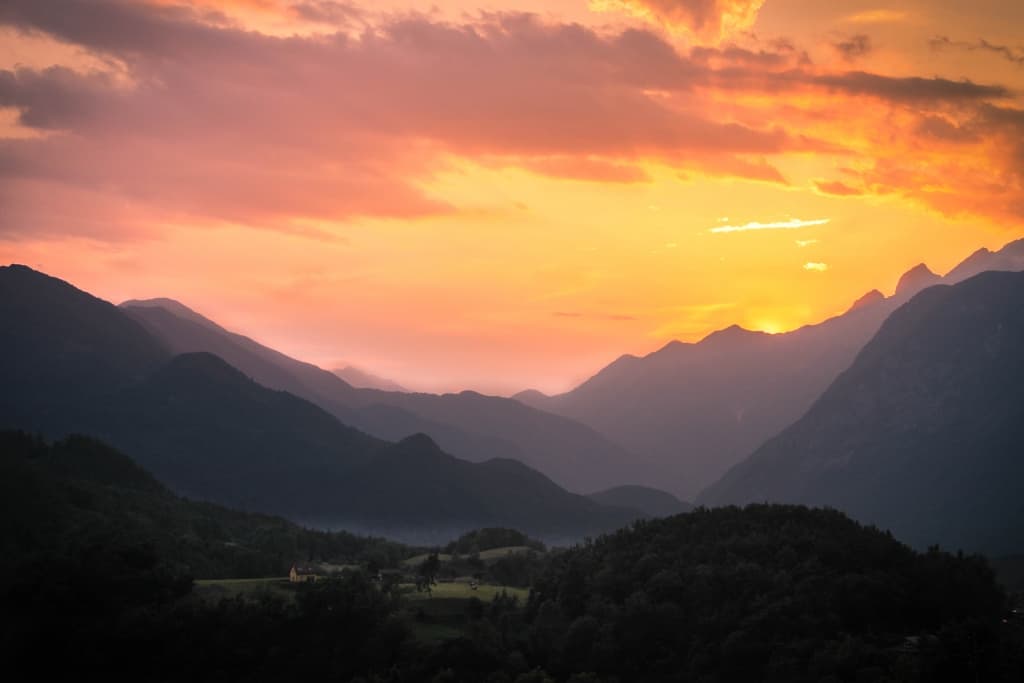 Many thanks to Spirit Slovenia for generously hosting me in Slovenia. As always, all opinions and thoughts are my own, regardless of who is footing the bill.
So what do you think? Is this place amazing or what?
Pin to Pinterest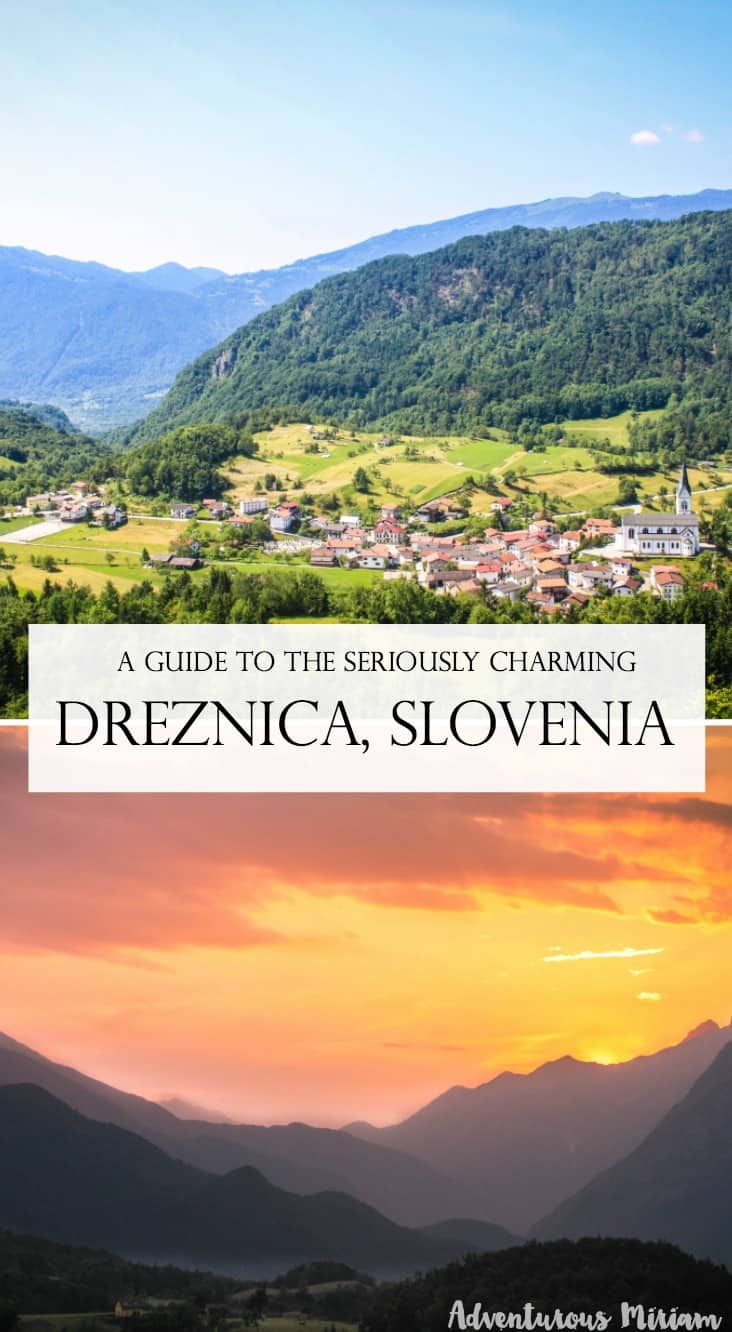 Psst! This post probably contains affiliate links, which means I earn a commission (at no extra cost to you) if you click through and make a purchase. As always, I only recommend products and services I trust.