Visit Metelkova Ljubljana for a unique experience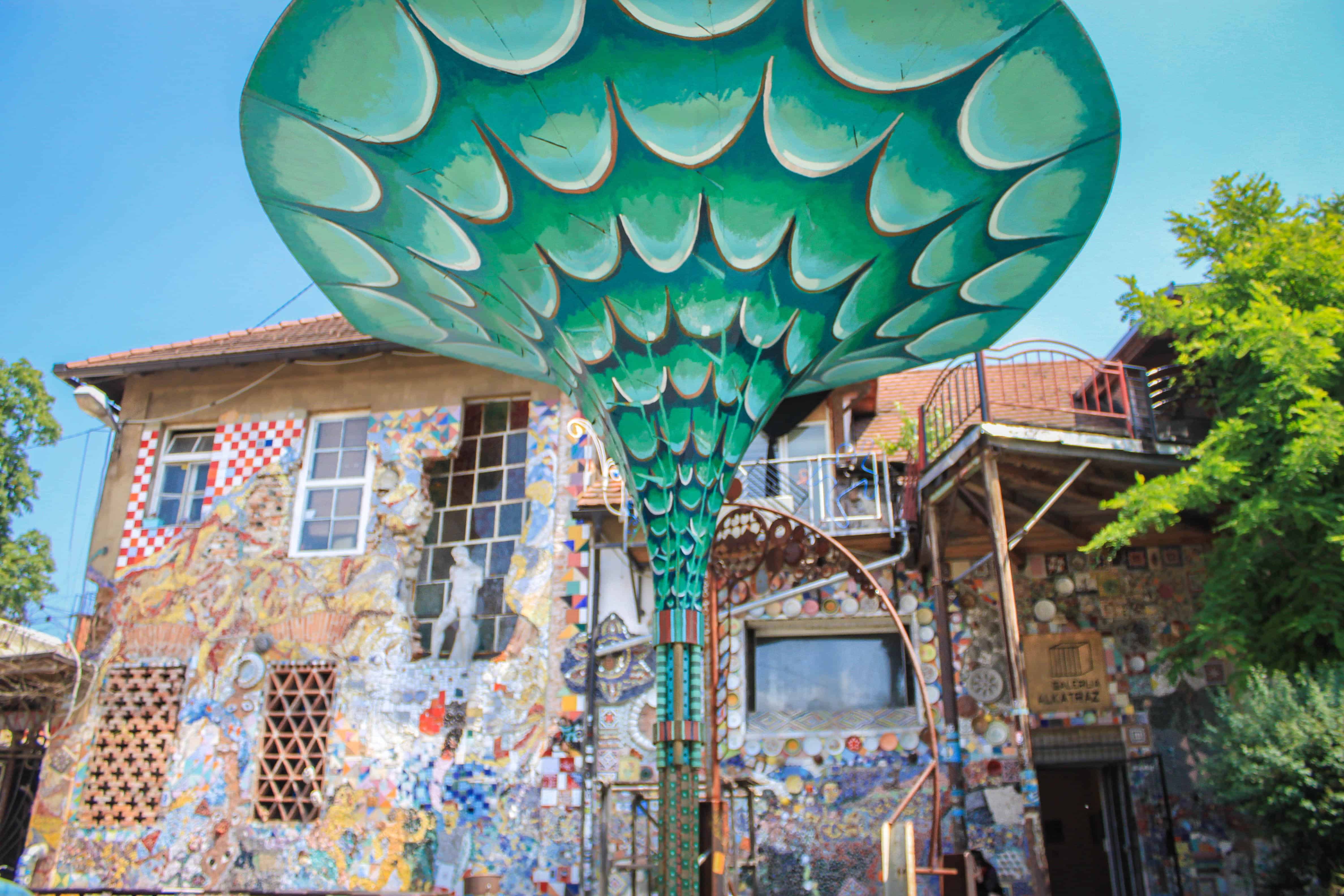 Experience a different side of Slovenia and visit the cool, eclectic and rebellious Metelkova Ljubljana.
During my trip to Ljubljana, I was introduced to one of the coolest neighbourhoods I've seen: Metelkova. When I first saw photos of it, I didn't find it inviting AT ALL. And it still isn't.
Errr, so why visit?
Well, because that's also what makes it charming. Metelkova city is not your typical neighbourhood. It has its own vibe, walls covered by urban street art and bizarre buildings with barred windows. It's weird, but in a good-way weird.
If you're looking for alternative things to do in Ljubljana, this is it!
This post contains referral links for products I love. Adventurous Miriam earns a small commission at no extra cost to you if you make a purchase through my links. Thank you for your support ♡ Learn more
What is Metelkova Ljubljana?
Metelkova is an autonomous culture zone often compared to Christiania in Copenhagen. It's a former military barracks. An alternative zone within the city, just five minutes walk from Ljubljana's city centre.
Originally built in 1911 by the Austro-Hungarian Army, the site was vacated in 1991 when Slovenia gained independence from Yugoslavia.
It wasn't long before groups of squatters began moving in, but in 1993 the Slovenian government tried to demolish the old barracks. Protesters and the squatters saved the site although the government never gave up. They've torn down a few of the buildings over the years.
Today, it's known as Metelkova, Metelkova street, Metelkova city, Metelkova mesto or simply AKC and it's a place for everyone. It's where artists, designers, punks, hippies, squatters and students hang out together. The creative ambience sets a relaxed atmosphere where no one cares what you look like or where you're from.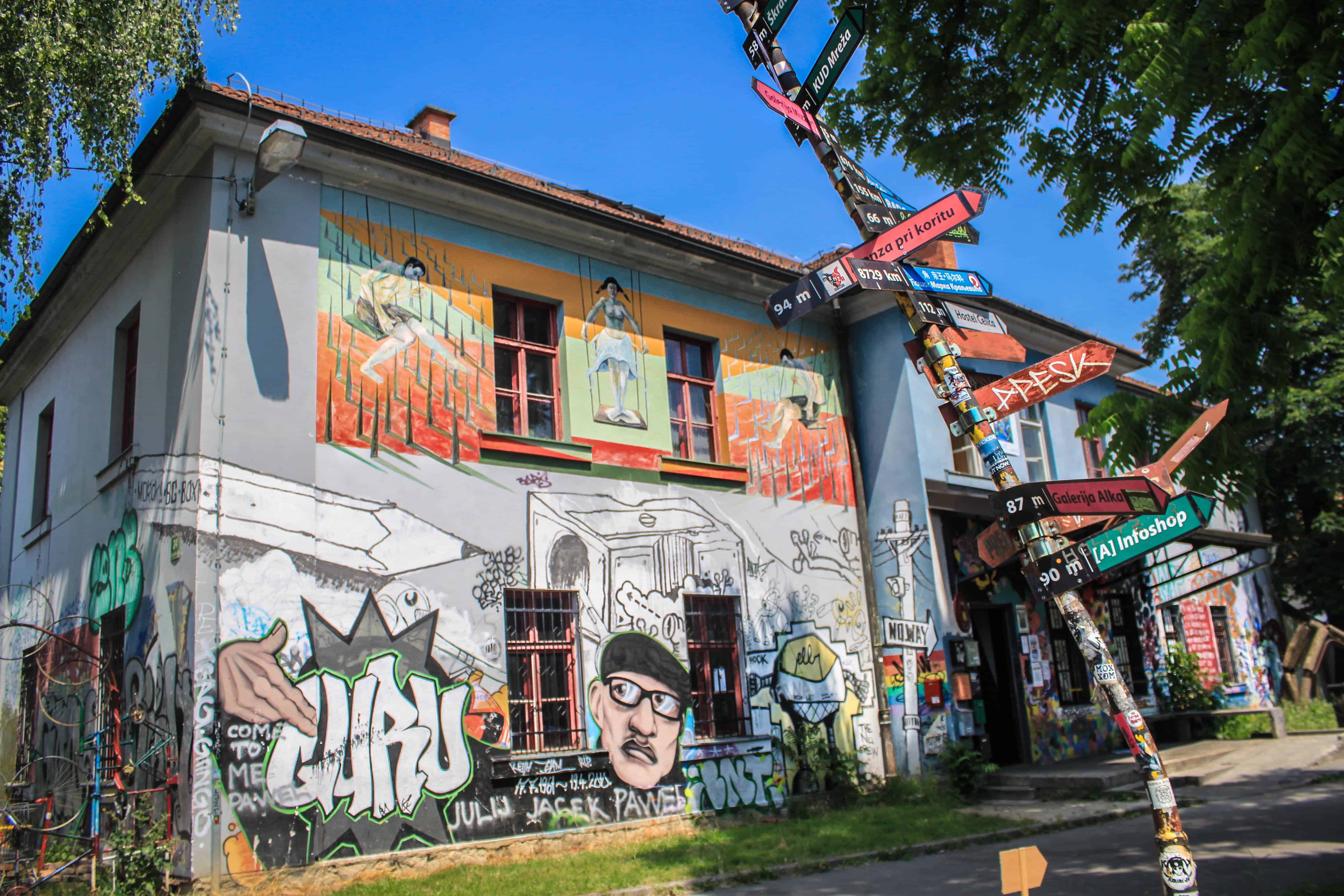 Psychedelic Metelkova graffiti
When I visited during the day, it was quiet but visually spellbinding.
Kooky Gollum-looking creatures hanging from the buildings. Colourful graffiti on the walls, the streets, the ceilings, even on the trash cans. Art installations of bike parts, vivid masks, prison windows, bright-coloured mosaic tiles, a wooden spider sculpture. Some of it was shocking while others resembled prestigious pieces of contemporary art.
While there's lots of graffiti and street art on the walls, Metelkova also has a museum called Galerija Alkatraz. The art gallery is aimed at supporting young and emerging artists to develop the local art scene. It features experimental art and Metelkova-specific projects.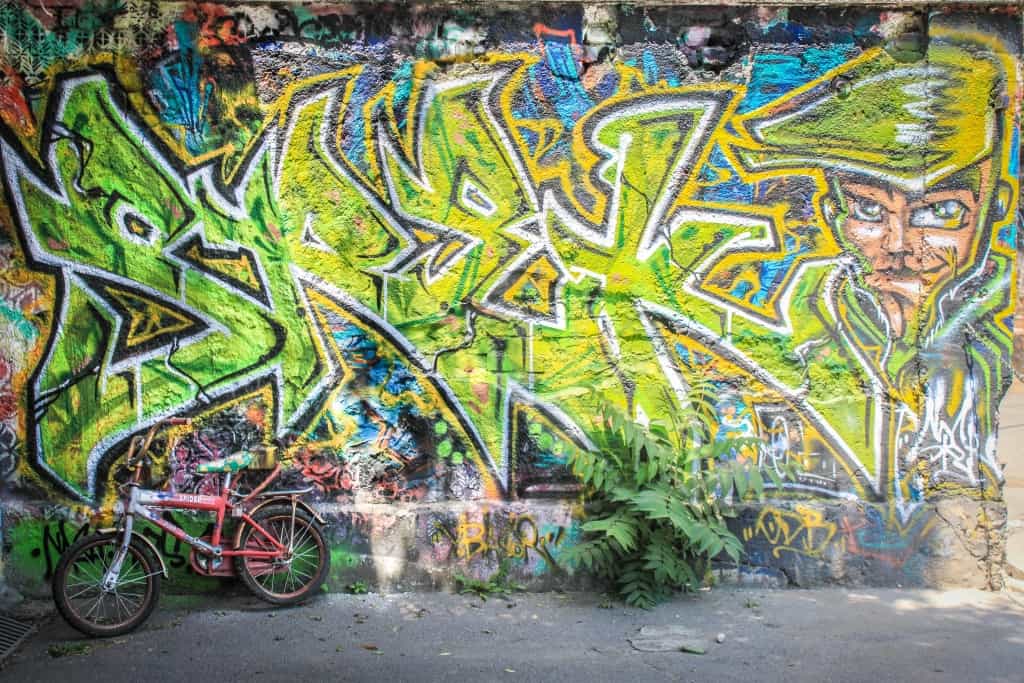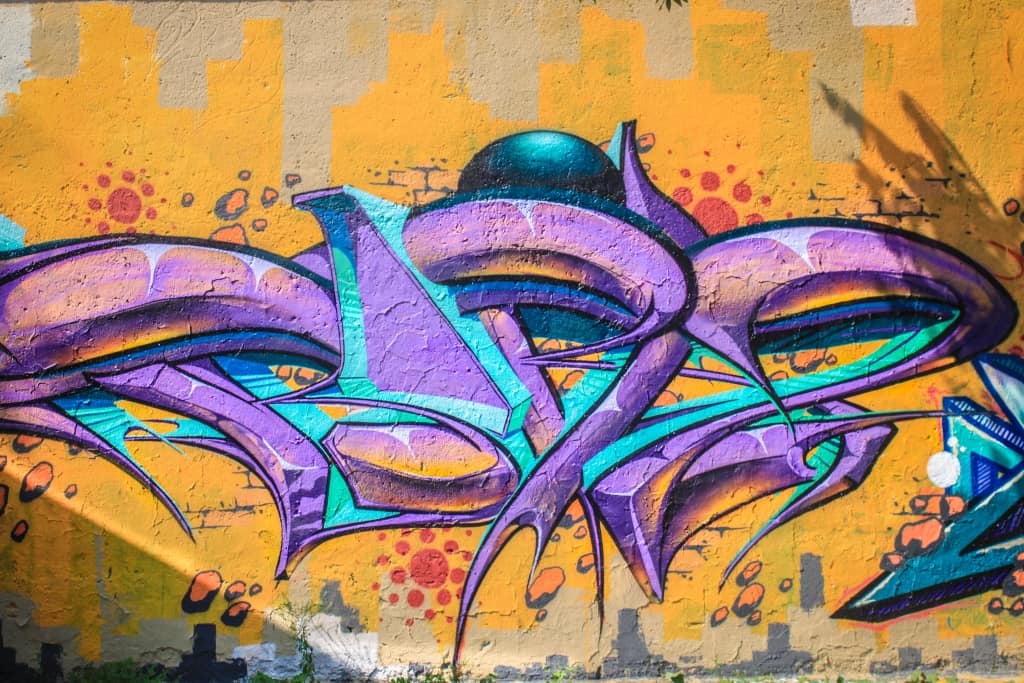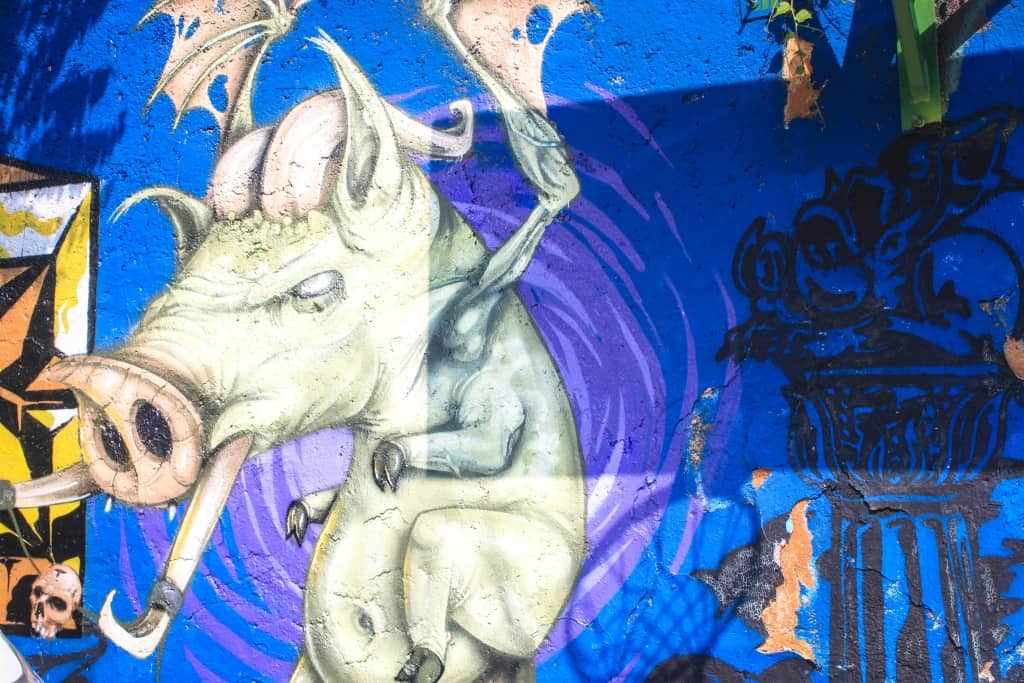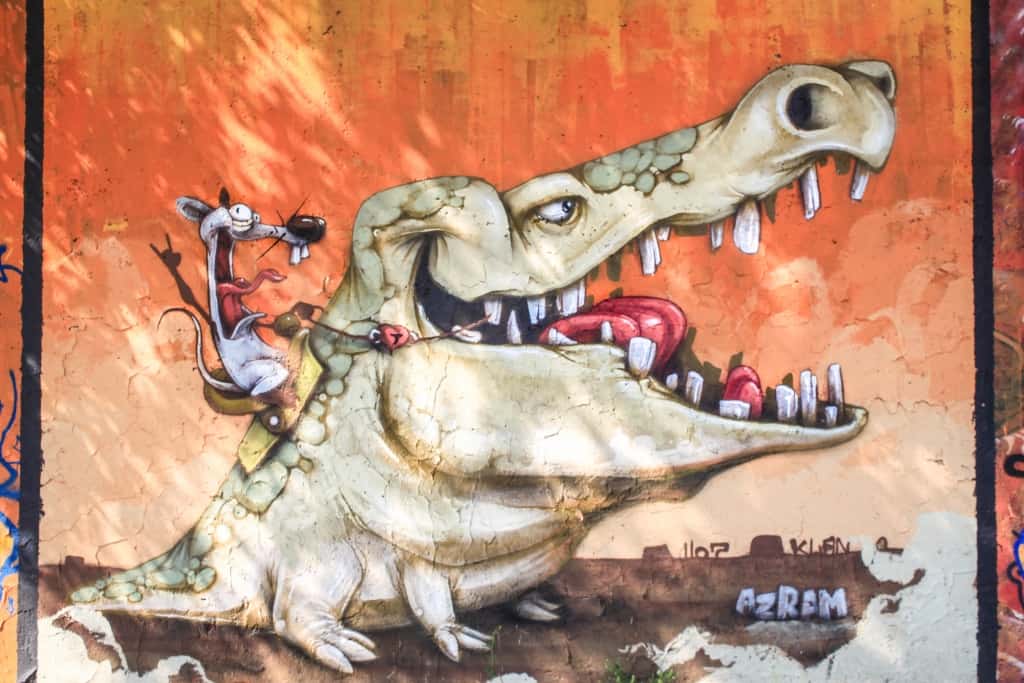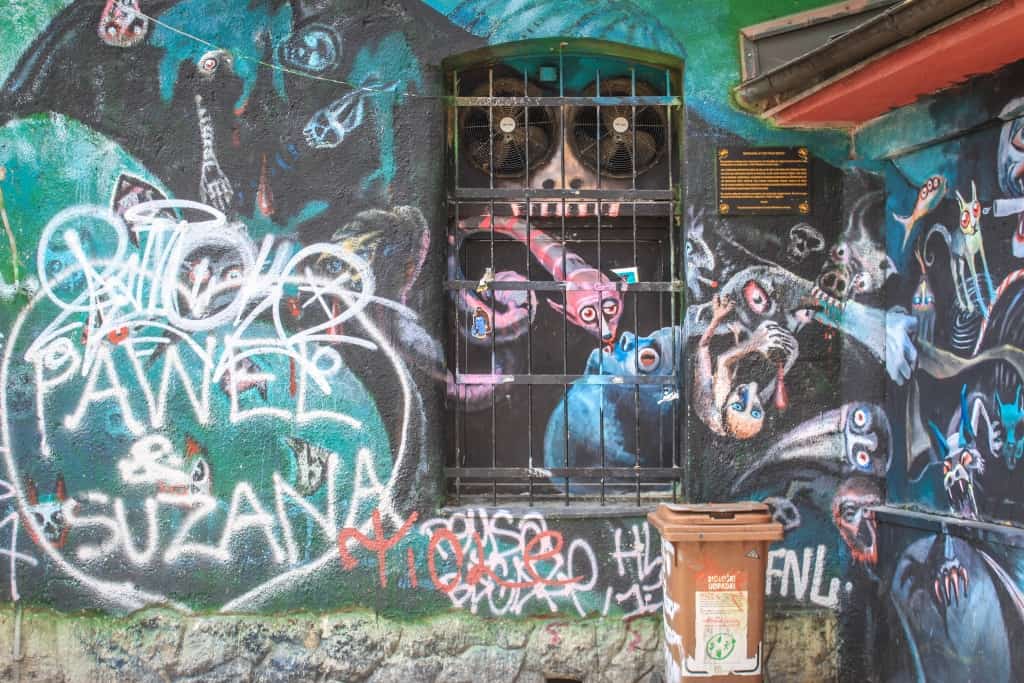 Metelkova nightlife
When the sun goes down, Metelkova street really comes to live. At least on SOME nights. It's said to have the city's best nightlife and the cheapest beer, although I didn't try it myself.
There are several clubs that host regular concerts, debates and club nights with underground artists and International DJs.
Metelkova is also home to the local LGBT scene, centered in the lesbian Klub Monokel and gay Klub Tiffany. The clubs are not open every night so check out their Facebook pages for info.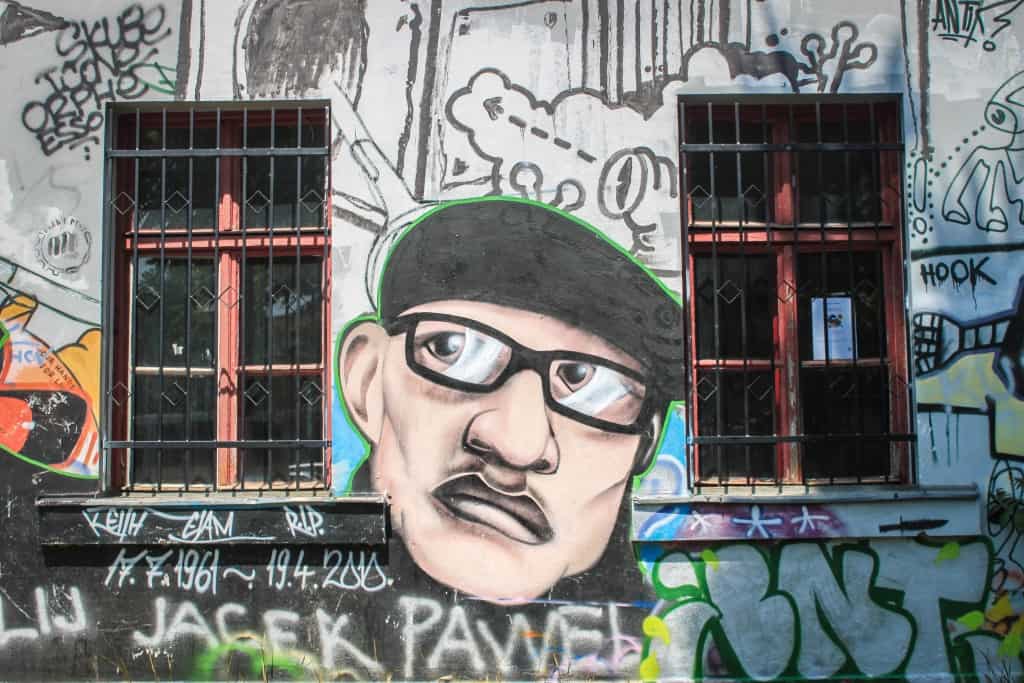 Is it safe to visit?
Yes, in my experience.
Yes, it looks dodgy and you might see people smoke weed. BUT the residents of Metelkova generally work to cultivate a safe and welcoming atmosphere for everyone. At least that's what this set of rules imply at the Klub Gromka:
Metelkova rules:
Behave yourself as you would wish that others behave towards you. Any offensive, threatening and humiliating behavior is not tolerated here.
Nobody is worth more or less than anyone else.
Racism, homophobia, sexism, and age discrimination are absolutely unacceptable.
Any form of violence, (sexual) harassment, abuse and theft is opposite to the basic principles of Metelkova and will not be tolerated.
If you do not behave by the basic principles of cooperation and co-creation of Metelkova:
You will not be welcome here, entrance to the clubs will no longer be allowed.
I've read the bad reviews on Tripadvisor about how some visitors found it unsafe. But all I can say is that it wasn't my experience. While I didn't visit the night clubs, I felt safe during the day.
I went as a solo traveler and spent the night there at the hostel Celica (really great and unique place!).
All in all, it's the perfect place for any alternative culture loving traveler. However, it's not suitable for romantic nights and family trips.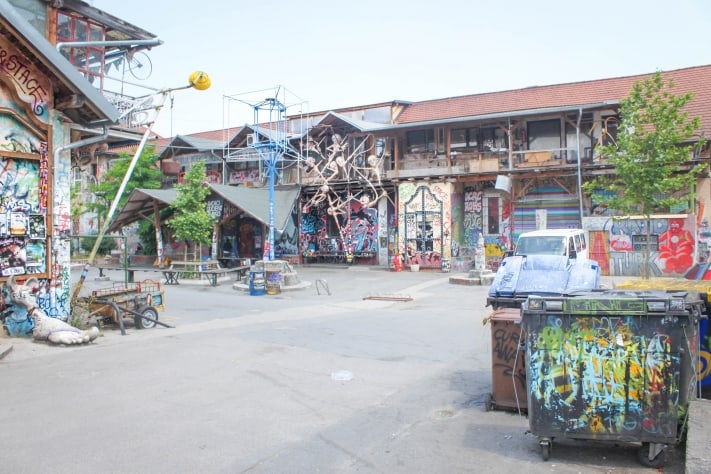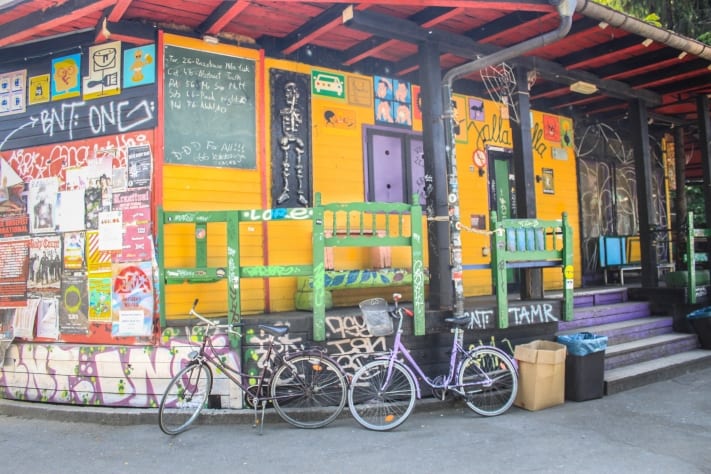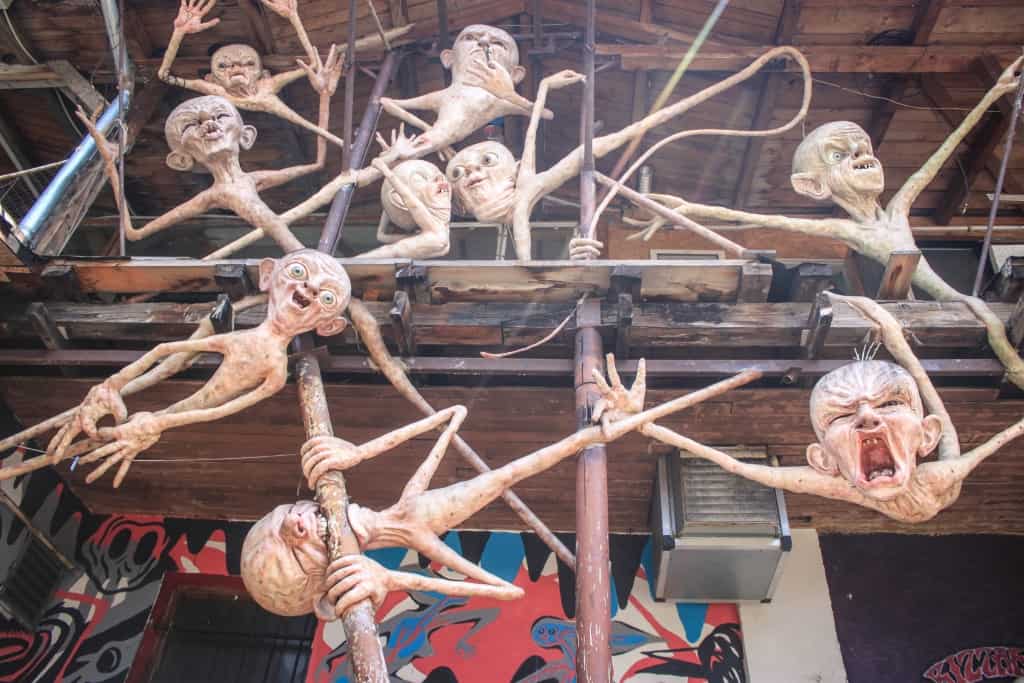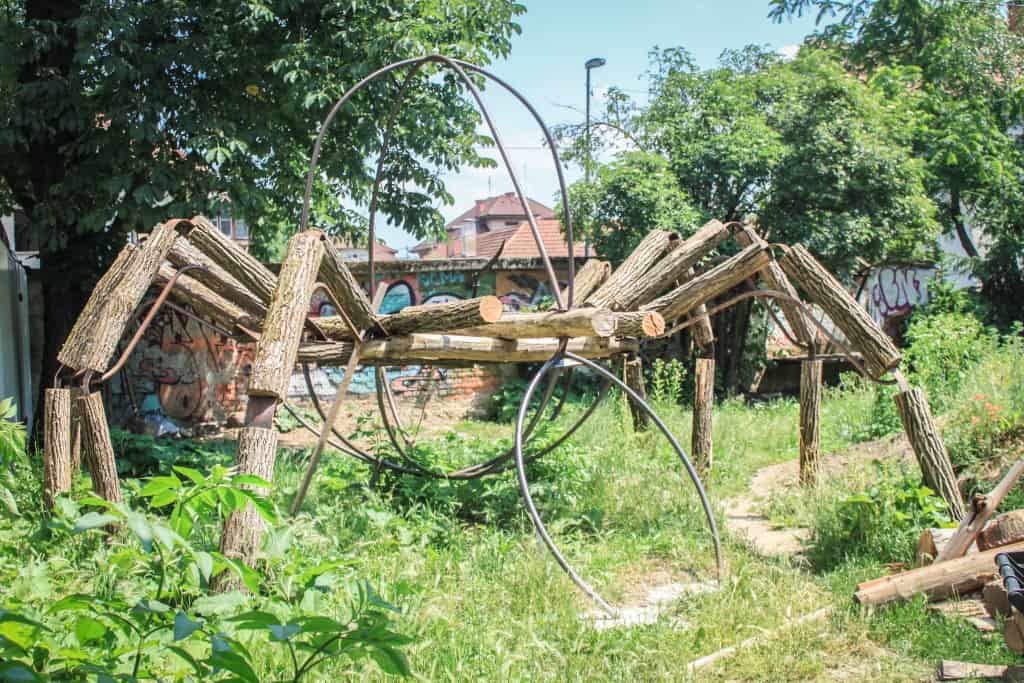 Where to stay in Metelkova
Hostel Celica – a former Yugoslavian prison
Metelkova has a hostel, which is arguably the coolest accommodation in town. It's called Hostel Celica and used to be a prison, but today it's re-designed into hostel rooms with bars at the doors intact. If you fancy spending a night behind bars, this is the most comfortable cell you'll find.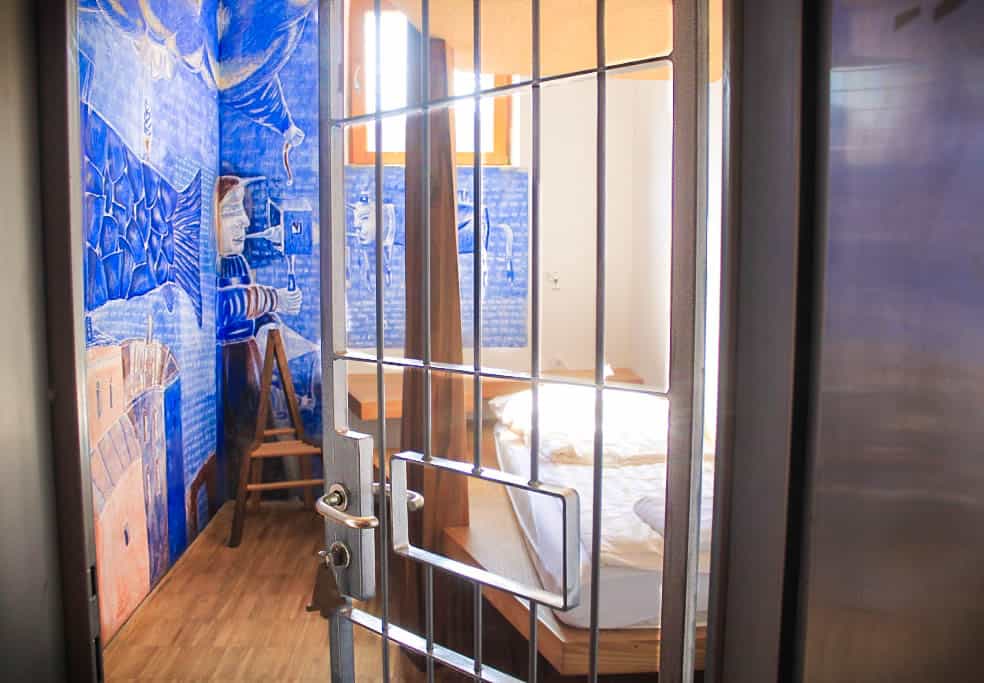 Many thanks to Celica Hostel for generously hosting me in Ljubljana. As always, all opinions and thoughts are my own, regardless of who is footing the bill.
Before you go – don't miss these posts:
Pin it!