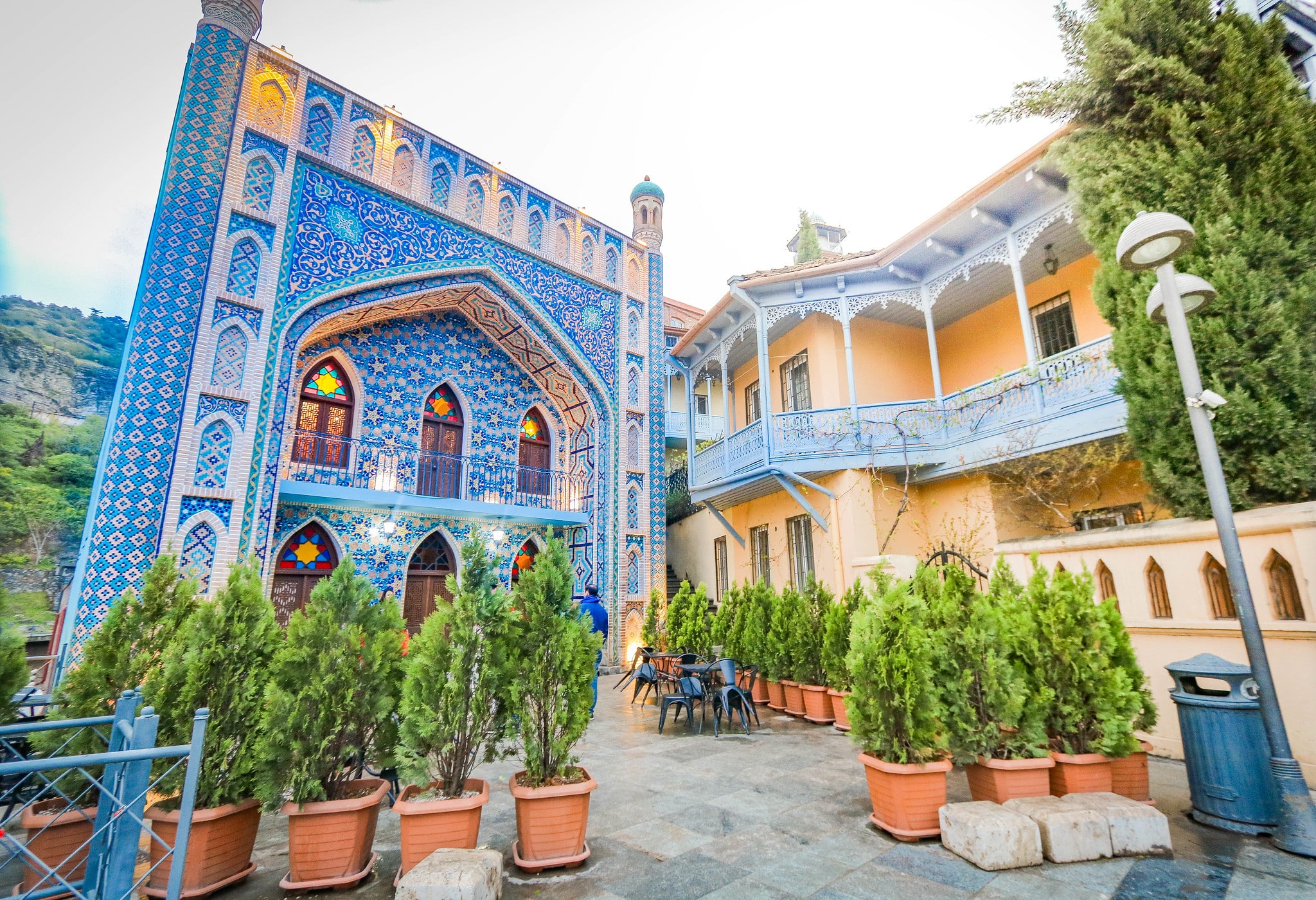 Welcome to Georgia
Georgia is one of the countries which make up the Caucasus region between Eastern Europe and Western Asia. It's a uniquely beautiful country that represents a wonderful blend of eastern and western cultures, which can be seen in its food, religion, architecture, and traditions. It's also still a rather undiscovered nation, all the more reason for you to go out and explore it.
ROUGH BUDGET
Hotel: $

15-30

Transportation: $1-8 for a minibus

Activities: e.g. $

70 for a wine-tasting tour

Food: $

5-15
GEORGIAN PHRASES
Hello: Gamarjoba
Thank you: Gmadlobt
Yes: Diakh
No: Ara
Bye: Mshvidobit
Cheers: Gaumarjos
Amazing experiences in Georgia
Rich and Delicious Food
Much of Georgia's cuisine blends the styles of east and west amazingly. Like, for example, khinkali, which are dumplings that look strangely similar to Chinese bao but are made with lamb which gives them an almost Greek taste and texture. The food of Georgia is rich and exciting, no matter what you try or where you go, as long as you like bread, cheese, meat, soup, or stew.
Hike and Explore the Caucasus mountains
The Caucasus mountain range is one of the undeniably biggest draws to Georgia. A wild and rugged mountain range that will have you itching to climb and conquer it. Kazbegi is a national park on the slopes of the mountains which will grant you some of the best views of your life, and Svaneti is where you'll find some of the hidden history of Georgia.
The Cave Towns of Vardzia
Georgia is defined by its wild hills and mountains, and so it might not be much of a surprise that you'll find here a vast network of towns made of stone which are built into the mountains themselves. The cave towns can be explored at your leisure, though they are located far from the capital. Visiting them for yourself is more than worth the journey, though.
East Meets West
Georgia is a crossroads between Europe and Asia. It's a nation predominantly Christian, and one of the earliest Christian countries on Earth. From what is now called the Middle East, Christianity spread through Georgia until it reached Rome and beyond. This means a lot of stunning churches and cathedrals. You'll also find foods that are similar to those found in Greece as well as Middle Eastern spices, breads, and eating styles.
Practical info
When to visit
Consider the weather when you visit Georgia. The Caucasus Mountains and the Black Sea both impact the weather somewhat, so the East of the country is generally warmer but wetter and the West is dryer and colder.
If you visit in May, June, or September you'll catch the best weather and avoid the freezing winter and particularly humid summer. However, if you'd like to catch the harvest season, particularly beautiful in the country's vineyards, then make sure to visit in August.
Visa
Most countries can enter Georgia visa-free and stay for at least 90 days. US citizens can stay for up to one year.
Things to do in Georgia
Tbilisi
This ancient capital has no shortage of amazing historical things to do. Like the Holy Trinity Cathedral, Jvari fort which sits on a mountain top, or Narikala, the remains of a 4th century fortress.
Kaz
begi
(153km from Tbilisi)
A national park on the slopes of the Caucasus mountain range. Kazbegi mountain is supposedly the site where the titan Prometheus was chained to a rock by Zeus, for gifting fire to humanity.
Uplistsikhe caves
(83km from Tbilisi)
Anyone who has seen the original Star Wars or been to Cappadocia in Turkey will feel right at home in this majestic network of caves that blends seamlessly into the rocky landscape.
Batumi
(377km from Tbilisi)
Georgia's second city looks like it was torn from the pages of a vibrant fantasy novel. It sits at the edge of the Black Sea and, because of its gambling opportunities, has been dubbed 'The Las Vegas of the Black Sea'.
Svaneti
(330km from Tbilisi)
A mountainous region of Georgia which pays no attention to the passage of time at all. This area has been frozen in a medieval setting full of snow-capped mountains and old stone forts.
Mtskheta
(25km from Tbilisi)
One of Georgia's oldest cities is very much defined by its religious architecture. See the incredible fortress-like monastery and 11th century cathedral for yourself.
Posts from Georgia