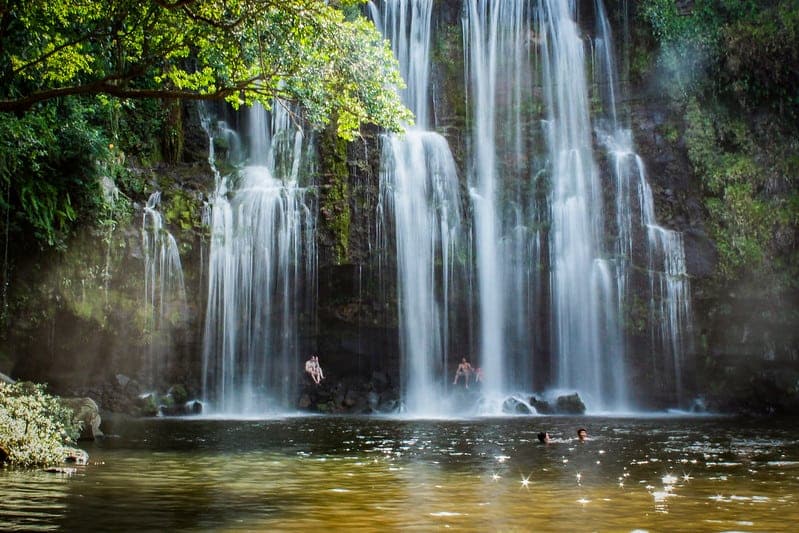 Welcome to Costa Rica
If you ever wondered where all those films set on tropical island paradises did their filming, there's a good chance it was Costa Rica. This Central American nation is a true paradise in every sense of the word. Volcanic mountain peaks, white sandy beaches, dense forests, and national parks.
Amazing experiences in Costa Rica
National parks
Costa Rica is as much defined by its natural landscape as its cities and people. That means there are some incredible national parks for you to explore. The best of them is Monteverde, a massive jungle park of towering trees, lush undergrowth, canopy bridges which you can walk across to stay above the undergrowth, and paths to follow as you trek through the thicket.
Dormant Volcanoes
Costa Rica has volcanoes to add to its list of incredible sights and places to explore, and the best of them is Arenal Volcano. This incredible green monster looks far different from your typical volcano, being as overgrown as it is with thick, dense vegetation. It almost blends seamlessly into the forest surroundings, though not quite. If you're worried, don't be: it's dormant, and has been since 1998. The last eruption caused little-to-no damage as well.
Weird and wonderful wildlife
As a place of wild jungles and volcanoes, it's unsurprising that Costa Rica has some of the coolest and most unusual wildlife you're ever likely to see. This includes the three-toed sloths, tapirs, ocelots, and rhinoceros beetles (which can grow to the size of a human hand). The variety of wildlife is super exciting.
Luxurious beaches
In Guanacaste Province is an incredible selection of beaches, framed by the wide-open ocean on one side and lush forests and vegetation on the other. The best of all Guanacaste's beaches is definitely Tamarindo. It's the perfect place to relax after you've climbing a volcano and conquered the rainforest.
Best sights in Costa Rica
San Jose (capital)
Costa Rica's capital is also its largest city, which means it's a place with a little bit of every part of the local culture, both modern and traditional, with bars and restaurants galore to enjoy!
Monteverde (137 km from San Jose)
This natural landscape is an ecotourist's dream. Canopy walks, hikes and treks across the landscape; it's both peaceful and exhilarating. Monteverde cloud forest is endless and teeming with wildlife.
Tamarindo (258 km from San Jose)
If you're someone who loves to see some of the most beautiful events in nature, you'll find turtles nesting in Tamarindo. And if you love to surf, this is one of the best spots to do it!
Manuel Antonio national park (171 km from San Jose)
Three of the most gorgeous parts of nature are lush forests, coral reefs and white beaches. This national park has all three and then some! It's a perfect place of absolute beauty.
Tortuguero national park (86km from San Jose)
This national park is a protected area where sea turtles nest annually. It also has freshwater lagoons which you can take a canoe across to explore for yourself, taking in the beauty of the rainforest.
Arenal Volcano (138 km from San Jose)
This dormant volcano is covered from base to peak in lush, thick greenery, making it a very unique-looking volcano. It stands so proud and prominently above the rest of the landscape.
How to get around
I always use Rome2Rio for finding transportation. This site/app is so easy to use. It quickly comes up with a variety of transport options to suit your time and budget. All costs are shown, even taxis.
Best time to visit
December to April is what they call the dry season in Costa Rica. It's the best time to explore the rainforests and national parks. There's no humidity to exhaust you and make you feel uncomfortable, and no rain to keep you indoors.
These five months offer perfect weather that's dry, cool, and neither too hot nor too cold. Any other month can be quite unpredictable in terms of rainfall and humidity.
Practical info
Language: Spanish
Currency: Colon
Plugs: Costa Rica uses the two-prong plugs found in the US at a voltage of 110V. If you're coming from elsewhere, definitely pick up a universal adapter.
Population: 4.9 million
Important telephone numbers: 911 for all emergencies
Visa: US citizens don't need a visa to enter and can stay for up to 90 days provided they have a return ticket.
Rough Budget
Spanish Phrases
Hello: Hola
Thank you: Gracias
Yes: Si
No: No
Bye: Adios
Cheers: Salud
Posts from Costa Rica