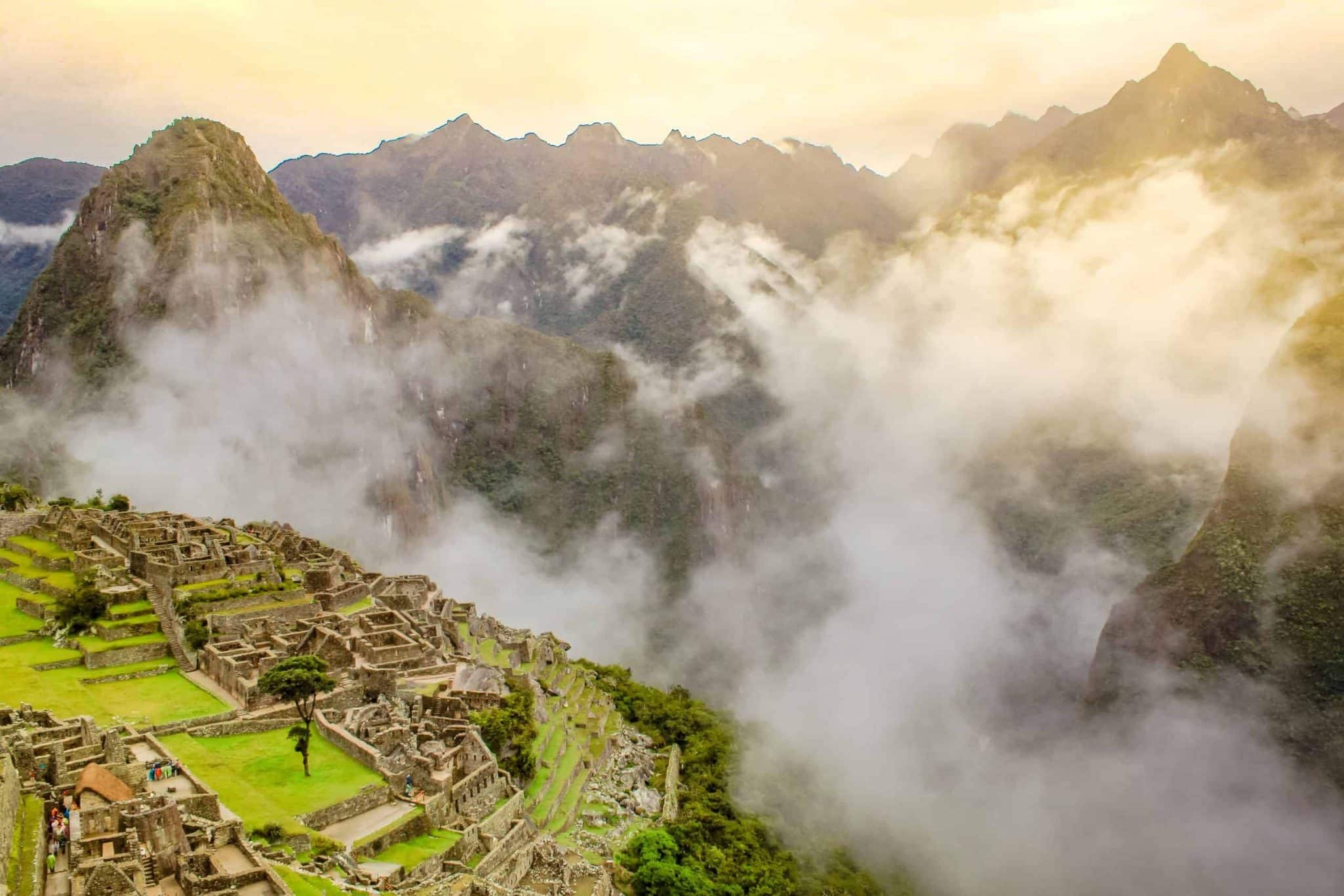 Welcome to Peru
Land of the Incas.. and llamas
When your most famous places are Machu Picchu, the Amazon rainforest, and Lake Titicaca, that's a rather impressive resume! To put it another way, Peru is the ultimate explorer's paradise. If you've ever wanted to really feel like Indiana Jones, there is no better country on earth to do it than Peru.
Amazing experiences in Peru
The majestic Machu Picchu
There are few grander sights in the entire world than seeing Machu Picchu in person or standing at Machu Picchu and seeing the world from that stage. This incredible ancient Inca citadel stands amongst the Andes atop one of its mountains, surveying the world around it. Nothing but Incan ruins and a captivating mountain range. It's an unforgettable experience.
Rainbow Mountains
This is the kind of sight you might find on the internet and assume to be a clever bit of photoshop. But it's not; it's real and it's in Peru. These brightly multicoloured hills are a fascinating natural phenomenon, which the world didn't even know about until the permanent snow which covered them began melting away in 2015. Be warned when visiting, though: tourism have saturated the area.
Beautiful Lake Titicaca with its own indigenous people
A lake so immense and impressive, it spans across the border of Peru and Bolivia. Lake Titicaca is world-famous, and with good reason! The lake cuts through the Andes mountain range and is said to be the place where the Incan civilisation originated. Incredibly, on floating islands across the lake live the indigenous Uru people of the land that is now Peru and Bolivia.
Most amazing and diverse nature
Peru has so much geo-diversity to its landscape that you'll be able to find anything from jungle to mountains and deserts. A holiday to Peru can guarantee you a trek through the Amazon itself, as well as riding dune buggies across the Ica sand dunes. And don't forget the world's deepest river valley: Colca Canyon.
Best sights in Peru
Lima (capital)
Sitting at the pacific coast of Peru, Lima is one of the largest cities in South America. Its museums and galleries showcase and celebrate the art and artefacts from Peruvian history.
Machu Picchu (573 km from Lima)
One of the most spellbindingly beautiful, captivating, famous, and historically vital pieces of cultural history in South America. Machu Picchu is an Incan citadel and royal estate found high up in the Andes.
Cusco (1,102 km from Lima)
A city close to the Urubamba Valley in the Andes, and thus not far from Machu Picchu, Cusco today sits on the original site of the capital of the Inca Empire until the 16th century Spanish conquest.
Colca Canyon (1,129km from Lima)
This fantastic trekking destination is one of the world's deepest river valleys, thus a very uniquely beautiful site to explore on foot. Hidden along the valley are remote traditional villages.
Arequipa (1,011km from Lima)
Once the colonial-era capital of Peru, Arequipa has three volcanoes on each side of it, and is also home to the incredible 17th century neoclassical Basilica Cathedral, where you'll find art and artefacts.
Lake Titicaca (936km from Lima)
One of the most famous lakes in the world, Titicaca stretches across both Peru and Bolivia, through the Andes. It is both where the Incas are said to have originated and the world's highest massive body of water.
How to get around
I always use Rome2Rio for transportation. This site/app is so easy to use. It quickly comes up with a variety of transport options to suit your time and budget. All costs are shown, even taxis.
Best time to visit
Peru's summer is from December to March, and that's of course the hottest and wettest time to visit. A better choice is to visit during the Peruvian winter, which is from May to September.
The winters in Peru aren't cold enough to make a holiday unpleasant – in fact, they're breezy and warm. The higher you go, the colder it gets, but rarely is it cold enough to make exploration impossible.
Practical info
Language: Spanish
Currency:

Sol

Plugs: Peru uses a very high voltage of 220V so make sure you get yourself a universal adapter
Population: 32 million
Important telephone numbers: 105 for all emergencies
Visa: Citizens of the US and most European nations do not require a visa to enter Peru, and can stay for a maximum of 183 days
Rough Budget
Hotel:

$30-60

Food:

$5-15

Activities: e.g.

$40 for a tour of the rainbow mountain

Transportation:

$2-10 for a bus
Spanish Phrases
Hello: Hola
Thank you: Gracias
Yes: Si
No: No
Bye: Adios
Cheers: Salud
Posts from Peru