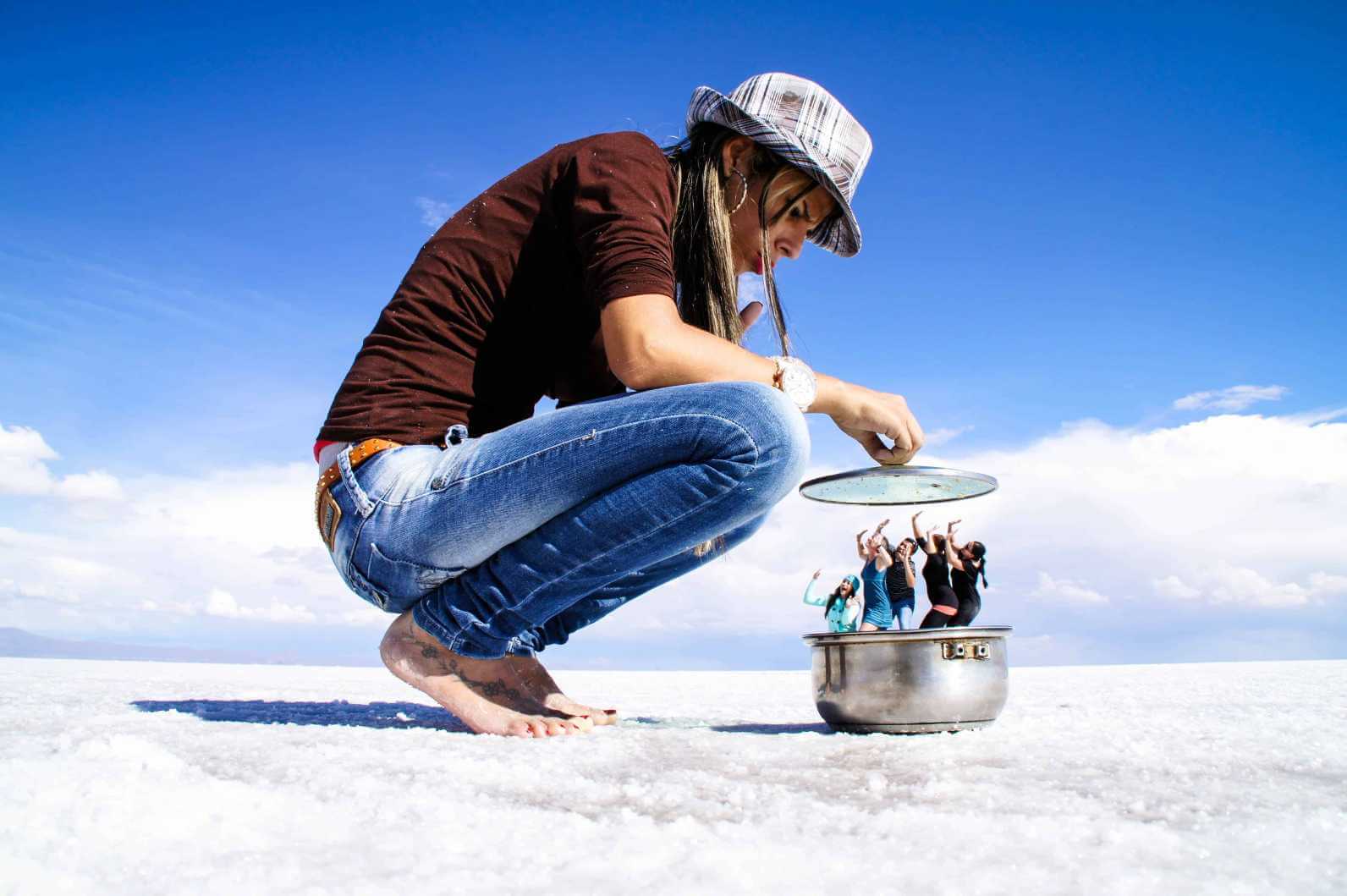 Welcome to Boliva
People often ask me what the most beautiful country is, and I always answer: Bolivia! There aren't many countries that have a terrain so thoroughly covered in mountains, deserts, and rainforests, but Bolivia is special that way. It's an incredibly diverse country with an intensely exciting ecosystem that allows you to fall out of the rhythm of everyday modern life in the way you always wished you could.
Amazing experiences in Bolivia
The world's largest salt flats
Known to the locals of Bolivia as Salar de Uyuni, the Uyuni salt flats are the largest on earth. A seemingly endless ocean of perfectly flat salty wastes with blue skies overhead. In the rainy season (January – March), the salt flats become a perfect mirror that stretches on to the horizon, reflecting the sky and the clouds. It's one of the most magical and unique natural phenomena you'll ever see.
Bike down Death Road
Death Road is a mountainous route that stretches on for miles along a perilous cliff edge. There are no barriers, so this is definitely for dare devils. The road is used every day by locals and tourists, and you can mountain bike along it if you're brave enough. Blind bends and narrow stretches make it a perilous journey, but one that can easily be conquered as long as you're careful, focussed, and confident.
Indigenous people
In La Paz is a place known as the Witches' Market. It's a place that sells traditional potions said to cure ailments. At this market, you'll find the indigenous people of Bolivia trading their wares: medicines, clothing, food, and more.
The Amazon
There isn't much that needs to be said here! The Amazon is one of planet Earth's most famous and treasured natural wonders. A vast and infinitely sprawling rainforest full of strange and wonderful animals and plant life. It's a dense place of mystery and excitement that you can visit for yourself when you visit Bolivia.
Best sights in Bolivia
La Paz (capital)
Its unusual badge of honour – being the world's highest administrative capital – is just the start of La Paz's uniqueness. It's also home to a witches' market, where you can buy actual potions.
Uyuni (547km from La Paz)
Uyuni is often the place visited by tourists looking to visit the nearby salt flats. And that is certainly reason enough, but the nearby red lakes, flamingos, deserts and volcanos are also worth checking out on a guided tour!
Death Road (66 km from La Paz)
You may have heard of this place: a road that skirts around the edges of mountains, with sheer death drops lining the entire journey. Bolivia's Death Road is a terrifyingly fun experience not for the faint of heart.
Sucre (698km from La Paz)
This highlands city is where Bolivia's declaration of independence was signed. It's a very historic city with some fantastic museums and colonial churches. If you want Bolivian history, Sucre has it all.
Lake Titicaca (144km from La Paz)
One of the most famous lakes in the world, Titicaca stretches across both Peru and Bolivia, through the Andes. It is both where the Incas are said to have originated and the world's highest massive body of water.
Cochabamba (387km from La Paz)
This central Bolivian city is home to the colossal Cristo de la Concordia statue of Jesus, which can be accessed via cable car. This will give you spellbinding views of the whole city and surrounding areas.
How to get around
I always use Rome2Rio for transportation. This site/app is so easy to use. It quickly comes up with a variety of transport options to suit your time and budget. All costs are shown, even taxis.
Best time to visit
Because of its southern hemisphere position, Bolivia's winter is from May to October, but this is actually the best time to visit. The country is still warm, with no rainfall or intense heat to ruin your holiday. The highlands and mountains will be pretty cold, but still not cold enough to make exploring impossible.
If you want to experience the salt flats with the water surface (no doubt the prettiest!), you should visit in the rainy season from January to March.
Practical info
Language: Spanish
Currency: Boliviano
Plugs: Bolivia uses both US and European style plugs, so before you go, pick up a universal adapter
Population: 11 million
Important telephone numbers: 165 for ambulance, 119 for fire, 120 for police, 138 for search and rescue
Visa: A 90-day tourist visa is required for US citizens to enter Bolivia. You also need a yellow fever vaccination certification and proof hereof prior to boarding by airlines flying into/transiting Bolivia, as well as at entry points to Bolivia. Get more information on Lonely Planet and Centers for Disease Control and Prevention.
Rough Budget
Spanish Phrases
Hello: Hola
Thank you: Gracias
Yes: Si
No: No
Bye: Adios
Cheers: Salud
Posts from Bolivia