Adventurous Miriam uses affiliate links, which means that if you make a purchase through my links, I may earn an affiliate commission.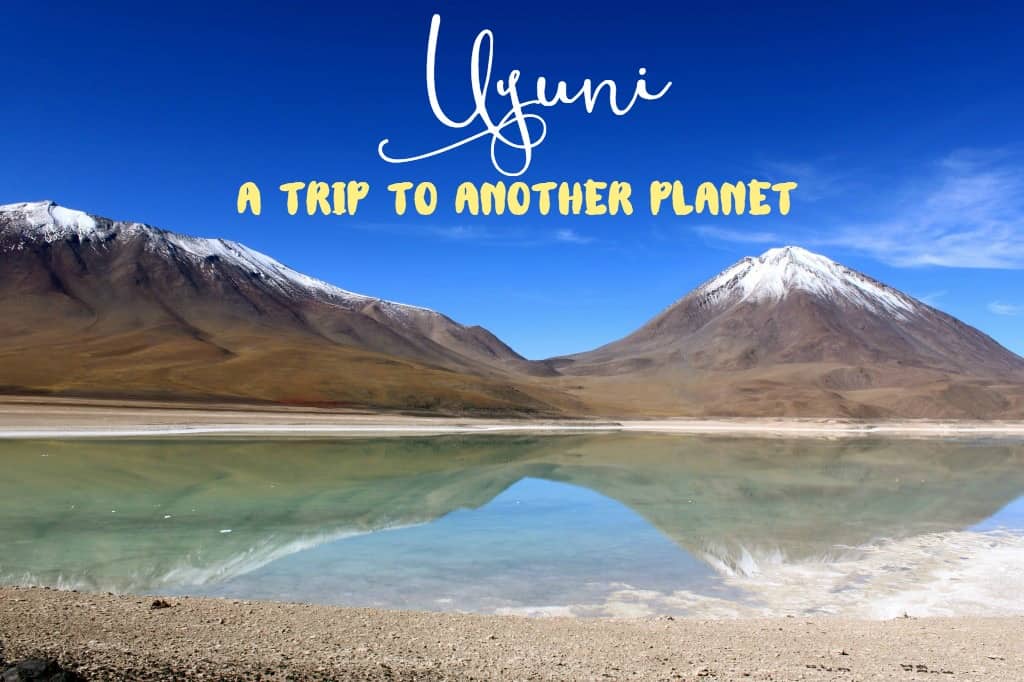 After visiting the Salar yesterday, I had a hard time believing that we would see anything even remotely as beautiful, but I was in for a surprise. The following two days we would drive even further into the desert to see active volcanos, colourful lagoons, unearthly nature and warm bubbling saline springs. A 970 km drive reaching a height of 5,000m across south-east Bolivia to the Chilean border was ahead of us.
LAGUNA COLORADA – BLANCA – GEYSERS – HOT SPRINGS
We got up at 7am, had a short breakfast and off we went. First stop for the day was the stone desert; a large area of rock formations shaped by volcanic lava, wind and weather over the years. Driving through the scenery, it looked as though we were on another planet. The surrounding volcanos, blindingly red sand desert, the many shifting colors made it look extraordinarily beautiful.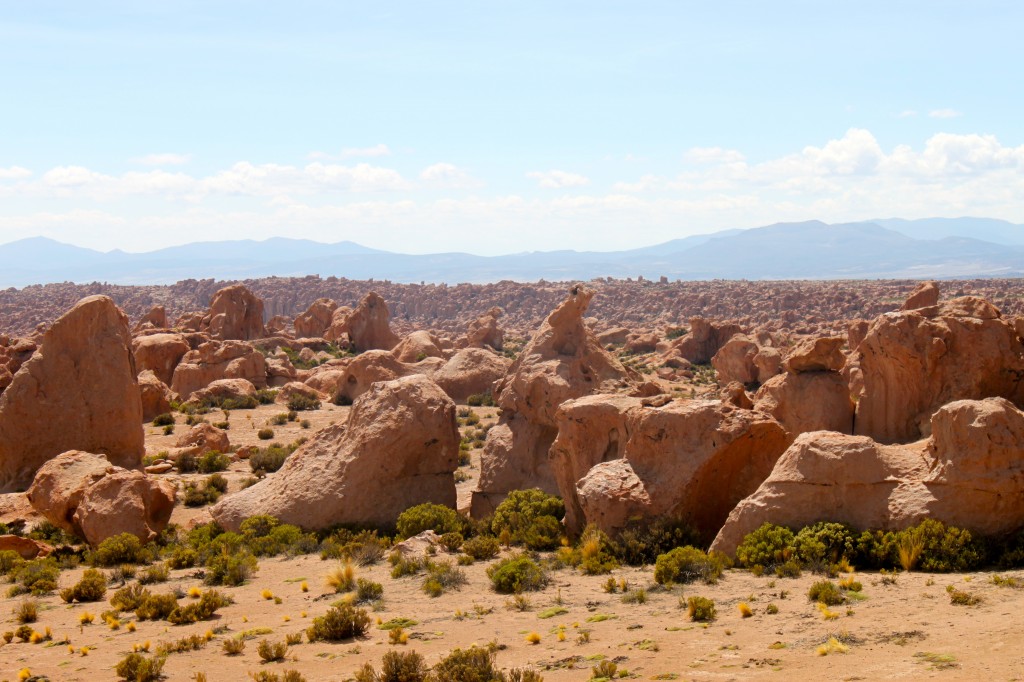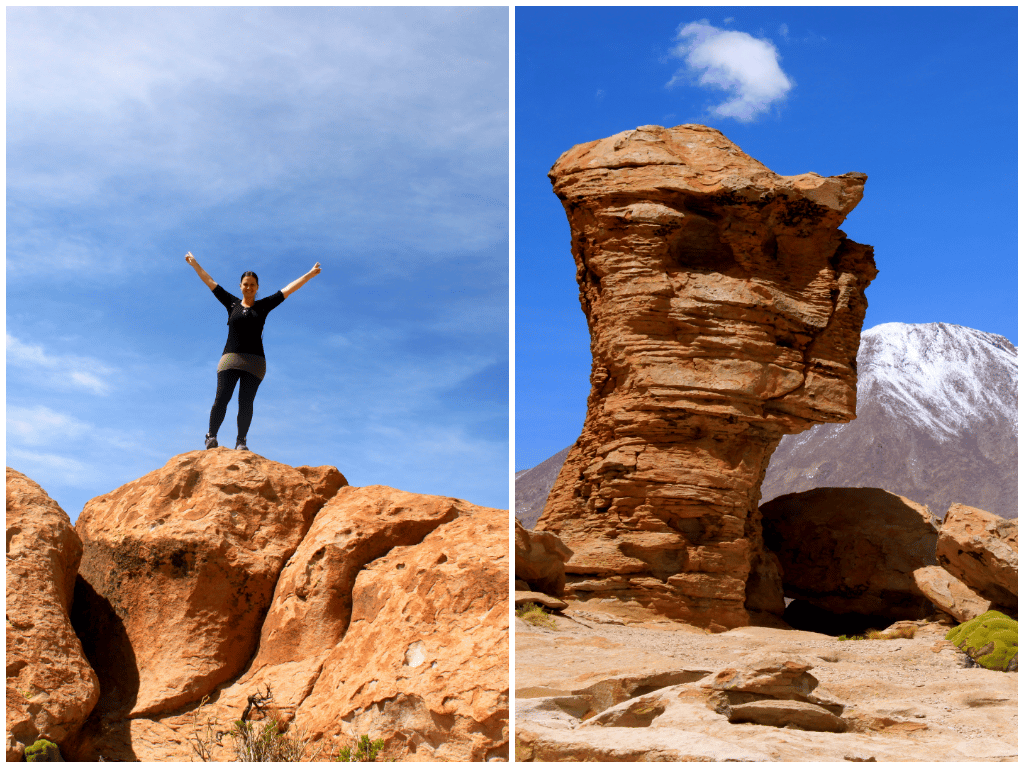 At Laguna Blanca (white lagoon) further south, flamingos prowled the whitish water and ash-coloured mud. "There are three sorts of flamingos in Uyuni: Chilean, James and Andino," José had told us.
I have never seen landscapes that made me feel more humble to nature. Thousand kilometers of raw, untouched nature, weird formations that resembled faces and giant cauliflower and space rocks with nature as the creator – all set against dazzling blue skies. It was nothing short of magnificent.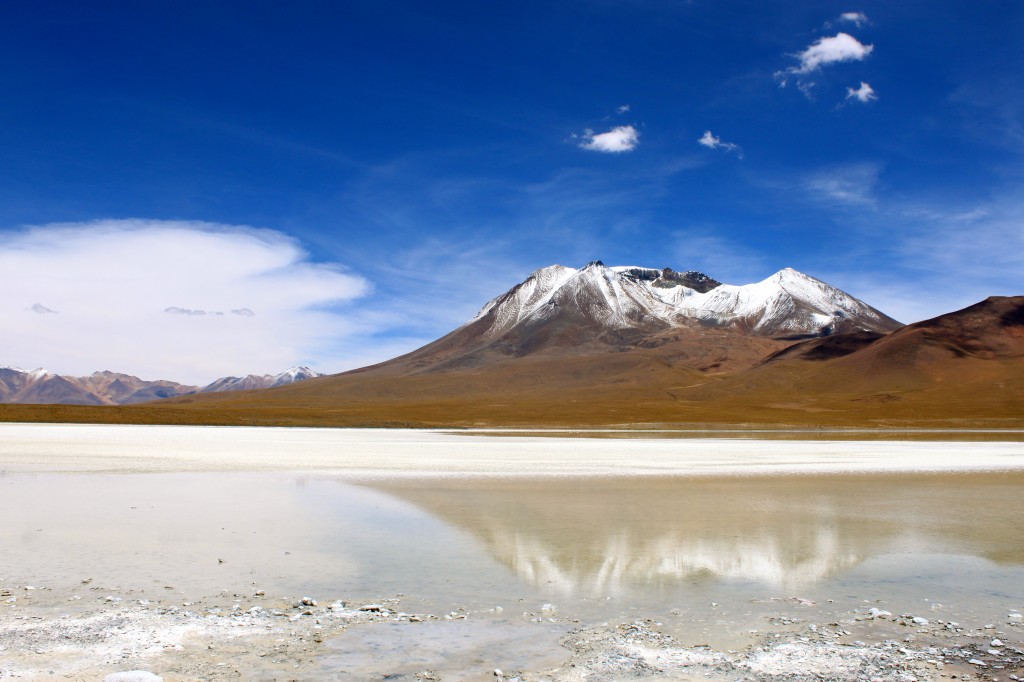 The massive Ollagüe volcano (5,868m) loomed ahead as we approached the Eduardo Avaroa National Reserve after driving for a while through a desolate red desert. We had lunch under a parasol in the middle of the desert after which we head on to the stone tree; it was once a rock, but sandy wind and weather had sculpted this weird tree-looking stone over the years.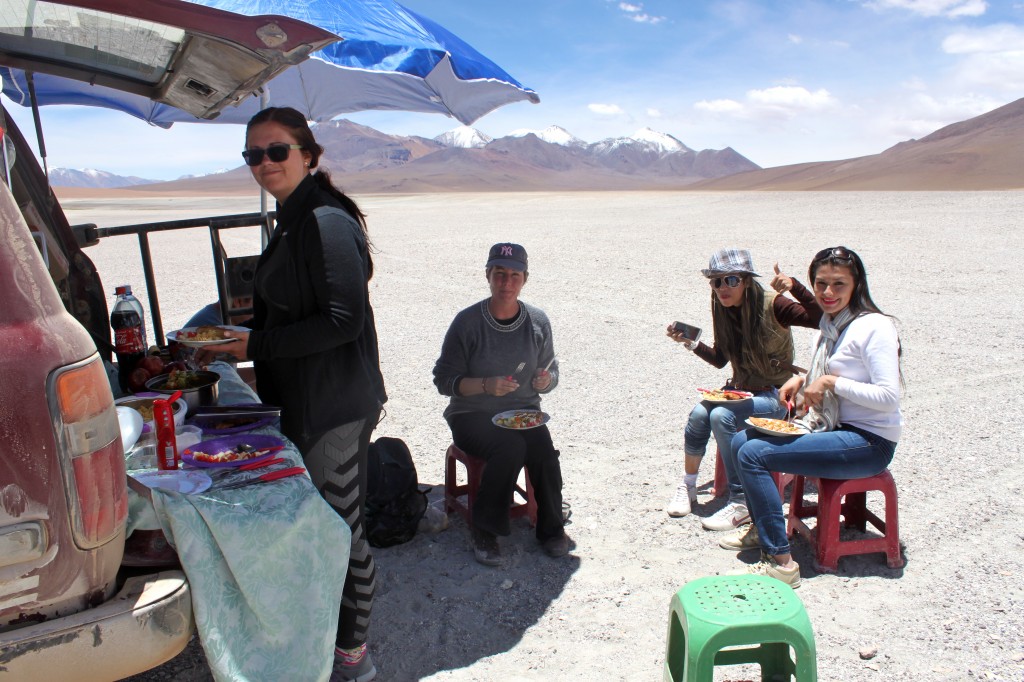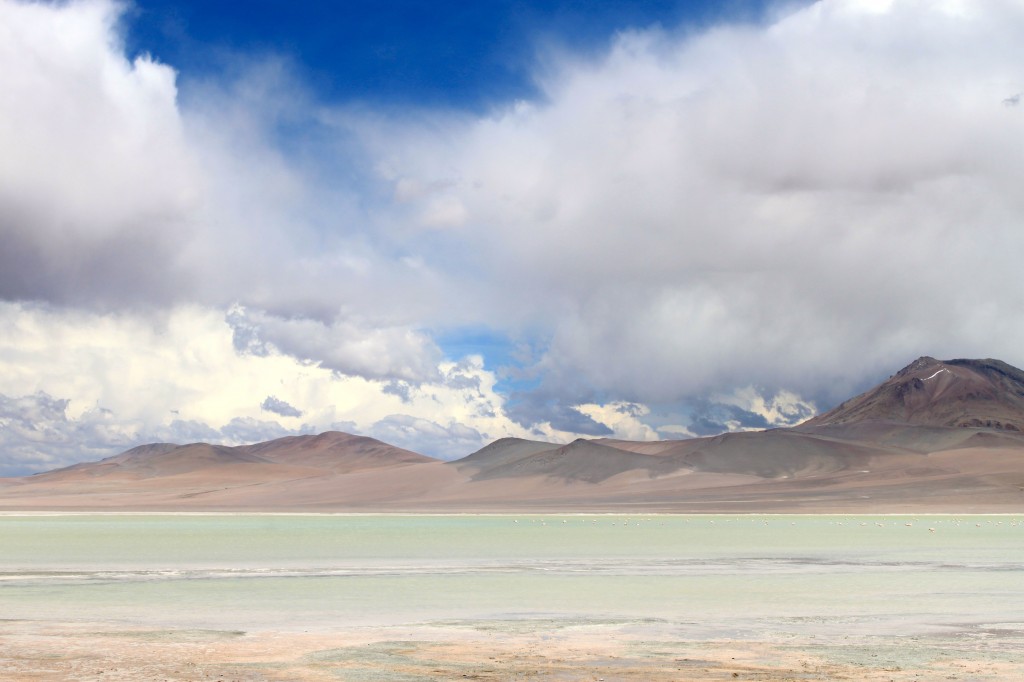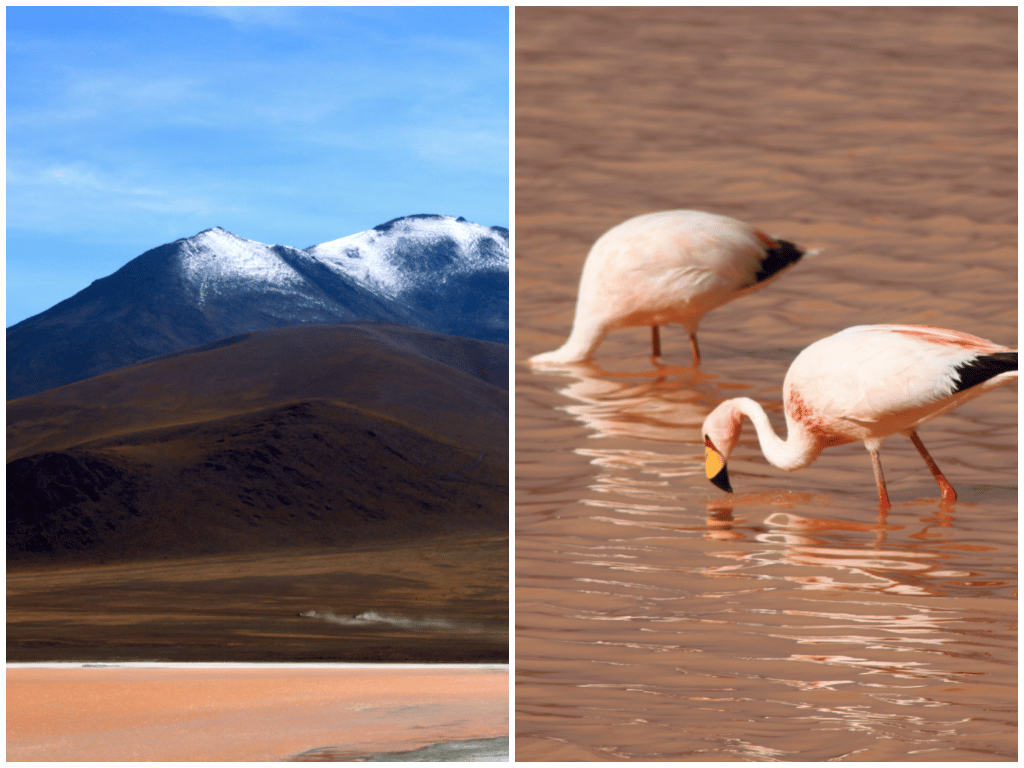 Last stop of the day was Laguna Colorada, which is a red colored salt lake. Its color comes from the presence of minerals, and the pink flamingos living in the lagoon created a very unique scene of spectacular beauty.
The day was settling into its decline at 5pm as we arrived at the hotel. My relationship with high altitude always leaves me with headaches, so I called it a night basically right after arrival.
DALI DESERT – GEYSERS – LAGUNA VERDE
4.30 in the morning. The cold was intense and I was sitting in the cool car, impatiently waiting for it to heat up while glazing at the clear starry skies. About 40 minutes from the hotel was the Geysers of Sol de mañana and we would reach it during the most active moment and with the first ray of lights. This point was the highest altitude of the tour at 5,000 meters above sea level.
After that, we moved on to the Hot Springs of Polques where some of the group took a bath.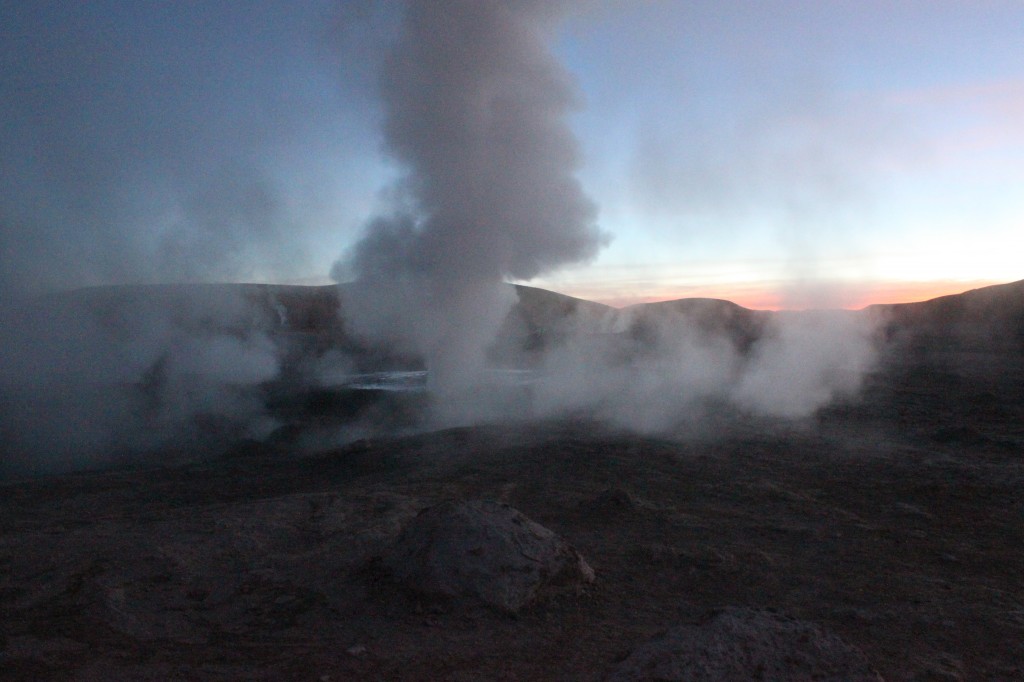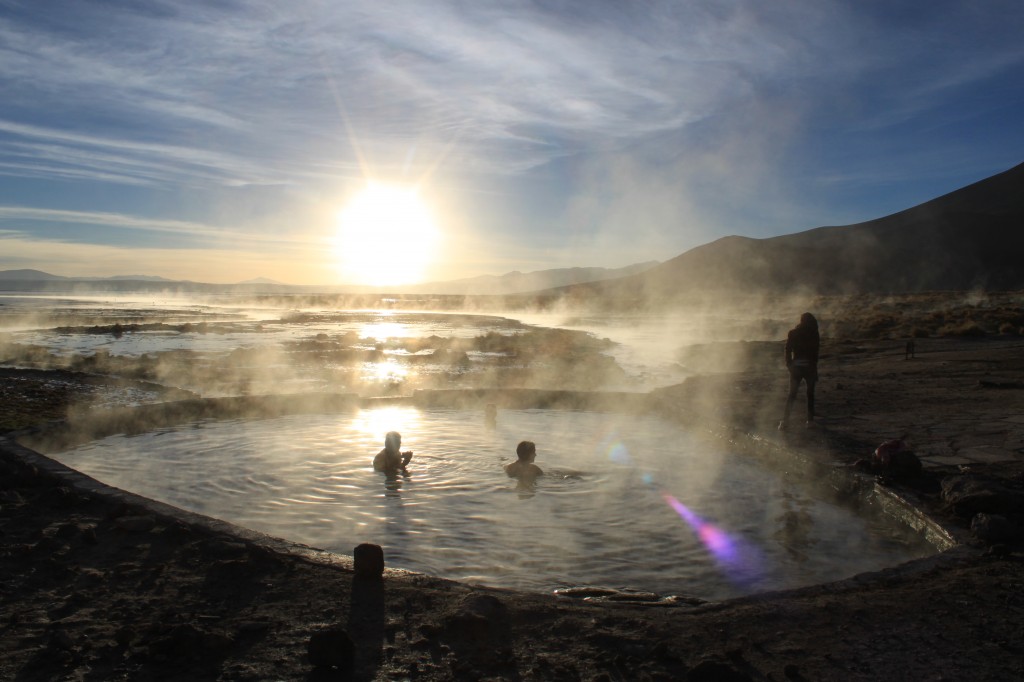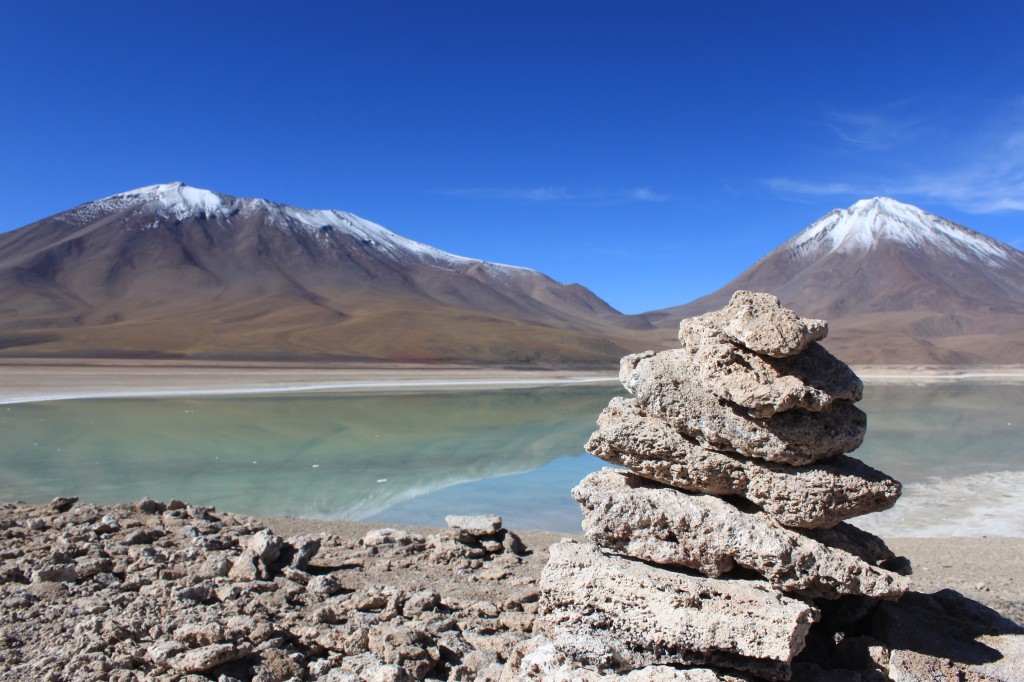 Last stop on the trip was Laguna Verde (4,400m), a beautiful green colored salt lake at the foot of the Licancabur volcano. This was my favorite place of these two days. I loved the quietness, the simplicity and beauty. It all seemed so perfect, like every rock and drop of water played an indispensable role in the landscape. I could have stayed there for hours.
A PEAK OF CHILE
But instead we drove to the Chilean border where I – this time – deliberately sneaked across it. Just for the record, this is not becoming a bad habit of mine. Samantha, our American/English crew member was moving on further south, while we were turning back towards Uyuni town in the north. We had a seven hour drive ahead of us, and on the way we did a stop at José's favorite spot – the llama place. I get why he likes it so much. It sure is peaceful and quiet.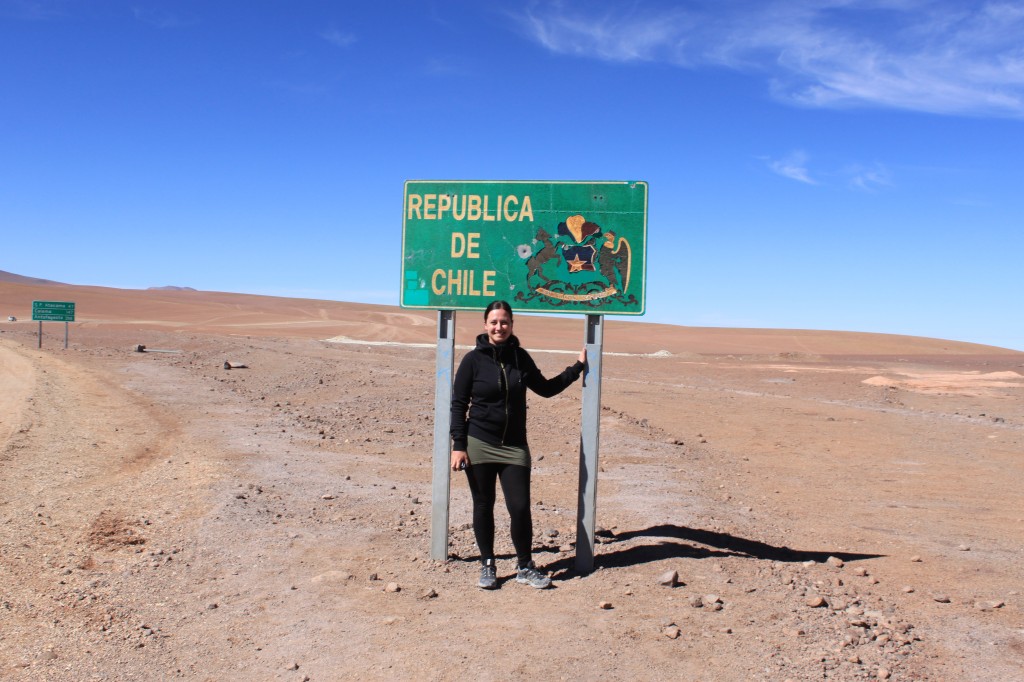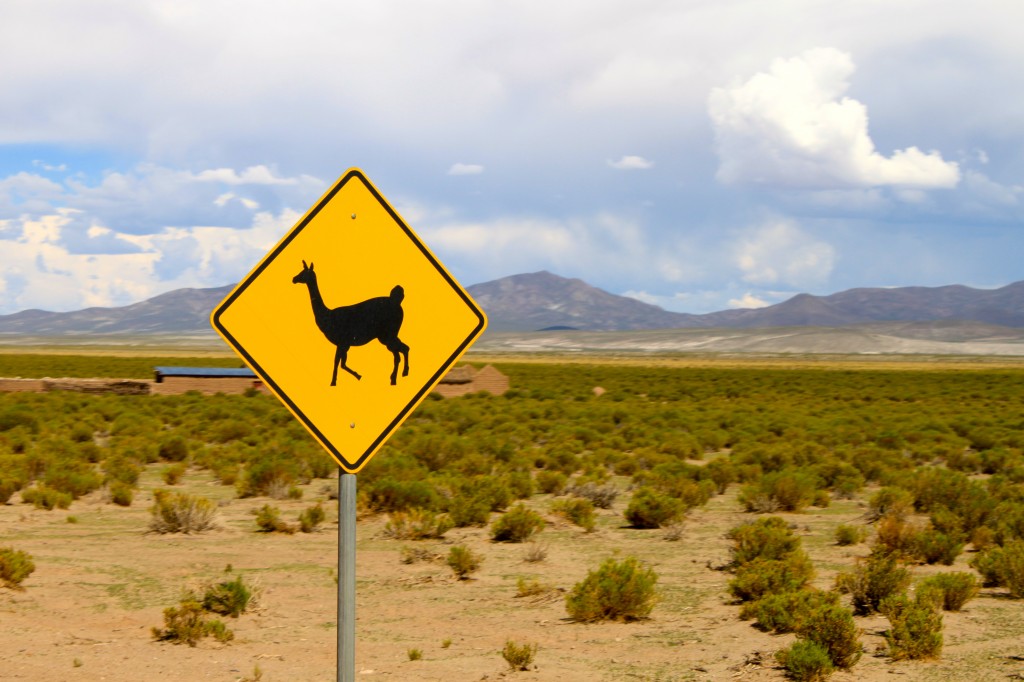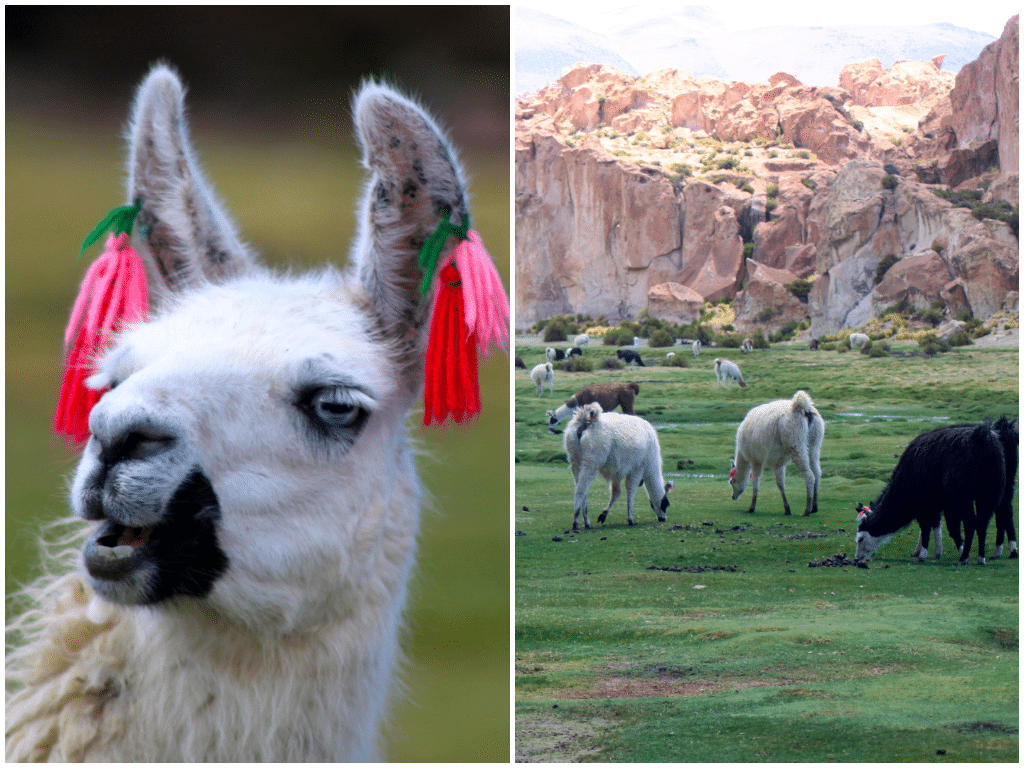 I loved the Uyuni tour, and it was the highlight of my South America trip. If you want to know more, read my post about Salar de Uyuni here and my tips for the trip here.
Pin to Pinterest