The ultimate Inca Trail packing list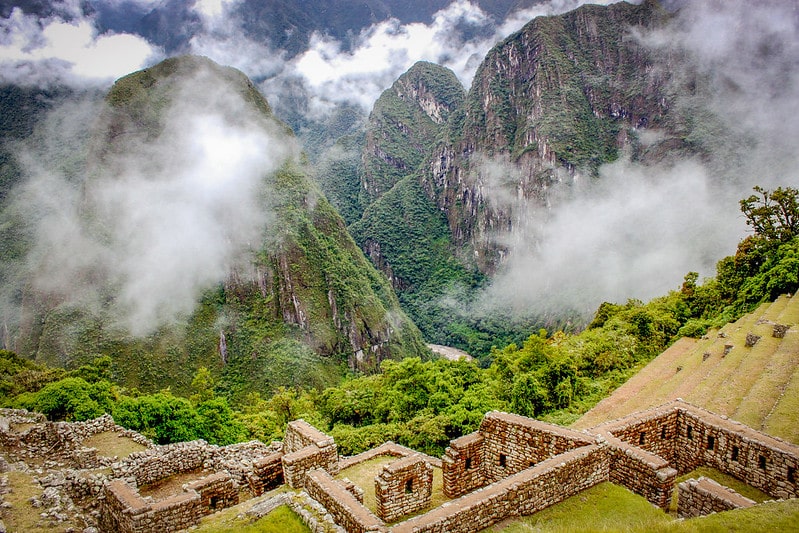 You'll experience lots of different weather when hiking the Inca Trail so bring an outfit for every one. You should also be aware that there's no place to charge your camera batteries on the trail. If you don't want to risk reaching Machu Picchu with an empty battery, bring extras. I took around 1,000 photos + videos with my Canon and I almost used up two batteries.
I've got three solid advice for you regarding clothes: 1) you will face a variety of conditions during the trek and it's very important reduce the weight to a minimum.
Here's what to pack for the Inca trail:
This post contains referral links for products I love. Adventurous Miriam earns a small commission at no extra cost to you if you make a purchase through my links. Thank you for your support ♡ Learn more
Documents
There's a few documents you need in order to hike the Inca Trail. Some are pretty straight forward, like diary and pen or insurance card. But did you know that you need your passport to enter Machu Picchu? You do. And you can even get a special Machu Picchu stamp to prove it. Aside from that, you'll need money for tipping.
*A note about yellow fever: You don't need the yellow fever vaccine or certification to hike the Inca Trail or visit Machu Picchu. BUT if you arrive from an area with yellow fever (like most South American countries) or plan on visiting the Amazon after (a yellow fever area), you will need a certificate. The airlines and border controls are strict about this, so make sure to check the current requirements as they change frequently. Get more information on Lonely Planet.
Passport
Money (for tips, water and snacks)
Insurance card
Diary & pen
*Vaccination card
Clothes
The most important advice I can give you is to dress in layers. On the Inca Trail, you will deal with intense heat, harsh sun, rain and cold mountain nights, which can get below zero. You'll need clothing for all of this. No need to pack a whole lot of stuff, you just need to pack smartly. With a little help, you'll be prepared for every each day on Inca Trail, no matter what it throws at you!
Rain jacket and pants
Rain poncho
Fleece
Sports bras
Socks
Two leggings
Baselayers
T-shirt
Towel
Sunglasses
A hat
Footwear
During the Inca Trail you will hike between 6-9 hours per day. It's important to be prepared and wear waterproof and comfortable hiking boots for this.
Hiking boots
Flip flops or sneakers (for the afternoon)
Electronics
*Electronics and altitude: I've read that some computers, phones or tablets don't function or have flat out died in the high altitude of Peru, but I didn't encounter any problems with mine.
Camera + charger
Extra batteries
GoPro + accessories
Flashlight
Medicine
The Andes altitude is high, so if you're going to Cusco or the Inca Trail, you will most likely get acquainted with altitude sickness. Altitude sickness is quite similar to hangover or sea sickness with symptoms like nausea, weakness, dizziness, headaches and trouble breathing. I had it in Tibet many years ago so this time I came prepared. I brought altitude sickness pills (prescribed by my doctor) and researched how to prevent it. I've written this post about how to treat altitude sickness.
Knee braces
Compression stockings
Medicine
Hand sanitiser and wet wipes
Bandage and plasters (plenty!)
Sunscreen (factor 30.)
Lip balm
Insect repellent
Toiletries
Toothbrush and paste
Brush
Deo
Make up
Cleaning tissues
Hair elastics
Small plastic bags
Toilet paper
Neck pillow
Misc
Sleeping bag – make sure to bring one that goes below sub-zero temperatures. You can also rent in Cusco or through your tour company
Head lamp or flash light – there's no light in the camps, so you need to bring your own.
Hiking poles
More posts from Peru you might like