7 great reasons to visit Lima – Peru's underrated capital
For most travelers, Lima is just a stop-over. It's the place where people land before they head to Machu Picchu, or merely somewhere to be skipped out altogether. But Lima deserves to be seen as more than just a stop-over. Spend some time here and you'll realise that Lima's enchantment is just below the surface; slowly revealing a thriving food culture and a rich colonial history.
Here are just some of the reasons to visit Lima, "The city of Kings".
This post contains referral links for products I love. Adventurous Miriam earns a small commission at no extra cost to you if you make a purchase through my links. Thank you for your support ♡ Learn more
1. THE CHIC (BUT FOGGY) MIRAFLORES
The chic district of Miraflores is full of trendy bars and restaurants. This side of Lima also has the seafront strip of El Malecón, a 6-mile stretch of parks situated along the cliffs high above the Pacific Ocean. There's a fantastic ocean view, plus it's a great place to bike, rollerblade or try paragliding.
We stayed at Pirwa hostel in Miraflores, which is in walking distance from everything exciting in the area. In the morning, we got up early to catch the view over the Pacific Ocean, but unfortunately our side of town was invaded by fog (no wonder Lima is nicknamed "The Gray One"). The further we got to the ocean, the thicker the fog got, so eventually we had to give up and walk back.
One of the things I really liked about Miraflores – apart from the feeling of being in a safe and clean neighborhood – was the fitness vibe. Literally everywhere we looked someone was either running, pumping iron in the driveway or working out at the gym. It seemed like a healthy place.
2. THE HISTORIC CENTRE OF LIMA
Downtown Lima is known as Ciudad de los Reyes (City of Kings). This area was founded by Spanish conqueror Fransisco Pizarro in 1535 and is home to various churches, buildings and structures from the colonial period.
In 1988, UNESCO declared the historic center of Lima a World Heritage Site, and it's easy to see why.
More than 1,600 balconies are situated of the buildings in this area, and they add a colonial originality and particular harmony. All of the structures are well-kept and it's obvious that the Municipality of Lima has invested in preserving the Peruvian history and heritage.
3. THE BEAUTIFUL PLAZA DEL ARMAS
Just like Cusco and many other South American cities, Lima also has a Plaza del Armas. This serves as a park slash center point for a: a church and b: government buildings. The one in Lima is not much different from Cusco other than the strong presence of military. We actually saw quite a few armed soldiers and tanks around the city, but somehow it only reassured us of our safety, which I certainly didn't mind.
Top sights at Plaza del Armas:
Catedral de Lima
Government Palace of Peru
City Hall
Presidential Palace
Lots of Baroque buildings with little balconies
The old railway station
4. CHURCHES
One word: Churches. This is what to notice in Lima, because they're admirable and they're everywhere. You can't walk more than a few blocks in downtown Lima without stumbling upon another colonial church.
Aside from the impressive Basilica Cathedral of Lima, other noteworthy churches are Cathedral San Francisco and San Pedro Church.
5. THE FOOD IN LIMA
The food scene in Lima is hot. Peru was just named the world's top culinary destination at the World Travel Awards for the second year in a row. From gourmet Peruvian cuisine to tasty street food, you can always find delicious food in Lima.
I love visiting McDonalds in other countries to get their country specials 🙂
6. THE LOCALS ARE LOVELY
Another thing I adore about Lima is the people. It is no secret that I admire Peruvians for their self-awareness and strong heritage, but they are also great people one on one. Every taxi driver, officer or local I spoke to was interested in talking to us and helping us however they could.
Like this elderly woman in her 80s with only one tooth left (where's my GoPro when I need it?!) who suddenly grabbed my arm when we were walking in the street. She kept on speaking Spanish and none of us understood anything. After a few minutes of wrinkling my eyebrows, she did the cut-throat sign and pointed in the direction we were headed.
We later found out that we were about to enter the favela.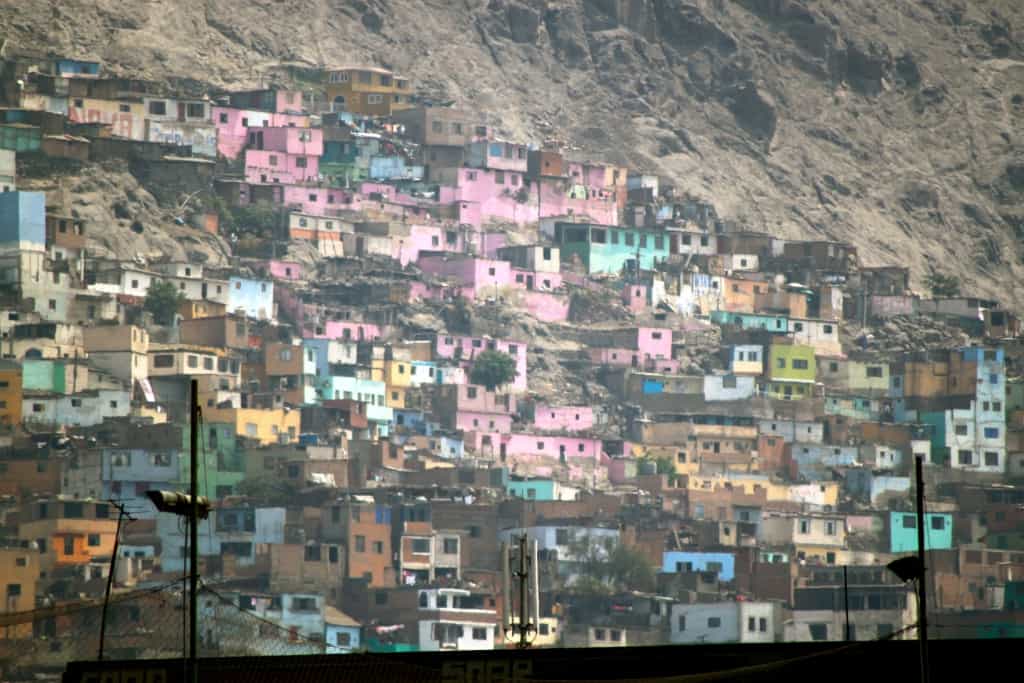 7. THE BOHEMIC BARRANCO
Lima is just lovely, but if I must choose a favorite spot, I would say Barranco. Talk about personality! Barranco is the Bohemic area of Lima; a cozy, chilled-out place where travelers live and locals spend their Sunday afternoons. If you're in Lima, you should pay this place a visit. It's only a 15-20 minutes drive from the Cruz del Sur terminal.
Have you been to Lima? Let's talk in the comments!
More posts from Peru you might like
Save it!