Just east of Bali and a stone's throw from Lombok is the island of Gili Trawangan. This tiny, Muslim island is engulfed by corals and surrounded by white sandy beaches, turquoise water and a mesmerizing underwater life. On the east beach, dance music is blazing from the speakers and drowned out by the tunes of the local imam singing the daily prayer. The contrasts are striking.
Every day, boats arrive from other Indonesian islands with hundreds of travelers looking for a party or a place to unplug. The harbour is crowded, and in high season everyone is standing on each other's necks to get off the boat first. When the ferry docked at the shores of Gili Trawangan, we were all ushered out the narrow backdoor and shown towards the left side. To get off, we had to scale across a 20cm walkway on the side of the boat while clinging on to our hand luggage and then jump into the shallow water to the crowded beach.
I got my backpack and had to push my way through the crowd. I had no idea where my hotel was and all I had to on was a name. There are no cars or scooters on Gili Trawangan so getting around is done by bicycle or horse cart. The 34 degrees and 27 kg on my back quickly persuaded me to take a horse chart and soon I was at my hotel, ready for some serious relaxation.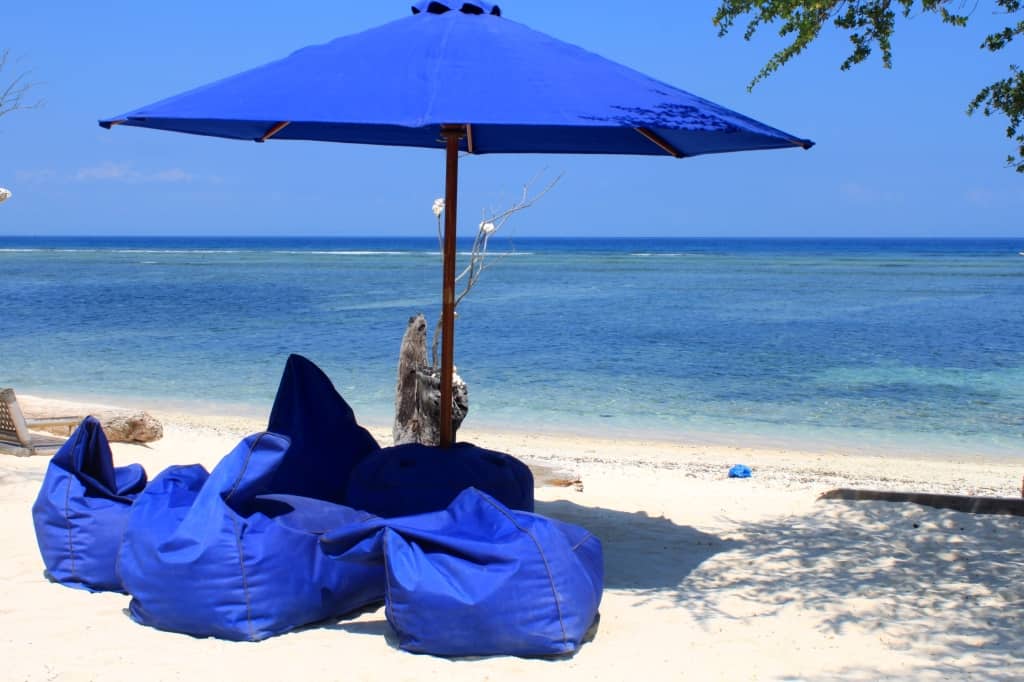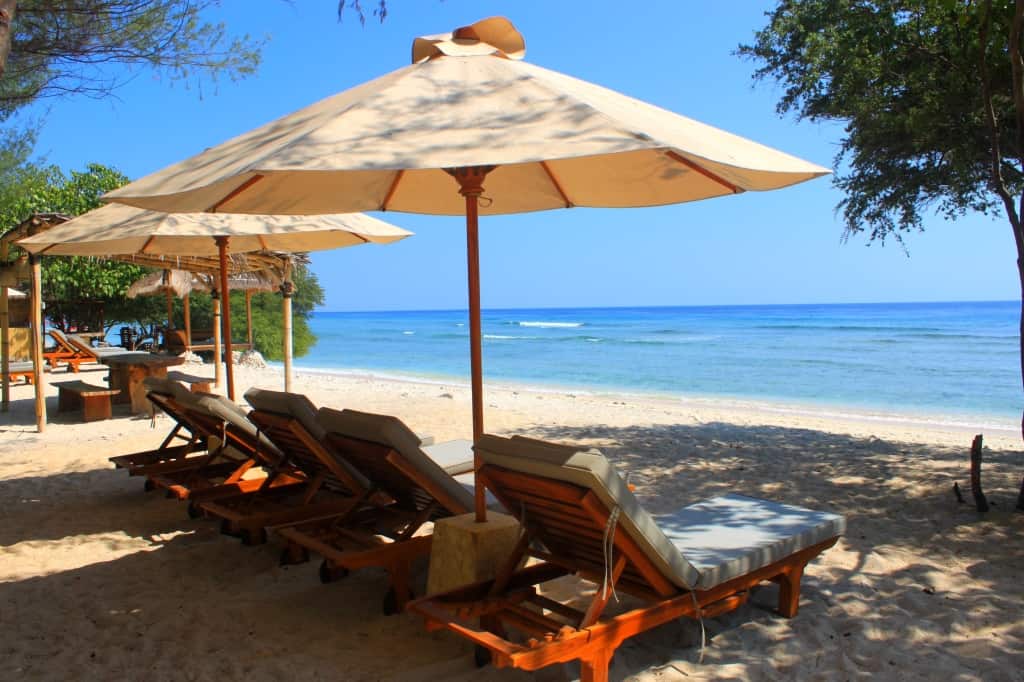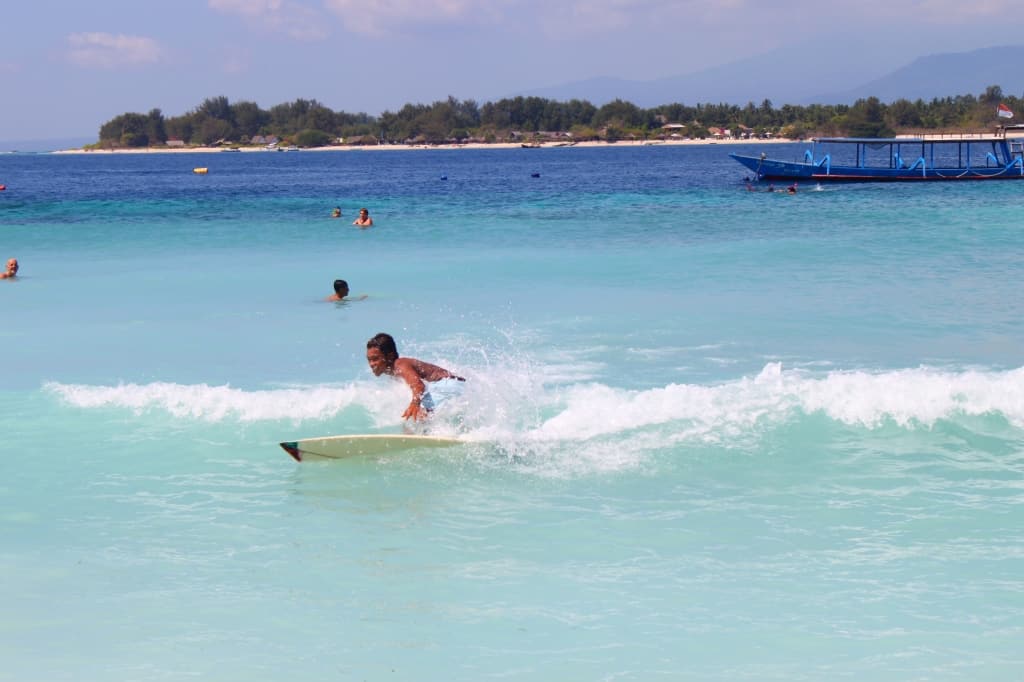 BIKING AROUND THE GILI TRAWANGAN
With a population of only 800, Gili Trawangan is a relatively small island. It takes approximately one hour to cycle around it and two hours to walk. I rented a bike for the day and rolled off to the beautiful countryside with a bottle of water and a bicycle basket full of snacks. I stopped every 5-10 minute to take a photo or walk barefooted through the warm beach sand and collect corals.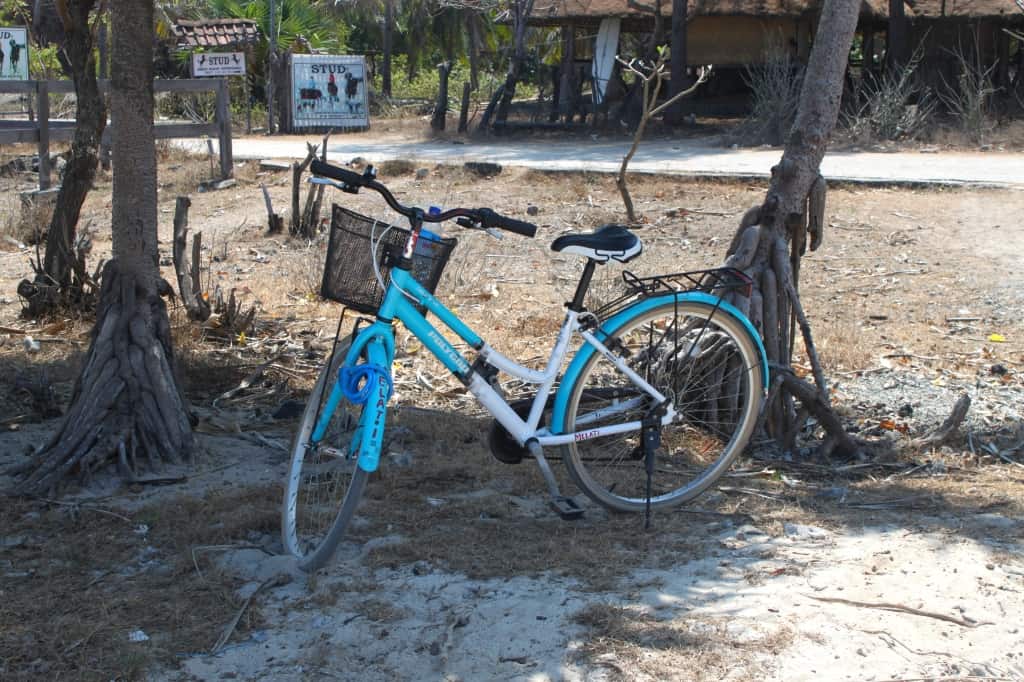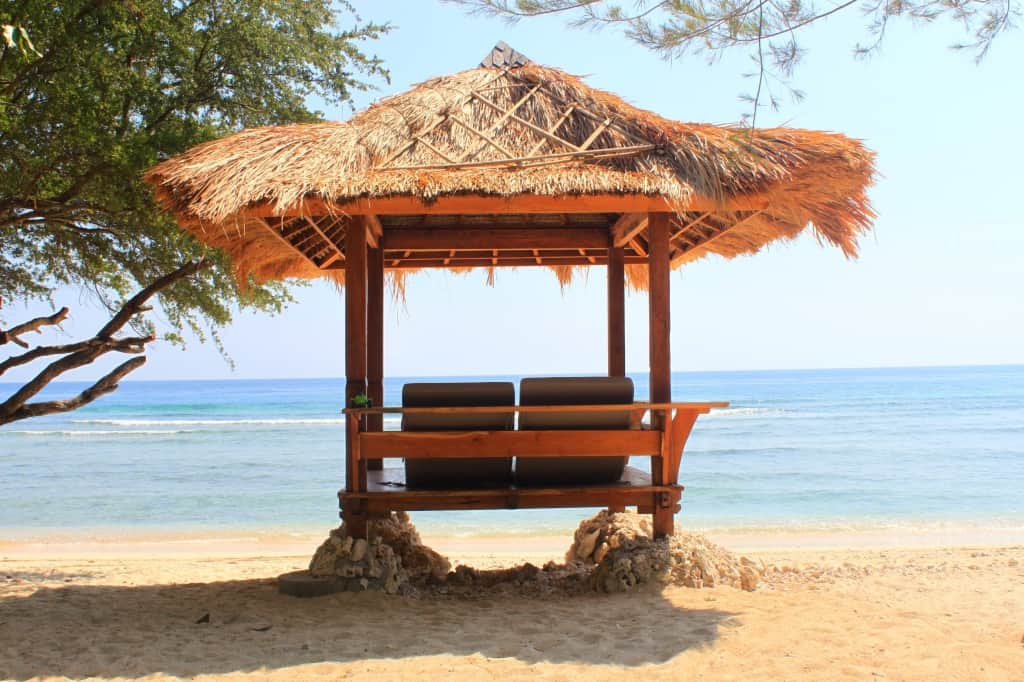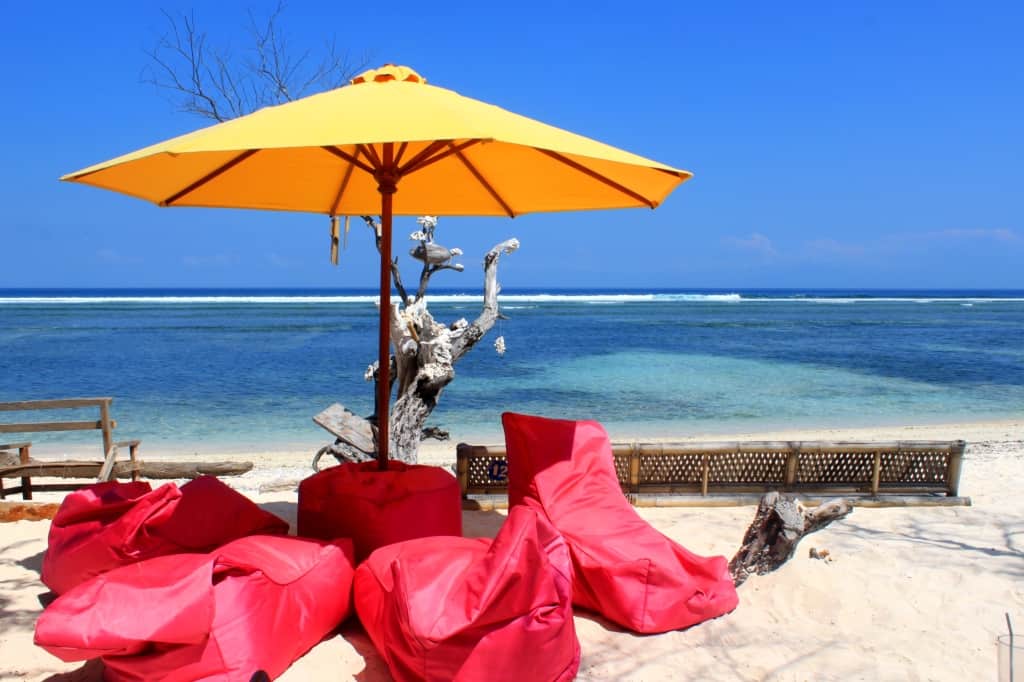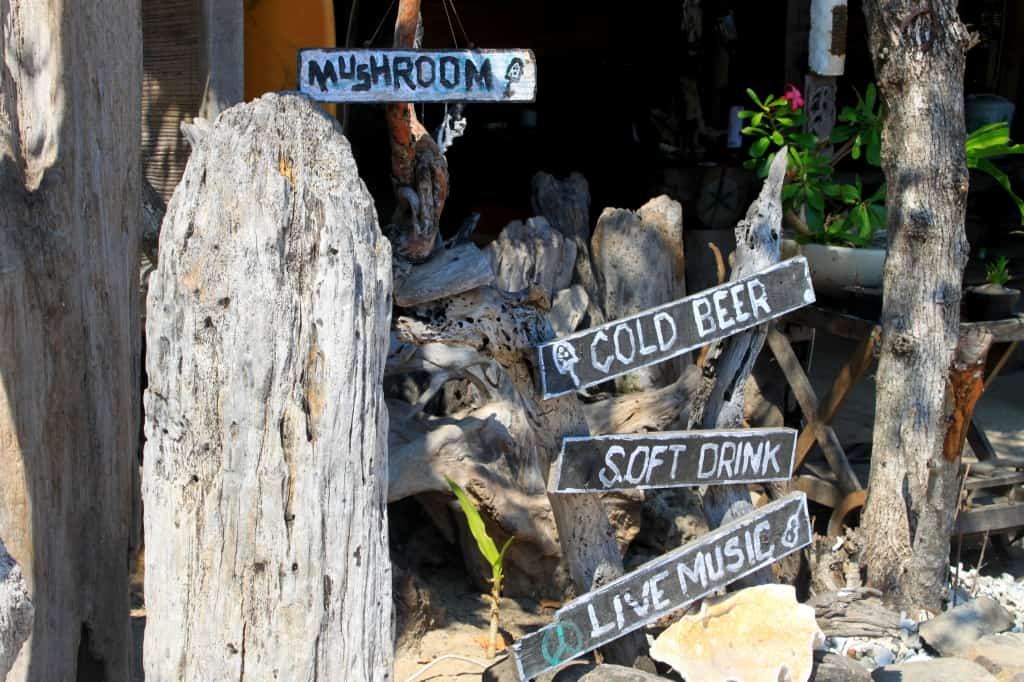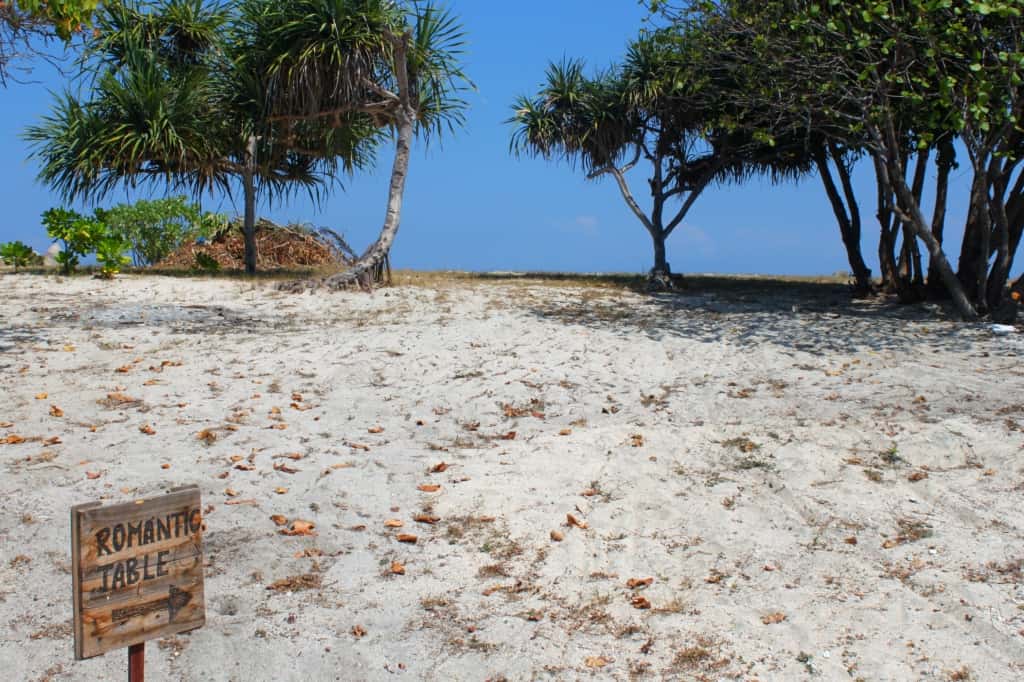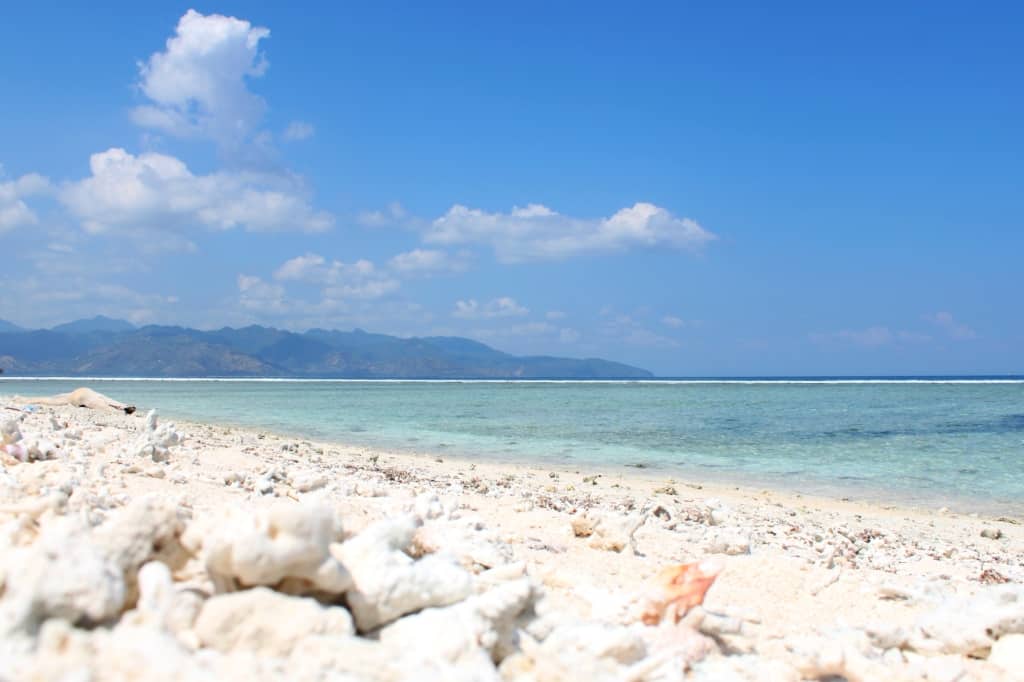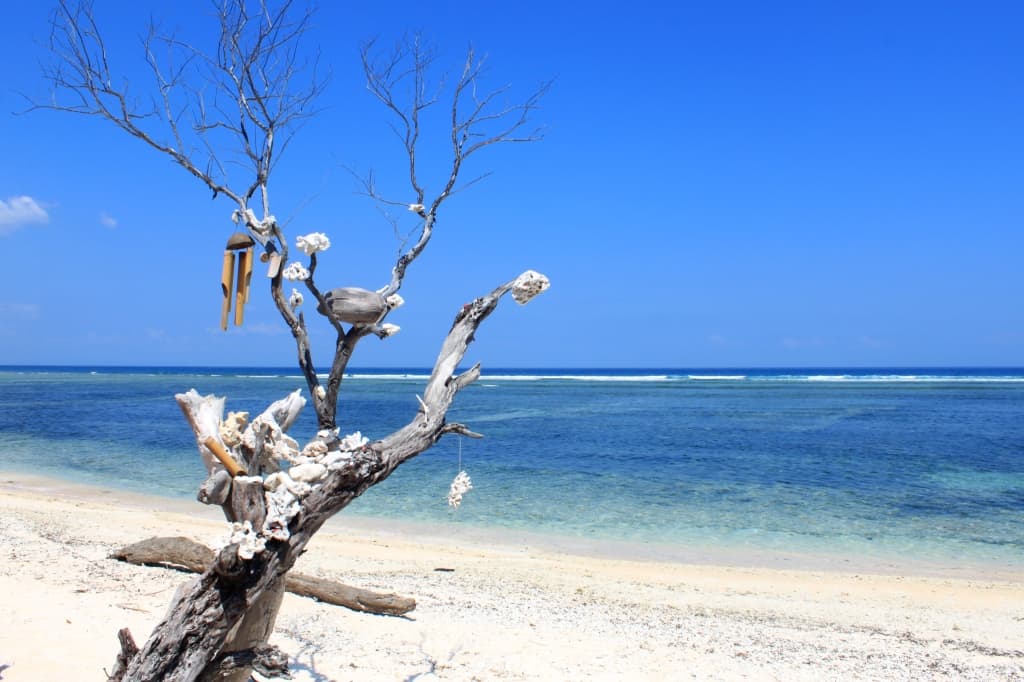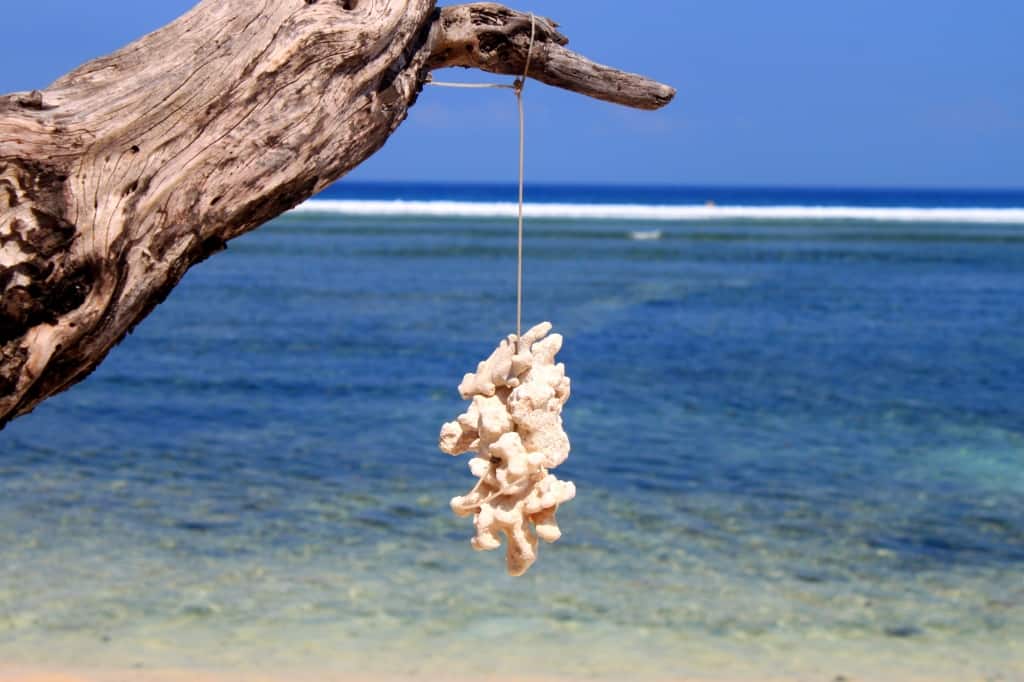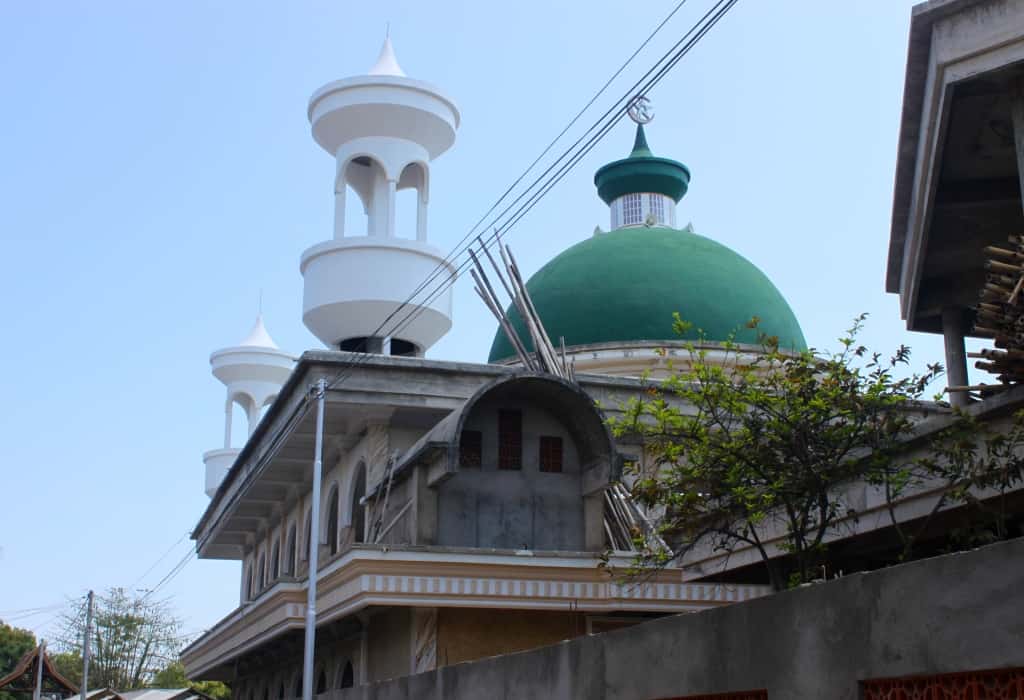 CATCHING THE GILI SUNSET
All my days on Gili Trawangan were topped off with a trip to the east beach in the afternoon with a great read and a Bintang. The sunset is on the other side of the island, but it only takes 20 minutes or so to cycle there. I can't think of a better way to end the day. Can you?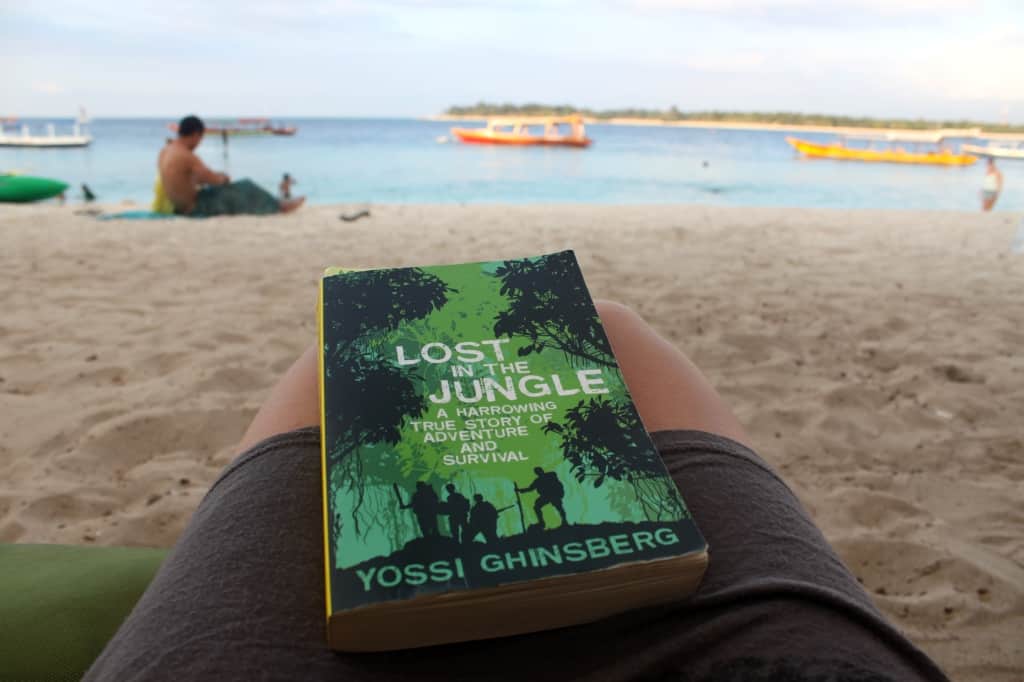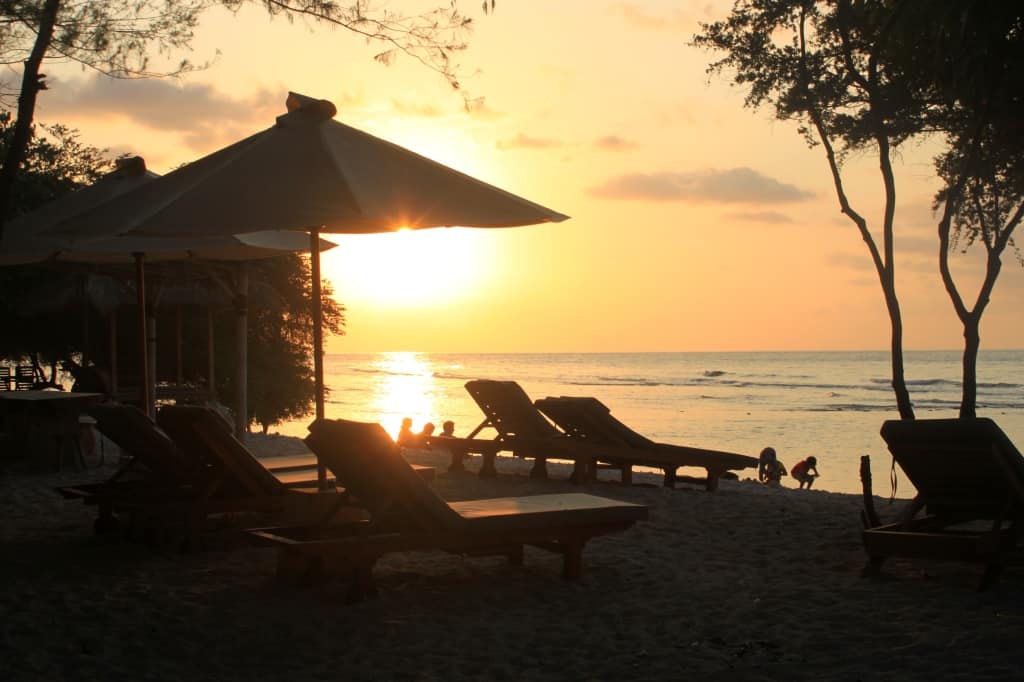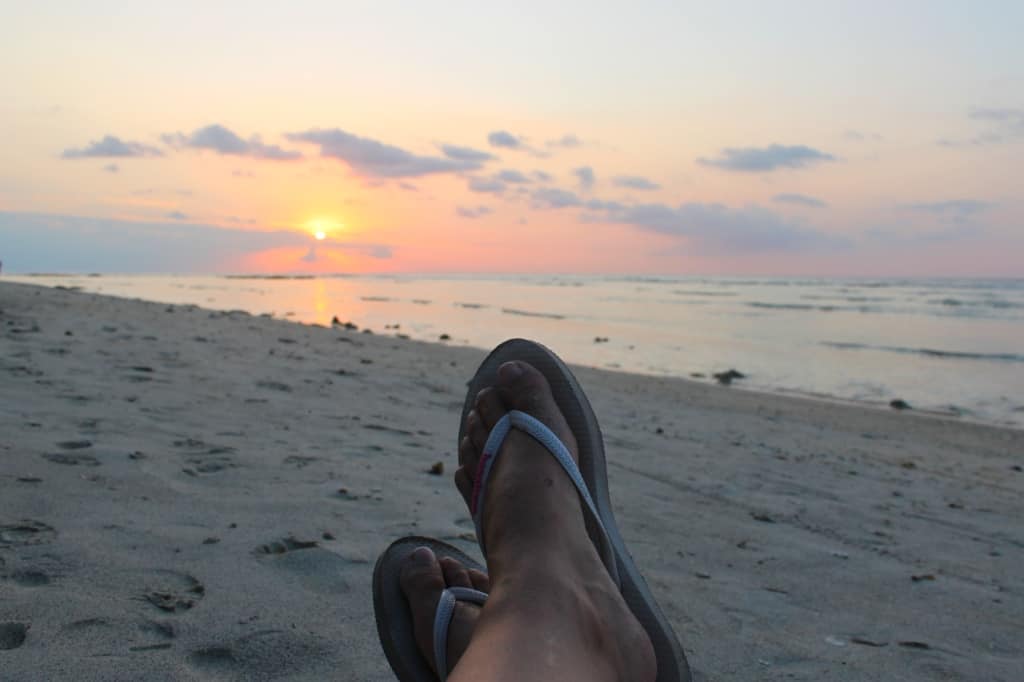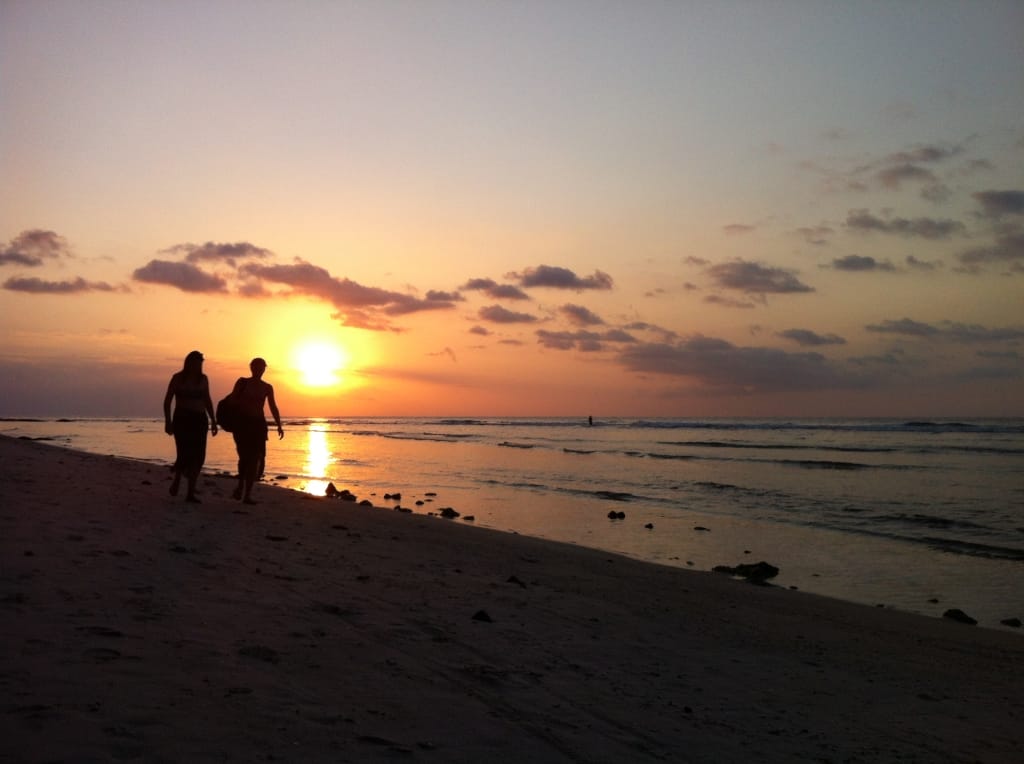 EATING AT THE NIGHT MARKET
I had read on Ashley's blog, Ashley Abroad, that Gili T's night market was the place to eat so I went there on my last evening. The nightly food market is located right off the main road in the middle of the eastern side of Gili Trawangan and it's composed of stalls all selling local, fresh seafood. They prepare it on the spot with rice and corn on the side for a fairly cheap price. I paid 60,000 Rp / $5 for five king prawns.
* Tip: Go for the stalls with the most customers as they tend to have the most fresh food.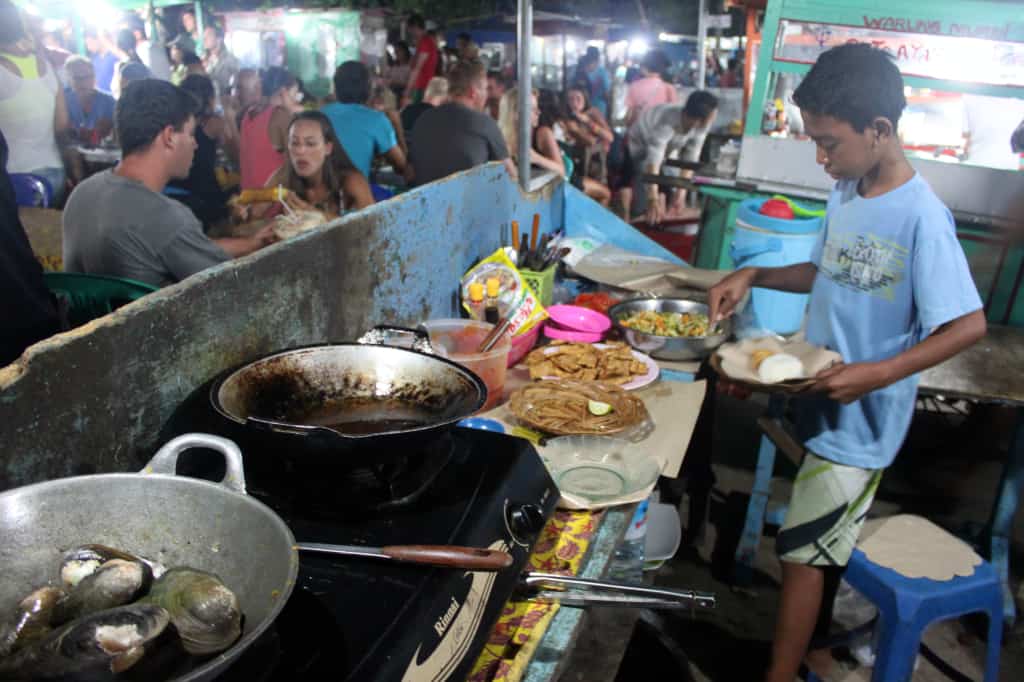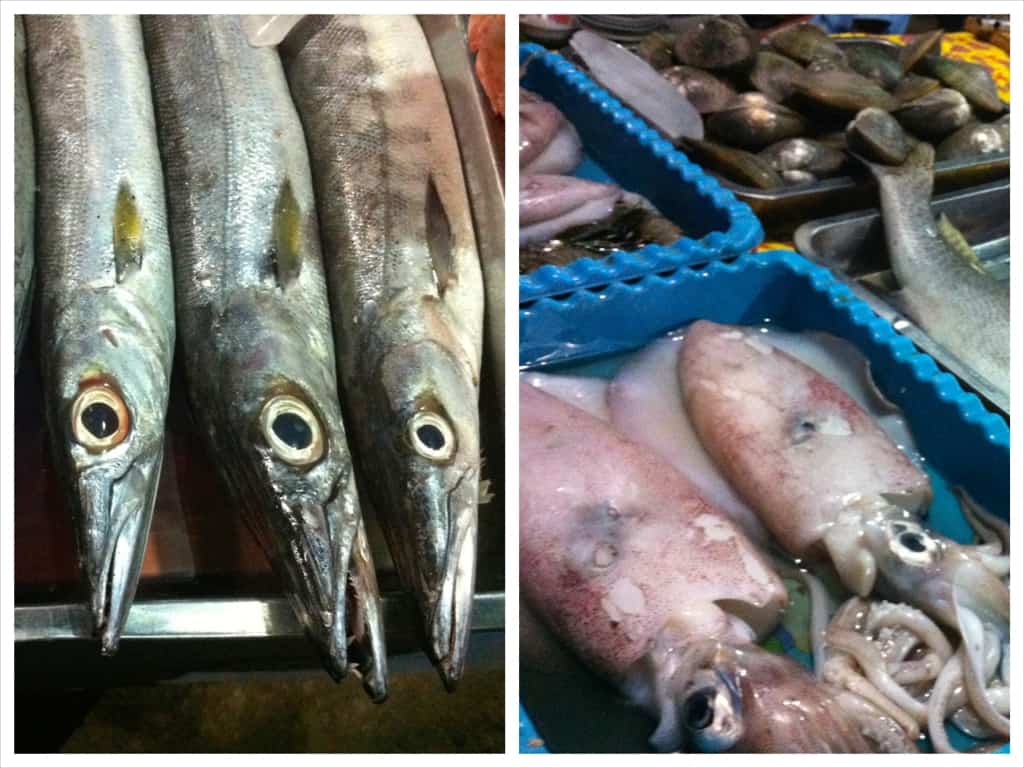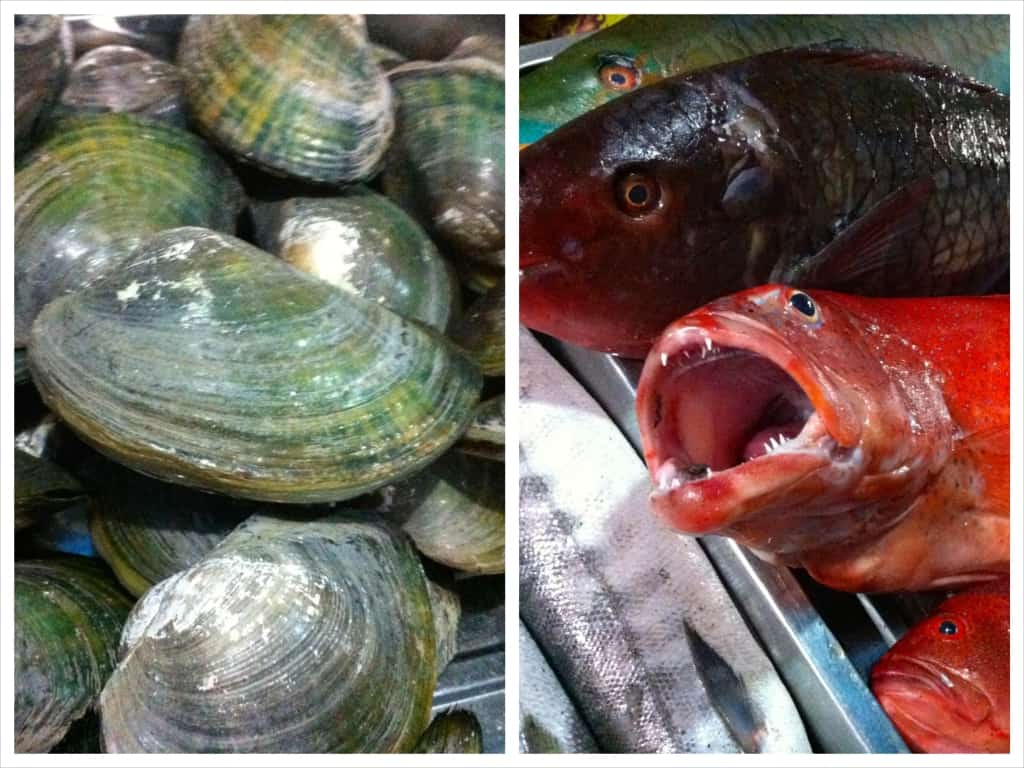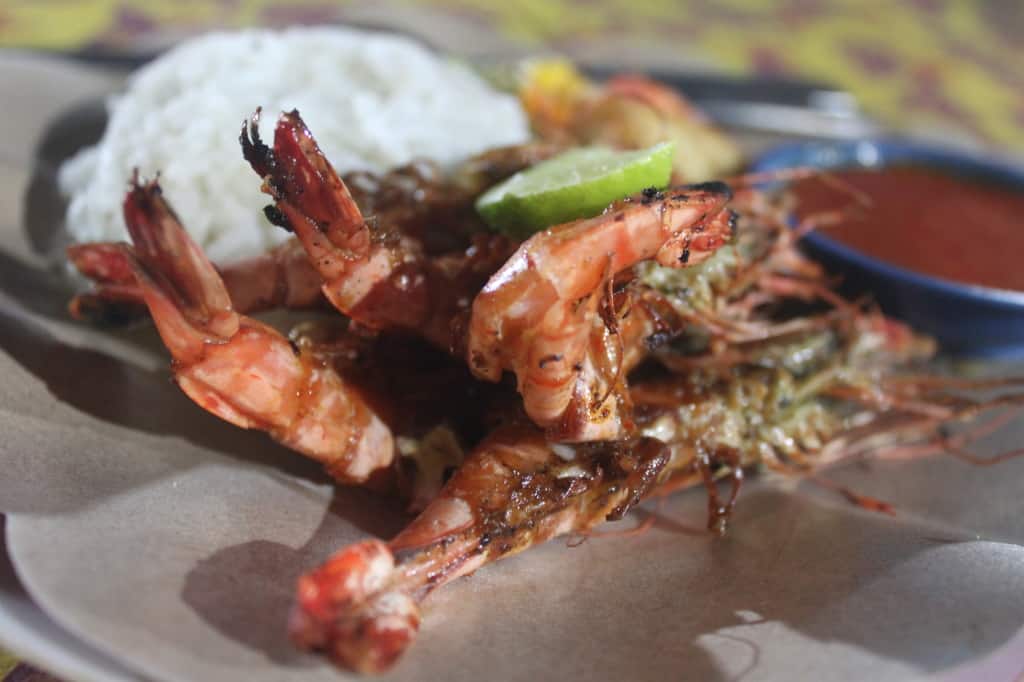 THINGS TO DO AT GILI TRAWANGAN
 Rent a bike ($5 per day)
A lovely stroll on the beach or coastal track is a great way to see the island, but if you're planning on seeing it all, you should probably rent a bike. Remember to get a chain and to lock the bike if you're leaving it.
 Day trips & longer trips. 
You can find trips to Komodo island, Mount Rinjani and lots more everywhere near the harbour. The price is more or less the same from all the companies.
 Snorkeling trip (100,000 Rp / $8,3).
Snorkeling trips in a glass bottom boat last from 10am – 3.30pm. They take you to three different snorkeling locations around Gili Meno and Gili Air; one of those is where you can be lucky to see sea turtles and then you stop at the other island for lunch.
 Dive 
Gili T is the perfect place to dive. If you want to know more then head over to Alex's blog – she's a dive guru and she wrote this excellent post that answers all relevant questions about diving in Gili.
 Freediving 
Close to the harbour, you'll find The Freedive Gili center and it offers freedive and breath holding courses for beginners to advanced.
 Surfing 
It's possible to surf all year around, but January – June is the high season for surfing. You can rent a board anywhere on the island.
 Party
Gili Trawangan is notorious for partying so you'll have no problem finding one. Besides the many clubs, you should look for the South Sea Nomads which is a party boat that operates Monday, Wednesday and Friday.
 Smoke beach hookah 
Enjoy the sunset while smoking a beach hookah at Pesona bar.
 Cooking class
Learn how to cook Indonesian food by joining one of the island's cooking classes. There are classes for every budget and it's a fun way to spend the day.
 Get a massage 
If you're looking to treat yourself with a massage, Gili is the place to do just that. You can get cheap massages everywhere on the island from 100,000 Rp / $8,3 to 200,000 Rp / $16,7. You can even find a hangover recovery massage.
 Do yoga
Gili Yoga Center offers yoga practice twice a day, gourmet vegetarian food and meditation.
 Movie night
Have a movie night with a cocktail in hand at Villa Ombat's beach cinema.
HOW TO GET TO GILI TRAWANGAN
* NB: If you buy a return ticket, you need to confirm it one day before you leave Gili. If you forget to do this, they can and will deny you access on the boat.
A note on safety: Safety standards are lower in Indonesia than other Southeast Asian countries and so I strongly advise you to take caution when choosing a boat company for longer trips. Although most trips to Gili Trawangan go smoothly, too often there are reports of boats sinking – including tourist boats. Just read Kate's story about how she got shipwrecked on her way to Komodo.
From Bali 
A fast-boat ticket will cost you around 400,000 Rp / $34, but you can save a few bucks by getting a return ticket. The trip takes around two hours.
From Lombok 
A public ferry will take you from Sengigi to Gili Trawangan in two hours for 100,000 Rp/ $8,3. You can also opt for a speedboat which only takes 30 minutes, but costs 500,000 Rp / $41,7.
From Gili Air 
Look for the island hopping service which will cost you 23,000 Rp / $2 for a direct route.
From Gili Meno 
Book via the island hopping service, but on this route you need to change boat in Gili Air. The price is also 23,000 Rp / $2.
MY STAY AT CASUS DREAM HOTEL
High season: 862,500 Rp / $72 per night
Low season: 750,000 Rp / $62 per night
I would highly recommend you to get a hotel near the harbour. This is where all the restaurants and shops are, and it's easy to find accommodation away from the crowds. I decided to splurge, so I stayed at the Casus Dream Hotel.
Now, this is a hotel that lives up to its name. It is by far one of the best places I've stayed in a long time and it impressed me on so many levels; the breakfast was excellent, rooms were super clean, atmosphere was cozy and quiet, lovely pool, perfect location and it had the friendliest staff ever!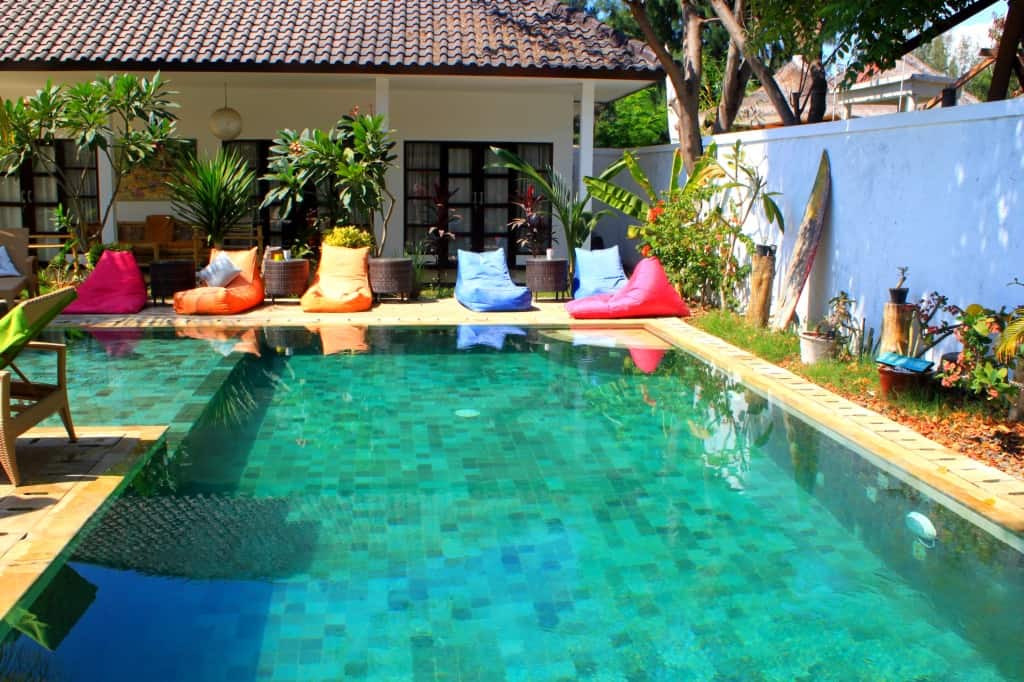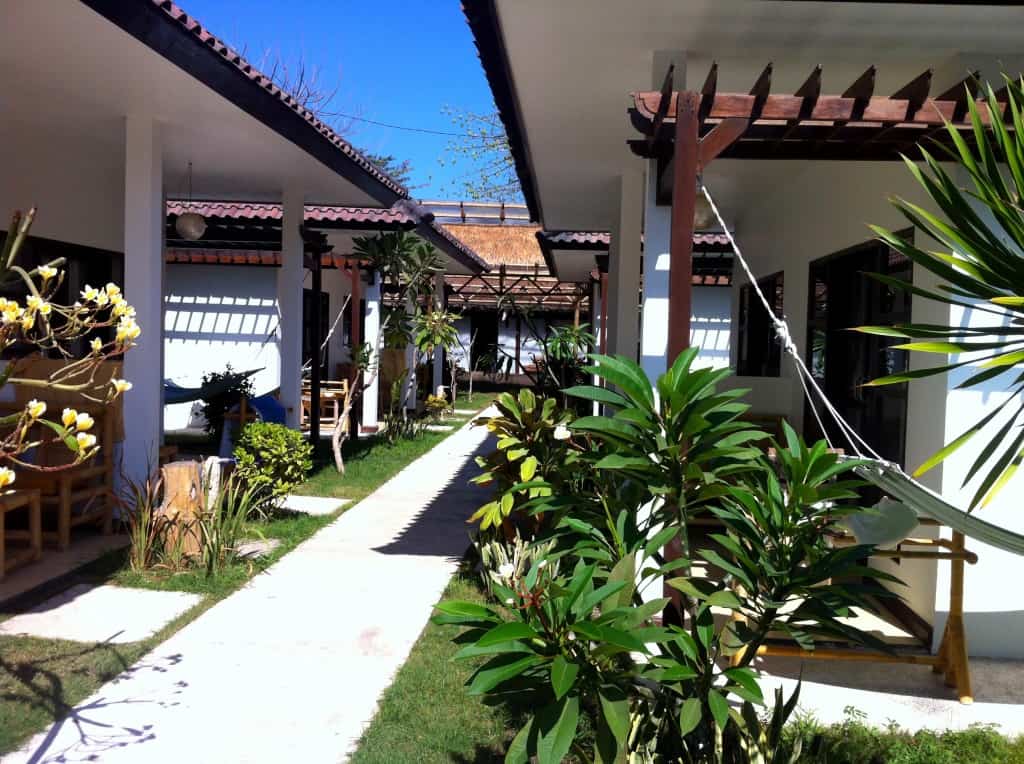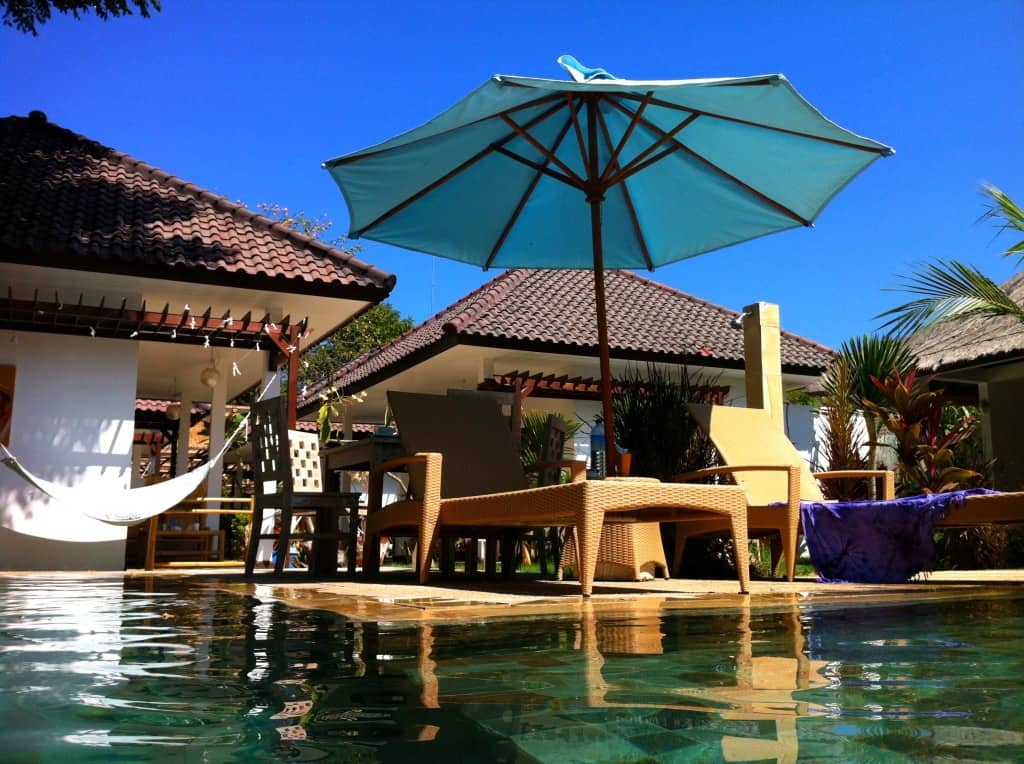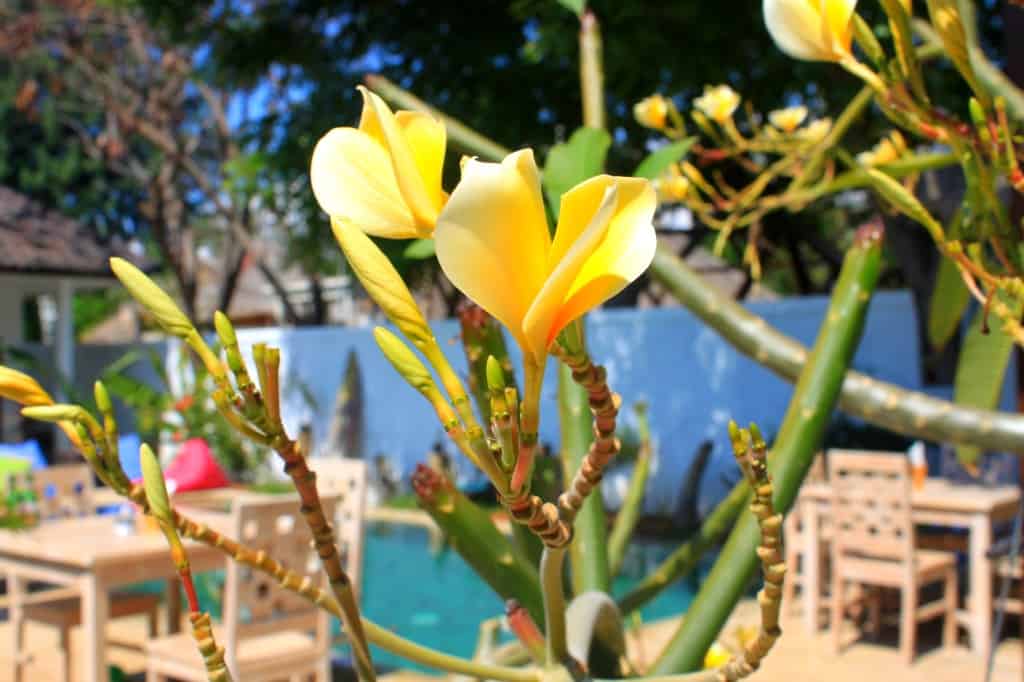 Would you go to Gili Trawangan?
Pin to Pinterest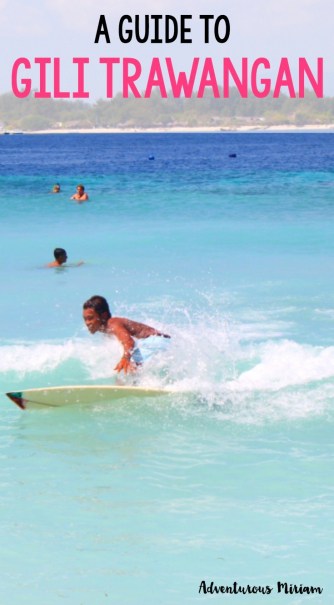 The following two tabs change content below.
I'm Miriam Risager, and this site has been my scrap-book, playground and home since 2013. I launched this blog as a way to share my journey, as well as share the hows, whys and wheres for other travelers.