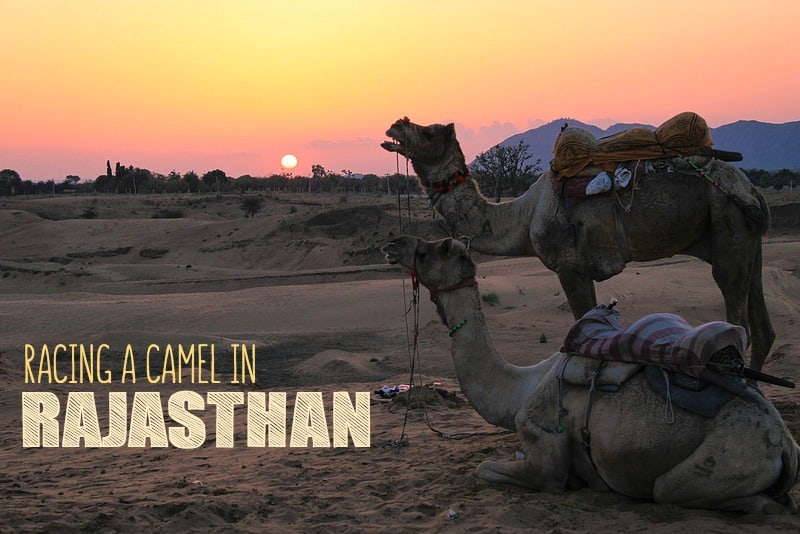 It was my first visit to the desert in Rajasthan. And my first time riding a camel. It's not that I have never had the opportunity before, but truth be told, I've been kinda scared. It might have something to do with a dreadful childhood trauma involving me falling off a pony while attempting to mount it. Since then, I've avoided horses, ponies in particular, and the thought of climbing an even bigger animal kept me away from trying.
This fear, however, was about to be overcome as I had decided to ride a camel in India. After all, it is kind of obligatory when you visit the desert.

CAMEL RIDING ACROSS THE DESERT IN RAJASTHAN
We got picked up at 4pm which gave us a couple of hours to reach the destination before sunset. Viewing the sunset over the desert in Rajasthan was unconditionally the highlight of this camel safari! So, we went to the camel hangout to get our ride for the day.
There were plenty of camels, but picking one for the day wasn't that hard even though they seemed to accommodate all the stereotypes: the badass punk, the philosophic, the lazy, the rebellious and…. the cute one.
Guess which one I picked?
A SLOW CAMEL RIDE ACROSS THE DUNES
Our designated guide was a teenage boy who didn't seem to bother and only knew a few words in English. He did seem to understand when I asked him repeatedly if we would be at the sunset destination in time. "Yes, m'arm, no worry," he laughed. So, I didn't, and I enjoyed the very slow but fun walk across the sand dunes of Pushkar.
We had a few breaks along the way, giving our camels time to rest, but most importantly: giving the guide time to chat on his mobile. Yes, surprisingly enough there was reception in the desert in case you were wondering.
SUNSET, PLEASE DON'T GO
During break number I-stopped-counting, I noticed that the sun was casting a long shadow, meaning that it would soon disappear, so I asked our guide – again – if we would make it in time. And he gave me the same response as the last time I asked, only this time with an annoyed tone.
About 15 minutes went by before the sun began to set in the horizon and we were still on our camels far away from the destination. The guide started to walk faster, and he looked anxious as he turned to me and said: "Now. Run." At first, I had no idea what he was talking about. Did he want us to get off and run to the sunset point? Well, it would make sense as our current speed  was slower than slow. But that was not what he meant.
"Hold on," he yelled, while he got up on Pernille's camel behind her, and then he set off.
CAMEL RACING
Up until this moment I had no idea that a camel was capable of running no less racing! Nonetheless, that's exactly what ours did with us on their backs. While being thrown up and down in high-speed, I remember weighing the costs and benefits of racing – the benefit being watching the sunset in time and the cost being falling off – again. As always, my stubbornness won my fear over, so I tried not to focus on being squashed under those long, heavy camel shanks.
20 minutes later and with a major case of numb bum, we eventually reached the destination. While racing and trying to steer my camel, I had managed to take a photo of the sunset behind me. And that's all I got. When we got there, the sun had already set, and people were starting to pack up and leave.
I was ready to strangle him.
Thankfully, he put me out of my misery quickly by apologizing. I was still fed-up with him because we didn't get what we had paid for, but I guess it could've been worse. After all, I did manage to get over my camel fear and I got to race one, too. How often do you get to say that?
Have you ever raced a camel?
Pin to Pinterest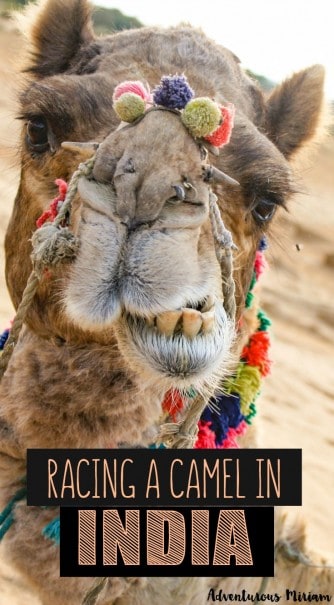 The following two tabs change content below.
I'm Miriam Risager, and this site has been my scrap-book, playground and home since 2013. I launched this blog as a way to share my journey, as well as share the hows, whys and wheres for other travelers.