Stevns Klint is a beautiful natural sight in Denmark. Located one hour outside of Copenhagen, the cliffs are perfect for a day trip for the whole family. And you'll have the possibility to find 65-million-year-old fossils.
Crisp blue water and contrasting white chalk cliffs. Millions of years of history and now also a UNESCO world heritage site. Stevns Klint is without doubt one of the most unique places in Denmark.
Although I've lived here all my life, this was my first time at the dramatic coastal cliffs. We had just explored Sangstrup Klint and Bulbjerg Klint a few months earlier, and Stevns Klint was the cherry on top with its views and impressive history.
Let's take a look at why it's worth a visit and how to plan a trip there.
Stevns Klint
Stevns Klint is a 40-meter-high limestone cliff south of Copenhagen that spans 16 kilometres along the coast. Millions and millions of years of the earth's history are exposed here. The cliff basically explains what happened approximately 65 million years ago when the dinosaurs went extinct.
This beautiful UNESCO World Heritage Site is a must-visit not only for fossil hunters and history buffs but for anyone interested in experiencing a beautiful nature sight up close.
Read next: 12 mind-blowing places for nature in Denmark
Layers of history
Millions of years ago, dinosaurs great and small roamed the Earth. Then, a massive volcano erupted and wiped out the dinosaurs and over half of all animal species on Earth.
Or so everyone thought…
By examining Stevns Klint, scientists discovered a clue to the actual fate of the dinosaurs. Fish clay, a thin layer of grey clay inside the cliff contained an unusually high concentration of iridium — an element found in meteorites. This showed that a giant meteorite had hit Earth and caused the mass extinction – not volcanic activity.
Being such a significant testimony of the history of life on Earth, Stevns Klint was designated a UNESCO World Heritage Site in 2014.
Read next: Experience the 7 UNESCO sites in Denmark
Go fossil hunting
The beach at the foot of the majestic cliffs is a great place to look for fossils, some of which are 65 million years old. Just remember these three rules:
Only cut into blocks that have fallen out – never into the cliff itself
Don't touch the fish clay
No tools allowed. You may only pick up what you find on the beach.
You can also stop by the Geomuseum Faxe, which is located at Faxe Limestone Quarry. Here, you can view the exhibitions that display fossils of sharks, crocodiles, and other pre-historic animals.
Højerup Gamle Kirke
Højerup Gamle Kirke is the first thing you'll see when you look towards Stevns Klint from the parking lot. The medieval church was built in the 13th-century and it stands so close to the cliff edge that you can look across the cliff and the Baltic sea from its balcony.
The church has partially been rebuilt as the quire and part of the cemetery crashed into the sea in 1928.
How to see Stevns Klint
There are two ways of experiencing Stevns Klint – from the beach and from the top of the cliffs. I highly recommend that you do both!
From the top – Enter the church and head for the balcony. From there you'll get the best overview of the cliffs and the sea. You'll get a terrific view from the top.
From the beach – To view Stevns Klint up close and get a real sense of how big the cliff is, you'll need to head down to the beach. Simply follow the path, which leads to some steps. They're steep, so be careful.
Know before you go
Just a few tips for your trip to Stevns Klint:
Free entrance to Stevns Klint and Gamle Højerup Church, but you do have to pay to park
There are picnic tables so you can bring lunch. You can also get a cup of coffee or lunch at Traktørstedet Højeruplund restaurant.
You'll find a playground near the parking lot
Toilets on site
The rocky beach isn't easy to walk on. Sturdy shoes are recommended.
Don't stand under any overhangs. Rocks do fall off and crash to the beach as the lower layers erode.
How to get there
Stevns Klint is located one hour's drive south of Copenhagen. It's easy to get there by car, but you can also take public transportation. It'll take you about two hours.
By public transportation from Copenhagen – Get the S-train (Line E) from Copenhagen H to Køge Station and change to the local train to Faxe Ladeplads. Get off at Hårlev and change to the train towards Rødvig. Stop in St Heddinge and take bus 252 to Højerup (Korsnæbsvej). Walk 800 m to Stevns Klint.
By car from Copenhagen – From Copenhagen, it takes around an hour to reach Stevns Klint (73.7 km). Follow Route 261 and E20 south.
Read next: How to rent a car in Denmark
The Cold War Museum
Due to its strategic location, Stevns also played an important role during the Cold War.
If you're interested in that period of time, you cannot miss the nearby Cold War Museum. You'll need to drive 5-7 minutes to get there, but it's worth the trip.
During the Cold War, Stevnsfort was a secret building block in the defence of Denmark and NATO. The nuclear attack-proof fortress is built 18 meters below ground and contains 1.8 kilometres of underground passageways carved out of Stevns Klint. You can experience the tunnels and fort on a 1.5 hour guided tour.
You can also walk around the HAWK missile site above ground on your own and see old war machines. It's fun for the whole family.
Where to stay near Stevns Klint
You can easily visit Stevns Klint on a day trip from Copenhagen. But if you decide to spend the night, these are the best places to stay:
Bella Bed and Breakfast Stevns – A large flat in the countryside, close to the train station. The host, Birthe, makes a delicious and very generous breakfast. Find the latest prices here.
Skovfogedens Hus – Lovely location by the forest, close to Stevns Klint. Amazing hosts and great home cooked food. Find the latest prices here.
Where to go after Stevns Klint
If you're visiting Stevns Klint and want to see more of Sealand, why not discover one of the most quaint villages in Denmark?
Read here about Dragør – an amazing day trip from Copenhagen
And there you have it, everything you need to know about visiting Stevns Klint and how you can look for fossils. Should you have any questions, do not hesitate to leave a comment down below or share your experiences of Stevns Klint yourself! And, oh, don't forget to pin it for later…
Heading to Stevns Klint? Ask me anything in the comments!
Pin it!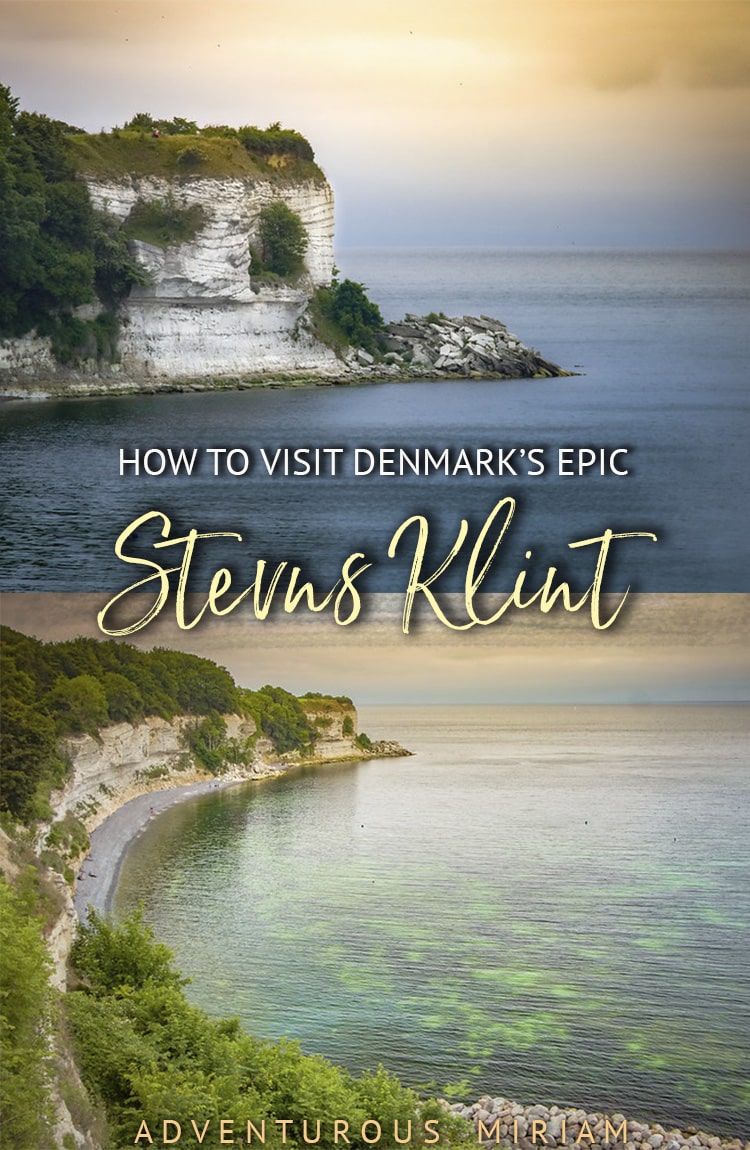 Psst! This post probably contains affiliate links, which means I earn a commission (at no extra cost to you) if you click through and make a purchase. As always, I only recommend products and services I trust.