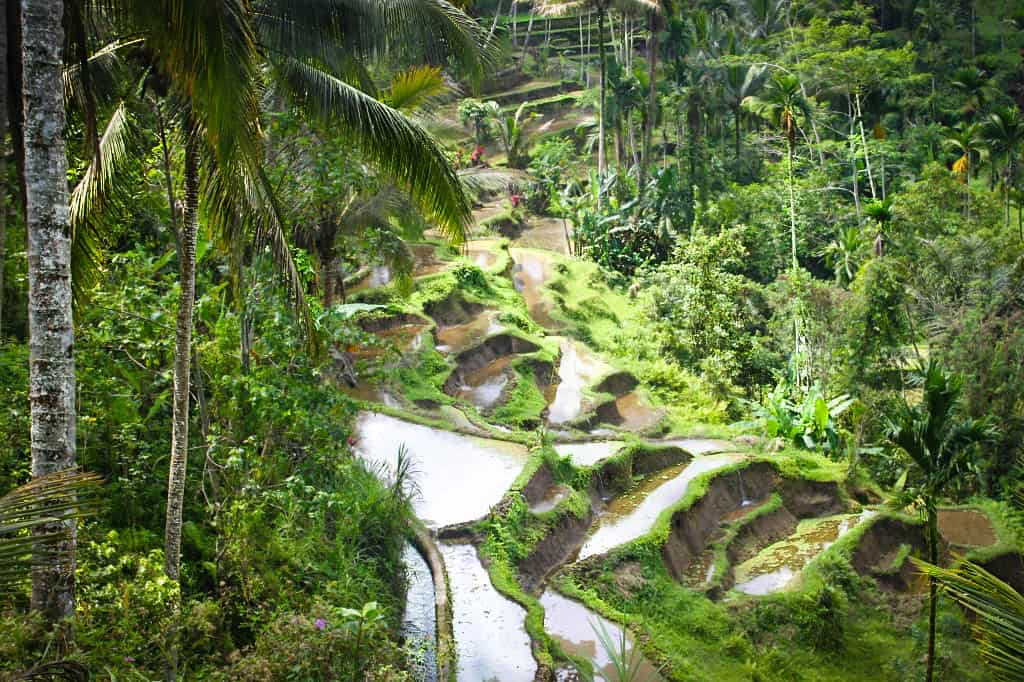 Welcome to Indonesia
More than 17.000 islands. Take your pick
Indonesia has become a popular haven in recent years, loved for its cheap living, healthy and fresh foods, kind people, and stellar natural beauty.
Amazing experiences in Indonesia
Bali
Ah, Bali. The destination of a thousand and more honeymoons. A place of incredible fresh local fruits, healthy living, a relaxed yet exciting atmosphere, and friendly locals. Bali is a place of sun, temples, and good health. A colourful island with incredible surrounding natural landscapes made up on volcanoes, dense forests, and ancient temples. There are few places that spell paradise like Bali.
Beautiful beaches
Almost everywhere you turn in Indonesia, you'll find spellbinding beaches. You might think you've seen the world's best beaches if you've ever been to California, Portugal, or France. But you haven't, not until you've been to Indonesia. The varied and rugged landscape beggars belief, and then you turn to the sea – more turquoise and gorgeous than you ever thought possible.
Wild, wild wildlife
Komodo island is home to 4000 giant lizards the size of alligators, and the forests and jungles across Indonesia are home to monkeys and other primates of various species. There's so much rich wildlife in Indonesia, it often feels like stepping back in time to before man walked the Earth. And then there's the surrounding ocean, home to some of the most vibrant, strange, and wonderful creatures in all the seven seas. It's perfect for diving.
Best sights in Indonesia
Bali
The hipster capital of Southeast Asia. Bali has become the ultimate vacation spot for honeymooners and millennials who want to experience paradise on a budget. It also has some amazing food!
Komodo Island (479km from Bali)
Home to the legendary Komodo dragon: huge, crocodile-sized lizards. There are 4000 dragons on the island and they can be found all over this rugged and wild landscape.
Gili Islands (107km from Bali)
Three tiny islands, each with something different to offer. The Gili Islands, Gili Trawangan, Gili Meno and Gili Air, are amazing places to swim, dive, relax, drink, explore, and party. Choose the island that best suits you and dive in!
Borobudur Temple (732km from Bali)
An epic Buddhist temple in both size and aesthetics, which dates back more than one thousand years. Resembling the bottom half of a pyramid, it is today the world's largest Buddhist temple.
Raja Ampat (1,924km from Bali)
This is an incredible archipelago is made up of hundreds of islands covered in dense jungle. The edges of these islands are clear, perfect sandy beaches and beyond that is a rich coral reef. It's one of the most beautiful places in Indonesia.
Mount Bromo (239km from Bali)
An active volcano in amongst other mountains in an area known as Tengger massif. As an active volcano, it's unsurprising that Mount Bromo is the most famous peak in the whole area.
How to get around
I always use 12Go for travelling Asia. This site is so easy to use. It quickly comes up with a variety of transport options to suit your time and budget. All costs are shown, even taxis.
Best time to visit
The best time to visit Indonesia is between May and September where you can enjoy the dry, warm temperatures without worrying about the rain. The wet season lasts October to April and will generally falls in heavy bursts, often in the afternoon.
You can usually enjoy cheaper prices in the rainy season, so if you don't mind hiding and waiting for the rain to pass, you can get some good deals. If you're hoping to go mountain climbing however, it's best to stick to the dry season for safety.
Practical info
Language: Indonesian
Currency: Rupiah
Plugs: Indonesia uses the standard European two-pronged plugs at a voltage of 230V. I recommend getting a universal adapter)
Population:

3.5 million

Important telephone numbers:

112 for all emergencies

Visa: If US citizens plan on staying in Indonesia for less than thirty days, they don't need to get a visa to visit
Rough Budget
Hotel:

$10-70

Food:

$3-20

Activities: e.g. $73 for a Bali Instagram Tour
Transportation:

$1-5 for a bus
Indonesian Phrases
Hello: Halo
Thank you: Terima kasih
Yes: Iya nih
No: Tidak
Bye: Selamat tinggal
Cheers: Tepuk tangan
Posts from Indonesia