When I arrived at the train station in Helsinki, the first thing that crossed my mind was how much it reminded me of Aarhus. From the historic architecture and the people to the walking street and shops. It was almost like being home.
As a Dane, Finnish designs and inventions have always been an important part of my life. I grew up with the Moomins and little My, my first mobile phone was a Nokia 3310, every interior design shop I pass in Denmark has Marimekko in the window, and I have an everlasting love for Salmiakki liquorice and other Fazer products. Plus, Santa lives in Finland, which pretty much says it all. Although I'd never been to Finland before this day, I sure knew of it and what awesomeness the Finns were capable of!
I was about to spend 4 days in the capital of Finland and I felt like I had all the time in the world to explore Helsinki's cultural aspirations and creativeness. Here's what I saw:
HELSINKI CATHEDRAL
Map | Opening hours: 9AM-6PM
One of Helsinki's trademarks is the Helsinki Cathedral, which was built from 1830-1852. I had hoped to see the cathedral from the inside, but when I got there, there was a wedding. A few days later when I returned, I still couldn't get inside. This time due to a funeral.
Although I only saw it from the outside, I was still impressed by the architectural style, which is neoclassical in case you were wondering 
Majestic, isn't it?
PUB ON WHEELS
Price: €8 | Opening hours: 10AM-5PM
One of the best things about Helsinki is that it's walkable and easy to get around. While I was walking from the cathedral to the marina, I stumbled upon the strangest thing… a pub on wheels.
Finns call it Spårakoff and it's the tipsy alternative to getting around town. It's a tram that has been converted into a bar, and even though it's not the cheapest way to get a drink, it's certainly a different way! If I'd been with a friend I might have been more inclined to join the ride, but I passed this time around.
 Tip: The pub tram departs from Mikonkatu, east of the train station and takes you past Helsinki's major landmarks for an hour.
CHAPEL OF SILENCE
Map | Opening hours: 8AM-8PM
At the city center, I couldn't help but notice this interesting building. It's known as Kamppi or Chapel of Silence, and it really stands out with its oval shape and shiny copper color. It was created as a place to take a break from the city's hustle and bustle, and it's placed in one of the busiest streets in Helsinki.
ROCK CHURCH
Map | Opening hours: 10AM-5PM
I was already familiar with Temppeliaukio, the Church in the Rock, before I came to the Finnish capital. Why? Because it's built in a rock. Under ground! I've only seen this kind of architecture once before and that was a monastery carved in a mountain cliff in Montenegro. What a design!
I visited on a Sunday during the weekend service and spent an hour inside, just listening to the gospel choir. If you ever find yourself in Helsinki, go here. It's a really fascinating place, especially on Sundays.
ST. JOHN'S CHURCH
Map | Opening hours: 12AM-15PM
So, while I was wandering around town, I accidentally found St. John's Church. The Gothic architecture is quite typical for Scandinavia, but that doesn't make it less impressive and legendary.
HISTORIC CITY CENTER
Most sights in Helsinki are conveniently located in or around the city center. But the architecture makes the center an attraction by itself. The area houses several Neoclassical buildings, including the Senate Square (at Helsinki Cathedral), Art Nouveau at the railway station, and then of course we have Modernism, which is represented by the Rock Church.
CENTRAL MARKET
Map | Opening hours: 8AM-4PM
I was lucky to have several days in Helsinki, which gave me plenty of time to see the most important sites and visit the central market daily. Scandinavia has outstanding vegetables and fresh fruits in the summer season, so I loved going here.
USPENSKI ORTHODOX CATHEDRAL
Map | Opening hours: 9.30AM-7PM
So far, Helsinki had been a cultural and architectural experience, but I was yet to visit one of the top sights of the city, which is the Uspenski Orthodox Cathedral (1868). I was super impressed by this building, and I especially liked the interior, which reminded me of the magnificent St. Isaac Cathedral in St. Petersburg → just wait till I show you photos of it. It's epic!
HELSINKI'S BRIDGE OF LOVE
Right beneath the Uspenski cathedral, I found Rakkauden Silta, which is a small bridge with love locks. So cute, although I almost didn't see it because it's small. I love how we have them in capitals around Europe. So far I've seen love locks in Ljubljana, Paris, Copenhagen, Riga and here.
NUUKSIO NATIONAL PARK
While I was in Helsinki, I got to visit friends I had met on a press trip to Croatia earlier this summer. We went to Nuuksio National Park, just 35 km from Helsinki, where we had a picnic by the lake.
Visiting Finland just made me want to see more of the country, especially Lapland in the north. I had a great time getting to know Finnish culture, which is not so different from my own, and I really liked leaving the city for a few hours and getting a glimpse of the wild nature that is Finland.
Would you add Helsinki to your bucket list?
Pin to Pinterest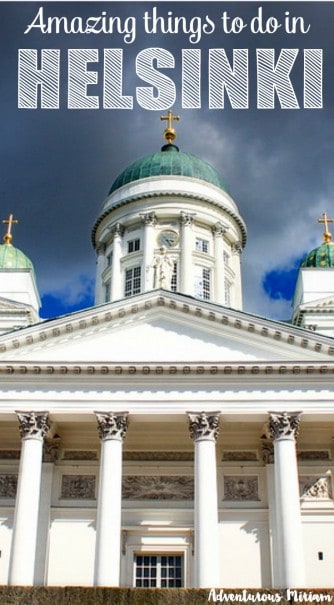 The following two tabs change content below.
I'm Miriam Risager, and this site has been my scrap-book, playground and home since 2013. I launched this blog as a way to share my journey, as well as share the hows, whys and wheres for other travelers.