The Ultimate Guide to Jungfraujoch – Top of Europe
Jungfraujoch – Top of Europe was high on my Switzerland bucket list. Why?
For starters, it's the highest train station in Europe (3,454 meters). Second of all, the views on the way to Jungfraujoch and from the top are spectacular. And last but not least, you get to walk inside a glacier and visit an ice palace. I am sold!
The Jungfraujoch experience begins from the minute you step into the cogwheel train and begin the ascent of 3,000 meters.
The views from the train are nothing short of breathtaking, and there are fun activities at the Top of Europe for both singles, families and kids.
Are you visiting Jungfraujoch and need some help with planning? In this post I'll share everything you need to know.
Let's dig in.
🇨🇭 Read next: Jungfrau itinerary: 20 things to do in Jungfrau region
This post contains referral links for products I love. Adventurous Miriam earns a small commission at no extra cost to you if you make a purchase through my links. Thank you for your support ♡ Learn more
What is Jungfraujoch- Top of Europe
Jungfraujoch is a col and a glacial pass between the Jungfrau mountain and the Mönch mountain. Jungfraujoch is also known as "Top of Europe", because it's the highest train station in Europe at 3,454 meters.
Book your tickets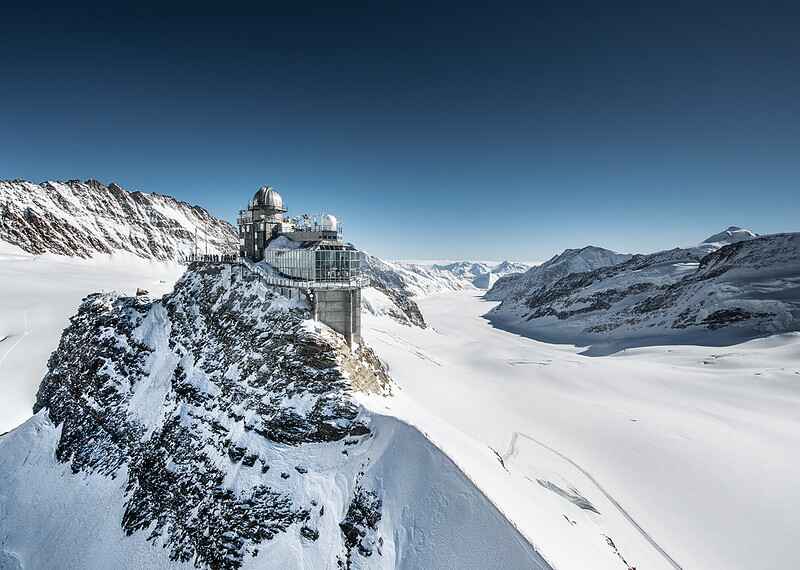 When you book your Jungfraujoch tickets online, I personally recommend Get Your Guide. They're the cheapest option and you get the best deal!
Where is Jungfraujoch
Jungfraujoch is situated in the Swiss Alps between the Jungfrau and Mönch mountains, in the canton of Bern in Switzerland.
It's located about midway between the towns of Interlaken and Grindelwald and you can get there with a scenic train ride from either of these towns.
Best time to visit Jungfraujoch (weather)
⛰️ May to September is the best time to visit Jungfraujoch
You probably want to know how the weather is at the top, right? Will it be sunny? What should you bring? When is the best time to visit?
Well, I can give you a pretty good idea of when to visit. But unfortunately, no one can predict the weather – especially in the mountains. It can be clear skies and sunshine in the morning and shift to a raging snow storm in the afternoon.
These are the cards we're dealt, guys. We don't have to like them, but we can plan around them.
As for the best time to visit Jungfraujoch… You've got the best chance of great weather if you visit Jungfraujoch from May to September. These are also the busiest months, so remember to book your ticket in advance. More on that below.
How to prepare
Best time to visit:
May – September
Temperatures:
Varies from 0-24 degrees C
Check the weather forecast before booking your tickets. You can also follow the 360° Jungfraujoch webcam, which is live and broadcasts 24/7.
If there's a snowstorm…
When I visited, it was not the best of weather. Ok, that's an understatement. There was a snowstorm!
All white outside and the wind was howling like a wolf. As I reached for the door and slowly opened it, the storm ripped it open. I clinged to the handle and peeked outside while squinting my eyes. It was all white and the snow blindness hit me like a punch to the face.
I might get dramatic on you for a second here, but I was squealing like a scared little girl on the inside. Terrified that the wind would blow me off the mountain or that I couldn't find my way back. I couldn't see 2 meters ahead.
Even though it was a whiteout at the top of Jungfraujoch, I had a super fun time with the selfie-project, trying not to blow off the mountain. So, long story short: don't worry if the weather is bad when you get there. There's lots to see inside, and if you stay a few hours it might clear up!
What to wear at Jungfraujoch
Since the weather is unpredictable, you need to prepare for more or less anything. You can leave the shorts at home, but I would definitely wear a T-shirt underneath or just bring it in my bag.
It can get quite warm at the top once the sun is out. Also, you should bring snacks and water. Although you can buy it at the restaurant, the prices are sky-high.
Jungfraujoch packing list:
Sweater
Warm pants (like ski pants)
T-shirt
Extra pair of socks (especially if you're hiking)
Sunglasses (they're a must to avoid snow blindness)
Lip balm
Sunscreen
Pro tip:
Dress in layers. The temperature will change as you ascend the mountain. It will be warmer in the valleys, but it gradually gets colder the higher you go. Temperature will be around 0° degrees at the top, depending on which season you visit, but there is always snow at the top.
I visited in May and it was -5° degrees and VERY cold, but it can also be warm and sunny at the top (T-shirt appropriate). So dress in light layers and check the weather forecast before you go.
How long to spend at Jungfraujoch
I get a lot of questions about how long to spend in Jungfraujoch, and my answer is – it depends.
If it's decent weather (anything but snowstorm), you'd probably want to spend some time outside. If it's not good, you'll spend less time up there obviously. I'd say 3-5 hours is a good bet.
What to do at Jungfraujoch (fun activitites)
No matter if you're blessed with sunshine or a snow storm at the top, you'll find a lot of activities. Besides the inside activities at the Top of Europe, you'll also find restrooms and a restaurant.
Outside activities:
Snow tubing
Sledging in the Snow Fun Park
Skiing in the Snow Fun Park
Snowboarding in the Snow Fun Park
Hiking across the glacier to the Mönchsjoch hut (it takes 1 hour)
Get a panoramic view from the Sphinx observatory
Snowball fight (all year round)
Inside activities:
The Ice Palace
Alpine Sensation (a moving walkway with photos and videos)
Lindt Swiss Chocolate Heaven
Restaurants (they have food and hot cocoa)
Jungfraujoch Ice Palace
The Ice Palace was my favourite inside activity!
Everything is made of ice, even the floor, which was a little slippery for my clumsy feet.
It was cold, around 0° degrees so I was glad I'd brought my winter jacket. Inside the palace there are small halls and super narrow hallways with ice sculptures of penguins, animals, furniture and people. It's super cool.
The ice palace itself was the most fun experience I had at Jungfraujoch (aside from being outside).
Read next: Things to do in Grindelwald
Alpine Sensation
The Alpine Sensation is an exhibition that includes a 250-metre-long hall and a 360-degree audiovisual panorama.
Both are filled with Panasonic projectors. The 250 metre long corridor between the Sphinx Hall and Ice Palace is a memorial to the miners who opened up the Jungfraujoch to the railway. On the corridor walls, you can read about the sacrifices they made.
The panorama shows you a 360° view of the surrounding area. Here, you can see the beautiful mountain tops and the whole area even if you visit on a cloudy or snowy day.
The alpine sensation just opened in 2012 to mark the centenary of the Jungfrau Railway.
Getting from Interlaken to Jungfraujoch
You can start your trip to Jungfraujoch from these stations: Grindelwald, Interlaken, Kleine Scheidegg, Lauterbrunnen, Wengen, Wilderswil, Zweilütschinen and Mürren.
Whichever route you take, you will always go through either Lauterbrunnen or Grindelwald and Kleine Scheidegg, which is the last stop before Jungfraujoch.
From Interlaken, you have two options:
Via Lauterbrunnen and Kleine Scheidegg
Via Grindelwald and Kleine Scheidegg
My advice? Take one route on your way up, and the other on the way down. You can book tickets here.
The train ride – step by step
Let's say your trip begins in Interlaken. You'll board the train to Lauterbrunnen or Grindelwald where you'll change to a cogwheel train that takes you the rest of the way. There's a stop at Kleine Scheidegg where the Alpine views are amazing.
The Jungfrau train then enters a long tunnel through the mountains. It stops twice on the way up the tunnel – once at Eigerwand (2685 m) and then at Eismeer (3010m) where everyone gets out to take photos through picture windows. You can also use the restroom here (there's no restroom in the train).
The tunnel trip lasts about 45 minutes and the ascend is very steep. At some points, the train is at a 25 degree angle, which is a lot. You need to sit down for this – literally.
And then you're done. You'll arrive at Jungfraujoch (still inside the mountain), and you just walk over to the entrance. There's a screen where you can see the departures. You can just catch the train down the mountain whenever you like.
Jungfraujoch tickets and price
Price: US $239 for a return ticket. Make sure to book in advance!
I won't sugarcoat it – visiting Jungfraujoch is expensive. But then again, it's one of those experiences that are so unique, and most of the activities at the top are included in the price. I went on my own without a guide.
Personally, I don't think it's necessary to book a guide, especially when tickets are already on the expensive side. There's a lot of info in the Alpine Sensation, and as I said, it's easy to get around on your own.
You have three ways of getting your tickets:
You can book online through Jungfrau Railways
Get it directly at the Jungfrau train station (I don't recommend this – tickets might be sold out)
Book through GetYourGuide (slightly cheaper – save around $30)
Is Jungfraujoch worth the money?
I can only speak for myself, but YES. Yes, it's definitely worth it. This is one of those once in a lifetime experiences, and it's super fun – also for kids! If you can afford it, Jungfraujoch is absolutely worth the money.
Read next: Where to stay in Interlaken
A special thanks to Jungfrau Railways for hosting my trip to Jungfraujoch. Whenever I travel, there will always be full disclosure about whether my stay was sponsored. And even if I'm on a press trip, my view will never be swayed one way or the other.
Jungfraujoch FAQ
Why is Jungfraujoch so famous?
Jungfraujoch is famous for several reasons. It's the highest railway station in Europe, located at an elevation of 3,454 meters (11,332 feet) above sea level.
The journey to Jungfraujoch is also a scenic one, passing through the beautiful Swiss Alps where you'll get breathtaking views of the surrounding mountains and glaciers.
Jungfraujoch is also home to several attractions, including the Ice Palace, the Sphinx Observatory, and the Alpine Sensation, which is an audio-visual experience that showcases the history and culture of the region.
How long does the train ride take to Jungfraujoch?
It takes 2 hours and 17 minutes to get from Interlaken Ost to Jungfraujoch.
There are two train changes – one in Lauterbrunnen and one in Kleine Scheidegg. You'll have 10 minutes at each stop and it's more than enough time to change trains. There are lots of other people going the same way so just follow the crowd.
Do I need to book tickets in advance?
Yes! You need to book tickets and seats in advance, particularly in the summer period (May to August).
When is the best time to visit Jungfraujoch?
Go early in the morning to avoid the crowds. There's a new train arriving every 30 minute so the crowds arrive fast. The best months to visit are May-September.
In which side of the Jungfraujoch train should I sit?
Sit on the right side of the train when you go up. You'll get the best views from this side.
Are there bathrooms on the train to Jungfraujoch?
Bathrooms are not available on the Jungfrau train, but in addition to the two train changes, there are two stops on the way up through the mountain (for 5-7 minutes) where you can use the restroom.
How often does the train go to Jungfraujoch?
Train schedules are visible on screens at Jungfraujoch, and the train departure is announced through speakers so it's very straightforward. There's a train every 30 minute.
Why is Jungfraujoch so expensive?
There are two main reasons why Jungfraujoch tickets are pricey:
Firstly, the maintenance costs are extremely high due to its status as the highest train station in Europe. The railway and buildings require a great deal of upkeep and security efforts.
Secondly, the capacity management is another reason for the high price. If it was cheaper, more people would want to visit Jungfraujoch, and the railway is already at full capacity.
Why is it called Top of Europe?
Jungfraujoch is known as the "Top of Europe" because it's the highest railway station in Europe, standing at an altitude of 3,454 meters above sea level.
The title of "Top of Europe" has made Jungfraujoch a must-visit destination for anyone who wants to witness the natural beauty of the Swiss Alps from the actual top.
How much time do you need for Top of Europe?
If you plan to visit Jungfraujoch – Top of Europe, I recommend spending 6-8 hours.
The journey to the top via the scenic train ride from Interlaken or Grindelwald is an experience in itself, and it will take a few hours to reach Jungfraujoch.
Once you reach the summit, you can expect to spend around 2 to 3 hours exploring the attractions, taking in the panoramic views, and experiencing the various inside and outside activities.
More posts from Switzerland you might like
Save it!