Grindelwald is a small Swiss village enclosed by majestic mountains on every side. It's beautiful all year round, but I was glad I visited in the spring because I got to experience both snow and emerald-green valleys with Alpine cows and thousands of blossoming dandelions.
If this was anywhere else than Switzerland, it would seem strange to write about snow adventures in June. But that's the beauty of the Swiss Alps; it can be 24 degrees in the valleys, and if you travel just 15 minutes north, you'll find yourself in knee-high snow.
A MAP OF JUNGFRAU REGION
Honestly, I was confused by some of the area names that sound the same, but are different places – like Jungfrau and Jungfraujoch or Grindelwald and Grindelwald First. So lets take a look at where we are first.
Jungfrau is the name of the area that covers popular towns like Lauterbrunnen, Interlaken and Grindelwald.
Grindelwald is a valley and a town, whereas Grindelwald First is a summit that can be reached by cable car and is famous for hiking. There is not a Second, Third or Fourth summit, in case you were wondering.
Jungfraujoch is the name of a mountain col and it's the highest train station in Europe (3454m).
The Bernese Oberland is the mountain area in Jungfrau and it basically means the Highland of Bern because this part of the Alps is close to the city of Bern.
You can see the villages on the map. Zoom in or out by pressing + and – 
THINGS TO DO IN GRINDELWALD
Grindelwald is one of those places you can visit all year round. In the winter there are lots of snow and winter activities while summertime is perfect for hiking. These are just some of the many things to do in Grindelwald and First:
Hike to Bachalpsee Lake (difficulty: easy)
Hike to Grosse Scheidegg (difficulty: easy)
Hike to Eigergletscher (difficulty: medium)
Walk to the Grindelwald First Cliff Walk
The First cable car
Downhill trotti biking
First Flyer zip lining
Skiing (only in winter)
REMEMBER: To bring sunglasses to prevent snow blindness.
SNOW ADVENTURES AT FIRST
When I packed for Switzerland I didn't expect to find snow. Sure, I was prepared to see snow on the mountain tops and at Jungfraujoch, but certainly not in Grindelwald. So when I put on my mesh, very non-waterproof sneakers and set out for my hike at Grindelwald First, I dreaded the meter-high snow I was about to conquer.
I took the cable car from Grindelwald to Grindelwald First and from there it was a snowy hike up to the first stop. The plan was to hike to Bachalpsee Lake, but due to recent snow fall the hike trail was closed. I had been super excited to see the lake, but secretly I was relieved not to hike 2 hours in the deep snow. My feet would have frozen off 
So instead I spent time productively and made snow angels and built a snowman!
ALPINE COWS AND DOWNHILL TROTTI BIKING
On the way down, I was introduced to trotti biking, which is a bike without a saddle. So basically you just stand up while racing down the mountain road. I felt like yodeling all the way down or squealing "The hills are aliiive", but I think the cows appreciated my silence.
The trip can be done in 25 minutes, but it took me closer to 40 because I stopped repeatedly to take photos of Alpine cows. Imagine biking down a mountain road, breathing in the fresh air, surrounded by hills and cute huts to the sound of Swiss cow bells.
That's Grindelwald.
THE CHARMING GRINDELWALD VILLAGE
Grindelwald village is small and easy to walk and it has lots of cute houses. Although the village didn't take my breath away like Lauterbrunnen did, I did like Grindelwald, especially the area surrounding it. It's got the Swiss Alps vibe.
After a great day with lots of snow adventures and fun, I took the train back to my hotel in Interlaken. I've mentioned this before, but taking the train in Switzerland is an activity in itself. Seriously. On every single train ride, I was hanging out the window, my hair blowing all over the place and I felt like squealing again. Those Swiss Alps are exhilarating and I love it!
Many thanks to My Interlaken for hosting me in Switzerland. Whenever I travel, there will always be full disclosure about whether my stay was hosted by a tourism board. And even if I'm on a press trip, my view will never be swayed one way or the other.
Would you visit Grindelwald?
Pin to Pinterest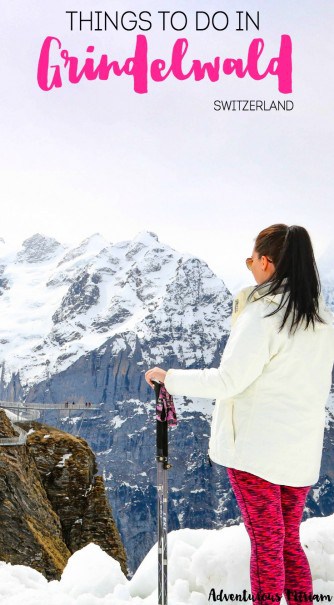 The following two tabs change content below.
I'm Miriam Risager, and this site has been my scrap-book, playground and home since 2013. I launched this blog as a way to share my journey, as well as share the hows, whys and wheres for other travelers.