Things to do before I die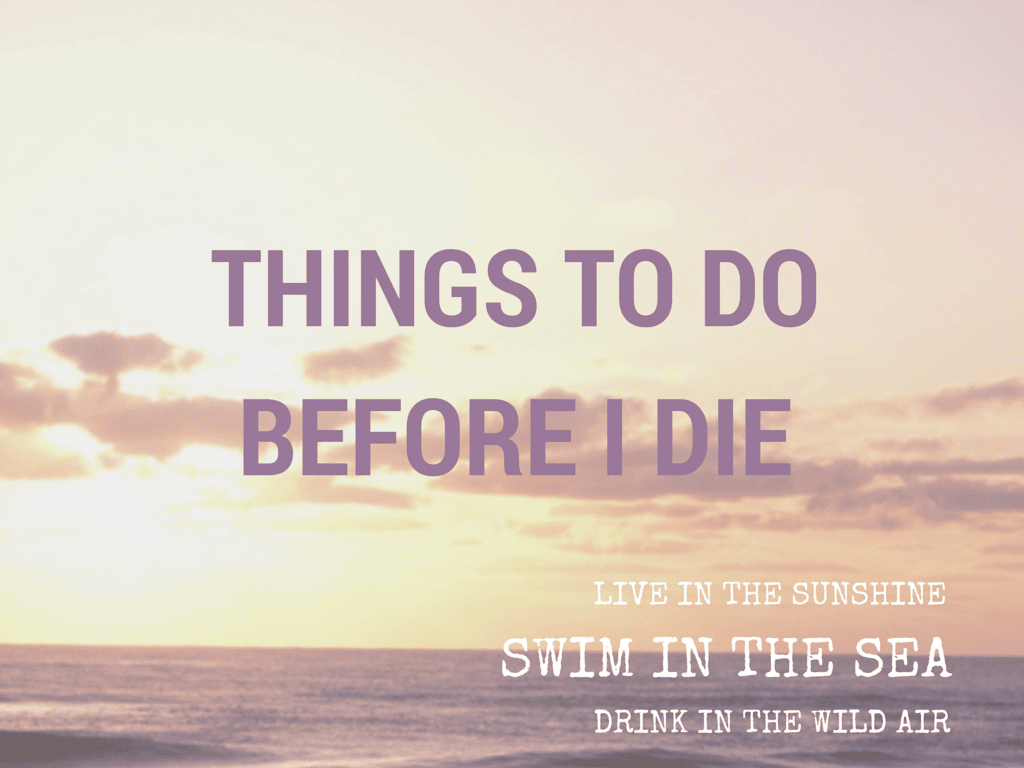 Ever since I can remember, I've had a list of things I wanted to do before I die. The list has become more vital to me in the last years as I've learned that health and life itself should never be taken for granted. No one knows how long they have on this earth, and I for one want to live a full life maybe with a few regrets along the way, but at least I'll have tried.
I realize that some of the things on this list might take me a while to get, but I am getting there sooner of later. So, here it is – the list of things I want do before I die as of 2014. Stay tuned for updates.
This post contains referral links for products I love. Adventurous Miriam earns a small commission at no extra cost to you if you make a purchase through my links. Thank you for your support ♡ Learn more
My bucket list
1. Swim with whale sharks (completed 2009)
2. Overcome my fear of tarantulas (2006)
3. Snap hundreds of 'funny pics' at the Salt Flats of Uyuni (completed 2014)
4. Hike the Inca Trail (completed 2014)
5. Hike to Base camp at Mount Everest
6. Climb Mount Kilimanjaro
7. Trek through the Darien Gap in Panama
8. Attend the World's largest religious festival (completed 2013)
9. Attend the Carnival in Rio de Janeiro
10. Travel through Iran alone
11. Conquer my fear of traveling alone (completed 2014)
12. Become a writer for National Geographic
13. Become a writer for Lonely Planet
14. Move to Thailand
15. Dive with Great Whites. Maybe.
16. Visit the Himalaya (completed 2006)
17. Travel to Japan in cherry blossom season
18. Meet Dalai Lama
19. Live in an ashram (completed 2013)
20. Practice tai chi with locals in a small Chinese village
21. See the Northern Lights from an igloo in Finland
22. Do a road trip across the US
23. Work for Google
24. Learn mindfulness from a Thai monk
25. Write a book
26. Become fluent in Spanish
27. Own my own business (completed 2011)
28. Get married somewhere romantic (completed 2012)
29. Board down an active volcano (completed 2013)
30. Hike a volcano (completed 2013)
31. Pet a tiger (completed 2006)
32. Visit Myanmar
33. Survive a Fullmoon Party at Koh Pha nang (completed 2006)
34. Attend a Songran in Bangkok or Chiang Mai
35. Taste a blowfish in Japan
36. Take a cruise in the Caribbean Sea
37. Get a PhD
38. Get the black belt in Thai Boxing
39. Find a man I can love and vice versa (completed 2009)
40. Go on a safari in South Africa or Tanzania
41. Sleep under the stars in Utah
42. Visit Mecca (if I can find a way to go there without converting to islam)
43. Visit the Oma Valley tribes in Ethiopia