36 hours in Mexico City: A guide to Mexico's misunderstood capital
Dangerous, dirty and crowded. Let's face it, a trip to Mexico City hardly sounds appealing. And many travelers avoid Mexico City for its bleak reputation, seeing it as somewhere to be skipped out altogether.
Other Mexican cities are huge tourist draws: Cancún's beautiful stretch of coastline, Guanajuato's photogenic old architecture, and Isla Mujeres' calm turquoise water. Mexico is one of the world's most popular vacation destinations, with the Riviera attracting same tourism numbers as entire countries of Brazil and Argentina combined.
True, Mexico's sun and palm-lined sand beaches are drop-dead gorgeous, but Mexico City deserves a chance.
It's not the polluted crime hub that many people think, and the city has grown a lot in the last two decades. In fact, The New York Times named Mexico City as the number one travel destination for 2016 and called it "a metropolis that has it all". Mexico City is becoming recognized as a world-class metropolis in terms of economy, architecture, cuisine and culture.
It's time to reconsider what you think you know about the Mexican capital.
This post contains referral links for products I love. Adventurous Miriam earns a small commission at no extra cost to you if you make a purchase through my links. Thank you for your support ♡ Learn more
HOT AREAS IN MEXICO CITY
Getting to know the city means diving into its colonias. So, stroll down the colonial streets of Roma, take a Turibus and get glimpses of neighbourhoods that you likely won't visit otherwise. Of course, there are places you should not wander but the city is far safer now than it was 20 years ago. These areas in Mexico City are all the rage:
Condesa – Popular with young and artsy types. It has a mega-cool night-life and is full of great restaurants, shops, bars and galleries.
Roma – A hip, safe neighborhood with hipster-run coffee shops, bars and parks.
Coyoacán – Colonial-era suburb lined with old mansions and several of the city's best museums. It was the home of famed artists Frida Kahlo.
San Angel – Narrow streets, colorful plazas, and Colonial mansions.
Zona Rosa – Home to Torre Mayor, one of Latin America's tallest buildings, and Mexico City's unofficial symbol: the golden angel state of Monumento a la Independencia.
Polanco — The Beverly Hills of Mexico City.
DAY 1
Chapultepec Park
Begin your first day in Mexico City with a trip to Chapultepec Park. It has water activities, a modern art museum and a zoo, but the must-see attractions are the Museum of Anthropology and Chapultepec castle (Mexico City's version of Versailles).
The Museum of Anthropology
Located inside Chapultepec Park, you'll find the Museum of Anthropology, Mexico's most visited museum. Admission is 65 pesos and it's definitely worth a visit.
Museum of National History
If you venture to Chapultepec Castle – still inside the park – you'll get to the National Museum of History. The museum offers an overview of Mexico's history from the conquest and formation of New Spain up to the early 20th century.
Angel of Independence
If you're in the mood, stroll the 1,5 km to one of the most representative symbols of Mexico City and the whole country, the Angel of Independence. It stands majestically in Paseo de la Reforma (Zona Rosa area).
Biblioteca Vasconcelos
Before siesta, Uber your way to the gigantic, jaw-dropping Biblioteca Vasconcelos. This "megalibrary" covers 38,000 square meters and holds more than 470,000 books.
Siesta time
Lucha Libre
Think Mexican wrestling, colorful masks, and "high-flying" maneuvers. There are matches Tuesdays, Fridays and Sundays at Arena Mexico, and the atmosphere is crazy.
DAY 2
Shopping
Start the day early with some light shopping on Avenida Presidente Masaryk in high-end Polanco. Here you'll find International boutiques such as Gucci, Salvatore Ferragamo and Louis Vuitton. You can also opt for some less expensive shopping in stores such as Zara or Bershka at the peatonal (pedestrian walkway) along Avenida Francisco I. Madero.
To the market
Next, head to one of Mexico City's many markets for lunch. The market to end all markets is Mercado Merced, a staggering maze of vegetables, hardware, piñatas – you name it. And if you're looking for worm quesadillas or scorpion tacos you've come to the right place.
As one of my readers made me aware of, you'll get a better and more authentic shopping experience at Cuidadela, which is right outside Metro Balderas. This open space market sells many handcraft goodies.
Sonora Market
At the heart of Mercado Merced is the esoteric Sonora market. For just about anything, there's a solution in Sonora, the largest witchcraft market in Mexico and a must-see for those interested in the superstitious. It's much like the Witches Market in La Paz, Bolivia.
Frida Kahlo Museum
A must in Mexico City is visiting famous Frida Kahlo's Museum, also called the 'Blue House'. You'll find it in the historic Coyoacan area of Mexico City.
Siesta time
Xochimilco
Before you call it a day, swing by Xochimilco (pronounced: So-chi-mil-co) and spend the afternoon floating through the canals on brightly painted boats called trajineras. A fair price is $350 pesos per boat per hour – prepare to bargain for it.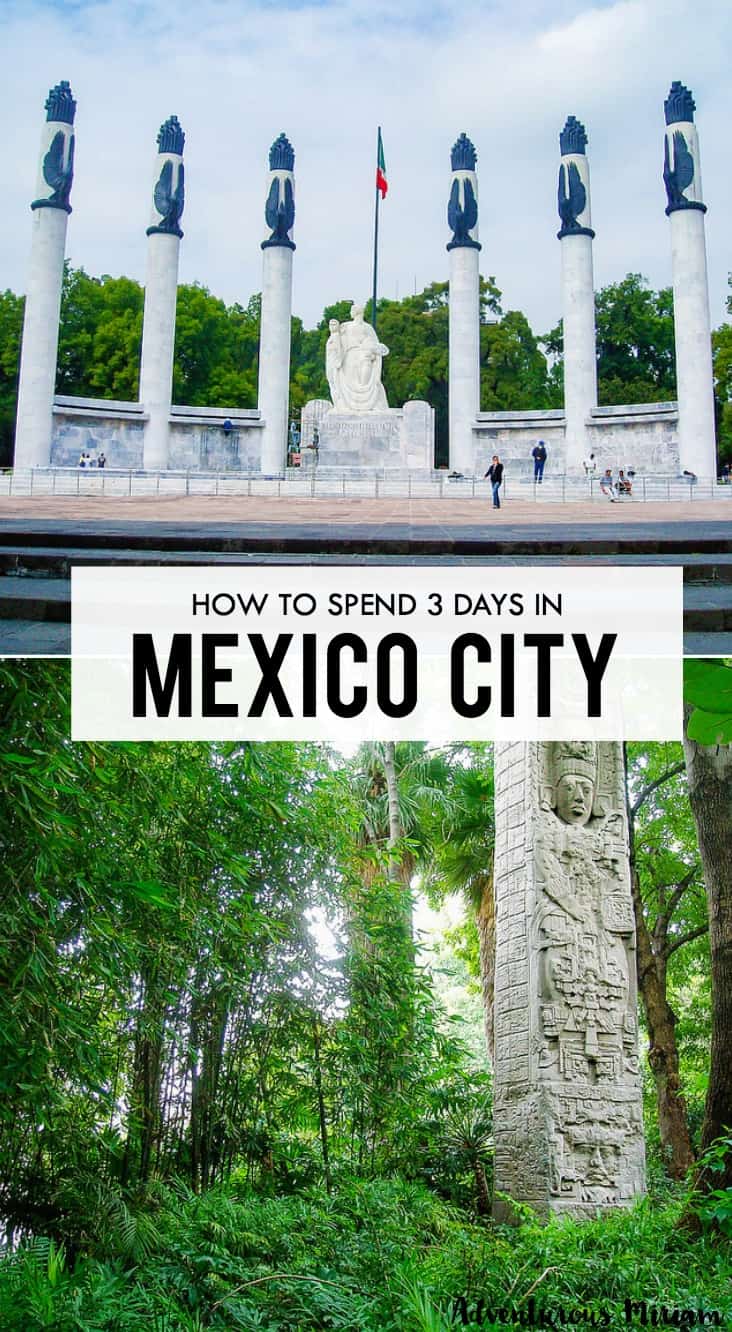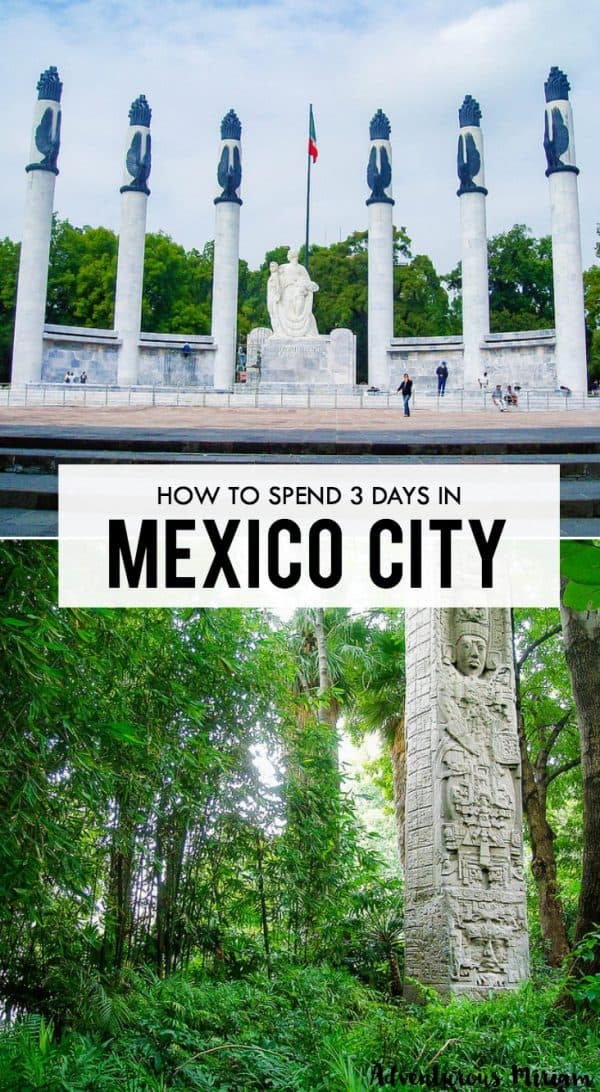 DAY 3
Zocalo
For your final day, venture to Zocalo – the main square and the heart of Mexico City. There's a whole bunch of historic buildings in this area, known as the Historic Center.
Catedral Metropolitana
The main sight at Zocalo is Catedral Metropolitana, which fronts the plaza. This magnificent cathedral from the 16th century is the seat of the Roman Catholic Archdiocese of Mexico. It's a national treasure.
Museo del Templo Mayor
Just around the block are the ruins of the Museo del Templo Mayor. Archaeological sites are usually placed in the middle of nowhere, but Templo Mayor — a UNESCO World Heritage Site dating back to the post-classical period of Mesoamerica — is right in the middle of the city.
Palacio de Bellas Artes
After a bit of temple seeing, move on to the gold dome-topped Palacio de Bellas Artes. Make sure to check out the beautiful neoclassical exterior before entering the building. Inside, you'll find Art Deco design.
Santa Muerte Sanctuary
If you're up for unusual things to do, head to the Santa Muerte Sanctuary, a church dedicated to the Mexican skeleton saint. It's a 2.3 km walk from Palacio de Bellas Artes.
Siesta time
FOOD, GLORIOUS FOOD
Chili con carne and nachos with hot, crisp tortilla chips, plentiful cheese and guacamole are reason alone to visit Mexico, but there's more to Mexican cuisine than that. Mexico City has become known for its delicious street food, fine dining and the best tacos ever. Here's a food itinerary for your 3 days in Mexico City, from one foodie to another.
Breakfast
Panaderia Rosetta bakery in Roma Norte (very popular – breakfast is about 200 pesos).
La Fonda Margarita (in Benito Juárez) offers traditional homemade breakfast. It's recommended as "Probably the best breakfast ever" by Anthony Bourdain.
Lunch (the largest meal of the day, served between 1 and 4 p.m.)
Cantina El Sella (in Doctores) – try the chamorro, a bone-in pork shank braised in its own fat.
Super Tacos Chupacabra (in Coyoacan, next to the Frida Kahlo museum) – great tacos.
Contramar (in Roma and Condesa) – great seafood. Try the tostadas de atun, marinated tuna loin with crispy leeks and a spiced mayo.
Street food
Street tacos on the corner of Colima & Orizaba (in Roma)
Mercado San Juan – cheap, local eats at the market
Dinner
Maximo Bistrot Local (in Roma). A modest, family-run restaurant known for its farm- and ocean-to-table fare. Reservation is a must.
Angelopolito (in Roma) – traditional Mexican food with a contemporary twist.
Night drinks
Felina (a relaxed Condesa hangout)
Alekzander (at Álvaro Obregón – one of the coolest streets in Mexico City)
Duke (also at Álvaro Obregón)
Rooftop bar of Hotel Condesa for sunset drinks (in Condesa)
WHERE TO STAY IN MEXICO CITY
Roma or Condesa are the most popular neighbourhoods in Mexico City. Both areas are in the heart of the city and it's easy to get to the most important landmarks. Plus these areas are walkable and very safe.
Condesa DF
Surrounded by stylish bars and restaurants, this popular hotel (with elegant rooms!) is located in the chic and bohemian Condesa neighbourhood. There's a roof top terrace and you'll get tequila on arrival. Click here to see the latest prices.
Capital Suites Luxury Residences & Offices
Gosh, this place, you guys! It's super spacious, modern, the staff is so helpful and it's cheap! It's located in Roma, close to nice restaurants and sights. Click here to see the latest prices.
DAY TRIPS FROM MEXICO CITY
Add an extra day to your Mexico City stay and explore the surrounding area. An easy, and unmissable day trip is to Teotihuacán, home to a complex of majestic temples. Known for its two massive pyramids, Pyramid of the Sun and Pyramid of the Moon, the site is more than 2,000 years old and shrouded in mystery.
Teotihuacán is just an hour from Mexico City and well worth the trip.
Have you been to Mexico City? Any tips for what else to see?
Read more posts about Mexico