How to plan an awesome day trip to Teotihuacán Pyramids, Mexico
Teotihuacán is no ordinary place. It is ancient, shrouded in mystery, and once Mesoamerica's greatest city. This complex of majestic temples is known for its two massive pyramids, Pirámide del Sol (Pyramid of the Sun) and Pirámide de la Luna (Pyramid of the Moon).
Teotihuacán lies in a mountain-ringed valley just 50km from Mexico City, and it's the perfect place for a day trip. Here's how to do it.
Read next: 30 BEST things to do in Mexico that you can't miss
This post contains referral links for products I love. Adventurous Miriam earns a small commission at no extra cost to you if you make a purchase through my links. Thank you for your support ♡ Learn more
What to see at Teotihuacan Pyramids
Teotihuacán is a huge UNESCO site with a 2,000 year-old history. Between the pyramids and the museum, there's a ton to see and you can easily spend a whole day there. Trust me, the site is massive! If you're short on time or just want to see the main sights, this is what to look for:
Pyramid of the Sun – The largest pyramid at Teotihuacán and the third largest pyramid in the world.
Pyramid of the Moon – The second largest pyramid on site, used to conduct ceremonies in honor of the goddess of water, fertility and the earth.
Temple of the Feathered Serpent – The third largest pyramid at Teotihuacán takes its name from the iconic carved heads that adorn the eastern side.
Palace of Quetzlpapalotl – It has ornately carved pillars and beautiful murals, all centered around a beautiful courtyard.
Avenue of the Dead – The main path between the pyramids in Teotihuacán.
On-site museum – There's a museum at the entrance to help make sense of it all.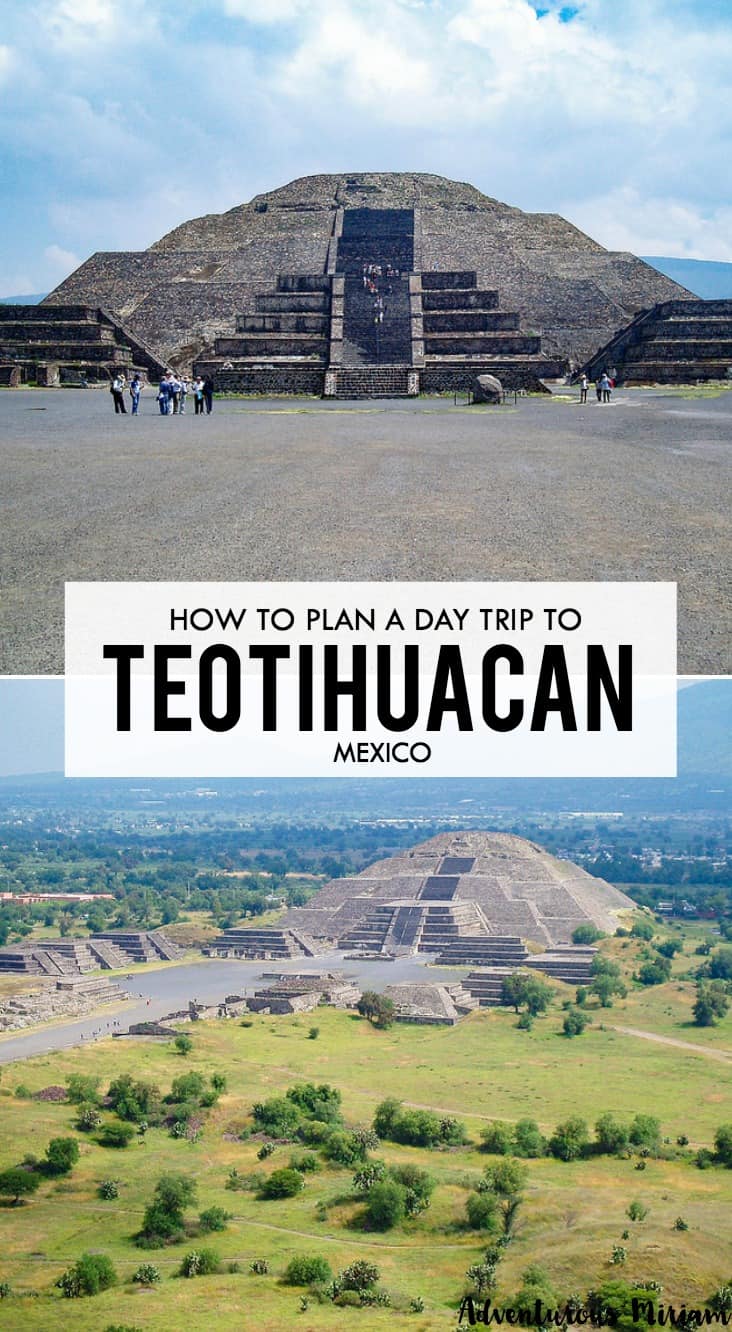 PRACTICAL INFO
Opening hours: Monday-Sunday 9 am to 5 pm.
Entrance fee: 70 pesos – includes entry into the museum.
Best time to visit: Arrive early in the morning as there is almost no shade and it gets warm fast.
How much time to spend: 4-5 hours. The avenue is 2,5 km long, and it takes time to climb the pyramids.
Brief history of Teotihuacán
For those unfamiliar, Teotihuacán is old. Very, very old. It was built around 100 BC and collapsed a thousand years later in 550 AD due to invasion or famine (no one really knows). Unlike the pyramids in Egypt, Teotihuacan wasn't just a religious temple. It was a city, and a large one. At its highest, this mysterious metropolis reached a peak population of 200,000 people.
Most other famous temples in Mexico were either built by the Aztecs or the Mayans, but no one knows who built Teotihuacán. One thing all experts can agree on is that the Aztecs named the city Teotihuacán, meaning 'place of the gods'.
Pyramid of the Sun
Tip: Begin at The Pyramid of the Sun so you can climb all 248 steps before it gets too hot. Simply enter through the second or third entrance, Puerta 2 or 3.
Let's start with the massive Pyramid of the Sun. At 70m high and over 215m wide, it's the third largest pyramid in the world after the Great Pyramid of Cholula at 400m (also in Mexico) and the Great Pyramid of Giza in Egypt at 139 m.
To make it even more grand, the Pyramid of the Sun consists of over 3 million tons of stone. And to think it was built without any metal tools or help from animals – that's darn impressive.
Read next: The best beaches in Mexico
In 1971, archeologists found a secret tunnel inside the pyramid that led to more than 50,000 ritual objects and a set of chambers. Experts believe that these chambers were used for rituals and maybe even as a burial-place for the city's elite.
For the people of Teotihuacán, the Pyramid of the Sun had a strong religious significance. And it continues today more than 2,000 years later. Every year on March 21st, visitors flock to the top of Mexico's Pyramid of the Sun to celebrate the spring equinox.
Pyramid of the Moon
If you follow the road to the end, you reach the Pyramid of the Moon, a similar but smaller temple. The steps are steeper, but at the top of the pyramid you're rewarded with a really great view as you can see directly down the Avenue of the Dead past the Pyramid of the Sun.
In front of the pyramid (Plaza of the Moon) are twelve small pyramid platforms, large enough for thousands of the city's residents to witness the political and religious rituals that took place at the top of Pyramid of the Moon.
Read next: San Cristobal de las Casas – the cultural capital of Chiapas
The Pyramid of the Moon was built between 1 and 350 AD as the first large building in Teotihuacán. Both human and animal sacrifices and other offerings have been discovered inside the pyramid.
Back then, many Mesoamerican cultures sacrificed the enemies that they captured in battle. They did that to keep the social order and ensure that the priests and holy men retained their grip on power. If you've seen the movie Apocalypto, you have an idea of how it went down.
Temple of the feathered serpent
Enclosed within the citadel's walls is the Temple of the Feathered Serpent, also known as Quetzalcóatl Temple.
The Temple of the Feathered Serpent is the third largest pyramid at Teotihuacán, constructed in 200 AD. This six-level step pyramid is notable partly due to the discovery in the 1980s of more than a hundred sacrifice victims found buried beneath the structure.
Avenue of the dead
The main road through Teotihuacán was called the Avenue of the Dead by the Aztecs because the mounds on the sides looked like tombs (they were not though). The road varies between 40 to 95 meters wide and 2.5 kilometers long, but archeologists believe that it was almost double that in its prime.
Teotihuacán is a unique place.
I've been to a number of temple cities like Angkor Wat and Palenque, but Teotihuacán was different. Maybe it had to do with the fact that it's not swathed in jungle like the two other temples, or maybe it was the massive pyramid structures that made an impression.
Either way, a day trip to Teotihuacán is awesome. If you're in Mexico City or Northern Mexico, it's definitely worth a visit.
How to get to Teotihuacán from Mexico City
There are several ways to visit Teotihuacán on a day trip from Mexico City, but these two options make most sense:
By public transportation (the best option)
This is what we did, and it's easy. The bus to Teotihuacán is comfortable, it takes about an hour depending on traffic, and a round-trip ticket costs 100 pesos/$6 per person. This is how to do it:
Take the metro to Terminal Central del Norte also known as the Autobuses del Norte metro station.
Walk across the street to the North Central Bus Terminal.
Once you're inside the bus terminal, go left and walk towards Gate 8 at the end of the hallway. Look for the bus company called Autobuses Teotihuacán.
Buy a return ticket (100 pesos/$6 USD) or a one-way (50 pesos/$3 USD) to Los Piramides. Busses leave every 20 minutes and your seat is assigned on the ticket.
The ticket office speak English and can help you find the departure area.
With a guided tour bus
You can also join a tour bus from your hotel. Bare in mind, though, that tour companies often spend a lot of your time promoting specific vendors and stores – that means you won't have as much time at Teotihuacán.
As a reader notes in the comments below, he only had 1,5 hours at Teotihuacán, which is not enough time to explore the site. If you go with a tour bus, try to find one that offers multiple arriving and departure times.
Where to stay in Mexico City
Roma or Condesa are the most popular neighbourhoods in Mexico City. Both areas are in the heart of the city and it's easy to get to the most important landmarks. Plus these areas are walkable and very safe.
Condesa DF – Surrounded by stylish bars and restaurants, this popular hotel (with elegant rooms!) is located in the chic and bohemian Condesa neighbourhood. There's a roof top terrace and you'll get tequila on arrival. Click here to see the latest prices.
Capital Suites Luxury Residences & Offices – Gosh, this place, you guys! It's super spacious, modern, the staff is so helpful and it's cheap! It's located in Roma, close to nice restaurants and sights. Click here to see the latest prices.
What to bring on your day trip
Good walking shoes – You're looking at 6-7 km of walking, including the climb up the pyramids. Those pyramids are no joke so you need comfortable and breathable footwear. These are my all-time favorite travel shoes, but if you've got other outdoor adventures in Mexico (volcano hiking or jungle trekking), I would bring a pair of hiking boots and leave the sneakers (and Converse) at home.
Sunscreen
A good pair of sunglasses
A hat. The sun at Teotihuacan is harsh and there's no shade. I suggest bringing a simple baseball cap, a panama hat or a fedora to protect your face. Something like this one.
Always check the weather forecast before you go. It might rain, in which case you should bring a breathable rain jacket.
Sports bra
Seamless leggings or yoga/athletic pants. I always wear seamless leggings when I hike. What's so great about seamless pieces is that they're super lightweight, breathable and really allow you to move around. I always bring at least one pair on my travels.
Hiking poles (if you have bad knees).
2 l. water (you can't drink the tap water in Mexico)
A small backpack for your things. I always bring my Haglofs day back, which is great for day trips such as this (and carry-on luggage on the plane). But any day pack will do – just make sure it's comfortable and ergonomic. You'll be walking a lot.
Have you been to Teotihuacán? Any tips for others?
Read more posts about Mexico