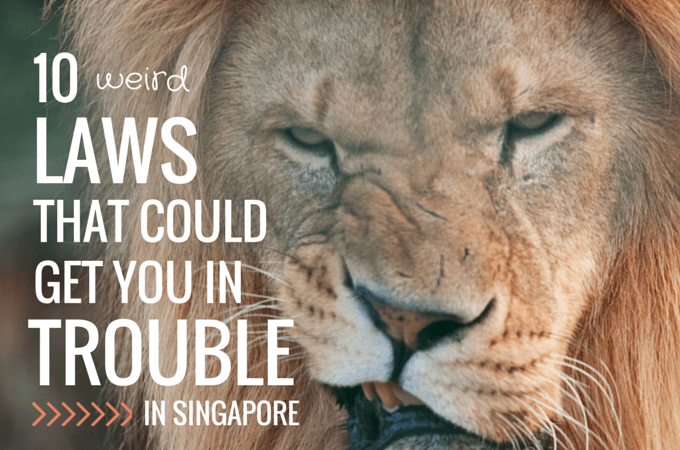 Singapore is known for its low crime rate and impeccable cleanliness. It is also sometimes called the fine city, which has a double meaning. The label refers to the fine state that Singapore is in, but it also refers to the many fines that the country hands out.
If you're thinking of heading to Singapore, you should be aware that the country has important regulations, some of which may seem harsh. For example, the rattan cane is legally used as punishment, not only for criminals, but also as a disciplinary measure in schools, the military and in the domestic scene.  Laws in Singapore are strictly enforced, and failing to abide by these customs could get you in serious trouble.
Now, don't let this discourage you from visiting Singapore. This country is incredibly safe to travel in and it offers an abundance of activities, free sights and a mix of cultures. If you're a respectful traveler you're not going to get in trouble.
Here is a brief guide to some of the laws you need to know when you visit Singapore.
1. DON'T LOOK STRANGE IN THE METRO
Penalty: < $500
You're not allowed to drink, eat or take a photo for your blog on the metro (MRT). You can't even take a sip of water.
And there's one more thing… When you enter the metro, you'll hear an automated voice make this announcement:
"If you notice any suspicious person, immediately push the emergency button on the side of the door."
I'm unsure what the penalty is for looking suspicious.
2. NO CUDDLING IN PUBLIC
Penalty: < 1 year in jail
Smooching in public is an absolute no-no and you may be punished hard. Handshakes, hugs and light kisses are fine, but save the french kissing for later.
3. HOMOSEXUALITY IS FORBIDDEN
Penalty: <2 years in prison
Speaking of affection… Same sex relations are forbidden in Singapore although this law is not nearly as strictly enforced as some of the other laws. It used to be under the umbrella of sex against the order of nature.
4. FLUSH! OR FACE THE CONSEQUENCES
Penalty: $150
Failure to flush a public toilet after use may result in rather hefty fines.
And don't even think of urinating in elevators. They are equipped with Urine Detection Devices (UDD) that detect the scent of urine, sets off an alarm and closes the doors until the police arrive.
5. NO SMOKING IN PUBLIC
Penalty: $152 –  760
There's a law against smoking in public places. This law was put in place to ensure a clean and healthy environment for the public and protect people from secondhand smoke. Although it is not illegal to buy cigarettes or smoke in your own home, it is illegal to smoke in public and it's considered an offense to enter the country with cigarettes.
6. DON'T WALK AROUND YOUR HOUSE NAKED
Penalty: $1000
While smoking at home is fine, walking around naked is not. If you break this law, you may face pornography charges which can lead to imprisonment or big fines. So close the curtains next time you're getting ready for shower.
7. DON'T BE A LITTERBUG
Penalty: From $300 – public service
First time offenders who throw small items like cigarette butts or candy wrappers are fined $300.
If you are convicted of littering three times, you will have to clean the streets once a week with a bib on saying, "I am a litterer." It is admittedly aimed at publicly shaming the offenders to ensure that they won't litter again.
8. NO SELLING OF GUM
Penalty: $5,500 – 1 year in jail
Chewing gum is okay, but selling it is forbidden. The punishment for smuggling gum into the country is a year in jail and a $5,500 fine.
9. ALWAYS USE PEDESTRIAN CROSSINGS
Penalty: $20 – 6 months in jail
Jaywalking is illegal in Singapore, and if you cross the road within 50m of a crossing zone, you will be fined up to $1,000 or get 3 months in jail. If you are caught doing this more than once, you will be fined up to $2,000 or jailed up to 6 months.
10. LEFT-HANDED? TOO BAD FOR YOU
Singapore is not a place for lefties. It is considered rude to eat, wave and greet with your left hand because it is associated with using the bathroom.
Have you ever been to a country with strange laws? Let's talk in the comments.
Pin to Pinterest
The following two tabs change content below.
I'm Miriam Risager, and this site has been my scrap-book, playground and home since 2013. I launched this blog as a way to share my journey, as well as share the hows, whys and wheres for other travelers.