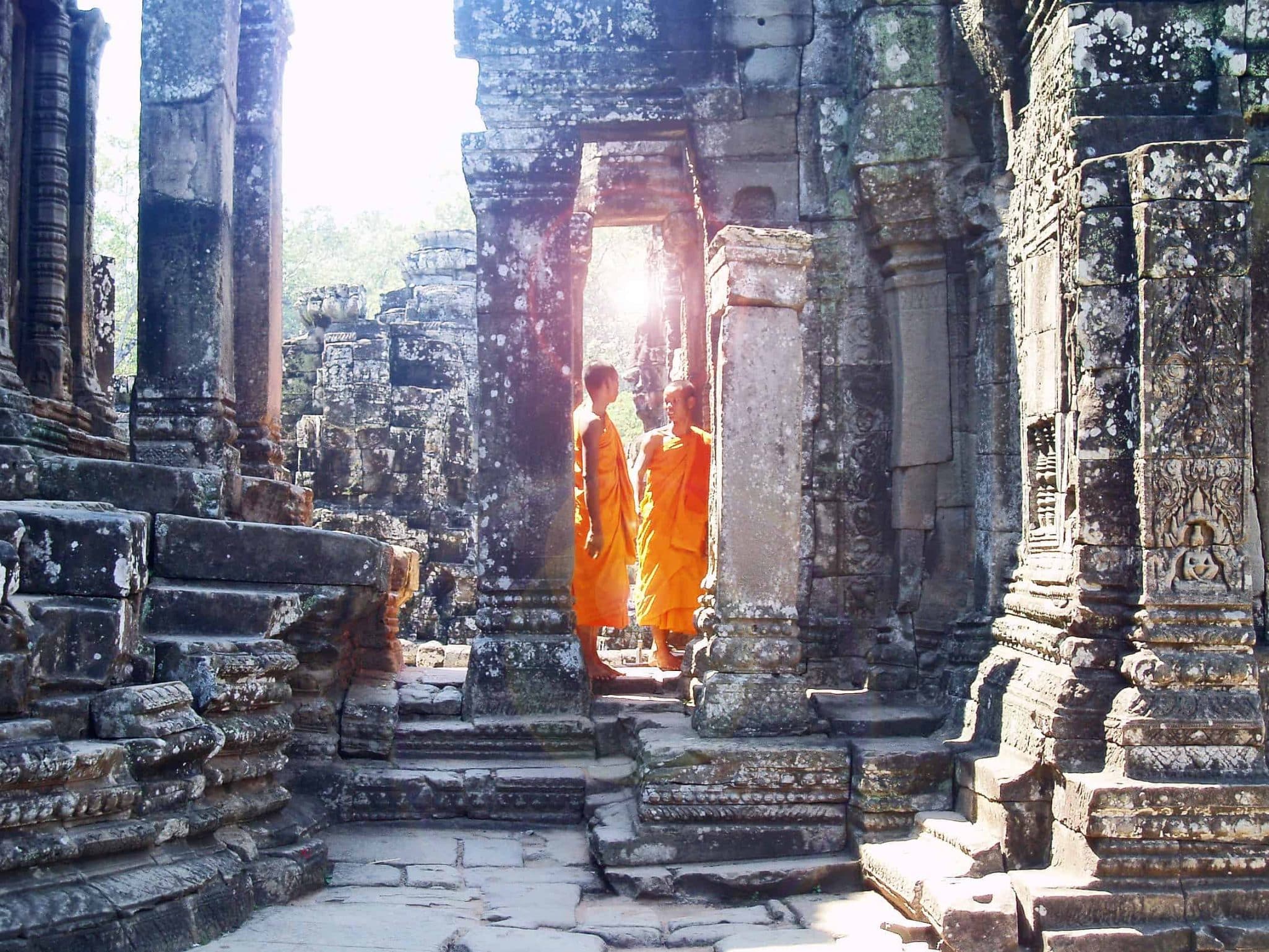 Welcome to Cambodia
Cambodia is sadly often overlooked when traveling Southeast Asia, due to its dark and unsettling war history. And while that history is truly awful, it doesn't detract for a moment from the even deeper history of Cambodia which brings us some of the most impossibly captivating and incredible temples in all of Asia.
Amazing experiences in Cambodia
The majestic Angkor Wat
Angkor Wat exists among other global cultural and religious monuments like the Taj Mahal, Machu Picchu, and the Forbidden City as one of the great historical experiences on earth. And with good reason! This originally Hindu temple complex consists of a massive number of stone temples which are still standing to this day, despite being 800 years old.
Cambodia is very affordable
All of Southeast Asia is beautiful, tropical, and historic, but Cambodia is the country that is the most affordable of the lot, while also having just as much to see and explore. It's a country with incredible history, monuments, food, and exciting outdoor activities. But all of them are just a little cheaper in Cambodia, meaning you can do more for less!
Try Some of the more adventurous foods
Cambodia has a lot of foods that are recognisable in other parts of Asia: meals of meats and vegetables with rice as the staple part of the meal. However, they also have fried tarantula! You'll find them for sale, readily fried, at the markets, or as part of a rice or noodle-based meal. It's a local delicacy, so try it if you're brave enough!
A dark war history
Cambodia's ancient history is some of the most beautiful and worthy of celebration, but the nation also has a darker side to its history. The totalitarian dictator Pol Pot and the Cambodian Civil War did more damage to Cambodia in a few short years than any other communist leader or war in the 20th century, which the country is still recovering from. Despite that, it's still a place of wonderful people and exciting adventure.
Best sights in Cambodia
Phnom Penh (capital)
Both the original Khmer empire and the French colonists called this area home because of its place at the intersection of two rivers. The temples, markets, and museums define the beauty of this city.
Siem Reap (318 km from Phnom Penh)
Siem Reap is the gateway to Angkor Wat, and as such is a popular place to stay. It was also the Khmer capital for six hundred years until the 15th century and many ruins still remain.
Sihanoukville (226 km from Phnom Penh)
This gorgeous coastal city is also often known as Kampong Som and sits at the southwestern tip of Cambodia. It's a relaxing place at the edge of the Gulf of Thailand.
Angkor Wat (323 km from Phnom Penh)
One of the largest remaining religious monuments on Earth, Angkor Wat is a complex of stone temples that have stood for 800 years and was once dedicated to Hinduism.
Koh Rong (252 km from Phnom Penh)
An island off the coast of Cambodia, Koh Rong is known for its coral reefs, white sandy beaches, and a thick covering of jungle at its heart. There's even a zoo! In other words, it's paradise.
Kirirom National Park (114 km from Phnom Penh)
This incredible national park is a huge patch of untouched wilderness that's home to jungle terrain, natural lakes, and waterfalls. Its name derives from the word for 'Happy Mountain'.
How to get around
I always use 12Go for traveling Asia. This site is so easy to use. It quickly comes up with a variety of transport options to suit your time and budget. All costs are shown, even taxis.
Best time to visit
Cambodia has warm temperatures the whole year and there's really no bad time to go there unless you want to avoid the rain. The monsoon season lasts May-August and this is also when the weather is seriously humid. However, the rain does make for some incredibly picturesque scenes as the rice paddies fill up with water and the landscape comes to life.
The summer is also when you'll find the cheapest hotel prices. Between November and April is when you'll find the most pleasant weather for exploring.
Practical info
Language: Khmer
Currency: Riel
Plugs: Cambodia uses a selection of different plugs, from European to US standard plugs, so definitely get yourself a universal adapter
Population: 16 million
Important telephone numbers: 119 for all emergencies
Visa: You need a tourist visa to enter Cambodia, which is valid for one month from the day of arrival
Rough Budget
Khmer Phrases
Hello: Suostei
Thank you: Saum arkoun
Yes: Bat
No: Te
Bye: Lea
Cheers: Abaarsator
Posts from Cambodia