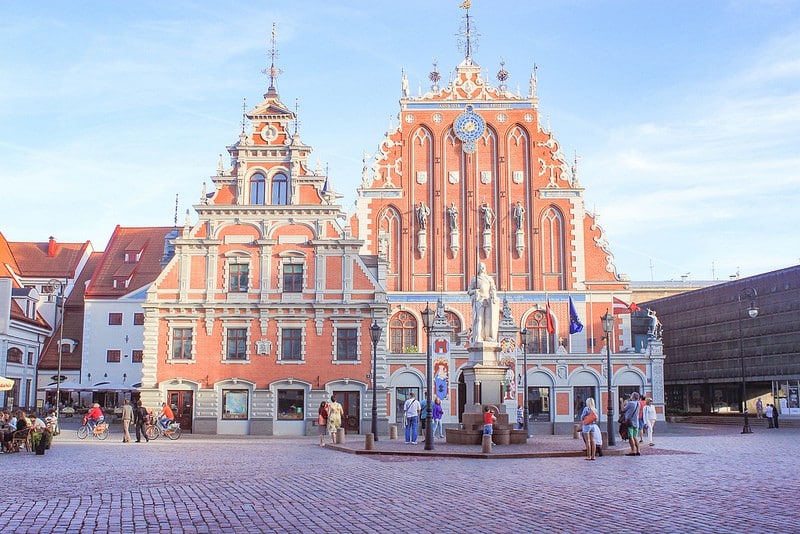 Welcome to Latvia
The perfect weekend getaway
Latvia is the central country of the three Baltic states, which were all under Soviet rule until their liberation in 1990. Since then Latvia has brought tourists from far and wide to marvel at its art nouveau architecture, ancient castles, and old medieval towns. Latvia is a peaceful and vibrant nation that has prospered and celebrated since becoming a beautiful independent state.
Amazing experiences in Latvia
A Tradition of Spas and Wellness
Latvia traditionally holds its spas and wellness in very high regard. Amber massages, saunas, and outdoor baths are all integral parts of Latvian culture. For this reason, it's a great place to head to if you enjoy your wellness retreats. In Latvia you can find no shortage of hotels that specialise in spas and wellness retreats.
Art Nouveau architecture
When you visit the Latvian capital of Riga, you'll find something that separates it from its neighbours of Estinia and Lithuania: art nouveau architecture. These buildings make up one third of all the architecture in Riga, and wouldn't look out of place in Paris, making for a very unique atmosphere and scenery in the capital of Latvia.
What Remains of Soviet Rule
In the centre of Riga is a tall monument celebrating the nation's liberation from Soviet rule. But there is still a lot in Latvia to remind us of its history as a Soviet state. The crown jewel of this is the Academy of Sciences, often referred to as Stalin's Birthday Cake (because of how it looks).
Visit Stunning Ancient Castles
The castles of Latvia are so intrinsic to the country's history that they actually come in a range of styles, from medieval, like Sigulda Castle, to baroque, like Rundale Castle. There are tens of castles to discover and explore across Latvia, with Riga castle being the easiest – and one of the best – to access.
Best sights in Latvia
Riga (capital)
Riga is a city of different exciting pieces, from its old town of medieval architecture, to its art nouveau buildings, its modern library to its hipster district of indie bars and cafes. There's something for everyone.
Gauja National Park (69km from Riga)
A quintessential European park of evergreen trees, cliffs, lakes, and complete tranquillity not too far from the capital of Riga. Protected and peaceful, a great break from the city.
Jurmala beach (24km from Riga)
A pleasant surprise in Latvia is a beautiful yellow sandy beach that plays host to music festivals and has miles upon miles of nothing but sand and open water.
Kuldiga (150km from Riga)
Hidden in amongst the beautiful landscape of Latvia is a town lost to time. A romantic town often nickname the Venice of the North – and it's really not hard to see why when you see it for yourself.
Rundale Palace and Museum (79km from Riga)
Technically a castle, this piece of incredible baroque architecture is worth seeing and exploring for anyone who loves their history and their architecture and is visiting Latvia.
Cesis (88km from Riga)
A gorgeous medieval town that has stood for more than eight hundred years. Combine its Old Town and the amazing St. John's Church for an unforgettable visit to the heart of Latvian history.
How to get around
I always use Rome2Rio for traveling Europe. This site/app is so easy to use. It quickly comes up with a variety of transport options to suit your time and budget. All costs are shown, even taxis.
Best time to visit
The very best time to visit Latvia is during July as the temperatures are warm but the hotel and tour costs are much lower than in June. You'll also avoid most of the crowds that come in June.
Many people also love to visit Riga during the winter November-February in order to see the capital covered in snow and also enjoy the Christmas markets, but this also comes with a high risk of rain and freezing temperatures.
Practical info
Language:

Latvian

Currency:

Euro

Plugs: Standard voltage of 230V (I recommend buying a universal adapter)
Population:

1.9 million

Important telephone numbers:

112 for all emergencies

Visa:

Members of the EU can stay indefinitely in Estonia without a passport. US citizens can stay visa-free for up to 90 days.
Rough Budget
Hotel:

$20-40

Food:

$5-15

Activities: e.g.

$200 to hike the national park

Transportation:

$4-15 for a bus
Basic Latvian Phrases
Hello:

Sveiki

Thank you:

Paldies

Yes:

Ja

No:

Ne

Bye:

Ardievas

Cheers:

Prieka
Posts from Latvia