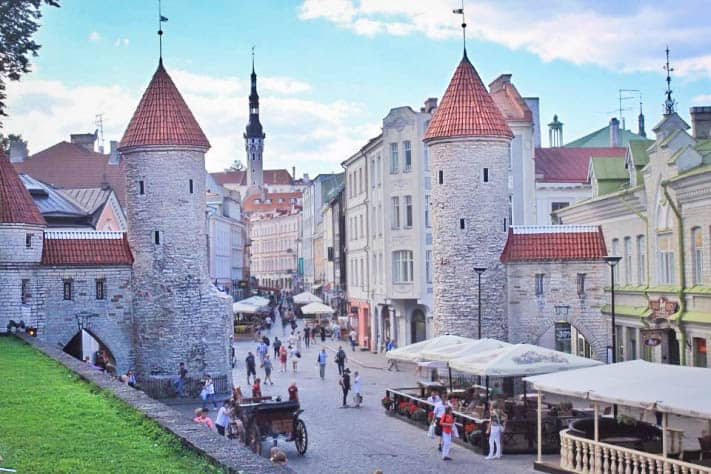 Welcome to Estonia
Estonia is one of Europe's most delightful and unexpected surprises. Its Old Town is a labyrinth of amazing cobbled streets lined with gorgeous old medieval buildings and churches. Its people are some of the most passionate, kind, and friendly you'll ever meet. And, as a nice plus, English is spoken widely and really well in Tallinn.
Amazing experiences in Estonia
Explore a Spectacular Landscape
Estonia can be pretty much divided into the city of Tallinn and the rest of Estonia. And the rest of it is where all the natural beauty lies. Rolling green hills peppered with beautiful little medieval towns that offer excellent local food and festivities. The landscape itself is like something out of a fantasy novel – spellbinding.
Tallinn's Fairy Tale Old Town
The Old Town of Tallinn is the heart of Estonia's capital. It's a walled medieval town full of churches, towers, and delightful little cafes and eateries. Cobbled streets criss-cross, leading you to new and exciting discoveries around every corner. Here is where Estonia really celebrates its fantastic medieval history.
An off-the-beaten-path country
One of the best things about Estonia is that it's still overlooked. This means that when you visit, you're getting the authentic experience, unspoiled by an oversaturation of tourism. Local traditional food is easy to find and enjoy, and the landscape is rugged and peaceful. Even so, English is everywhere in Tallinn, making for an easy time.
Small enough for a quick trip
Estonia is the smallest of the Baltics, and easy to get to from Finland or Sweden. You can easily take a ferry from Helsinki or a bus up from Riga in Latvia for a quick overnight visit to Tallinn. Everything is so accessible you can easily see the best bits in just a day or two.
Best sights in Estonia
Tallinn (capital)
Tallinn is the heart of Estonia, culturally, historically, and in terms of its cuisine and geography. It's a dynamic blend of medieval and modern with so much to see and do.
Tartu (185km from Tallinn)
Estonia's second city is home to many of the nation's best sights, such as the Estonian National Museum, the AHHAA Science Centre, and the University of Tartu Botanical Gardens.
Haapsalu (98km from Tallinn)
A beautiful and relaxing seaside resort town on Estonia's west coast. This is where locals like to come to get away from the hustle and bustle of Tallinn. Mostly for its lush greenery and clear waters.
Kuressaare (216km from Tallinn)
This quiet city is found on the Estonian island of Saaremaa. Its castle is one of the most spectacular and lesser-known sights in Estonia, and it looks particularly captivating in the winter.
Narva (210km from Tallinn)
At the very edge of the Russian border, the town of Narva is a town with a long history of Swedish and Russian rule, defined by its gorgeous cathedral and brutalist Soviet architecture.
Parnu (127km from Tallinn)
A city at the edge of the Baltic sea, Parnu is known for its seawater baths and the romantic legend of its seawall which says that couples who walk it hand-in-hand will stay together forever.
How to get around
I always use Rome2Rio for traveling Europe. This site/app is so easy to use. It quickly comes up with a variety of transport options to suit your time and budget. All costs are shown, even taxis.
Best time to visit
The Estonian Winters are dark, cold, and miserable so if you're hoping to catch the best views or escape to Estonia's famous coastline, it's best to visit between May and August. June and July are considered the high season, so you'll find higher prices, an influx of tourists (particularly in the Old Town of Tallinn), and many accommodation options being booked up quickly during this time.
Practical info
Language:

Estonian

Currency:

Euro

Plugs: Standard voltage of 230V (I recommend buying a universal adapter)
Population:

1.3 million

Important telephone numbers:

112 for all emergencies

Visa:

Members of the EU can stay indefinitely in Estonia without a passport. US citizens can stay visa-free for up to 90 days.
Rough Budget
Hotel:

$50-70

Food:

$7-10

Activities: e.g.

$8 for a sauna

Transportation:

$5-20 for a bus
Estonian Phrases
Hello:

Tere

Thank you:

Aitah

Yes:

Jah

No:

Ei

Bye:

Huvasti

Cheers:

Terviseks
Posts from Estonia