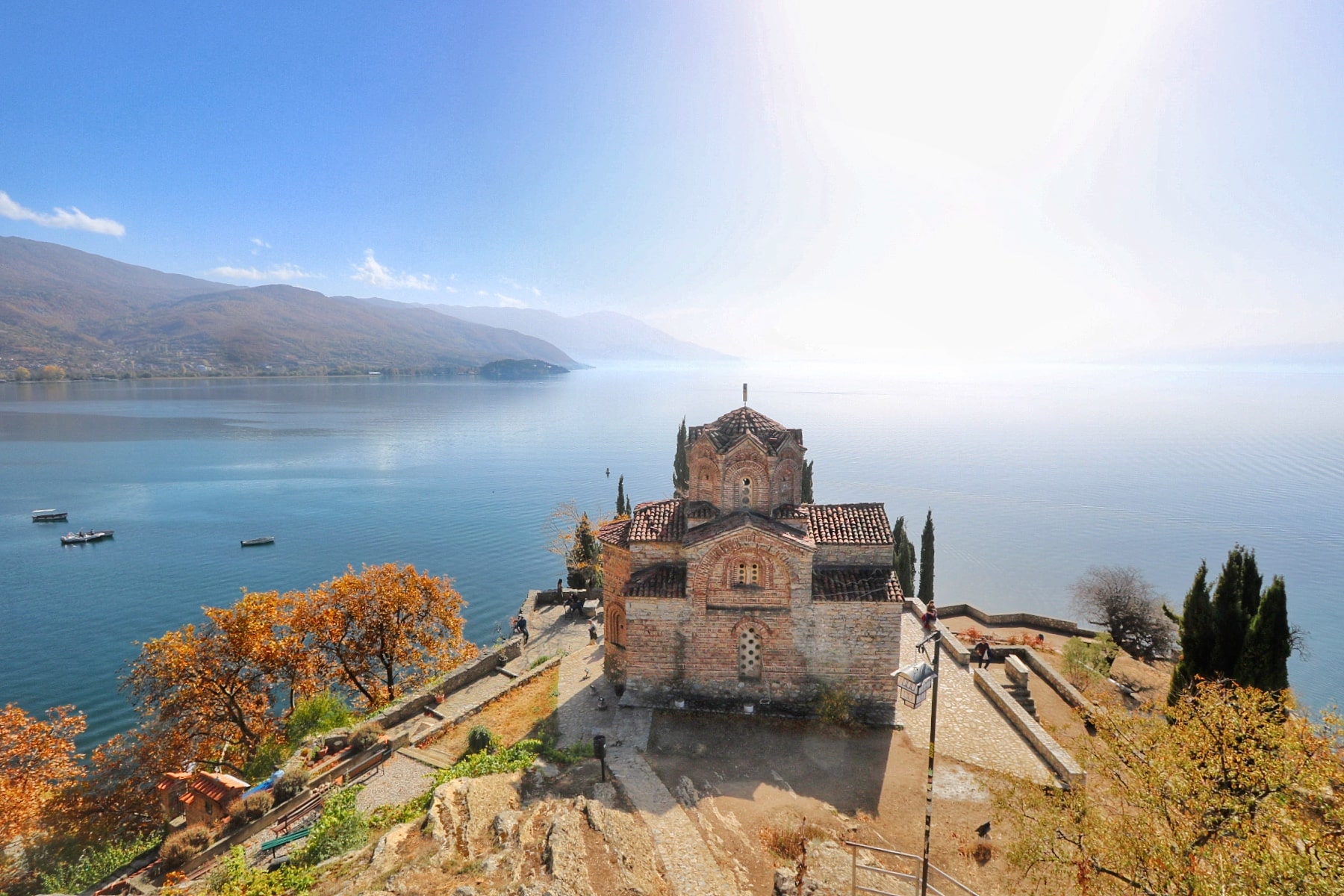 Welcome to North Macedonia
Magical lake monasteries and canyons
Kind and friendly people full of heart; a cuisine inspired by neighbouring Greece and Italy; and a landscape of rugged mountains, rivers, and lakes. North Macedonia is a living, breathing piece of rich European history defined by its wonderful people and wholesome food. Its recent history is just as fascinating as its ancient history, and both are ready to be explored.
Amazing experiences in North Macedonia
Discover Brutalist Architecture
Having recently been officially known as the Socialist Republic of Macedonia, it may come as little surprise that this fascinating country is overflowing with darkly fascinating brutalist architecture. The kind that defined communism in the 20th century. Practicality over aesthetics makes for a very dystopian place to explore.
Explore Amazing Lake Ohrid
With the UNESCO World Heritage town of Ohrid at its edge, deep blue waters that stretch as far as the eye can see, and the ancient Church of St. John Kaneo overlooking the lake, there's no shortage of beautiful views to take in at one of North Macedonia's most beautiful natural sites.
All the Beautiful Monasteries
The greatest treasures of North Macedonia's history come in the form of traditional monasteries, many of which having been built during the Byzantine Empire and so sharing a distinct style and aesthetic. There are countless to explore, but some of the best are the Bigorski Monastery of St. John the Baptist, and the Monastery of Saint Naum.
Matka Canyon
Several of the monasteries of North Macedonia can be found in the gorgeous Matka Canyon. The canyon is right outside of Skopje and makes for one of the most stunning day trips from the city. If you love your trips to look like Jurassic Park, Matka Canyon certainly won't leave you wanting.
Best sights in North Macedonia
Skopje (capital)
Skopje blends the ancient with the modern. Here, you can relax at a modern hipster bar right outside of an ancient stone fortress, enjoying local beers and traditional foods.
Lake Ohrid (123km from Skopje)
A seemingly endless lake that's also one of the deepest in Europe. The feeling of open freedom here can't be beaten, and the city of Ohrid itself is absolutely charming all by itself.
Matka Canyon (25km from Skopje)
A perfect little trip from Skopje. Matka Canyon is a dynamic, rugged, and exciting place where you can boat down the water, bordered by massive and daunting cliffs for some epic photos.
Bitola (173km from Skopje)
An ancient town older than the Byzantine Empire which demonstrates the absolute best and most beautiful of North Macedonia's history and architecture. A gem of a town that's not to be missed.
Mavrovo National Park (100km from Skopje)
Macedonia's largest national park can be found hidden amongst the Bistra mountains. The lake contains the legendary Submerged Church and the area is ideal for skiing if you fancy a winter holiday.
Trpejca (192km from Skopje)
If you want to see the true historical and humble side of North Macedonia, this is it. Trpejca was once a small fishing village between a lake and a mountain, and now it brings in tourists the world over each summer.
How to get around
I always use Rome2Rio for traveling Europe. This site/app is so easy to use. It quickly comes up with a variety of transport options to suit your time and budget. All costs are shown, even taxis.
Best time to visit
People love to visit North Macedonia between June and September to catch the warm months and see the country's famous nature spots at their best. However, you will find warm weather from April and you'll also miss the crowds and enjoy cheaper rates than if you visit later in the season – particularly July which is the country's high season.
The country does offer some great ski resorts during the winter months, however. The best time to visit for skiing is December to February.
Practical info
Language:

Macedonian

Currency:

Denar

Plugs: Standard voltage of 230V (I recommend buying a universal adapter)
Population:

2 million

Important telephone numbers:

112 for all emergencies

Visa:

Most countries can enter North Macedonia visa-free and stay for at least 90 days. US citizens can stay for up to 180 days per year.
Rough Budget
Macedonian Phrases
Hello:

Zdravo

Thank you:

Vi blagodaram

Yes:

Da

No: Br
Bye:

Zbogum

Cheers:

Izvici
Posts from North Macedonia