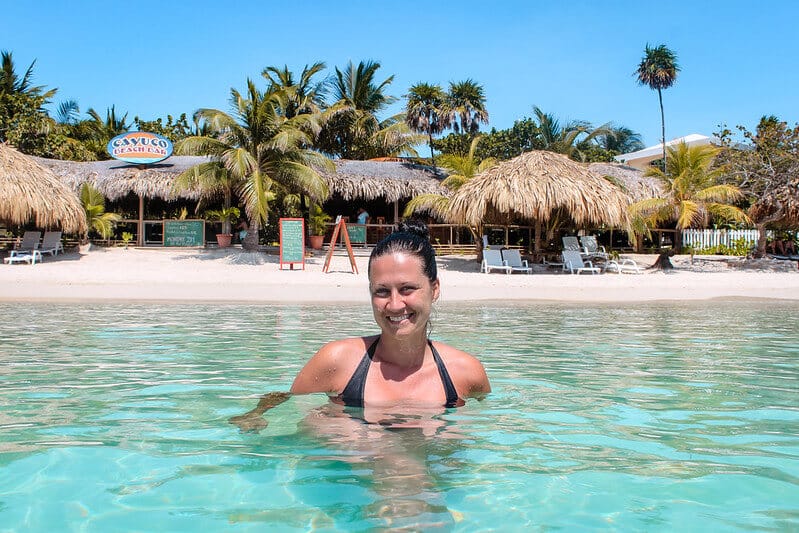 Welcome to Honduras
With the Caribbean Sea to the north and the Pacific Ocean to the south, Honduras is a uniquely gorgeous Central American country. The Bay Islands are a group of tiny tropical paradises all of their own, and the country itself also offers diving opportunities, jungles to explore, and wildlife to meet.
Amazing experiences in Honduras
Island life
Beyond the mainland, Honduras is a place of spectacular islands. Island like Roatan and Utila are nothing less than Caribbean paradises surrounded by gorgeous blue-green seas, bordered by gorgeous white sandy beaches, and filled with dense green forests. They are the islands of your dreams, and they even have coral reefs where you can go diving.
Scuba Diving
Speaking of diving, you can head to the islands of Roatan and Utila to dive and explore the coral reefs to your heart's content. Off the coast of Utila you'll even find whale sharks! Diving off the islands of Honduras is as spectacular as diving in Indonesia or Australia. It's a dream come true.
Mayan temple ruins
The Mayans created a civilisation in South America like nothing the world had ever seen. And though that civilisation is now gone, its ruins are still spectacularly intact in Honduras. Taking a trip to Copan Ruinas can reveal that better than anything else. Copan Ruinas was once the Mayan capital of this area for 400 years, and today remains a spectacular place to visit.
Wonderful wildlife
Honduras' oceans are home to whale sharks, manatees, and a coral reef. But on the mainland, its forests are also teeming with exciting wildlife. From jaguars, spider monkeys, parakeets, and macaws – there is a massive abundance of incredible creatures that live in the wild. It's so rare for us to see these animals, but in Honduras you can!
Best sights in Honduras
Roatan (261 km from Tegucigalpa)
Roatan is a beautiful paradise island in the Caribbean which is home to incredible beaches and turquoise waters. There's also dense forest where you can find wild monkeys and much more wildlife.
Trujillo (410 km from Tegucigalpa)
This city on the Caribbean coast is in a municipality that's also home to the Capiro Calentura National Park, a wild and rugged area perfect for wilderness exploration.
Copan Ruinas (413 km from Tegucigalpa)
If you're visiting Honduras for its incredible Mayan history, Copán Ruinas is an incredible place to visit. A former capital city from the 5th to the 9th century, and a well-preserved site of Mayan ruins today.
Utila (227 km from Tegucigalpa)
This incredible island is one of the best scuba diving sites in Honduras. Its waters are home to whale sharks, and the island itself is home to its own special breed of iguana.
La Mosquitia (401km from Tegucigalpa)
A fascinating area of Honduras which is best accessed by water. Wet marshlands, pine savannahs and tropical rainforests abound in this area of wild natural beauty in eastern Honduras.
Río Plátano Biosphere Reserve (290 km from Tegucigalpa)
This massive expanse of preserved land follows the Rio Platano River and is home to many endangered species, which Honduras is aiming to protect. It's an untouched wilderness of natural beauty.
How to get around
I always use Rome2Rio for finding transportation. This site/app is so easy to use. It quickly comes up with a variety of transport options to suit your time and budget. All costs are shown, even taxis.
Best time to visit
Honduras' dry season is between December and April, so those are your best months to visit. The temperatures are reasonable and there's no danger of heavy rain.
Bookending this dry season are November and May: the wettest months of the year. They're really the only two months to avoid. The rest of the year is ideal, and the flights outside of the dry season will also likely be cheaper as a bonus.
Practical info
Language: Spanish
Currency: Lempira
Plugs: Honduras uses the US type A plugs with a voltage of 110V. If you're coming from anywhere else, definitely get yourself a universal adapter
Population: 9.2

million

Important telephone numbers: 199 for all emergencies
Visa: US citizens staying for 90 days or less don't need a visa to enter Honduras
Rough Budget
Hotel:

$20-50

Food:

$5-15

Activities: e.g.

$45 for snorkeling

Transportation:

$2-10 for a bus
Spanish Phrases
Hello: Hola
Thank you: Gracias
Yes: Si
No: No
Bye: Adios
Cheers: Salud
Posts from Honduras