Day trip to High Atlas Mountains – finding an oasis in Morocco
In Morocco, one of the best excursions is a day trip to High Atlas Mountains. You can reach the Atlas mountain range from more or less every main city in Morocco, and if you're an adventure-traveler and outdoor enthusiast like me, you'll like it!
The road to the Atlas Mountains, through the palm-lined Paradise Valley, traditional mud-built Berber villages, and the lovely little village of Immouzer, is superb. I visited the High Atlas Mountains on a day trip from Agadir (Immouzer is 62km from Agadir) and saw a different side to Morocco that I particularly liked. The whole area is perfect for hikers and nature-lovers so I was in my right element here.
This post contains referral links for products I love. Adventurous Miriam earns a small commission at no extra cost to you if you make a purchase through my links. Thank you for your support ♡ Learn more
ATLAS MOUNTAINS FACTS
The Atlas Mountains are a series of mountain peaks that stretches around 2,500 km through Morocco, Algeria, and Tunisia. In Morocco, the range is divided into three regions:
Middle Atlas (North) – Less popular than High Atlas. It has heavily forested slopes, Berber villages and the famous waterfalls of Cascades Ouzoud.
High Atlas (The middle) – It boasts the highest peaks and is marked by lush gorges, green valleys, and large rock outcroppings. Good for skiing and hiking.
Anti Atlas (South) – Delivers an unspoiled experience and has less tourists. Good for hiking and other sports activities, and is easily combined with a trip to the Sahara Desert.
A DAY TRIP TO HIGH ATLAS MOUNTAINS
How to get there
The easiest way to do a day trip to the Atlas Mountains is on a guided tour. Several operators offer round-trip transportation from Marrakech, Agadir or Fez.
When to go
The best time to visit is in the fall (October to November) where temperatures are mild. It gets really hot in the summer, and it snows in January and February. I went in November and it was chilly, but a nice time to visit.
Prices
By car: Free. You only pay for the car rental and gas.
By a tour company: Prices vary from $20 to $87 depending on which activities you want to do and where in the Atlas Mountains you're going. Although I didn't use them for this trip, Viator is a reputable tour operator and they offer day trip to High Atlas Mountains from Marrakech.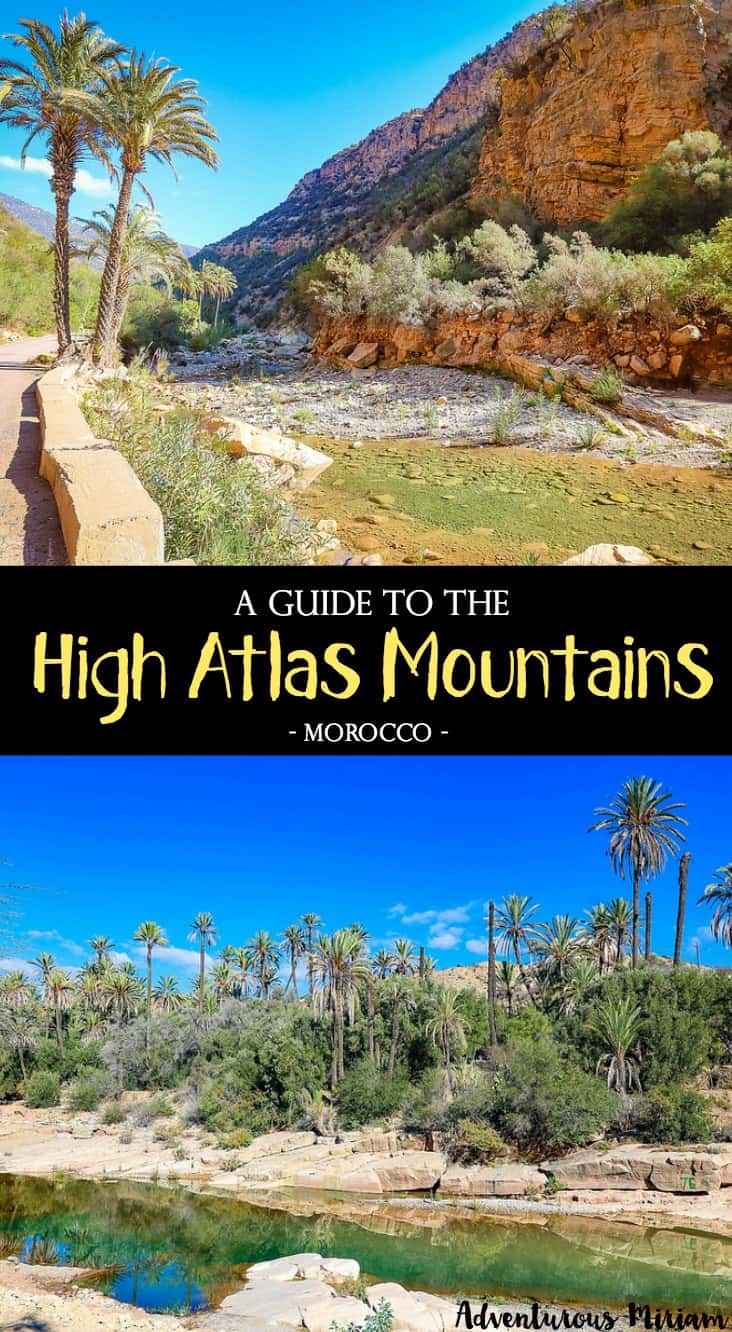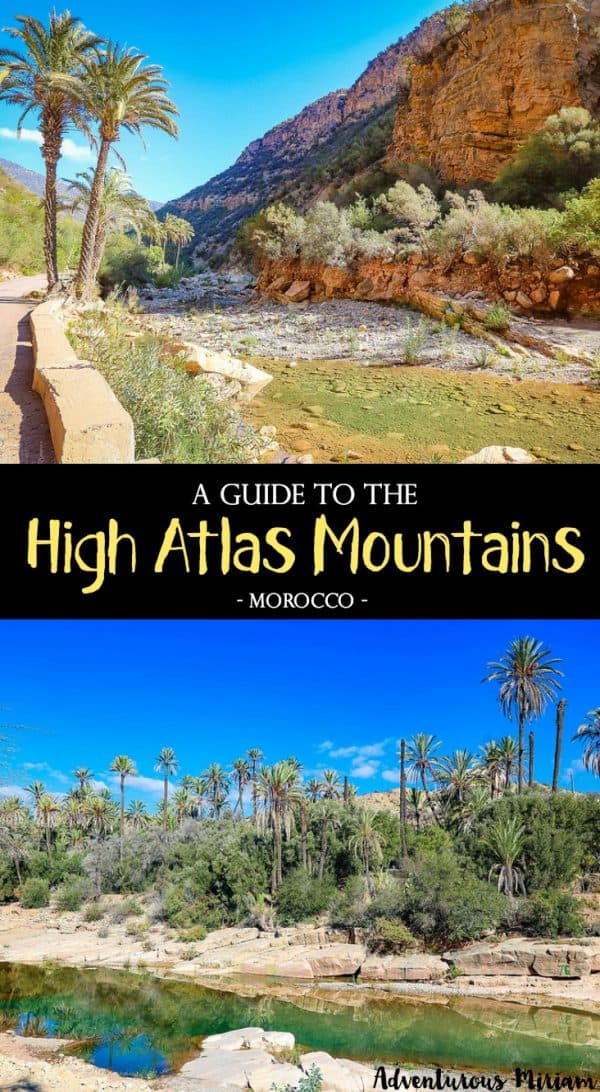 AN OASIS IN THE HIGH ATLAS MOUNTAINS
We left Agadir to drive up to the High Atlas mountains. After exiting the city and passing through small villages, we were into hilly, stoney ground with sheep and donkeys walking by the roadside. The winding mountain road led us to an oasis of lush palm trees surrounding a small lake.
At this time of year (November, which is the Moroccan winter), the mountains are sparsely vegetated so all this green was a surprise. But I guess that's the point of an oasis, eh?
We stopped at the oasis to take a few pictures of the fertile area where palm trees, cactuses and bushes grew in abundance along the river. I noticed a lonely mule by a house and as I crossed the street, it trotted over to investigate. Then we were off to the next stop.
THE PALM-LINED PARADISE VALLEY
We stopped a little further up the road after a few twists and turns. We were still in the valley, but the fertile oasis had been replaced by red sandstone rocks, gorges and enclosing cliffs.
This was Paradise Valley, a place with waterfalls, shallow pools and deeper ones where you could jump off the cliffs – when the season is right. The pools are only full at certain times and they had almost dried up in November, so no swimming for me.
SMALL VILLAGE OF IMMOUZER
After walking through Paradise Valley, we left the palm-lined valley by car, over a high pass through sheer rock cliffs towards the little village of Immouzer.
Immouzer is tucked away on top of the surrounding valleys. There's little to see in the village itself, but the areas around Immouzer are well worth the visit, with plenty of gorges, mountains and the waterfall of Ida Ouatane.
We lunched at Cascades restaurant in Immouzer while overlooking the Atlas Mountains and Tinkert valley. The weather was borderline perfect this time of year (around 20-22 degrees). But spring seems like a more beautiful time when the cascades are at their most spectacular, the water flows more strongly and trees blossom everywhere.
The High Atlas mountains was a delightful day trip from Agadir and I'd love to return in the springtime. Maybe next time I'll do some hiking.
A thousand thanks to Moroccan National Tourist Office and Marokko Eksperten for hosting me. I was a guest on this press trip, but all opinions are my own as always.
So, what's your impression of the Atlas Mountains? Would you visit?
More posts from Morocco you might like