Sightseeing Agadir, Morocco – a beautiful sandy beach awaits you
I've wanted to visit Morocco for years so you can imagine my reaction when I got an invitation from Morocco's Tourism Board (I'll give you a hint, it was a little something like this: 😀 😀 ). I accepted immediately and was pretty excited to see Morocco and visit one of those traditional souks for the first time.
I flew to Agadir, which is a seaside city with a population of some 421,000 and an average of 300 sunshine days a year. Needless to say, Agadir has earned its popularity because of the year round mild climate. I went in mid-November (around 20 degrees C) and although the ocean wasn't warm enough for a swim, I could still wear t-shirts and I even got a tan.
This post contains referral links for products I love. Adventurous Miriam earns a small commission at no extra cost to you if you make a purchase through my links. Thank you for your support ♡ Learn more
UNDERSTANDING AGADIR, MOROCCO
A local guide showed us around Agadir and told us about the city and its history. He vividly explained how the entire city was destroyed by an earthquake in 1960 that killed 12.000 people (about 1/3 of the city's population at the time) and injured 12.000 with at least 35,000 people left homeless. The earthquake was the worst to ever hit Morocco.
Agadir was left in ruins and had to be rebuilt. So everything is new there, including multistorey beachfront hotels and a brand new beach and harbour promenade. In that way, Agadir is unlike the Morocco you'll find anywhere else in the country. The architecture is more modern, there is no old town medina, and hotel resorts lie side by side, which makes the city seem less authentic compared to traditional cities like Marrakech, Chefchaouen or Fez.
But what Agadir lacks in that department, it makes up for with its beaches and busy nightlife. Agadir is nicknamed "the Miami of Morocco" and is a hotspot for surfers, beach-lovers and water enthusiasts. The city has an evocative identity, which is very much its own.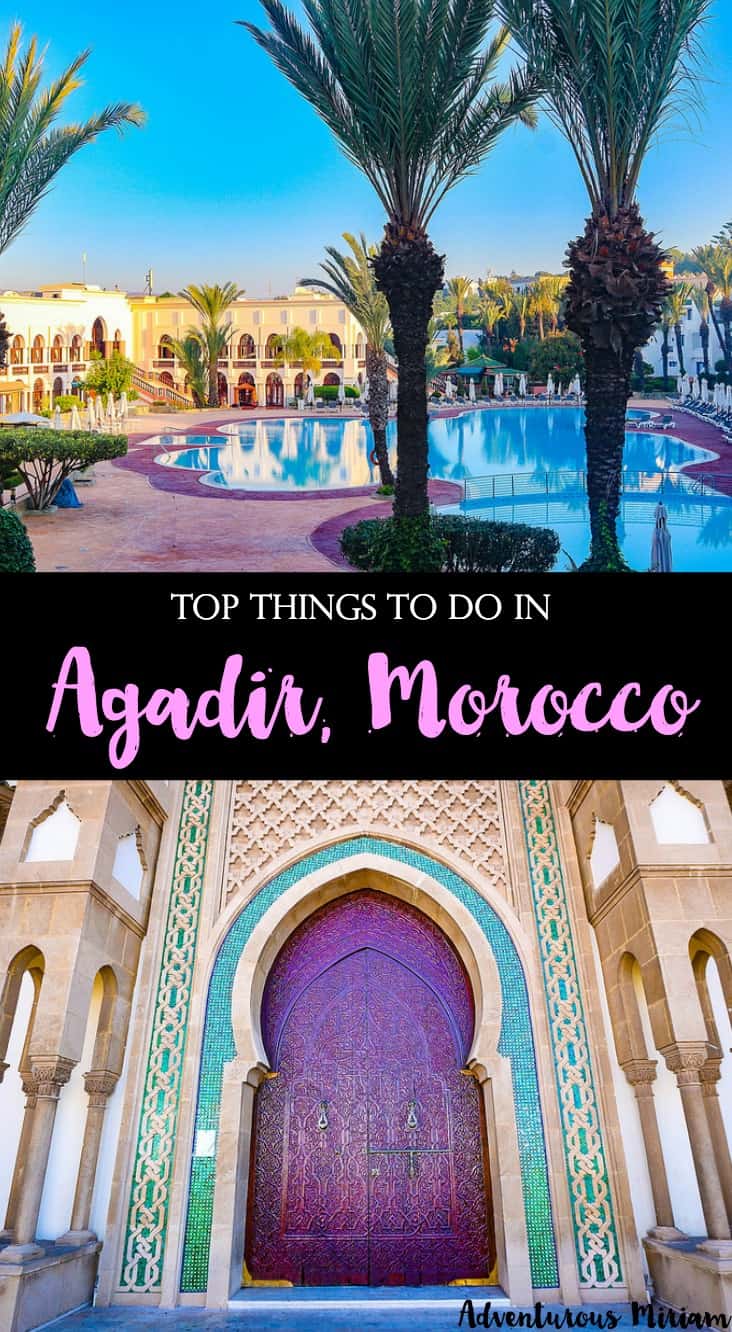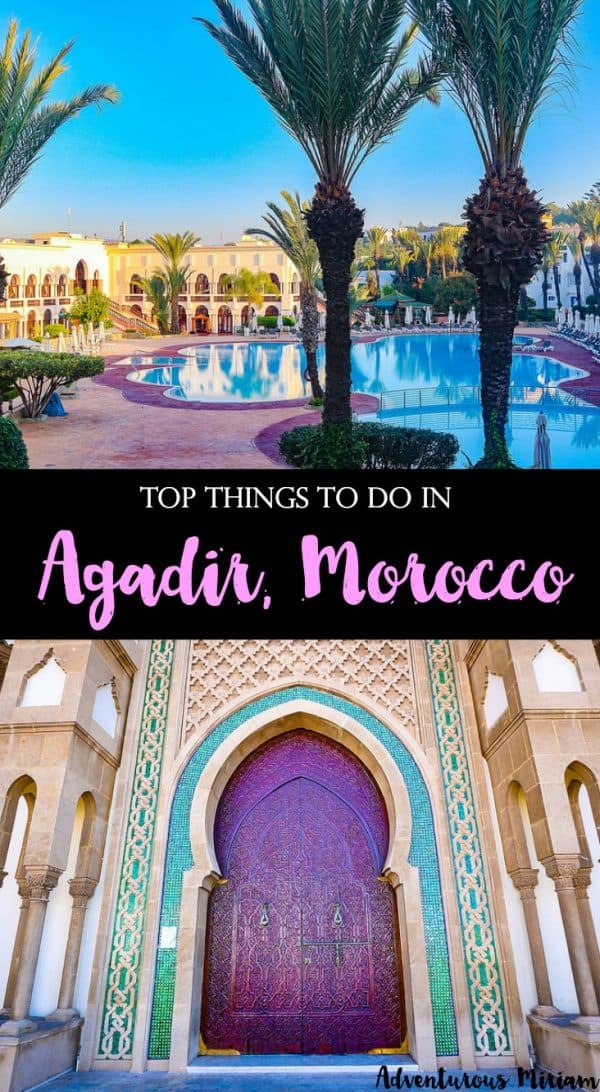 SIGHTSEEING AGADIR, MOROCCO
Agadir, Morocco is compact and easily navigated on foot although taxis are really cheap (if you don't feel like walking). One of the city highlights is the Marina d'Agadir, which is lined with apartments, restaurants and rows of yachts glinting in the sunlight.
We had lunch at one of the seafood restaurants there called Pure Passion and they sure did pick a fitting name. Sitting by the sea, feeling the light breeze while having delicious Moroccan food was the perfect way to spend a few hours.
Agadir is a proud, Islamic city, and at the end of the marina is a hillside engraved with the words: "Allah, King, Country" in Arabic. If you look closely, you might glimpse it to the left on the image above.
Agadir's 10 kilometres of golden coastline makes it perfect for beach and water activities, including sailing, jet-skiing, surfing and paragliding. As we walked along the promenade, I couldn't help notice the joggers, families with picnic baskets and local games at the beach. People were out and about, enjoying the ocean views and being with family.
SHOPPING AT THE SOUK EL HAD D'AGADIR
There is more to Agadir, Morocco than beach, though. This is the capital of the indigenous Berber people, and one place to meet them is at the local souk.
The souk is a bazaar market where you can buy everything from a camel to a commode. Agadir's Souk El Had is where many of the city's residents do their shopping. Even if you're not one for souvenir buying, the atmosphere there alone makes the trip worthwhile. It's divided into several sections such as vegetables, spices, leather and ceramics, and the whole place felt so authentic!
I visited Morocco in the mandarin and orange season, so I had fresh mandarins several times a day. Another local treat I was introduced to was the famous Moroccan mint tea. It was SO delicious and so sweet. I love tea and drink loads of it at home, but only Oolong and Green teas so I was a bit sceptical to begin with.
The mint tea…. well, it was everything this tea snob expected and more!
Aside from mint tea, spices and the occasional souvenir, you can barely take a step in the markets of Agadir without tripping over Argan oil. Remember mud masks? Remember hair oil? Argan is so now. If I didn't already have a full stock at home I would have bought a lot here.
MOHAMMED V MOSQUE
Although it doesn't look like it from the outside, Mohammed V Mosque can host 5,000 worshippers, and it has 8 shops, 2 prayer rooms and a parking, just to name a few. The mosque was recently renovated for some 70 million dirhams funded by the Ministry of Endowments and Islamic Affairs.
The mosque was, unfortunately, closed when we got there, and I would have loved to see it from the inside. Next time, maybe.
KASBAH HILL
The best view of the city is from the Kasbah hill in the north end of the bay. The Kasbah was built in the 16th century and it's the only historic monument left in town. Today it's mostly a wall with some ruins inside, but I liked going there for the view and the history. It's free to enter.
Outside the Kasbah there are souvenir stalls, eager salesmen and camels to ride. Just be aware that the camel owners will charge you for photos, and that there's a flock of undecorated camels walking around nearby. That setting is much more natural and won't cost you a thing.
MOROCCAN STYLE EXTRAVAGANCE
If there's one thing the Moroccans know well, it's style and decor. I absolutely loved the Arabic architectural style, the colours and extravagant decorations that made my hotel look like Aladdin's palace.
Morocco has some of the most distinctive architecture in the world, and many of the traditional buildings have a unique and majestic atmosphere. They feature large archways and beautiful domes that complete them; enchanting courtyards and sprawling gardens.
When I return to Morocco I would love to stay in a traditional riad. They're known for their rich decorations, their courtyard and great food.
POPULAR DAY TRIPS FROM AGADIR
Agadir, Morocco is a modern city so if you're looking for the traditional Moroccan experience, you can take a day trip to one of these nearby cities / places:
Marrakech (2 hours). Probably the most popular destination in Morocco, Marrakech is packed with culture, souks, snake charmers and traditional riads.
Essaouria (1,45 hours) is a seaside town, much more relaxed compared to Marrakech. The walled 17th-century Portuguese village is famous for its fisheries.
Atlas Mountains (1,5 hours) are nearby, and during a day trip you can visit a traditional Berber village, Paradise Valley and enjoy the beautiful mountain scenery.
Taroudant (1,5 hours), also called "Little Marrakech", is over 1000 years old. Here you'll find impressive city walls, myriad streets, a souk and the busy square of Place Assarag in the heart of the city.
A thousand thanks to Moroccan National Tourist Office and Marokko Eksperten for hosting me. I was a guest on this press trip, but all opinions are my own as always.
So, what's your impression of Agadir, Morocco? Would you visit?
More posts from Morocco