Talk about getting a major rush! I've swum with sharks before, but strangely enough, swimming with whale sharks felt less like a suicide mission and more like awe.
These magnificent giants measure 12 meters, weigh more than 20 tons and can have a lifespan of more than 100 years. Not only are they the largest fish in the sea but they're the largest fish that have ever existed.
100 METERS DEEP – JUMP RIGHT IN!
Isla Mujeres, Mexico. It was 5am when the guide picked us up in a minivan filled with other excited travelers on their way to sea. Once at the marina, we split into smaller groups and were assigned a boat each. For an hour we sailed across the open sea and didn't stop until all sign of land was lost. The ocean was dark blue, approximately 100 meters deep, when we reached the drop zone.
At first the water's surface was calm except for the small waves. But then I saw a fin… and then one more… and one more..
Within minutes, a large pod of whale sharks had invaded the waters, and now they were suddenly all around us. I had only hoped to see a few, but was totally amazed to experience all these magnificent giants at the same time. I reckon we saw around 80 whale sharks within the two hours, we were there.
Gracefully but in high speed, they cruised under the boat, beside it and over one another. There were so many that when it was time to jump in, I was sort of scared to land on top of them.
Thomas was the first to jump in, I was second, and then the guide followed. We were instructed not to touch them and to stay at a safe distance of the tail. Apparently, it's extremely powerful and can cause an injury to a person due to sheer force of it.
Once in the water, I adjusted my snorkel and looked down into the depths. Completely in trance over the seemingly never-ending black hole, I was suddenly snapped out of it when a whale shark appeared directly beneath me. It was so close that I could feel the vibration from its tail, and so (logically) I screamed into my snorkel mask even though I knew it wouldn't attack me. Within a split second it was gone and the next one appeared in the distance. Oh….My….Gosh…!
Few times in my life can I remember such a feeling, best described as a sort of primeval chill, as when the first whale shark passed. You are fully aware of your own mortality and just how far down the food chain you really are.
After swimming with them for 15 minutes or so, we returned to the boat, and the next couple jumped in. Meanwhile, we got a sandwich and – ironically enough – some fish soup.
SEA SICKNESS AND A DUTCH BABBLEMOUTH
Besides the guide, Thomas and I, there were three others on board; a Norwegian guy and a Dutch couple. The Dutch guy had been bragging all the way to sea about how he'd lived in Monterrey for 4 months, and now he obviously knew everything there was to know about Mexico. This guy was smug. He had the kind of arrogance that was almost blinding to watch.
Even though he'd never swum with sharks before, mr. know-it-all didn't think much of it. When it was his turn to jump in however, he looked a little pale and boohooed: "I don't feel… well…" followed by gasping. A gagging sound, face of disgust. And then ended up hurling all over himself (no laughing, please. Behave.).
It didn't take long before literally everyone hang over the rail, throwing up. Even the guide. I got queasy, too, but managed to overcome it. Thomas was the only one who didn't get sick at all. And when the guide (whom at this point was completely white-faced) rhetorically asked if anyone wanted to have a second, Thomas enthusiastically jumped right up, roaring: "YES!"
As for the rest of us, we learned that patience is (indeed) the sea sicks most important virtue.
WHEN TO GO
Whale shark season is from June 1st to September 15th with July to August as peak season. Other than Isla Mujeres, you can snorkel or dive with whale sharks in Belize, Honduras, Thailand, Australia, Philippines, Mozambique, Seychelles and Maldives.
PRICE
The price of the tour is $90 and it's pretty steady no matter which tour company, you chose. According to Lonely Planet, you should be wary of anyone offering the tour for less than $80.
HOW TO GET THERE
Boat: From Cancun, there are two different ferries to Isla Mujeres – one behind Fat Tuesday and one in Puerto Juarez in the downtown area. The Puerto Juarez ferry is every half hour, 70 pesos round trip. The Fat Tuesday is less frequent  and twice the price at 150 pesos round trip.
Pin to Pinterest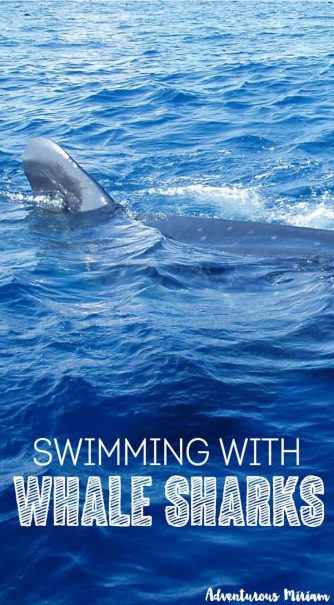 The following two tabs change content below.
I'm Miriam Risager, and this site has been my scrap-book, playground and home since 2013. I launched this blog as a way to share my journey, as well as share the hows, whys and wheres for other travelers.