The little fisherman town of Rovinj has been on my radar since my visit to Istria last summer. I went to most of the main towns on the peninsula, but I didn't make it to Rovinj which has been named one of the most beautiful coastal towns by Travel and Leisure Magazine.
If you've never heard of Rovinj, you might be wondering what's so special about it. Well, let me just dig through its charm and you'll understand.
MORE CROATIA TRAVEL TIPS: GET MAPS, ITINERARIES AND CROATIAN PHRASES
ROVINJ OLD TOWN
Rovinj's old town is without doubt the most impressive and charming part of town. Aside from the smooth, shiny marble cobblestone streets and pastel-colored houses, this part of Rovinj is renowned for its beautiful Venetian architecture.
Rovinj was once part of the Venetian Republic (from 1283 to 1797) until Napoleon Bonaparte arrived and put an end to the millennium of Venetian power in the Adriatic and beyond. When you walk around town, you'll spot the Venetian lions everywhere, like on the Balbi Arch, the late-Renaissance clock tower and the wells.
The hilly old town used to be separated from the mainland by a canal, but in 1763 the two were connected.
I love how locals hang out their laundry to dry in the warm Mediterranean air. The clothes lines are connected between neighbors so they better stay good friends 
Rovinj is not only beloved for its charming streets and architecture; it's also located by the Adriatic Sea which makes it popular for swimming and tanning. Although it doesn't have white sandy beaches as in Thailand, the water is very clear and the cliffs serve as a great jumping spot and add a little drama to the scenery.
THE STORY BEHIND CHURCH OF ST. EUPHEMIA
When you visit Rovinj, the first thing you'll notice is the dominating church and bell-tower atop the hill. It's dedicated to the young girl, Saint Euphemia, whose story made a deep impression on me. When Euphemia was just fifteen years old, she was arrested for refusing to give up Christianity. After suffering various tortures, she was first thrown in the fire, which didn't kill her and later sentenced to be eaten by wild lions who eventually killed her but did not devour her body. Her relics are preserved in a sarcophagus here in this church.
Can you imagine being a teenager and already having that much dedication and faith? She must have been so scared, but she never wavered in her faith. I was very touched by her story and diligence.
On the top of the bell-tower there's a statue of her that revolves around its axis depending on the wind. The saying goes that if the statue points towards the ocean, it will be sunny, and if it points at the town-side, it'll be rainy and cloudy. From the 61 meter-high tower there's also a beautiful view of the town and you can even see the Alps on a clear day. However, the staircase is not for the faint of heart so keep that in mind before you enter. It costs 20 kuna ($3).
EPIC SUNSETS AT THE MARINA
From touching stories of martyrdom to the picturesque harbour at sunset, the day had to have a good ending. And you guys know me; there's nothing like a good sunset to brighten up the day. My good friend SJ from Chasing the Donkey, told me that sunsets in Rovinj are notoriously beautiful, and she was right. If you're as devoted to sunsets as I am, you will LOVE Rovinj.
Just look at these views.
A LUXURY STAY AT LONE HOTEL
And last but not least, my visit to Rovinj was completed by staying at the super hip Lone hotel. This five-star design hotel is shaped like a luxurious ocean liner floating on a hillside and it's decorated with works from Croatian artists.
I stayed in a spacious standard room with bathtub, separate rain shower and a gigantic balcony perfect for relaxing with a good book. Lone was an amazing oasis to come back to after exploring Rovinj and Istria all day.
I finally made it to Rovinj and I'm so happy I did. It's just as beautiful as I had hoped, andwith its romantic marble streets, charming medieval houses and tasty cuisine, Rovinj might just be one of my favorite towns in Istria.
Many thanks to Visit Istria for hosting me in Croatia. Whenever I travel, there will always be full disclosure about whether my stay was hosted by a tourism board. And even if I'm on a press trip, my view will never be swayed one way or the other.
Have you been to Rovinj? Would you go?
Pin to Pinterest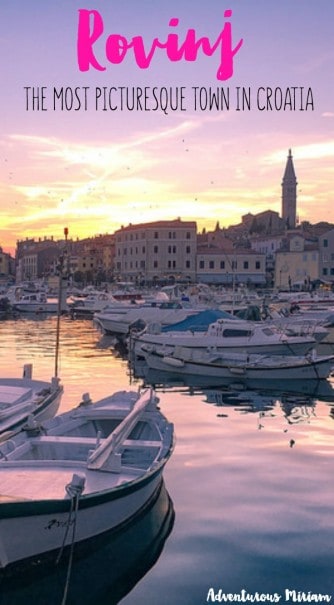 The following two tabs change content below.
I'm Miriam Risager, and this site has been my scrap-book, playground and home since 2013. I launched this blog as a way to share my journey, as well as share the hows, whys and wheres for other travelers.