Scotland is the perfect place for a road trip. The scenic Braveheart country has thousands of lochs, misty hills and mountains, a famous sea monster and enough clan stories to keep you entertained for weeks. I joined a 3-day trip from Edinburgh that took me to Isle of Skye, Loch Ness, Glencoe and many other places in the Scottish Highlands.
MORE SCOTLAND TRAVEL TIPS: GET MAPS, ITINERARIES AND SCOTTISH PHRASES
EILEEN DONAN CASTLE
One of my favorite stops on this road trip was the Eileen Donan Castle. I must have taken a few hundred photos from all possible angles (except from above). In my defense, it is a nice-looking castle, and it often stars in movies about Scotland. It's like a Scottish trademark.
Eileen Donan is the name of the island. It's a tidal island where three lochs meet: Loch Duich, Loch Long and Loch Alsh.
It costs a fee to get into the castle, but that's not why I didn't go inside. I preferred the view from the outside, and I liked walking around the area and photographing from all sides. Clearly 
Eileen Donan castle is located close to Isle of Skye and the Skye bridge. So if you're headed there, be sure to stop by the castle first.
LOCH LUBNAIG
So, as I've mentioned earlier, Scotland has A LOT of lochs, like 31,460 in total. While Loch Ness is interesting because of Nessie, others are simply popular for their beauty. Like Loch Lubnaig. It's not as crowded as Loch Ness and it's much more tranquil and nice here.
People come to Loch Lubnaig to camp, but it also looked like a lovely place for a picnic. You can even swim here (without the fear of becoming a sea monster snack).
GLENCOE, SCOTTISH HIGHLANDS
There were lots of places I wanted to see in Scotland, and Isle of Skye was my number 1. Besides that, I desperately wanted to visit Glencoe.
Glencoe is part of the Scottish Highlands and it's famous for two things. One; it's extremely beautiful (the most stunning place on mainland Scotland). And two; it was the place of the infamous Glencoe massacre where 38 men, women and children from the MacDonald clan were murdered in their sleep by their guests.
Oddly enough, it was nothing special by Highland standard. The problem with the massacre at Glencoe is that it was a breach of clan etiquette. While it was considered acceptable to butcher hundreds of defenseless men and children, you weren't allowed to be sneaky about it.
The story is tragic and it has been told since 1692 when the massacre happened. But it's just one of many bloody clan fights that has taken place in the Scottish Highlands.
I would have liked to spend more time in Glencoe; ideally several days so I could do some hiking. But with our busy schedule, I was glad that we at least made a stop here. It really is a beautiful part of Scotland. Aside from Isle of Skye, it's the prettiest place I visited.
[/fusion_builder_column]
THE FIVE SISTERS OF KINTAIL
While driving around the Highlands, our guide Colin shared some more clan stories. Most of them involved war and old clan grudges, but the legend of the Five Sisters of Kintail was about something else.
The legend tells the story of seven sisters, two of whom were taken as brides by two Irish brothers. The girls' father had made a deal with the local sorcerer that if all his daughters were married within 7 years, they would forever remain young and beautiful – which sounded like a pretty sweet deal at the time. When departing, the two Irish lads promised to return with their five older brothers who would marry the remaining sisters.
The father waited and waited, and then on the last day before the 7 years were up, he saw a ship approaching. Everyone was relieved and began celebrating, but then, right before the ship reached land, it was caught in a vicious storm and everyone drowned. The sorcerer held up his end of the bargain by turning the remaining five sisters into the graceful mountains we know as the Five Sisters of Kintail.
Moral of the story? Don't trust luck when your butt's on the line.
HAMISH, THE WEE COO
On this trip, I quickly found out that clan stories are a huge part of Scottish history. Another Scottish yet quite so dramatic symbol is the cows. They are a-dorable!
These highland cows are called coos and they have long horns and wavy hair. So, so cute.
We drove past a field and saw these two coos: Hamish and his mother Honey. I just had to stop for a photo.
BEN NEVIS MOUNTAINS
In the Scottish Highlands, you'll inevitably come across a few mountain ranges. The most remarkable of them is Ben Nevis (1344m), which is the highest not only in Scotland but in all of the UK.
We stopped at the Commando Memorial, a monument dedicated to the men of the original British Commando Forces. It was raised during World War II.
There's so much to see in Scotland and the things listed here are just some of the highlights. As always, I have a long list of places I'd love to visit if I come back, like Glennfinnan Viaduct (Harry Potter train), Finnich Glen, Staffa Isle (Fingal's cave) and I'd LOVE to see some puffins. There's always more to see and do for a traveler, it never ends 
Many thanks to VisitBritain and VisitScotland for generously hosting me in Scotland, and thanks to Colin from Heart of Scotland for being a wonderful guide. As always, all opinions and thoughts are my own, regardless of who is footing the bill.
Have you been to Scotland? Where's your favorite place?
Pin to Pinterest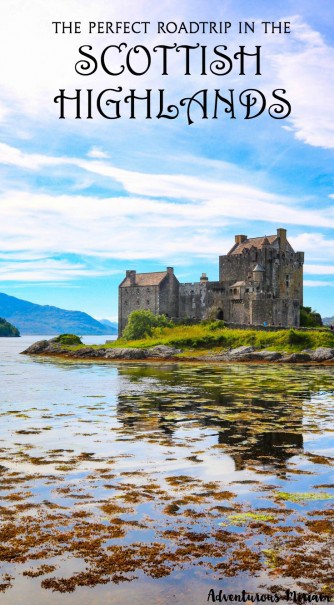 The following two tabs change content below.
I'm Miriam Risager, and this site has been my scrap-book, playground and home since 2013. I launched this blog as a way to share my journey, as well as share the hows, whys and wheres for other travelers.