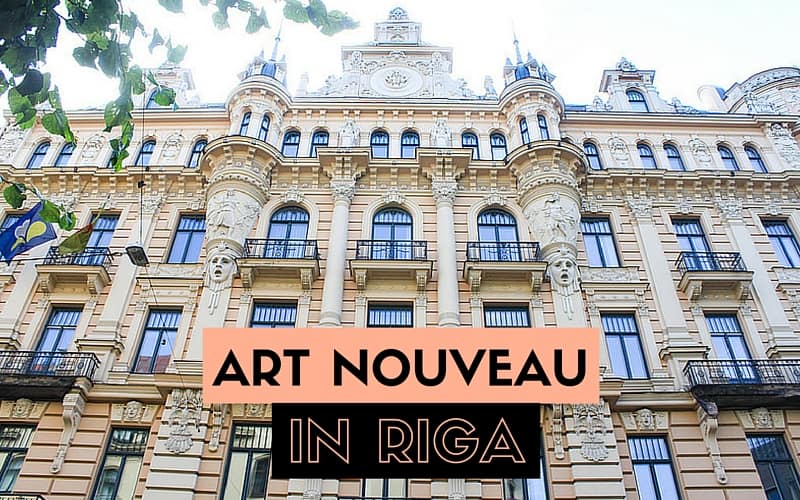 Do you have a thing when you travel? I mean, a thing you travel for. Like, food, nature or history? For me the thing has changed a bit over the years. Earlier, I wasn't really paying attention to detail when I visited larger cities; I was more interested in mainstream sights, shopping and staying out all night.
It was fun times, no question there, but things have changed. I have changed. Aside from the fact that I recently jumped headfirst into hiking (although afterwards I'm always drooling and delirious, but I guess that's the point), I've now found interest in architecture.
I know. I know. It sounds boring and tedious and less-than-important, but it's not though, because newsflash: architecture can be really, really cool.
Just take a look at this ↓ Who wouldn't want to live in a house that looked like that!
There's a story behind it. There's a story behind every building in this area of Riga, and that's what makes it unique and interesting. They call this style Art Nouveau and more than 40% of Riga's centre is built in this style. This is more than in any other city in the world, which is one of the reasons why Riga has been included as a UNESCO site. 
BUT WHAT EXACTLY IS ART NOUVEAU?
Art Nouveau is an artistic movement that started in Western Europe and the USA around 1890 until 1910. It is characterized by decorative art, design and architecture and inspired by nature, women and symbols & the supernatural.
You can find it around several European cities and it adds a mystique and romantic layer to the concrete buildings you normally pass. 
If you look closely at the above photo, you might be able to spot a motif with three parallel lines with the middle one dropping lower than the others. This is a symbol of Tree of Life and it's very popular in Art Nouveau.
This building ↑ has typical Art Nouveau features. See the windows? Now, notice that they have different shapes – round, rectangular, T-shape. That's very typical for Art Nouveau.
Another type of Art Nouveau in Riga is called National romanticism and it's depicted on the brown building above. Look below the large windows and you might be able to spot the image of sun and fir-tree, which are common trees in Latvia. 
As you can see, most of the Art Nouveau in this area of Riga (Albert Street) is inspired by women, symbols & the supernatural. If you ask me, one of the coolest facades is found on Elizabeth Street and it depicts dragons. The dragon is a symbol for a long life and brings good luck to business and households.
You can find Art Nouveau dragons in Ljubljana, too.
WHERE TO FIND ART NOUVEAU IN RIGA
There are more than 800 Art Nouveau buildings in Riga, which is only a little less than St. Petersburg that has 1000. In Riga, you find the largest area of Art Nouveau on Albert Street and Elizabeth Street, which are parallel. Ps. In Latvia, street is called iela, so look for street signs that says Albert iela, Elizabeth iela and so on.
Albert Street is about 20 minutes walk from the Old Town in Riga and it's easily reached on foot. You can also take the tram there. There's a stop close by and you can walk the rest of the way.
You can find other Art Nouveau buildings in the area around the Freedom Monument, including the embassies on Strelnieku street and on Raina Bulvaris.
Is architecture your thing? Would you visit the Art Nouveau area?
Pin to Pinterest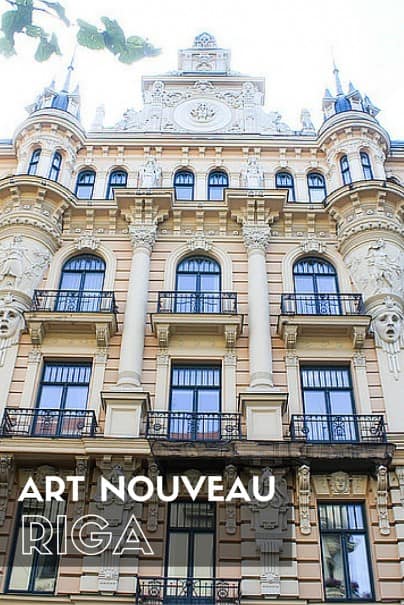 The following two tabs change content below.
I'm Miriam Risager, and this site has been my scrap-book, playground and home since 2013. I launched this blog as a way to share my journey, as well as share the hows, whys and wheres for other travelers.