Colmar is the most charming little fairytale town in the world. Why, you ask? Well, first of all, it looks like it's taken straight out of "Beauty and the Beast". I mean, just look at those colorful homes and cobblestone streets. This could be Belle's hometown.
Colmar is a medieval town from the 13th century. Once upon a time, the canals were buzzing with butchers, tanners and fishmongers and Petite Venice was a center for art and learning. The town's half-timbered houses is typical Alsace architecture, from the colorful fishermen's houses on Quai de la Poissonnerie to the lovely old burghers' houses of the 16th century.
A GUIDE TO COLMAR, FRANCE
Colmar has nearly 70,000 inhabitants. For a medieval town, it's surprisingly big, but you can get around Petite Venice (the main attraction) on foot with no difficulty.
How to get there – Colmar is easily visited as a day trip from Strasbourg (1 hour by train), Zürich, Switzerland (1,5 hours by train) or Paris (4 hours by train). Petite Venice is 15-20 minutes walk from Colmar train station.
Other charming fairytale villages nearby – Colmar Region has several nearby villages that are also ultra-charming. If you have a car, you can drive to nearby Ribeauvillé (17 km from Colmar), Riquewihr (14 km), Kaysersberg (11 km), and Eguisheim (8 km) all in one day.
Map of Colmar Region (use + and – in the right corner to zoom)
How to get around Petite Venice – You can walk through Petite Venice in less than 15 minutes if you're not stopping for photos. If you don't feel like walking, you can take a canal boat trip (30 minutes – €6 per person). It's very popular and seats get sold out quickly in the high season so make sure to go in the morning or make a reservation. You can also take the Little White Train (runs every 30 minutes – €7 per person).
THINGS TO DO IN COLMAR
My favorite thing to do in Colmar was wandering the cobblestone streets, especially around the canals. There are so many beautiful alleyways with small shops, restaurants and winstubs (wine lounges). Here's a list of my favorite things to do in Colmar – everything is located in a close distance from each other (1-2 minutes walk):
Krutenau Quarter (La Petite Venise)
Tanners Quarters
Quai de la Poissonierie
Dominican church
The Saint Martin Collegiate church
Former guard-house
Koïfhus (Old custom-house)
Unterlinden museum
Pfister house
WHERE TO EAT IN COLMAR
Colmar prides itself of being the capital of Alsatian wine; a white delicious variety. It's really, really good.
So is the food! Some of you good people might not be delighted with French food and right now you're thinking about snails and frog legs and you're tempted to run straight for the hills.
But this is not your average French food. No sticky animals.
With Alsace food, we're talking about a whole different beast: rich and buttery French-German meat (mostly pork or chicken) that is bathing its little self in a sizzling hot pan of Riesling or truffle sauce. And don't get me started on the creamy, handmade and beyond BEAUTIFUL pastries. If there was ever a place to try French food, Colmar would be it.
Excellent restaurants in Colmar (be sure to make a reservation).
Kuifhus restaurant (next to the former guard house)
L'Epicurien (Michelin)
Restaurant La Soi
La Nouvelle Auberge
Le Stam
Les Racines
Le Petit Bidon
Le Comptoir de Georges
Now, over to you! What's the cutest town you've visited? Is it as charming as Colmar?
Pin to Pinterest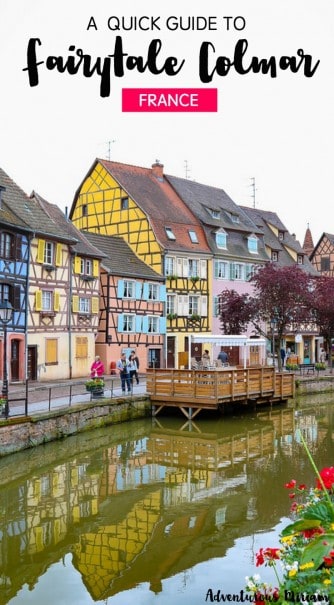 The following two tabs change content below.
I'm Miriam Risager, and this site has been my scrap-book, playground and home since 2013. I launched this blog as a way to share my journey, as well as share the hows, whys and wheres for other travelers.