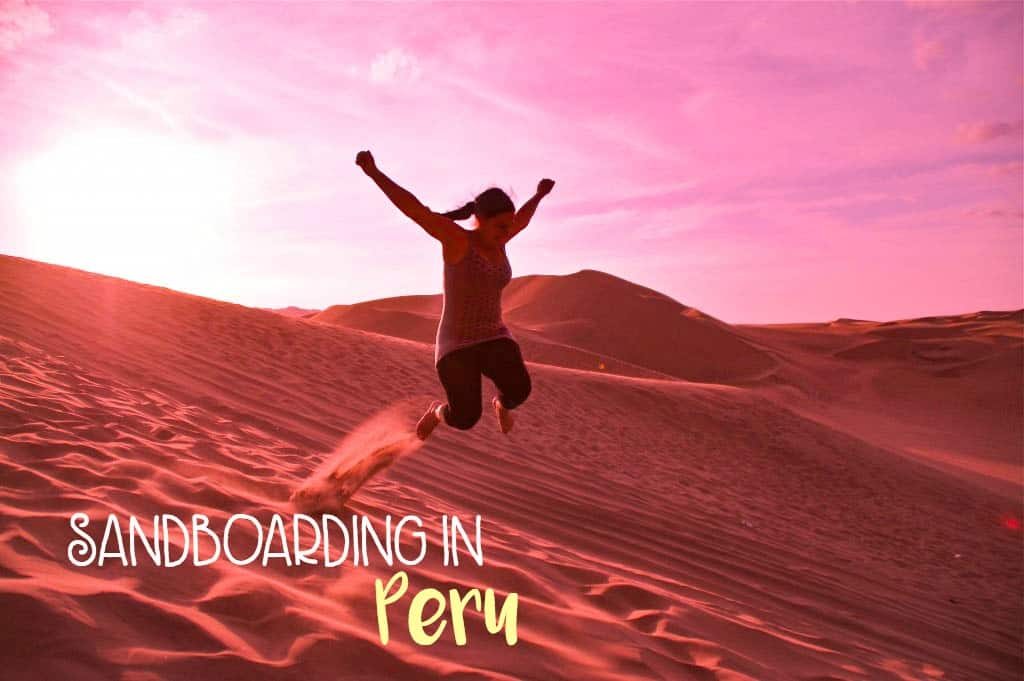 Imagine a massive sandbox overlooking an oasis with lush palm trees, restaurants and cozy cafes. In the lazy streets, artists practice tai chi or sing their way to a few dollars, while sweethearts hold hands by the lagoon and children laugh and play. Add a few sandboards and buggys, adventure-seekers driving to the top of the steep, high slopes and boarding all the way to the bottom.
That's how Huacachina was like.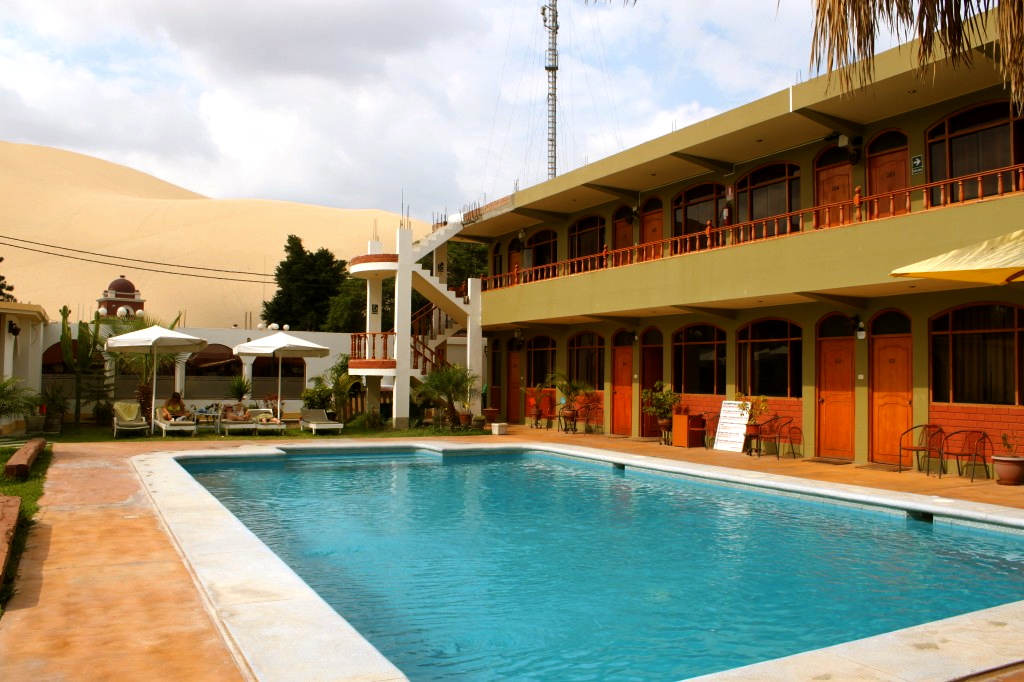 We departed from Lima at 6pm, opting for first class seating with Cruz del Sur. The bus arrived at the larger city of Ica 4,5 hours later, and from there it took only 10 minutes to Huacachina (5 soles by taxi). We stayed at Curasi Hotel. It was quite nice – a bit pricey – at 130 soles for a double room with breakfast.
SIESTA IN HUACACHINA DESERT OASIS
Next day, after a very lazy morning by the pool, we walked around the oasis, which took us exactly ten minutes. Huacachina is a quite small village with a population of only 115 as of 1999. We mostly saw tourists and local vendors trying to sell us dune buggy tours or meals at their restaurants.
Being in the desert, it gets quite hot during midday, so we chose to chill for a few hours. While some of the locals ran for hammocks, I decided it was wine'o'clock. It seemed appropriate seeing as we were about to fly off a giant sand slope.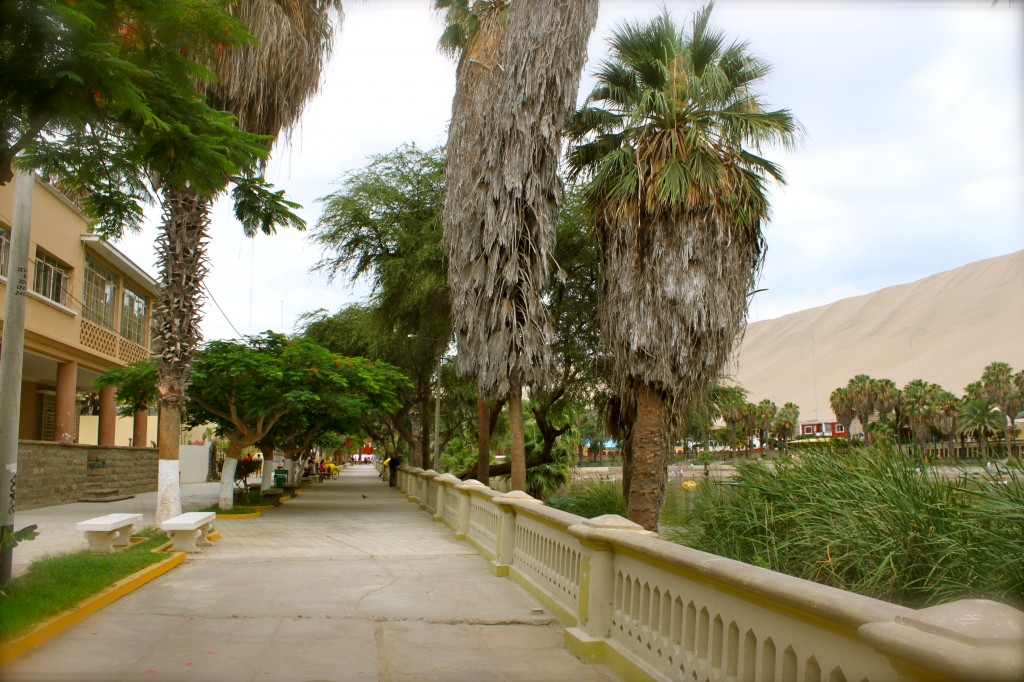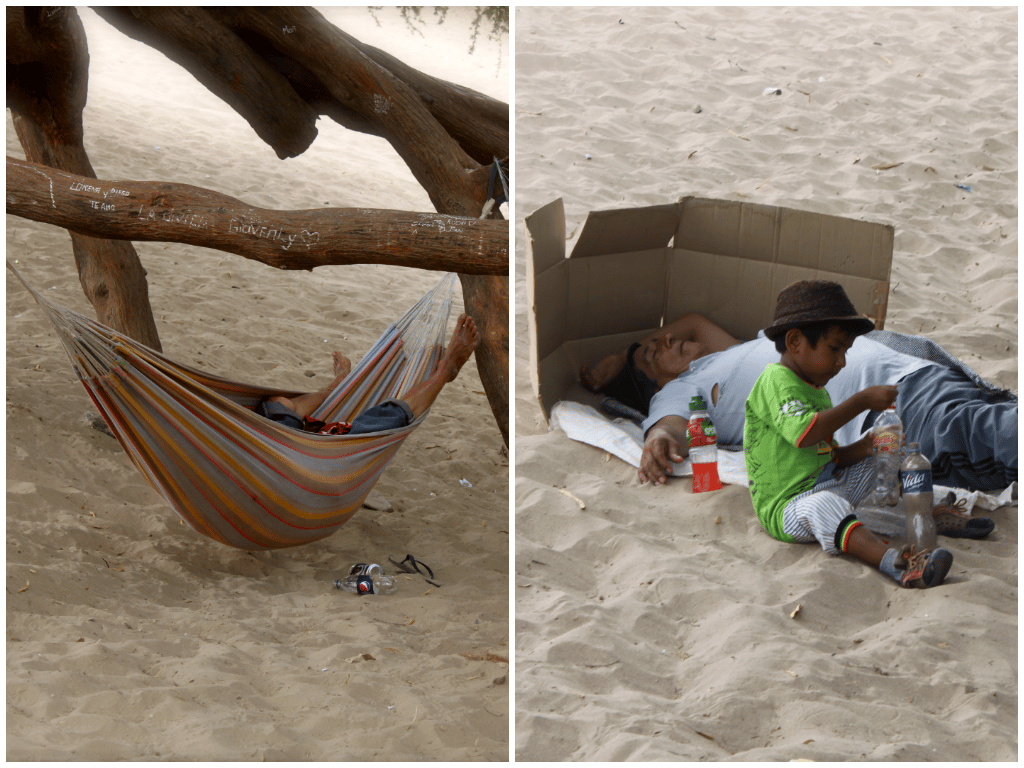 We found a cozy place with a really nice vibe. After sipping strawberry daiquiris, we were more than ready for some wicked dune buggy and sand boarding exhilaration!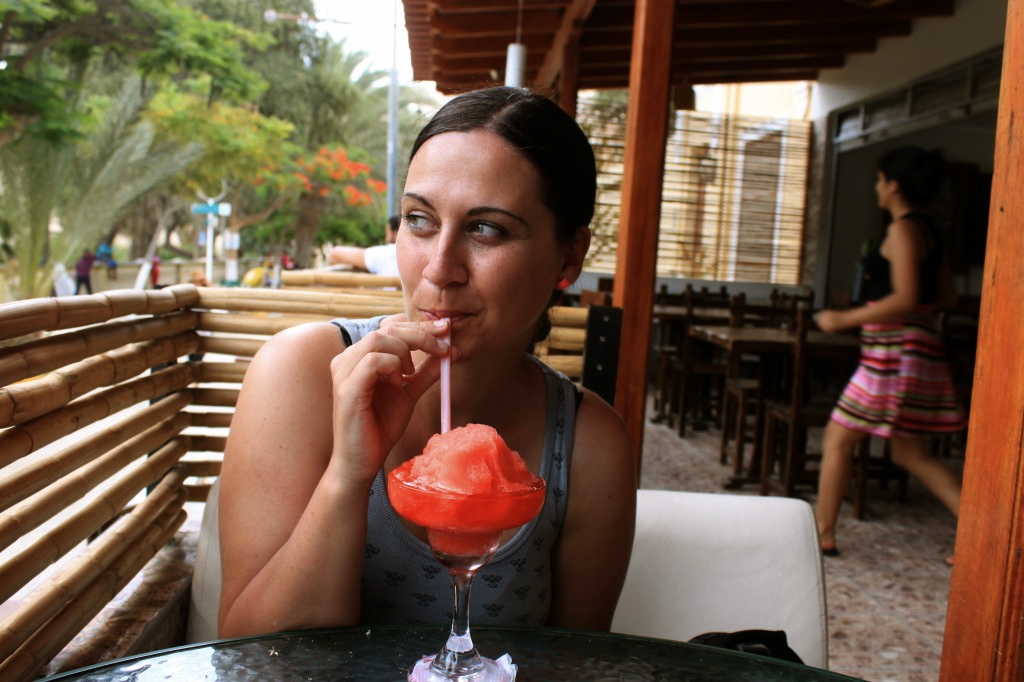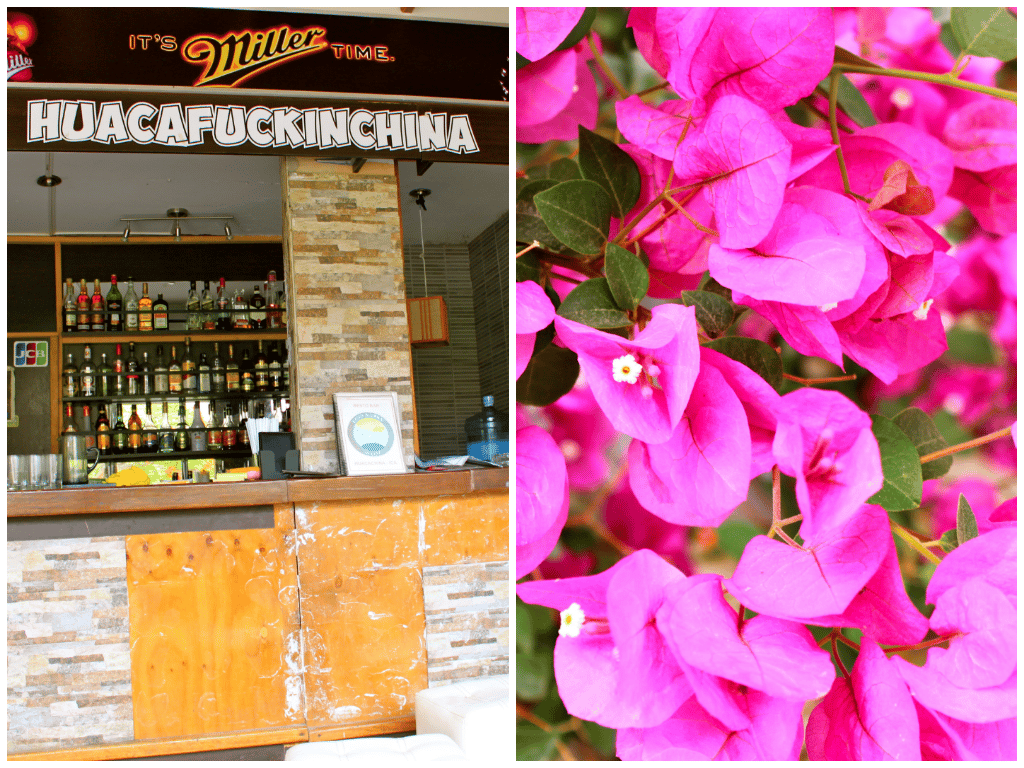 PLAYING IN THE SAND
Going to the desert was a huge experience. The only other place I've seen anything like it was in Dubai, only this was way better. The dunes were much higher, sandier and ironically enough it looked like something taken right out of Lawrence of Arabia.
With the tour companies offering several trips a day, we took the 4.30pm, which is the most popular due to the sunset. We met the driver behind the hotel, got in his ride, buckled up and off we went.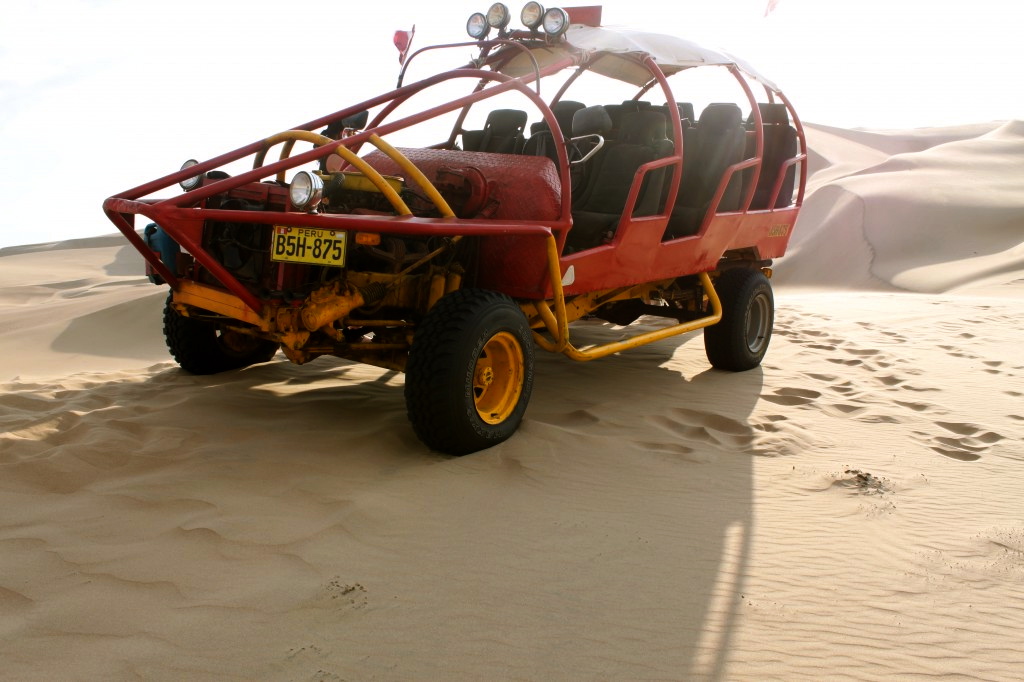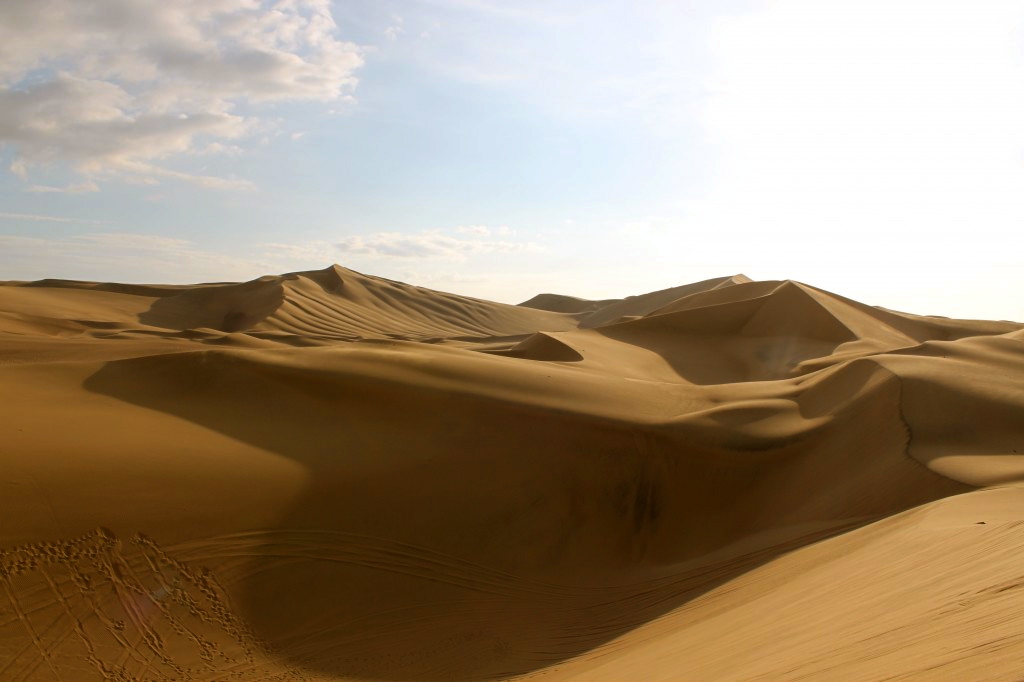 Our first slope was steep, and I'm not kidding here – some were up to 2 km! The feeling of going up is similar to the feeling you get when on a roller coaster that is slowly climbing up its first peak, just before you're about to descend. Only in the desert, it's the real deal.
You can imagine the screaming and yelling from no more than seven girls as the driver raced up and down with a sudden drop to the bottom and up to the peak again. Deafening! The driver seemed to enjoy it as he kept going faster, twisted more intensely and eventually turned the vehicle to the top at the edge of the steep cliff. He stopped, took the sandboards and told us vamanos while pointing at the ridiculously steep slope. It looked like a serious accident waiting to happen.
TOTALLY READY FOR SANDBOARDING!
While the typical image is of people standing up and boarding down the sand hills, we'd heard that it would be slightly funnier (but also the cause of broken or knocked-out teeth) to lay down.
CHALLENGE ACCEPTED!
Pernille went first by sitting, and I second by lying face down. We were instructed to use our feet to slow down (no instructions for going faster), but I did no such thing. As I started flying down the dune with intense speed, I could hear the echo of my excited fearful screams. It felt like it was going forever. Cutting through the wind, sand hitting my face I had to close my eyes from fear until it was over because this ride seemed to have no end.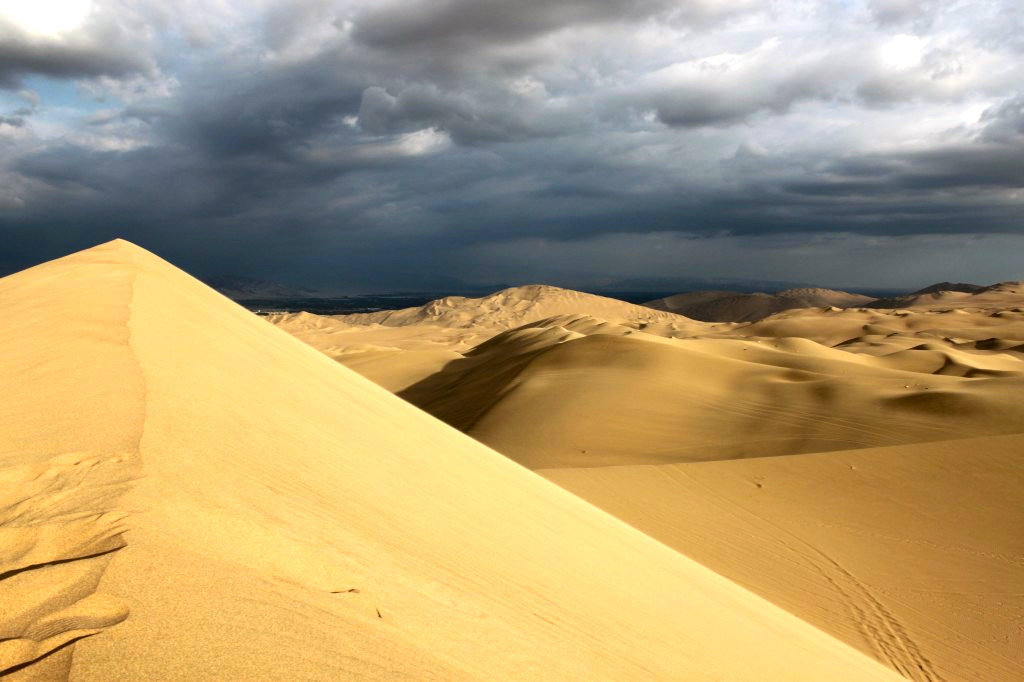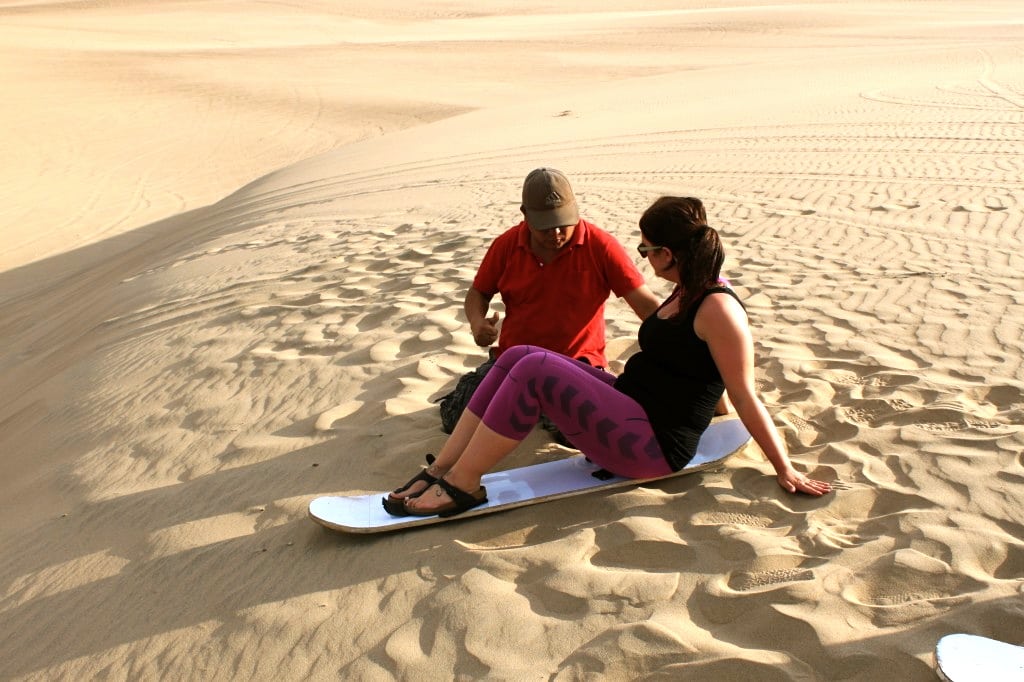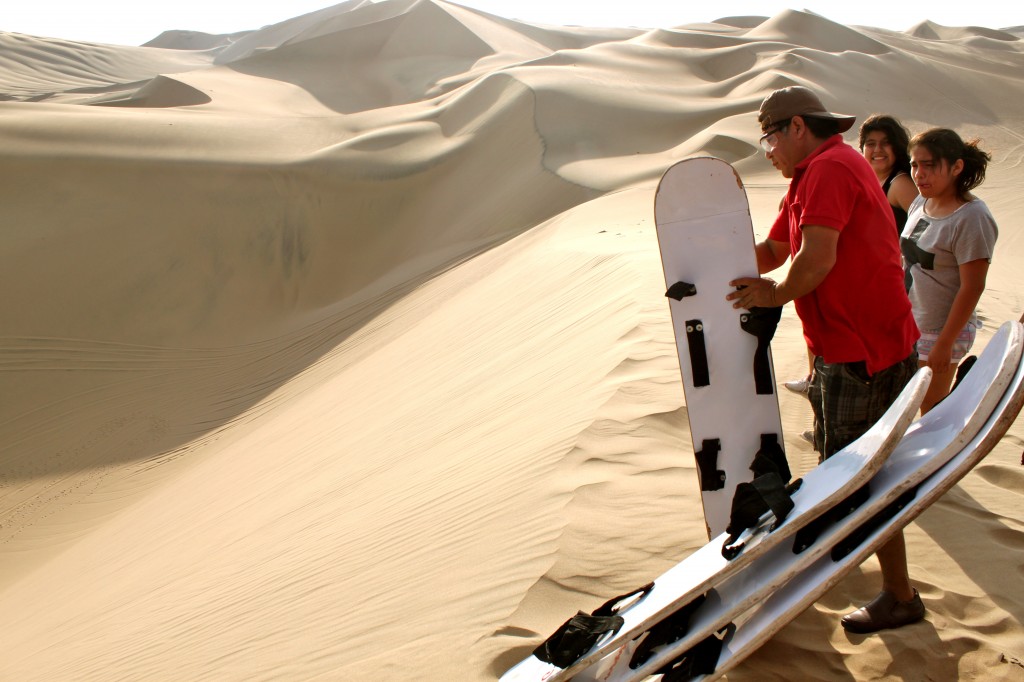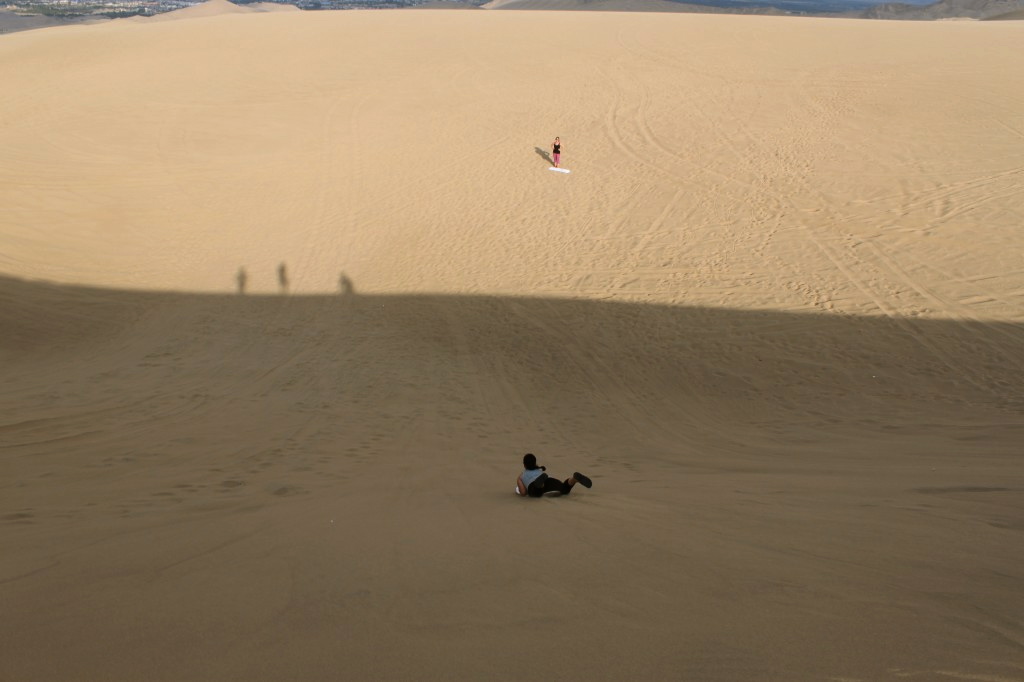 Judge for yourself how we did.
The one and half hour trip included three sandboarding opportunities with each one higher than the other. Every time we reached the bottom, our driver picked us up and drove us to the next hill, which saved a lot of time and added to the fun.
We paid 39 soles per person including taxes for dune buggy ride & sandboarding. It was seriously one of the most fun things we did on our South America trip, and it totally deserved the hype.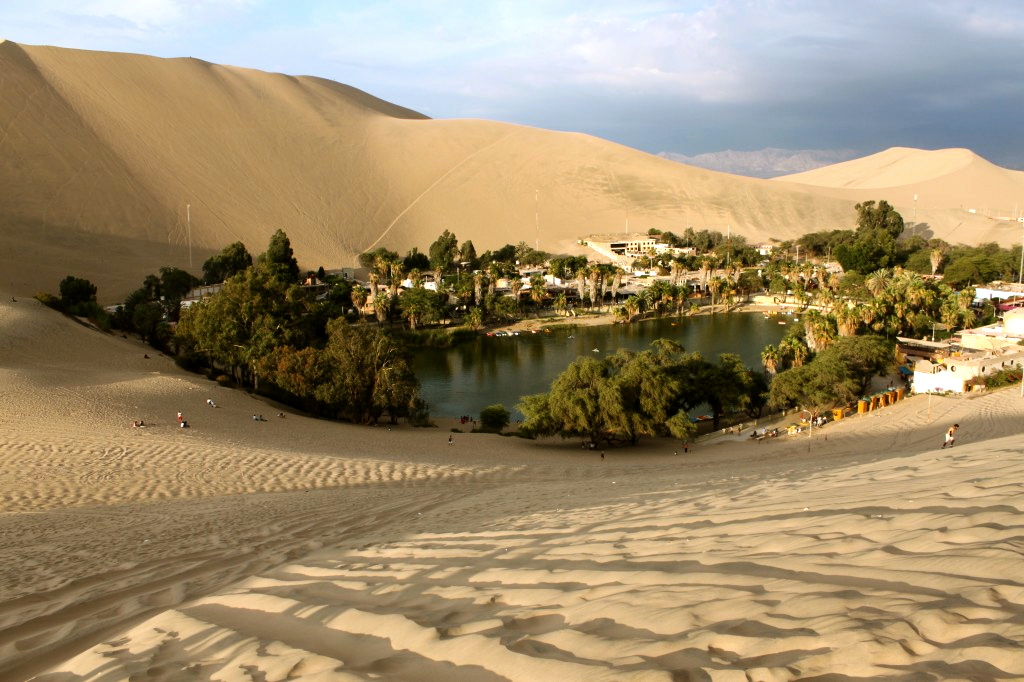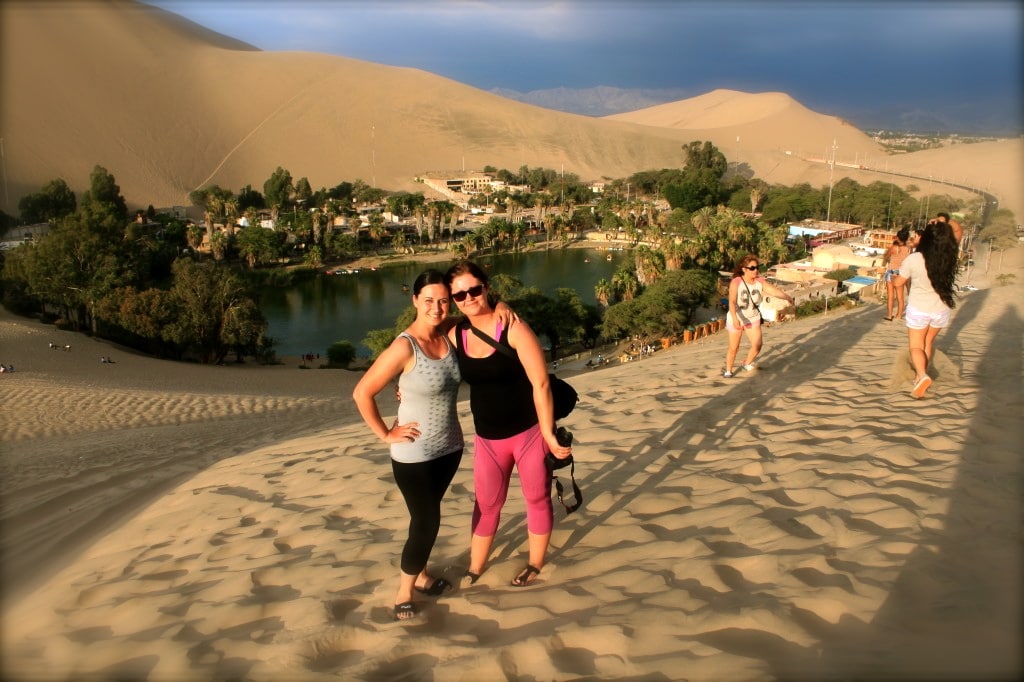 TIP
The dune buggy ride and sandboarding only takes 1,5 hours, and they go by fast! I never really felt like we had enough time to practice the sandboarding, which was really a shame. I don't know if it had something to do with the tour company we went with, but I have a hard time imagining how they could have done it differently – except from having more time. So my advice is to do more than one tour or practice on your own. At the streets, you can rent a board for a few soles. 
Have you ever tried sandboarding? If not, would you?
Pin to Pinterest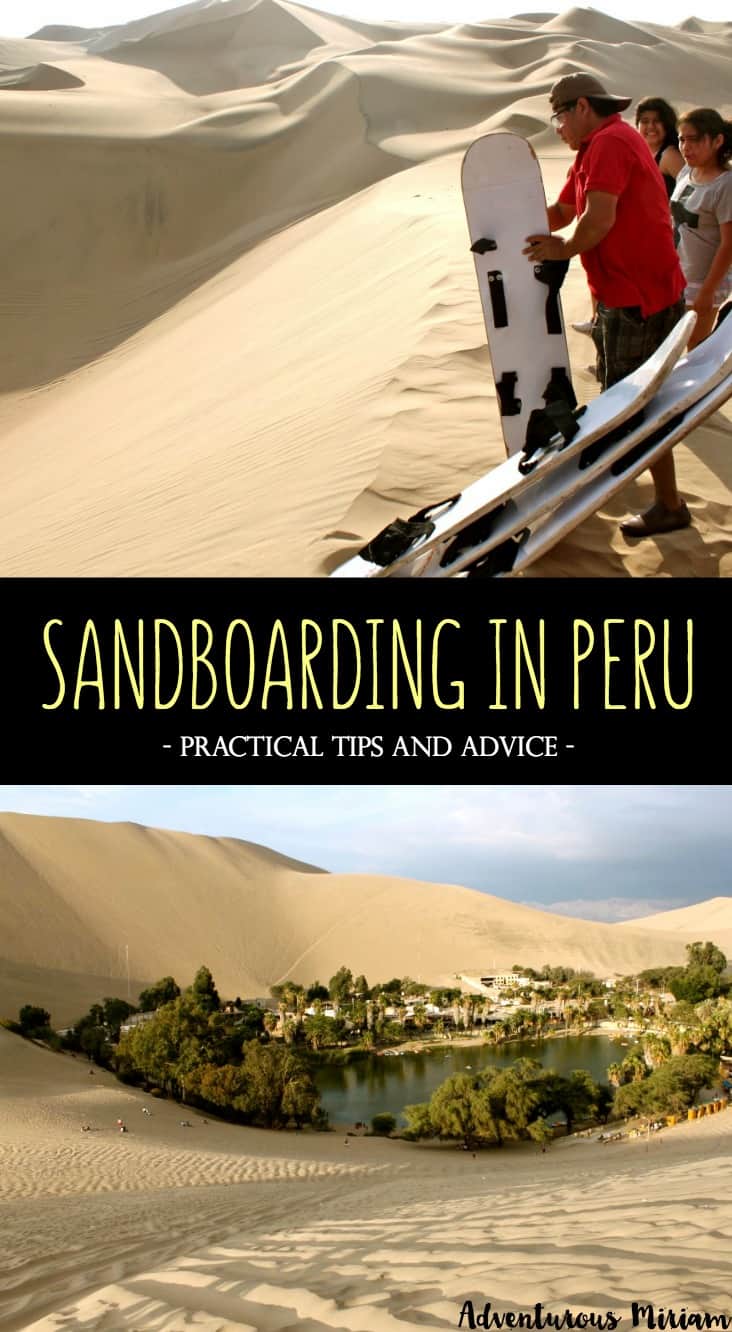 The following two tabs change content below.
I'm Miriam Risager, and this site has been my scrap-book, playground and home since 2013. I launched this blog as a way to share my journey, as well as share the hows, whys and wheres for other travelers.