I really wanted to see a sloth. It was my number one wish for visiting Monteverde – that, and meeting a red-eyed leaf frog, which unfortunately didn't happen. I booked all the possible jungle treks, and when the young receptionist at our hostel, Cabinas El Pueblo, told me that night treks were the way to see them, I signed us up immediately! Thomas wasn't exactly my biggest fan at that moment, but he stuck by my side anyways.
THE NIGHT TREK IN FINCA SANTA MARIA
Since we had been back from the hanging bridges, it had rained pretty hard. I was afraid that we wouldn't be able to go or that the animals wouldn't be out, and I might have asked in the reception more than a few times, The manager ensured me that it wouldn't be a problem though, and exactly 15 minutes before departure the rain wore off.
The Finca Santa Maria night walk was $25 and it lasted about two hours. Unfortunately, my initial fear of the wildlife being in hiding came true. The guide showed us lots of worms and centipedes, a frog, an owl and a fox. At the end of the tour, he led us to a female tarantula the size of his hand. It was so aggressive that he'd only point at it with his flash light. And then the tour was over.
No sloth.
FINDING MY FIRST SLOTH
The next day, I was walking home from the supermarket, when the manager of the hostel enthusiastically waved at me to come. When I got closer, he pointed to the tree right next to the hostel, and there it was: A sloth. Living right next to me! I was over the moon and did the victory dance right there!
Hooray
 My first sloth!
SHOULD YOU GO ON A NIGHT TREK?
Yes, you should. If it's possible, choose a day when it's not raining as it increase the chances of seeing wildlife. Also, you should know that there are several night treks in Finca Santa Maria, and that this particular one is not on a trail despite what the tour companies might tell you. We walked in dense jungle all the time, and the only light you'll have is your torch, which isn't that sharp. If this doesn't scare you off and you manage your expectations in regards to seeing wildlife, I'm sure you'll get a great trip.
Pin to Pinterest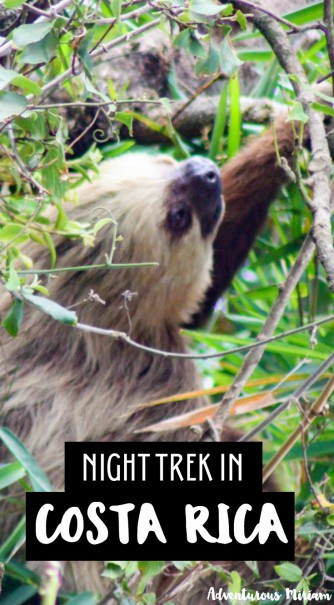 The following two tabs change content below.
I'm Miriam Risager, and this site has been my scrap-book, playground and home since 2013. I launched this blog as a way to share my journey, as well as share the hows, whys and wheres for other travelers.