City Residence was basically my first meeting with Slovakia, and it was very positive. The hotel is located in the center of Košice town, just a short walk from the pedestrian street and plenty of bars and restaurants.
MORE SLOVAKIA TRAVEL TIPS: GET MAPS, ITINERARIES AND SLOVAKIAN PHRASES
CITY RESIDENCE, KOSICE
I was welcomed to City Residence by a super nice girl at the reception. She was very smiley and welcoming and I instantly felt at home. The full name of the hotel is City Residence Apartment House so I knew I'd be staying in an apartment and that is would be spacious. What I didn't know was how huge it would actually feel!
My apartment had a 140 m2 area, which is amazingly much when you're by yourself! It included two bedrooms with pillow menu, a spacious livingroom, fully equipped kitchen and two bathrooms, two showers and two toilets. Oh my goodness, this place is bigger than my apartment back home.
Although I didn't cook any meals in the kitchen (the cafe food was too good), I found everything I needed; Tea, complimentary Slovakian wine, cookies, sweets, chocolate, and then I knew → this was my kind of hotel 
Toughest decision of the day: choosing which bedroom to sleep in.
The livingroom had a flat TV, radio, telephone, DVD player, CD player and a video. And the WiFi was fast and stable.
ABSOLUTE WELLNESS
The thing that stood out for me, aside from the many MANY square meters, was the wellness.  It was clear that the apartment wasn't just designed as a place to sleep; it was also a place for pampering, relaxation and absolute wellness.
One of the bathrooms had a sauna and shower. In the large bathroom there was a spacious spa, a walk-in shower with seat and rain shower. Oh, and did I mention the television above the spa?
THE SERVICE WAS BEYOND PERFECT
I can honestly say that this hotel is one of the nicest and most accommodating hotels I have ever stayed at. And I have stayed at many hotels in my life. The staff girls were always ready to help and nothing was too much trouble.
They made me feel personally welcome, not just as a guest but me personally. I think you only get that with smaller hotels.
A smile and a cocktail. Just what I needed before sightseeing Košice.
FOOD AND PAMPERING
Now, the apartment was great, the service was great, and the food was super, super great. I ordered pancakes for breakfast and got this served ↓
Plus, when I got down to the terrace, they had placed my table in front of the television, turned it on and put out blankets in case it was too chilly. Incredible.
The day after, I'd been hiking all day in the High Tatras and I was beat when I got back late in the evening. The girls at the reception instantly made me dinner and brought it to my room with some fruits and beer.
As you can hear, I have many praises for City Residence, and in my opinion it's worth a trip to Košice just to stay in this hotel. Seriously!
What I like about staying in an apartment, as opposed to a hotel room, is that it feels like a home. I could easily see myself staying here for weeks – especially when prices aren't sky-high. The apartment I stayed in (and the rest of the Deluxe flats) cost €99 for one person per night. The smallest apartments are €69 per person, which should be enough room for one. You can find all the prices here.
A thousand thanks to City Residence Apartment Hotel for hosting me and making me feel at home in Košice. I was a guest, but all opinions are my own as always.
What's the best hotel you've ever stayed at?
Pin to Pinterest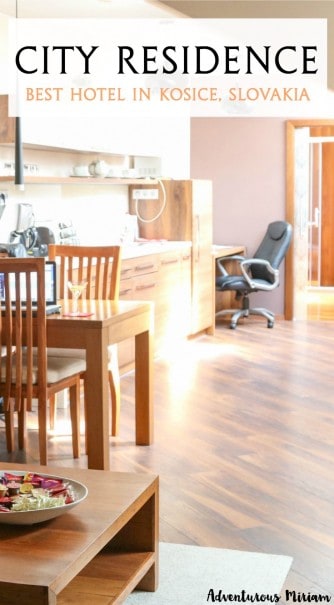 The following two tabs change content below.
I'm Miriam Risager, and this site has been my scrap-book, playground and home since 2013. I launched this blog as a way to share my journey, as well as share the hows, whys and wheres for other travelers.