Let's just begin by saying that the food scene in Budapest surprised me. Yes. It's giving me really good vibes even right now. I expected paprika and goulash and lots of stews, but I wasn't prepared for the gorgeous cakes, the vast International food, the horse salami or beef tongue. As a foodie I looove discovering new food stops around the world – and Budapest.. oh, I'm adding it to the list!
MORE HUNGARY TRAVEL TIPS: GET MAPS, ITINERARIES AND HUNGARIAN PHRASES
HUNGARIAN SPECIALTIES
That's soft homemade chimney cake with sugar + cinnamon you're gazing at ↓ I'd never seen one before, but everyone seemed to walk around with one of these sugar-coated bread thingeys, and it got me intrigued.
So, chimney cakes (aka Kürtőskalács) can be found in corner stands around Budapest and basically it's a strip of dough baked around a wooden cylinder and then topped with sugar and sprinkled with all sorts of delights like cinnamon, nuts, chocolate or sprinkles. Oh. my.
A chimney cake costs like 1000 Forint (about $3.72) and it must, MUST be hot and fresh out of the oven.
Another very Hungarian specialty is lángos (pronounced lan-gosh). It's basically flatbread dough that is deep-fried until golden brown and traditionally covered in sour cream, garlic and cheese. This pizza-looking enjoyment goes for just 140-160 HUF (about $0.77) on the street and it's worth a try, friends.
Although it would have been super easy, I didn't live off street food completely. I was so fortunate to find a new favorite restaurant on my first day in town. It's called Pest-Buda Bistro and it serves local REALLY good Hungarian food. The restaurant is located right next to Mattias church and it makes the best Chicken with paprika! Lovely. Juuust lovely.
I also had the most good-looking, intensely rich Italian ice cream. It was PURE awesomeness, and people on the street randomly stopped me to ask where I'd bought it. So I'll give it to you straight: I got it at Gelarto Rosa, right next to St. Stephens Basilica, and it was worth every 600 HUF / $2!
FOOD TOUR WITH TASTE HUNGARY
As you can see, I went all in with the Hungarian specialties, but I still felt like I needed a proper introduction to the cuisine. So, I started researching for food tours and kept hearing about Taste Hungary; a tour that let's you try all of Budapest's greatest culinary hits during your time in the city. And that's how I ended up on their Culinary Walk.
My Taste Hungary tour started in downtown Budapest at the Central Market Hall – a large, three-floor indoor market selling all kinds of foods. I met with the rest of the group and our guide at the entrance, and we kicked off the tour with a shot of Unicum; the national drink of Hungary made from 40 herbs & spices. It's said to have medicinal qualities, but all I got was a throat burn 
With bellies full of Unicum, we moved on to a food stand with a huge crowd around it. To my surprise I found a cheery guy in the stand making strudel from scratch, and gooood it looked! To be honest I'm not a fan of Austrian or German strudel, but this was different. Our guide ordered a small selection so we could try the different flavors and I went straight for the cottage cheese strudel. Literally every time I opened my mouth to take a bite, I fell head over heels in love.
Our next stop was the butcher where we tried a variety of salamis, like spicy salami, regular salami, a pork sausage made from the famous hairy pig, boar salami, horse salami and beef tongue. I've tasted some pretty interesting things in my life, but this is the first time I tried horse meat. And it's not bad.
Leaving the bustling Food Market, we went to Belvárosi Disznótoros, also called "Downtown Pig Feast", to have lunch. Bear in mind that we had been eating for 2 hours already so I wasn't exactly starving. Our guide ordered a variety of small dishes, like sausages, suckling pig, stuffed peppers, goulash and side dishes including cabbage and bread. And then the feast began.
When I think about Hungarian cuisine, goulash (and paprika) is the first thing that comes to mind. I've found different versions of goulash all over central and eastern Europe, but the Hungarian version is said to be the original. My expectations honestly weren't that high, but then *surprise* I loved it so inappropriately much that I was ready for seconds and thirds!
After a quick trip to Auguszt Cukrászda, a local patisserie, we went to a chocolate boutique called Rózsavölgyi Csokoládé. We each got to pick two chocolates, and I chose a marzipan (my favorite) and a plum palinka.
The tour ended at Taste Hungary's head office: The Tasting Table. After a little wine and cheese tasting, we learned that 90% of Hungarian wine is consumed within Hungary and that 70% is white wine. As a wine connoisseur I was pretty darned amazed by their selection, especially the fruity and sweet white wine Tokaj, which in my book now goes under the name: take me home!
INTERNATIONAL FOOD
The food tour was a great way to try Hungarian dishes you wouldn't necessarily know of, but I still had to make room for the International food scene! And guys, International food is BIG in Budapest. For starters, I found some spicy Thai (at Padthai wokbar) and Mexican food (at Gringos Amigos).
My favorite was the super excellent, big-time Greek food I had at a restaurant called Taverna Dionysos. The flavors were a delight for my little gyros-loving heart 
SWEETS AT TRADITIONAL COFFEE HOUSES
As a sweets-lover in a country of sweet-lovers, Budapest was sort of a paradise. They have these Hungarian cake & coffee houses, like a konditorei in Austria and France, with sweet, spongy and inappropriately delicious cakes that just look beautiful on a plate.
To my luck, Hungarian food is generally quite cheap. I only spent about $15 per day and in return I was gifted with this cosy wonderfood.
Amiright?
Budapest isn't considered a major food stop in Europe, and I think that's an oversight. I mean, there's so much food to choose between, even if Hungarian cuisine isn't your thing.
Also, I'm glad I joined the Taste Hungary food tour because I learned lots about Hungarian food, and as a bonus our guide shared a number of eating and drinking recommendations for the rest of my time in Budapest. It was a fun way to see the culinary side of the Hungarian capital.
Next on my blog itinerary: an introduction to Budapest!
Many thanks to Taste Hungary for hosting me on this food trip in Budapest. As always, all opinions are my own.
Have you tried Hungarian food? What's your favorite?
Pin to Pinterest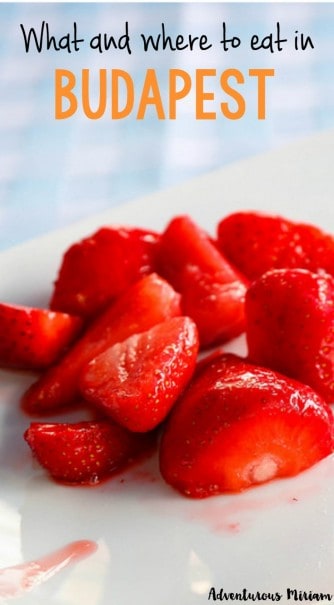 The following two tabs change content below.
I'm Miriam Risager, and this site has been my scrap-book, playground and home since 2013. I launched this blog as a way to share my journey, as well as share the hows, whys and wheres for other travelers.